2 Days in Quebec City: What to See, Do and Eat
Everything you should see and do if you have 2 days in Quebec City.
Disclosure: Some posts on this site contain affiliate links. Read our full disclosure.
Two days in Quebec City leave just enough time to see major Quebec City attractions while soaking in the city's charm, stunning scenery, and romantic European atmosphere. Meander Old Quebec's cobblestone streets, popping into boutiques and cafes. Embrace Quebec's European-like beauty, and explore top-notch museums and historic sites. Year-round, Quebec City teems with beauty.
Need help deciding just how to spend your weekend in Quebec City? Use this Quebec City 2 day itinerary as your guide to plan the perfect trip. C'est parti, let's go!
Quebec City Itinerary 2 Days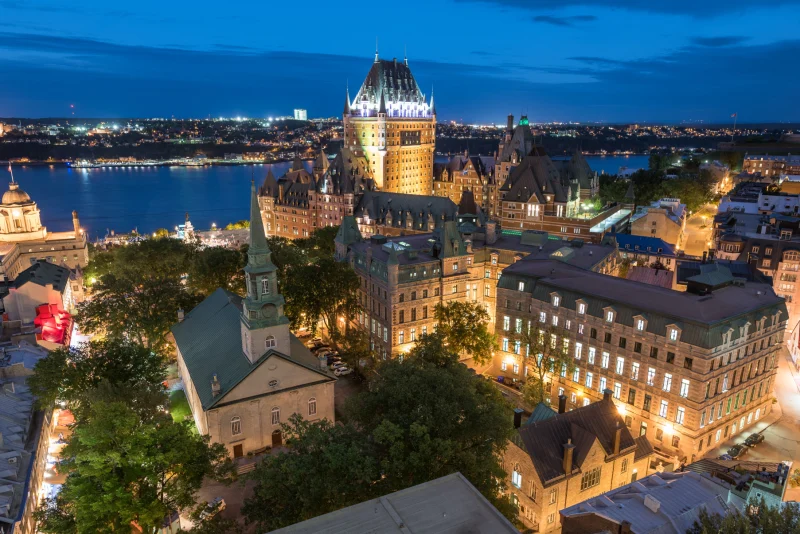 Arriving in Quebec City
To squeeze as much as you can out of your Quebec City weekend, it's helpful to arrive Friday evening. This way, you can settle into your hotel and wake up fresh the next morning to conquer the city.
Unpack, take a beat to freshen up, then amble the streets of Haute Ville and grab some dinner.
Consider Aux Anciens Canadiens for traditional French-Canadian fare or Restaurant Ophelia for mouthwatering seafood dishes.
After dinner, head back to the hotel to rest up for tomorrow's adventures. The city is pretty at night, so you might want to consider walking back.
Day 1 (AM) – Discover the Old Quebec
Today your real escapades begin! Prepare for beautiful scenery and traditional Quebecois culture. You'll witness centuries-old historical sites, European architecture galore, and a plethora of quaint streets lined with picturesque shops.
Upper Town Breakfast and stroll
Fuel up for your Haute Ville explorations at Paillard Café Boulangerie with a frothy cappuccino and their famous flaky croissant. Or, munch on sweet or savoury crepes at Baguette & Chocolat. After breakfast, meander the narrow alleys and streets: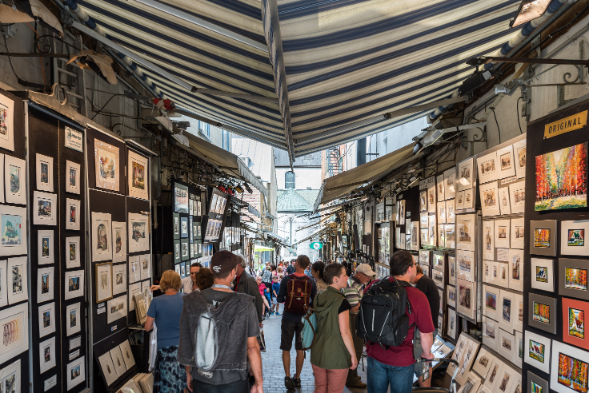 Stroll along Rue de Trésor and browse the open-air art exhibits and artisanal craft stands.
Stop by the Cathedral of the Holy Trinity, the first Anglican Catholic church outside of the British Isles dating back to 1800. Step inside to be amazed by the ornate gothic ceilings, and take a tour if you have time.
Make your way to Place d'Armes, a hub of Old Quebec activity. Admire the towering Fontaine de la Place d'Armes, and enjoy live musicians in the warmer months and a snowy tranquil landscape in the wintertime.
Chateau Frontenac
Carry on to the crown jewel of Quebec City, Fairmont Chateau Frontenac. Peer up at its castle-like grandeur, complete with pointed turrets rocketing 79.9 metres into the sky.
Inside, peruse the exhibits in the hallways and the dazzling chandeliers adorning the lobby. Have your camera ready for the countless photo ops of this opulent hotel.
Dufferin Terrace
Next, mosey along the Dufferin Terrace. Soak in the stunning views of Lower Town and the St. Lawrence River below as you stroll the boardwalk. If you're visiting in the winter, let your inner child loose on the Toboggan Slide before a warm cup of chocolat chaud.cation: 781 rue St-Joseph East, Quebec
Quebec City Funicular
To get to Basse Ville at the bottom of the cliff, go down the 59 steps of Escalier Casse-Cou (Breakneck Stairs). The staircase is lined with landings where you can take photos of Basse Ville below, or have a bite at a café.
Otherwise, take the Funicular. The latter is a great way to enjoy views as you descend the steep railway tracks in your windowed cart.
Day 1 (PM) – Petit Champlain and Place des Canotiers
Quartier Petit Champlain
Discover the enchanting cobblestone streets of Petit-Champlain in Lower Town, the location of the first French Settlement in Quebec.
The stone houses are remarkably preserved and adorned with flourishing flower boxes. In the winter, this area becomes a Christmas wonderland, decorated lavishly with boughs of holly and glittering fairy lights.
Roam the whimsical shopping street, peeping into local boutiques, like Blanc Mouton for styles made from hand-woven fabrics or Artnika for artisanal specialties like jewelry and wallets.
Lunch
By now you've likely worked up an appetite. Thankfully, you'll be surrounded by restaurants in and around Petit-Champlain. Grab a Parisian-inspired bite and people watch through the windows at Cochon Dingue Champlain. Or, indulge in French cuisine at the upscale 1640 Bistro.
Place Royale
Carry on to Place Royale, a treasure trove of European architecture and historic sites. Immerse yourself in 400 years of history at Notre-Dame-des-Victoires Church and the site of one of Samuel de Champlain's original homes.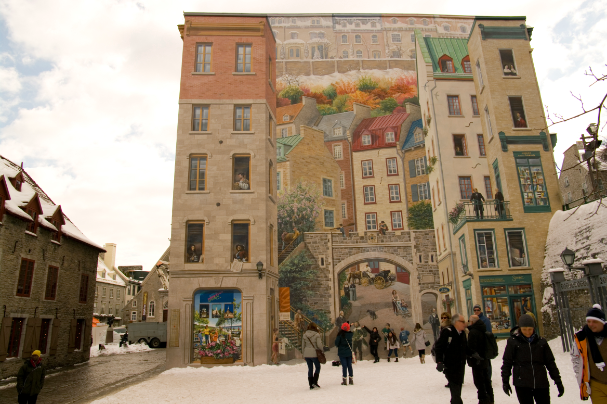 Quebec City Mural
As you move through the streets admiring the New French architecture, keep your eyes peeled for the Quebec City Mural!
Place des Canotiers
Pass through Place des Canotiers, taking in spectacular views of the Frontenac atop the cliff and enjoying the water fountains sprouting from the ground.
Bordering this park is the Museum of Civilization. Stop by for interactive exhibits detailing the founding and history of Quebec City.
Day 1 (Evening) – Old Port
Old Port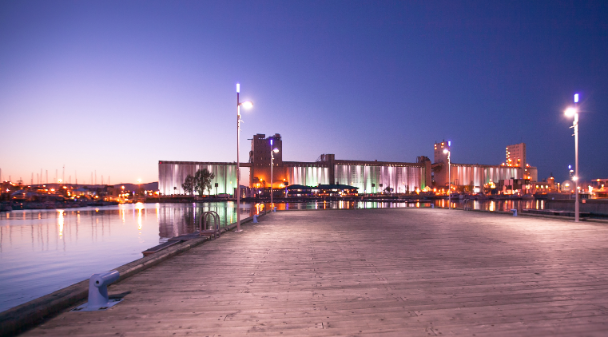 In Old Port at the edge of the St. Lawrence River, uncover gems like the remnants of Îlot des Palais, the city's first brewery, an array of antique stores, and cruise ship terminals. In winter, witness massive chunks of ice shifting and colliding as cruise ships cut through the water.
Dinner in Quebec Old Port
For dinner, enjoy mouthwatering, fresh oysters at Chez Rioux & Pettigrew or top-notch Italian at La Pizzaio. Take one last stroll through Old Quebec on the way back to your hotel.
Day 2 (AM): Plains of Abraham
After immersing yourself in Quebecois culture yesterday, today is about diving even deeper with museums and tours.
French-Canadian Breakfast
Prepare for your last day in Quebec City with a hearty French-Canadian breakfast at La Buche, a classic eatery with a welcoming atmosphere.
Plains of Abraham
Frolic through the Plains of Abraham next to La Citadelle. The park is lush and green in summer, perfect for biking the paths or enjoying a picnic.
Visiting during the wintertime? Snow-shoeing and ice skating are great activities to consider for outdoor enthusiasts. And don't miss out on snow tubing down the hill behind the art museum.
After that, warm up with a coffee at the Vitalité Café to cap off your visit.
La Citadelle de Quebec
First up is La Citadelle, a working military site dating back to the 1800s. Arrive early to watch the changing of the guards at 10 am, an impressive ceremony between fully uniformed soldiers featuring Baptiste the Goat!
Browse videos, interactive battle maps, and relics at the 22e Regiment Museum. Then, take a tour of the Governor General's Residence and the star-shaped fortress. The views of Old Town from the top of the ramparts are absolutely breathtaking.
Quebec City's National Arts Museum
Continue onwards through the Plains of Abraham toward The Musée National des Beaux-Arts du Quebec. Browse over 42,000 works of Quebecois art, ranging from ancient to contemporary masterpieces.
The Musée des Beau-Arts hosts a number of weekend events like art workshops and guided tours, so be sure to scope out the events calendar before going.
Day 2 (PM): Old Quebec
Head Back to the Fortified City
Continue to venture outside the walls of Old Quebec to discover more Quebecois heritage. Cut through Parc de l'Esplanade, and stop to read the plaques about this historic park.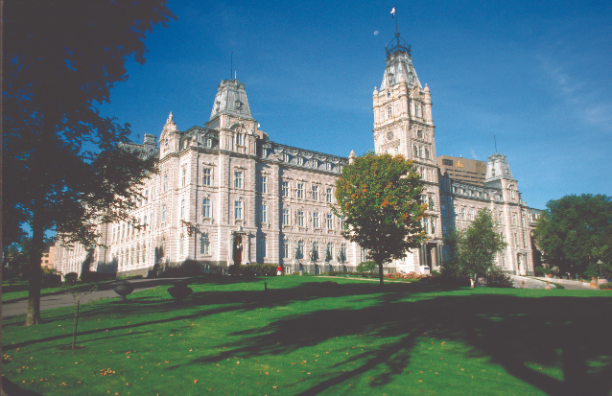 Next up is the Parliament Building. This magnificent French-style building, home to the National Assembly of Quebec, is fronted by over 20 bronze statues and a sprawling lawn. It's closed in the weekend, but still worth walking by.
Rue Saint-Jean and the Outskirts of Old Town
By now you must be ready for lunch. Head over to Rue Saint-Jean and chow down on Mediterranean dishes at Saveurs du Monde, or Asian fusion at Bo Cuisine d'Asie. While on this street, feel free to do a bit of window shopping at the many chic shops.
Saint John's Gate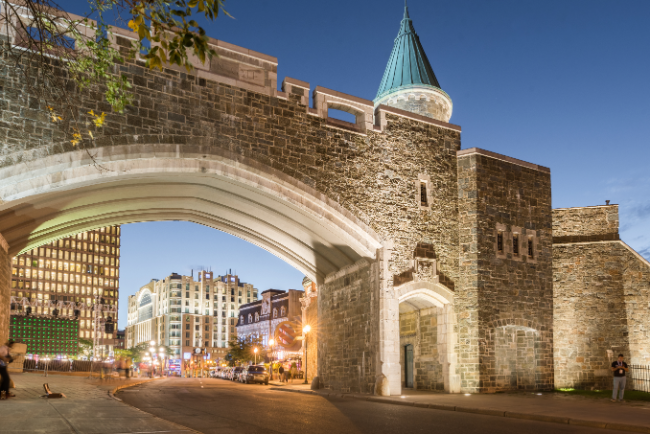 Continue down the street toward Saint John's Gate. A trip to Quebec City isn't complete without visiting this iconic landmark. Climb atop the wall for splendid views of Rue Saint-Jean or lace up your skates and hit the ice rink here in the winter.
Make your way to the Fortifications of Quebec National Historic Site. Plunge into Quebec's military history with an hour-and-a-half-long tour. During summer, Parks Canada guides will let you in on unique facts and stories dating back to the building of the wall in 1607. More information on guided tours here. You'll also get access to sections of the colonial fortification walls which are closed off to the general public.
Sadly, your weekend has come to a close. Head back through Old Town to your hotel and say your goodbyes to Quebec City.
Where to Stay for a Weekend in Quebec City
Haute Ville (Upper Town) is at the heart of Quebec City's Old Town and it's the smartest option for a short trip. We like staying in the Old Town because it puts us within walking distance of many Quebec City landmarks and limits commute time.
You might want to check out these popular hotels in Quebec City's Upper Town:
Hotel Manoir Victoria is a 4-star hotel with classy décor, two high-end restaurants on site, a pool, and an ultra-convenient location.
Hotel Atipiq is a trendy, mid-range boutique hotel with fun extras like board games, a rooftop terrace, and free coffee.
Manoir Sur-le-Cap is a perfect budget option for a two or three-night stay. This hotel has a remarkably preserved history and offers views of the Chateau Frontenac.
Or, if you're visiting with kids, I have a list of the best family hotels in Quebec City, including some in the Upper Old Town. Here are even more Quebec City hotels.
How to Get to Quebec City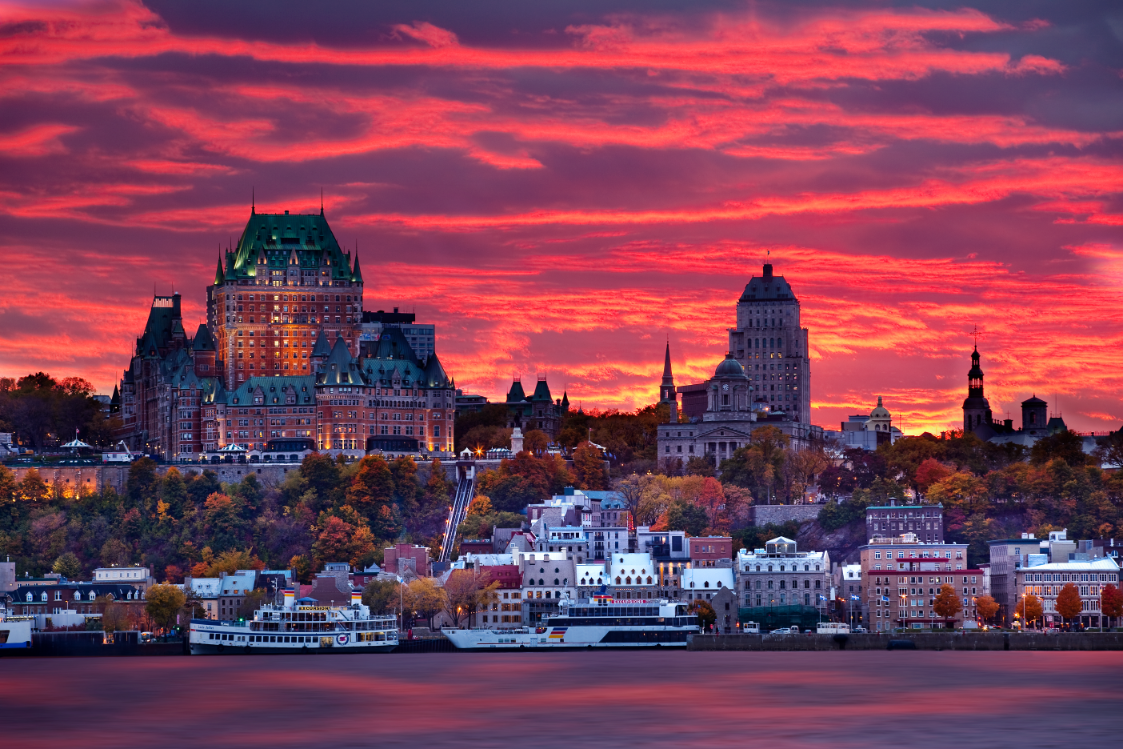 How long to get to Quebec City?
Montreal to Quebec City by car takes 3 hours
Montreal to Quebec City by train takes 3.5 hours
Montreal to Quebec City by plane takes 50 minutes
Toronto to Quebec City by car takes 8 hours
Toronto to Quebec City by plane takes 90 minutes
Ottawa to Quebec City by car takes 5 hours
Ottawa to Quebec City by train takes 6 hours
Ottawa to Quebec City by plane takes 60 minutes
Getting to Quebec City is convenient by car if you're relatively local (Quebec City is about three hours from Montreal). But, you may want to consider flying or taking a train to save time if you're farther away.
Flying to Quebec City
Catching a flight to Québec City Jean Lesage International Airport (YQB) is popular for travellers coming from farther away. From the airport, getting to Quebec City takes about 20 minutes by taxi or about 50 minutes on the 80 bus.
Taking a Train to Quebec City
You can also hop on a Via Rail train from Toronto, Ottawa or Montreal to Quebec City's Gare du Palais Station, which is in the Old Town. If you're coming from the United States, you won't be able to get to Quebec City directly. From the US, you'll have to transfer to a Via Rail train at Central Station in Montreal.
Riding a Bus to Quebec City
Looking to ride a bus to the city? Orléans Express offers routes from Centre-Ville in Montreal that take about 3 hours. They also have some departures from the Montreal airport.
Getting Around Quebec City
While Uber is always an option, the public bus system is efficient, affordable, and a nice way to travel like a local! The weekend pass is perfect for this trip. Download the RTC Paiement app to buy your passes ahead of time.
Pack Your Bags for 2 days in Quebec City
Make the most out of your two days in Quebec City by following this guide. Feel free to pick and choose which places you'd rather spend a bit more time at, and which ones you may want to forego.
From the rich history and culture to glorious views and local boutiques, your weekend in Quebec City is bound to be memorable.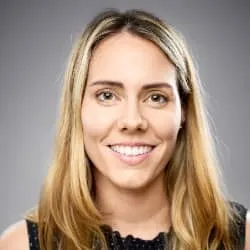 About the Author
Anne was born and raised in Quebec City. She is our resident expert for the city of Quebec and other popular regional destinations such as Charlevoix and Gaspésie. Having travelled to every corner of the province with her children, she is also our expert for family related topics on Quebec Wonders.