Best Places to Visit in Montreal all Year-Round
Here are the best places to visit in Montreal no matter what season it is!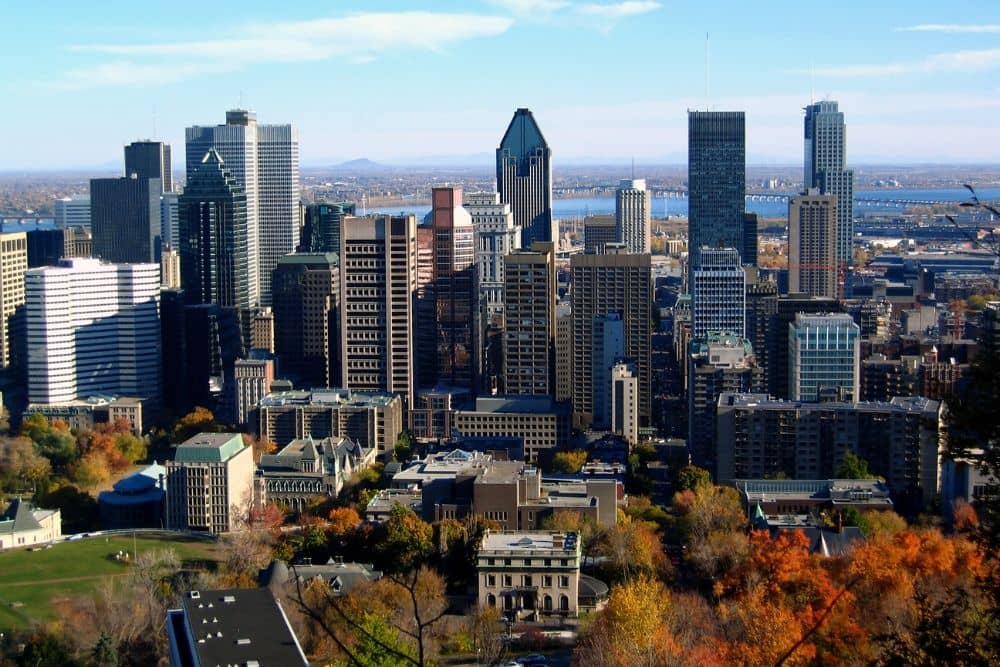 Disclosure: Some posts on this site contain affiliate links. Read our full disclosure.
There are tons of places to visit in Montreal. As Canada's second-largest city after Toronto, Montreal is a bustling city filled with rich culture, a buzzing music scene, a thriving art scene, and lots of good food. You won't run out of things to see in Montreal… it's more likely you will struggle to know what to prioritize.
There are endless possibilities of ways you can explore this iconic city. You'll find historic and archeological museums, art venues, shopping districts, nightclubs, and some of the best music and comedy festivals in Canada.
Here is a list of more than 30 places to see in Montreal, carefully selected by Montreal locals!
1. Explore Old Montreal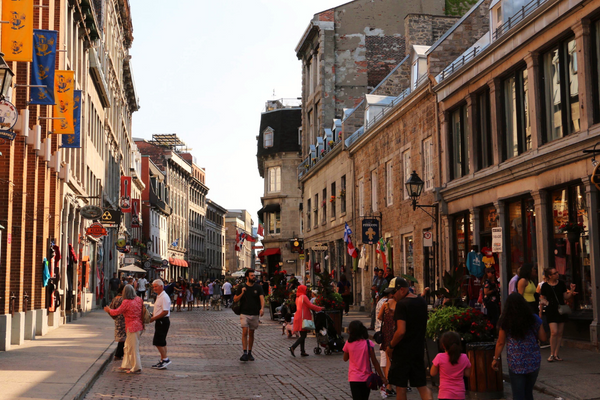 With its European charm, cobblestone streets, and unique boutiques, Old Montreal is a tourist favourite and a place to see in Montreal.
For great shopping and a lovely view of the breathtaking architecture, take a stroll down Saint Paul Street West for cool cafes, restaurants, shops, and pubs. You can also opt for a walking tour to get the most out of Old Montreal and learn about the city's rich history and culture.
2. Notre Dame Basilica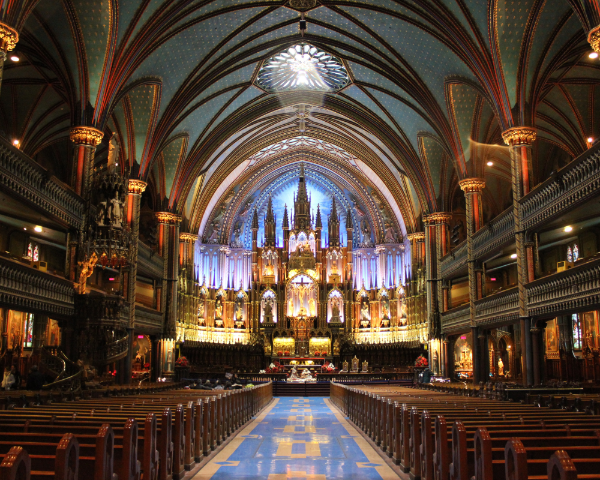 While in Old Montreal, take a trip to the Notre Dame Basilica of Montreal to step back into time and view the breathtaking architecture of the early 1800s. This is one of top Montreal tourist attractions because it is magnificent (and Celine Dion got married here).
The outside of the Basilica is beautiful, but stepping inside is worth the small admissions fee to see the intricate wood carvings, beautiful stained-glass windows, and to get to take in the city's religious history.
3. The Montreal Old Port
Built by French settlers in 1642, the Old Port is a historic piece of the city and an iconic place to see in Montreal.
You can walk along the St. Lawrence River for serene views of incoming boats and the rest of the city. In the summertime, you can try unique dishes at the various food trucks, watch live entertainment from the buskers, and ride the zip line that takes you over the Old Port.
For a fantastic view of the city, take a ride on La Grande Roue Ferris Wheel, the largest in Canada. In the wintertime, you can rent a pair of skates and skate down the frozen river to enjoy the festive season.
4. Best Poutine in Montreal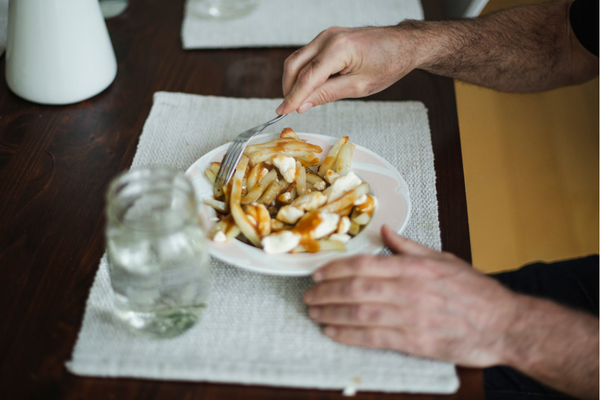 You can't leave Montreal without eating one of the city's most iconic dishes — poutine. A delicious blend of french fries, gravy, and cheese curds, this is one meal you can't skip on.
The best poutine in Montreal are at La Banquise and Poutineville. Both restaurants specialise in poutine and are loved by the locals.
La Banquise has been serving poutine for 48 years and has plenty of unique topping options for your dish including tomatoes, hot peppers, ground beef, and guacamole. At Poutineville, you can custom-make your own poutine! You'll be able to customize your own poutine by handpicking the types of fries, gravy, cheese, meats, and vegetables used.
5. Climb up Mont-Royal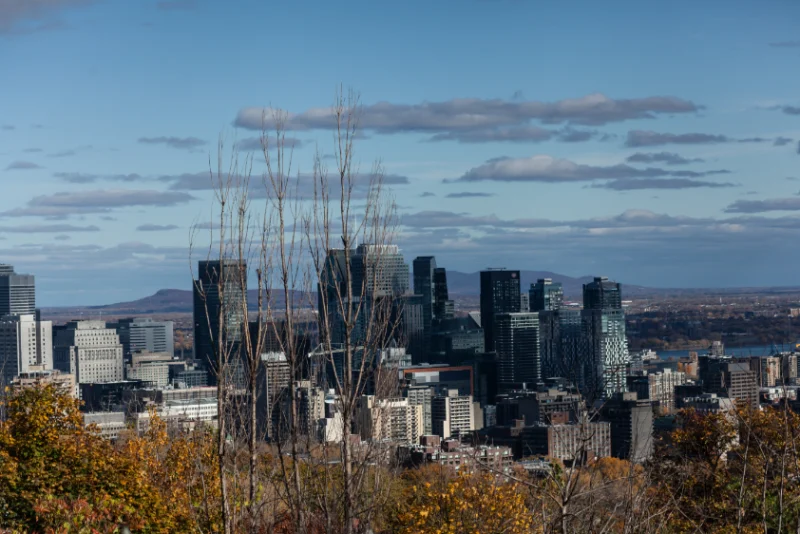 The reason tourists get to the top of Mont-Royal is that it offers the best view of Montreal. It's accessible by car, by taxi, by public transport, by foot and by bike (good luck!).
Mont-Royal Park allows you to take a break from the bustling and busy city. The Park is a large green oasis nestled in the heart of Montreal. If you're up for a challenge, you can take the Grand Staircase of Mount Royal — a large staircase leading up to the summit. Whichever route you take, you'll get to take in the beautiful view of the city from the summit as well as a view of the mountain top lake called Beaver Lake.
6. Montreal's Botanical Garden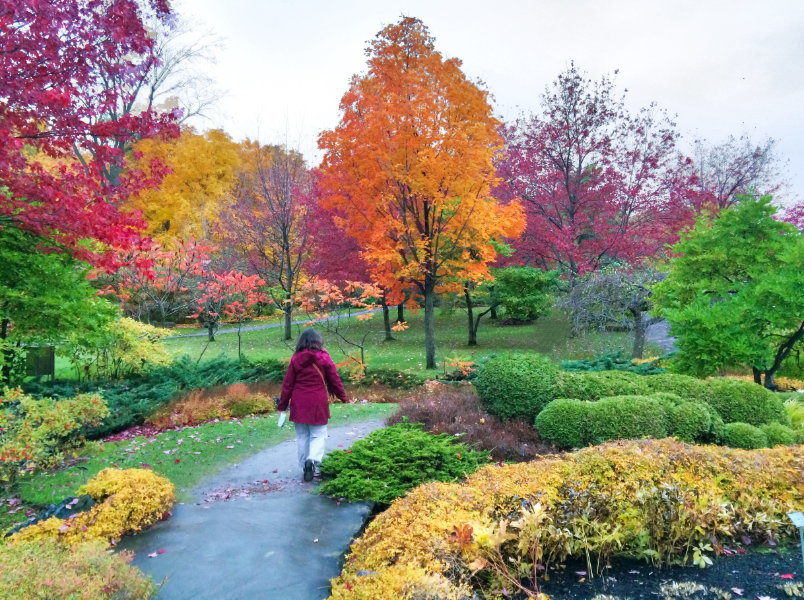 The Botanical Garden is a one of the top Montreal attractions. It is the perfect place to enjoy the peaceful and relaxing atmosphere in nature. The 190-acre garden is filled with a variety of unique gardens including the Alpine & First Nations, Japanese, and Chinese Gardens. In the Fall season between the months of September and October, the garden is decorated with intricate hand-made Chinese lanterns that many tourists flock to in order to see.
You can also visit the Moisaicultures which is an exhibition tribute of 5 unique parts. You can walk through the Lieutenant Governor's Residence, the Polar and Marine world, the endangered species, the Huron-Wendat Nation, and the farm.
7. Museum of Archaeology and History
If you're a history buff, you'll love exploring Montreal's museum of archaeology and history.
The museum of archaeology and history, also known as Pointe-à-Callière holds centuries of history in various exhibitions. You can find historic archeological remains, as well as temporary exhibitions that the entire family can enjoy.
More information about the museum's exhibitions here.
8. Explore Place des Arts
Catch a night of entertainment at Montreal's Place des Arts — a cultural hub of fun and lively shows. The Place des Arts offers incredible music, theatre, dance, comedy, opera, and musical shows all year round and has six extraordinary venues to choose from.
9. Montreal's Quartier Des Spectacles
Quartier des Spectacles translates to "Shows Neighborhood", and it is exactly what is it!
The Quartier des Spectacles is where you can find all things art, entertainment, and culture in Montreal. It's also a great area to head to for dinner, with plenty of restaurants to choose from.
From art galleries to ballet and opera, there is no shortage of entertainment to keep you busy in this cultural hub of the city. This is also where you'll find the Jazz Festival, the Nuits d'Afrique Festival, and the Montreal Circus Festival.
10. Visit the Biodome
The Biodome, also known as the Montreal Space for Life, is a famous place to visit in Montreal. The space presents America's bio diversity with 5 of the Americas' diverse ecosystems to explore from the chilling sub-Arctic to the warm tropical forest.
You'll also find the Laurentian forest, St. Lawrence Marine, St. Lawrence Gulf, and the Labrador Coast. Located at the Olympic Park, you'll be able to see live Arctic penguins, as well as unique fish and birds.
11. Get Your Adrenaline Fix at Lachine Rapids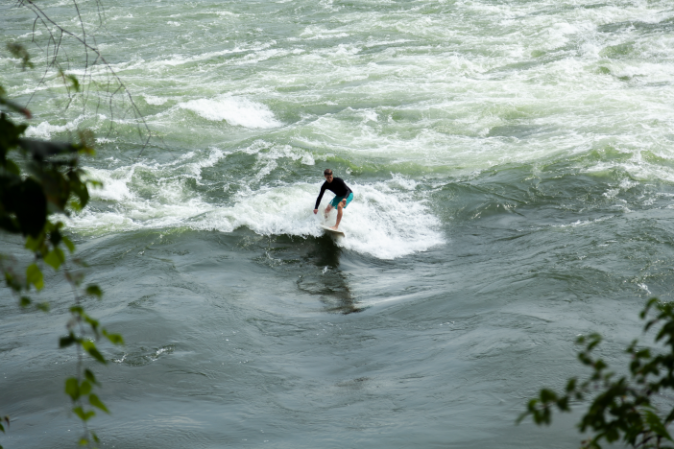 Immerse yourself in nature and ride the famous Lachine Rapids. Located in Southwestern Montreal, the Lachine rapids offer plenty of river-based activities like rafting (so much fun!), jet boating, boating, sailing and canoeing.
You might be surprised to learn that we even have a river surfing spot in Montreal. It is a world-famous continuous wave that Montreal surf-lovers ride on in summer time. So if you're up for an adventure you add this cool Montreal activity on your bucket list. Surrounding the rapids is over 100 kilometers of trails you can explore on a bike or by hiking to find some solitude in nature
12. Walk or Cycle along the Lachine Canal
After you adventure in the Lachine rapids, you can walk or rent a bike and cycle along the historic Lachine canal. The canal is over 14 kilometers in length and was built in 1825, holding many years of history. The canal banks will make you feel like you've taken a trip back through time and you can explore the canal by foot, or by bike.
13. Walk through the Olympic Park
Montreal's Olympic Stadium is located in the Olympic park and is one of the most iconic buildings in the city. The Olympic Stadium was opened in 1976 for the Summer Olympics and was Canada's first time hosting the Olympics – making this a historic building for the country. Although the Olympic tower is permanently closed, you can walk around the grounds for free and if you're lucky, you might catch a concert, rally, music competition and more while in the area.
14. Montreal's Underground City
Montreal's underground network is worth a visit during a trip to Montreal. The Underground City is the perfect place to visit during the cold winters when you want to find refuge from the unrelenting temperatures of Canadian winters. If you want to spend some time shopping, the Underground City is a unique way to do it.
The Underground City is a 20 mile strip lined with shops, restaurants, cafes, hotels, banks, bus terminals and more. It's the biggest of its kind in the world and is worth the visit.
15. St. Joseph's Oratory
As the largest church in Canada, St. Joseph's Oratory is a stunning church with an iconic green dome that you can't miss. The Basilica was built in 1967 and has many historic parts to explore including a crypt, serene gardens, and a breathtaking view from the top of the steps of the dome.
16. Catch a Hockey Game
Calling all sports fans — you can catch the iconic Montreal Canadiens, or the "Habs" as locals like to call them, play at the Bell Centre. Montreal has an undeniable love for the game of hockey, with the Habs team being one of the longest-active team in the National Hockey League!
You'll get to experience the wild and unforgettable atmosphere of the loyal Habs fans and get your heart racing with this fast-paced game. If you visit Montreal during the hockey season, watching a live game is one of the top things to do in Montreal.
The regular hockey season runs from October to April every year, and the playoffs span over May and June.
17. The Village on St. Catherine Street
Locals call the gay neighborhood in Montreal "The Village". The touristy part is a pedestrian-only strip of St. Catherine street, where you can enjoy the bustling atmosphere, charming shops, and street art.
This is also a great spot to take photos under the colorful streams of rainbow balls hanging above and decorating the streets.
18. Jean Talon Market
The Jean Talon market is the largest farmer's market in Montreal and is the perfect place to buy fruits and veggies in the summer time in Montreal. The market has plenty of stalls lining the street selling fresh fruit, vegetables, honey, flowers, coffee, and much more. If you love local food, and the market atmosphere, you won't want to miss the Jean Talon Market.
19. Montreal's Amusement Park: La Ronde
Looking for some thrilling adventure, or entertainment for the kids? Visit La Ronde, Montreal's amusement park with over 40 rides, live entertainment, and shows for the entire family to enjoy.
La Ronde is located in Parc Jean-Drapeau and it is accessible by car and by public transport. It's not too far from the core of downtown Montreal, even though it's located on an island!
If you want to get your adrenaline going, hop on The Goliath, one of Canada's highest and fastest rollercoasters. Every summer, you can watch International des Feux Loto-Quebec, the annual International Fireworks Competition for a dazzling show.
20. the Science Centre
Are you a science and technology buff? If so, you'll love exploring Montreal's Science Centre. The centre is filled with educational exhibitions where you can learn more about science and technology.You'll be able to explore interactive devices as well as innovative, educational, entertaining exhibitions.
After exploring the exhibits, catch a movie at the IMAX theatre, where you can watch a variety of 3D films on the big screen.
If you are travelling with children, the Science Centre is a great place to visit in Montreal.
21. Montreal's Jazz Festival
With over 500 shows both indoor and outdoor, you'll get to experience live jazz music like never before. Every summer, Montreal hosts the Jazz Festival where over 3,000 musicians and performers from all across the globe perform. Most of the shows are free and aren't too far from the Quartier des spectacles.
22. MuralFest
Every June, the annual International street art festival hosts artists from all around the world with street performers, musicians, food stalls, and retailers. You'll be able to view colourful and artistic street art along the buildings and if you want more information, you can also get a guided mural tour.
23. Circuit Gilles Villeneuve
The Circuit Gilles Villeneuve is a famous racing strip that has hosted NASCAR series races and FIA World Sportscar Championship. If you have your timing right and want to get your adrenaline pumping, you can watch a thrilling race at this track.
When the circuit isn't used for racing, it is open to the general public. Cyclists and car drivers share the road, and strict speed limits being applied.
24. Just For Laughs Festival
Have a laugh at Montreal's infamous Just For Laughs Festival. Every summer, you can catch a fantastic lineup of comedians, including many English-speaking one (a few years ago, I saw the English comedian Michael McIntyre).
This festival is the largest comedy festival in the world, bringing in many tourists yearly.
You can also enjoy street arts, comedy shows, gala events, and theatre too. Over 400 artists from around the world come to perform in the Quartier des Spectacles.
25. the Bota Bota Spa
Need a day to relax and reset? Spend the day lounging at the beautiful Bota Bota Spa in the Old Port of Montreal. Built in an old-ferry boat, you'll get to enjoy stunning views of the St. Lawrence River and the city while getting pampered with the many spa treatments Bota Bota Spa has to offer.
26. Clock Tower Beach
Only five minutes away from downtown, Clock Tower Beach is the perfect spot to enjoy the sun, sand, and picturesque views of the St. Lawrence River.
Although swimming isn't allowed, there are plenty of lounge chairs and parasols to keep you comfortable and provide you a space to take refuge from the sun when you need it. There are snacks and drinks available on the beach so you can enjoy some food and a refreshing drink while you soak up the sun.
27. Cap-Saint-Jacques Nature Park
If you're looking to take a break from the city or are an outdoor enthusiast, escape to Cap-Saint-Jacques Nature Park for a day filled with nature-based activities. Surrounded by luscious pine trees and trails to hike, you'll be able to enjoy the forests Montreal has to offer.
In summer, you can swim in the lake, go canoeing, kayaking, paddleboarding, or kite surfing for a fun day out in nature. Winter activities at the Park include snowshoeing and cross-country skiing.
28. Mile End
Montreal is filled with unique neighbourhoods that have their own character and vibe. There are plenty of neighbourhoods to explore and visit in Montreal and Mile End is one of them.
Mile End is a trendy neighbourhood in Montreal where you can find hip wine bars, coffee shops, and unique fashion boutiques. There are plenty of shops selling local gems made by artist that you won't be able to find anywhere else.
29. Square Saint-Louis and Rue St. Denis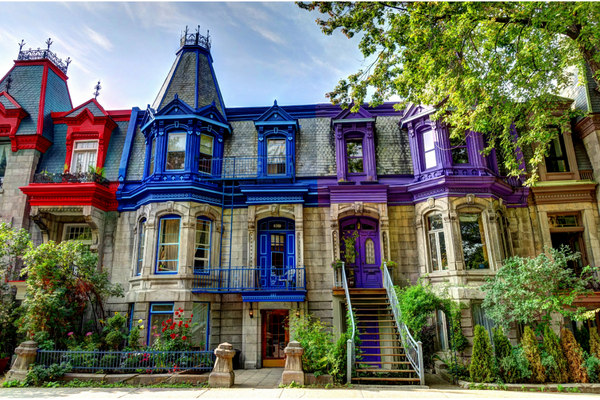 Square Saint-Louis is one of the most beautiful squares in Montreal, with colorful Victorian houses and quaint restaurants to grab a bite to eat from. Rue St. Denis is where you'll find great shopping, art, and hip cafes and bistros.
As you walk down Rue St. Denis, you can walk west into the Plateau area that's filled with fancy shops by local designers and restaurants run by chefs.
30. Enjoy a Coffee at Cafe Olimpico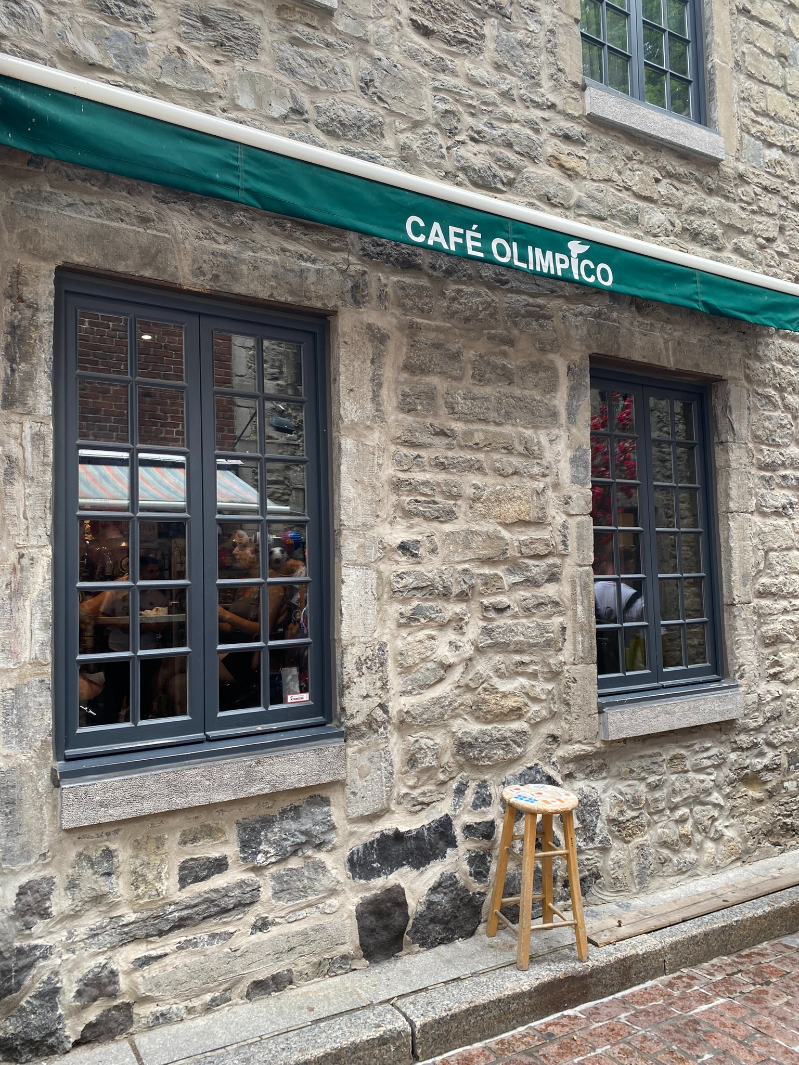 This cafe has been a staple coffee-stop in Montreal since 1970 and has a lovely European-vibe that's a favorite for city locals, hipsters, and local artists. You can enjoy a delicious array of espresso drinks, coffee, and pastries at this charming cafe.
31. McGill University
McGill isn't just for students — everyone can enjoy the beautiful architecture of the University grounds.
Located between Mount Royal and Montreal's downtown, the gothic architecture will have you feeling like you've stepped into Hogwarts. You can visit the various libraries and museums on campus to take in the rich history of the grounds.
32. Grab a bite at Schwartz's Deli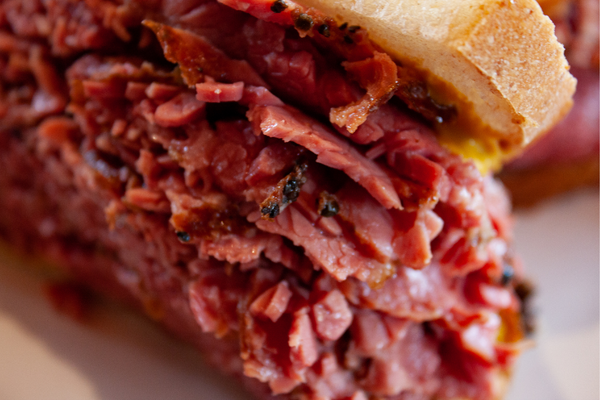 Schwartz's is known for serving delicious Montreal-smoked meat that's cured for 10 days and then cooked in a smokehouse.
Schwartz's deli is one of the oldest and most iconic restaurants in Montreal. The deli made it on our list of Montreal attractions because tourists from all over the world want to taste one of their famous deli sandwiches. If you go at peak hours, the line-up will go all the way to the street.
---
Whether you're looking to enjoy the serene nature Canada has to offer, want to immerse yourself in vibrant culture or explore the old history of the city by sights-seeing, Montreal is a beautiful destination you won't want to miss when traveling in Canada.
If you're thinking of booking a trip, you'll have no shortage of places to see in Montreal.
Do you have time to visit another city during your trip? Quebec City is less than three hours drive from Montreal, and is absolutely worth visiting. Read more about Quebec City's attractions, or find out about the best ways to commute from Montreal to Quebec City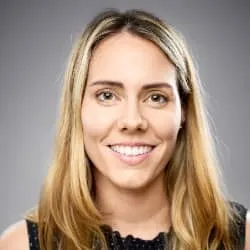 About the Author
Anne was born and raised in Quebec City. She is our resident expert for the city of Quebec and other popular regional destinations such as Charlevoix and Gaspésie. Having travelled to every corner of the province with her children, she is also our expert for family related topics on Quebec Wonders.