30 Best Things To Do in Quebec City & Most Fun Activities
The best things to do in Quebec City whether it be indoor or outdoor, in the sunshine or in the snow.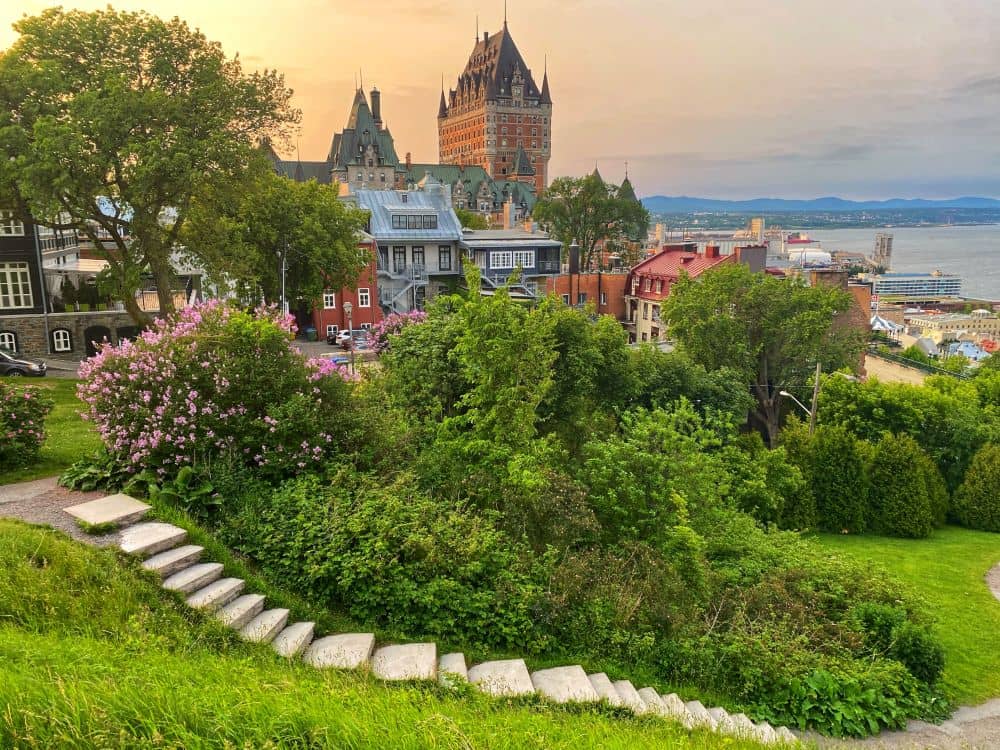 Disclosure: Some posts on this site contain affiliate links. Read our full disclosure.
Whether you're a local or a first-time visitor, there are tons of things to do in Quebec City. Quebec City is steeped in history and is in the history books for more than one reason. It's the oldest French-speaking community in North America, it's the only walled city north of Mexico and it's home to the world's most photographed hotel.
Get ready to step back in time as you walk down the cobblestoned streets of Old Quebec, one of the most popular activities in Quebec City. For more things to do in Quebec City, you're going to want to keep reading.
From world-renowned attractions to must-see neighbourhoods, I've covered all bases. Plus, I've snuck in a few underrated things to do in Quebec City that this local loves and thinks everyone needs to experience in my hometown.
Things To Do in Quebec City
1. Walk Around Old Quebec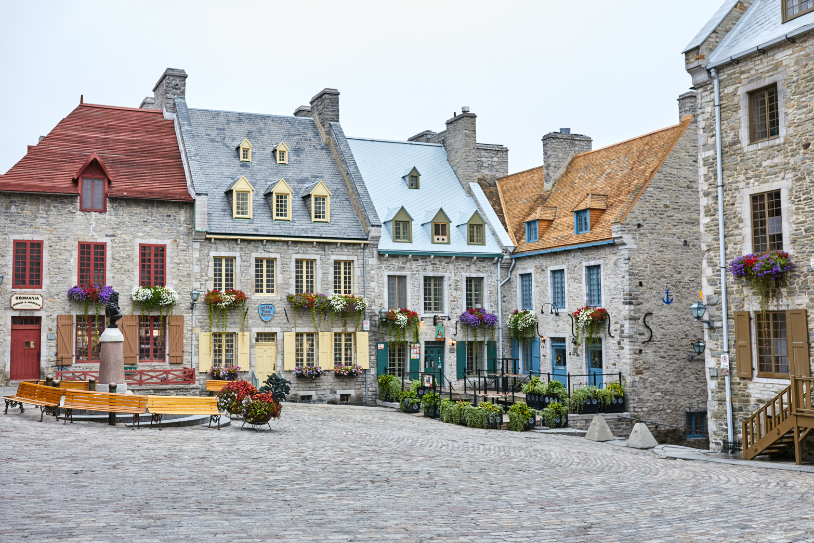 Old Quebec holds prestigious UNESCO World Heritage status and it's no wonder why. It's one of the top places to visit in Quebec City and the following iconic landmarks collectively capture the essence of Old Quebec's beauty:
Petit Champlain
Place Royale
Terrasse Dufferin
Place D'Armes
Place de l'Hotel de Ville
Rue du Tresor
Rue De Buade
Rue St-Jean
Rue Saint-Louis
Porte Saint-Louis
Place D'Youville
Plains of Abraham
Old Port
So make sure you add these to your list of things to see in Old Quebec.
2. Tour Old Quebec on a Double-Decker Bus
If you're not much of a walker, take a double-decker bus for a comfortable tour of the best Quebec City attractions. The expertly curated routes will bring you to Place d'Armes, Place Royale, Quartier Saint Jean Baptiste, Place d'Youville, The Plains of Abraham, Citadelle de Québec and so much more.
Choose the one-hour express Unitours bus if you're in a hurry. If you'll be in Quebec for a few days, opt for the Quebec Tours two-day pass which lets you get on and off at the best Quebec attractions. Just hop back on when the next bus loops around. Dress for the weather as the top level of the bus is open air!
3. Visit Inside Château Frontenac
Chateau Frontenac is a historic grand hotel renowned for its breathtaking architecture and historical significance. There are three options to experience the interior of Chateau Frontenac. You can book a table at one of the restaurants, either for a meal or for High Tea. You can also book a guided tour, which is kid-friendly, or simply walk into the reception hall and boutiques for free.
4. Strom Spa Old Quebec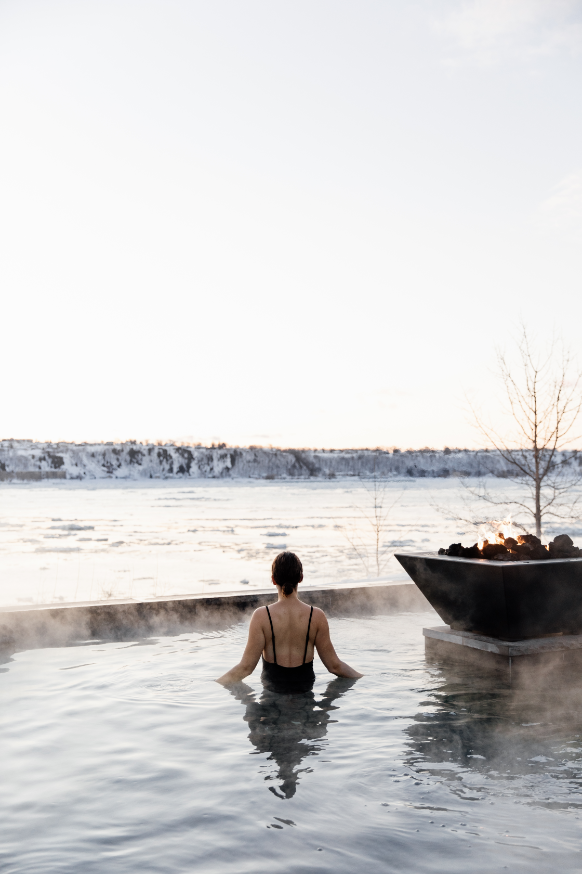 Strom Spa Nordique in Old Quebec City offers a range of relaxing services and amenities. This tranquil venue provides soothing spa treatments, including massages and thermal baths; allowing guests to unwind and rejuvenate. The spa features beautiful indoor and outdoor spaces too, such as saunas, hot tubs and cozy relaxation areas. It's just a short walk and an even shorter drive or taxi ride away from Old Quebec, making it easily accessible for a moment of pampering (you deserve it). Strom Spa features on my list of the best spas in Quebec City.
5. Musee National des Beaux-Arts du Quebec
MNBAQ is one of the top Quebec tourist attractions. It's easy to see why, as it showcases a remarkable collection of fine art. This includes paintings, sculptures and decorative arts spanning various periods and styles. The museum is located in a historic building, to which modern sections have been added. The museum's architecture is a piece of art itself: a beautiful and unique blend of modernity and tradition. MNBAQ is a good place to see local Quebec and indigenous art too. It is located near the Plains of Abraham and Rue Cartier, which is the perfect spot for a meal or drink.
6. Musee de la Civilisation
Whether you're interested in ancient civilizations, contemporary social issues or Quebec's rich heritage, Musée de la Civilisation offers an insightful journey that will leave you with a deeper understanding of the world around us. The museum is located in the Old Port. It regularly features activities and workshops for children, so it's worth consulting its official website to plan your visit.
7. Sledding at Le Massif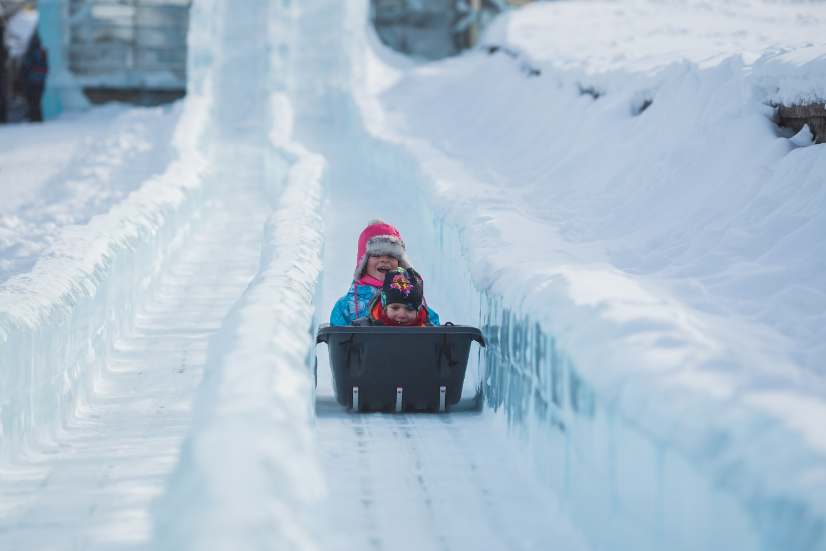 I must say, sledding on a luge at Le Massif is one of the most fun winter activities in Quebec City I have ever done around my hometown. The luge trail stretches out for a thrilling 7.5 kilometres of downhill fun. From the summit of the mountain, there are breathtaking views of the St Lawrence River and surrounding snow-covered mountains.
A car is necessary to reach Le Massif from Quebec City as it's about a 75-minute drive away. If your budget allows it, I recommend staying the night at the nearby Club Med Hotel.
8. Aquarium du Quebec
One of the top things to do in Quebec City, the Aquarium du Quebec is home to an array of Nordic creatures that you don't get to see elsewhere. This includes polar bears, seals, arctic foxes and owls.
The two indoor pavilions are home to hundreds of varieties of fish and wildlife species. Seal and polar bear feeding shows are scheduled throughout the day too. It's open year-round but the summer season offers a few more activities for kids. If the aquarium is your type of activity, make sure you read my detailed review and tips for visiting the Quebec Aquarium.
9. Village Vacances Valcartier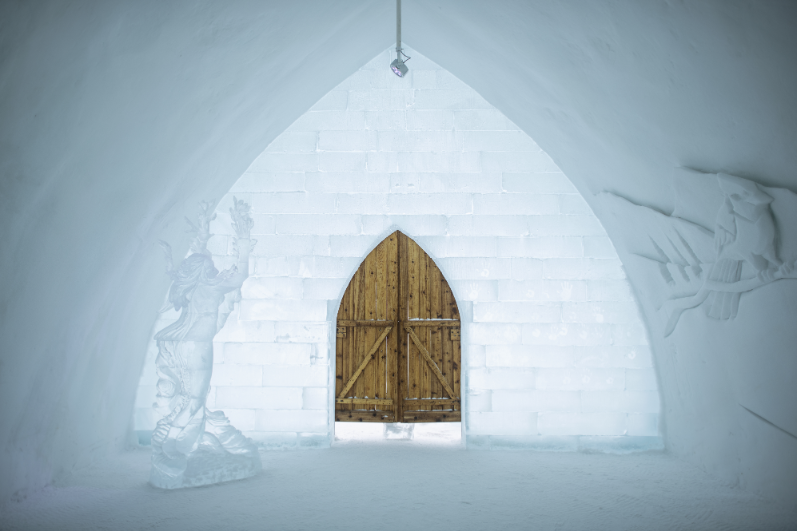 Village Vacances Valcartier is a fun vacation spot. In the summer, you can enjoy a ton of water-based activities like water slides, lazy rivers and swimming pools at their awesome water park. When winter comes, the village turns into a magical snowy wonderland with thrilling adventures like snow tubing, ice skating and snow rafting. The easiest way to get there is by car and it's only a 35-minute drive from Old Quebec.
10. Ice Hotel
The Ice Hotel in Quebec City is an incredible seasonal hotel entirely made of ice and snow. It's one of the top Quebec City attractions in winter, but the ultimate adventure is to book a stay and spend a night in one of the icy rooms. However, if that's out of your budget or you're not keen to stay overnight, you can still visit the hotel, including the ice bar and the ice chapel (if it isn't hosting a wedding).
Conveniently located next to Village Vacances Valcartier, it's ideal to combine both visits in one day for an unforgettable icy adventure.
11. Observatoire de la Capitale
From Observatoire de La Capitale's elevated vantage point, you can enjoy panoramic views of Quebec City and the surrounding landscape. The Observatoire is located in the tallest building in Quebec City so it offers 360-degree views of the city. You can spy Chateau Frontenac, Plains of Abraham and the Citadelle among other Quebec tourist attractions. Check out the next two items on this list for other great ways to see Quebec from above.
12. Ciel! Bistro Bar
An alternative way to enjoy breathtaking views of Quebec City from up high is by visiting Ciel! Bistro Bar, Quebec's only revolving restaurant. Ciel! Bistro Bar offers a fantastic alternative to the Observatoire de la Capitale, as your money is spent on a culinary experience rather than an entrance ticket. Additionally, the restaurant boasts more flexible opening hours; providing you with ample opportunities to take in the panoramic vistas.
13. Rooftop Heated Pool at Hilton Quebec
The Hilton Quebec features a rooftop heated pool open year-round. You don't even have to be a hotel guest to enjoy it! For a fee, the pool is open to the general public, allowing everyone to indulge in a refreshing swim while taking in the picturesque surroundings. You won't get a 360-degree view and it is not nearly as high up as the Observatoire or Ciel! Bistro Bar, but you'll still see a bit of Old Quebec from up high.
14. Horse-Drawn Carriage Ride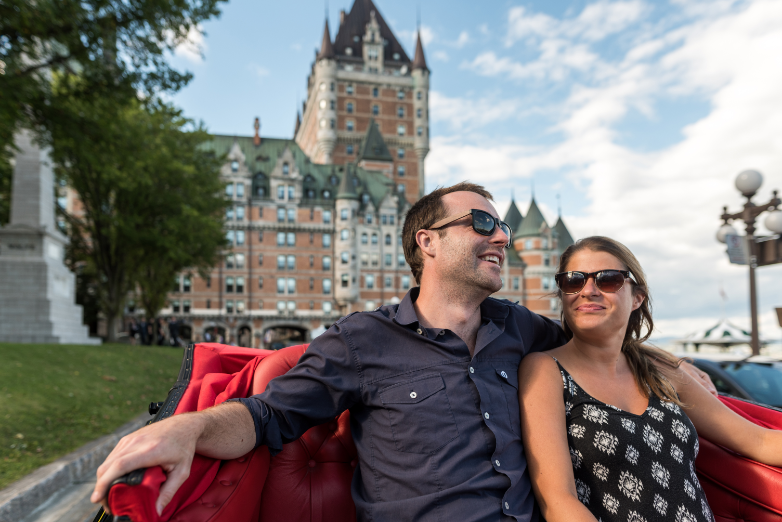 In Old Quebec, you can take a horse-drawn carriage guided tour of the Old Town. However, in my opinion, it can be a hit-or-miss experience since bookings are not available in advance. The waiting and pick-up spot for Quebec City carriage rides is at Places d'Armes near Chateau Frontenac (on Rue St-Louis, the opposite side of Chateau Frontenac).
15. Bear Watching Near Quebec City
Most people don't know that it's possible to see black bears in their natural habitat near Quebec City. At Station Duchesnay, visitors have the incredible opportunity to see bears up close from the safety of a bus. This unique tour provides a typically North American and memorable experience. Duchesnay is a 45-minute drive from Old Quebec.
If you're visiting during the right season, you can also combine bear, moose, lynx and whale watching with this package offer on Get Your Guide. It's a full-day tour offered in English that picks you up from your hotel.
16. Dog Sledding at Lake Beauport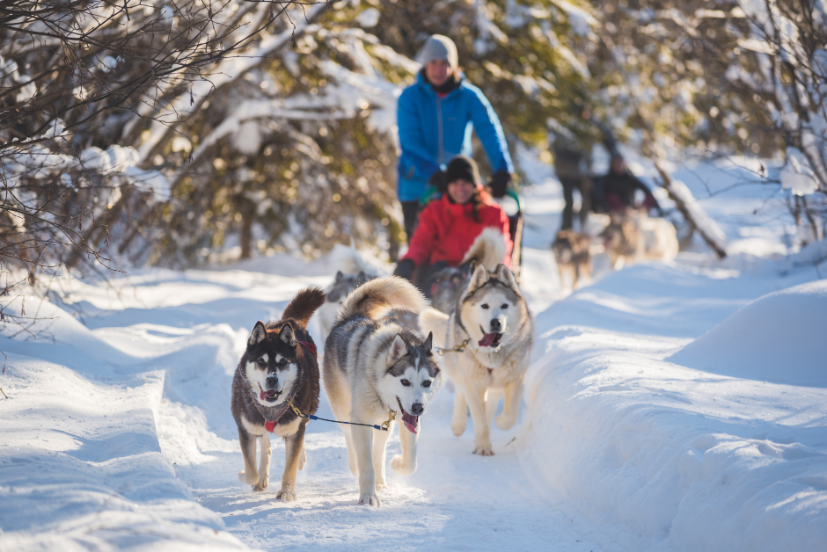 Book a dog sledding tour at Pourvoirie du Lac Beauport for an outdoor adventure with lovable husky pups. The pilot of the sled stands while the passenger sits in front, swapping spots halfway through the loop trail. This unique experience is a lot of fun but quite the cardio workout as the person in the back sometimes has to push or help the dogs uphill. The tour includes a well-equipped reception cabin where you'll find restrooms, hot beverages and winter gear rental.
17. Ski and Snowboard at Stoneham
Stoneham Ski Resort is one of the best spots near Quebec City for skiing and snowboarding. With a mix of beginner, intermediate and advanced runs, there are conditions for every level. Many visitors have a blast on the night trails at Stoneham as well. New skiers, snowboarders or anyone looking to hone their skills can take a lesson at the TELUS Winter Sports School too. The Alpins boutique also has top-of-the-line winter gear, equipment rentals and a repair shop.
18. Stay at Club Med Charlevoix
Luxury meets outdoor activities galore at Club Med Charlevoix. This all-inclusive resort outside Quebec City is perfect for couples or families looking for skiing, ice skating and luging in winter. In the summer, you can go biking, hiking or even whale watching! One major perk of Club Med Charlevoix is the unbeatable views of the Saint Lawrence River and Charlevoix Mountains.
19. Visit Benjo With Kids
If you're travelling with children, one of the best activities in Old Quebec is visiting the Benjo Toy Store. Creative details like a mini VIP entrance for kids, a small train running on weekends and the giant robot named Monsieur Bidule make it the best toy store in Quebec. Inside, you'll find everything from Legos and cars to dolls, soft toys, candy, books, puzzles and puppets. There is something for every curious kiddo at Benjo!
20. Quebec-Levis Ferry Ride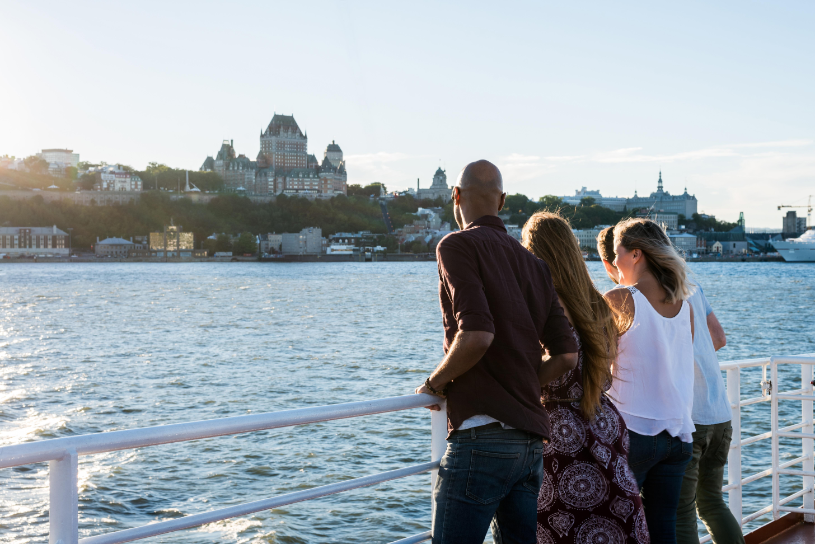 Take a ride on the Quebec-Levis Ferry to enjoy top-notch views of Old Quebec City and Chateau Frontenac from a distance. Once in Levis, explore the wharf area, which is home to several local eateries and cafes. You can choose to take your car across the Saint Lawrence River, load your bike onto the ferry to enjoy riverside trails or simply go on foot.
21. Parliament Building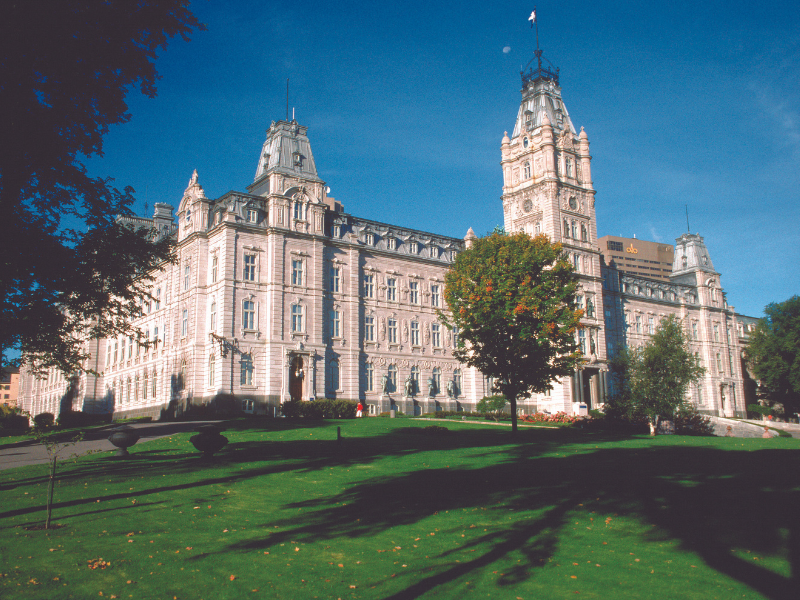 The Parliament Building is one of the top things to do in Quebec City for history buffs as it dates back to 1877. This opulent building is a must-see stop where you can take a self-guided tour or sign up for a tour led by a historian. You'll get to check out Quebecois artwork, grand French-style architecture, exhibits and the National Assembly Chamber itself.
22. Try Maple Toffee on Petit Champlain
Stop by La Petite Cabane à Sucre to taste some of Quebec City's most iconic maple treats. Test out fresh maple syrup, maple butter and maple ice cream. Their famous maple taffy rolled on ice is especially a one-of-a-kind Canadian experience. La Petite Cabane à Sucre is located along the charming Petit Champlain in Lower Old Quebec.
23. Canyon Sainte-Anne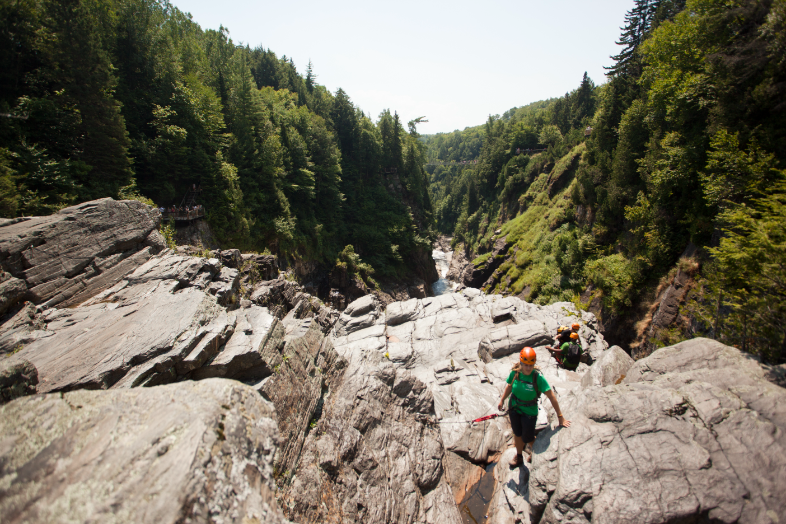 Hop in your car and take a 30-minute road trip from Quebec City to Canyon Sainte-Anne. Here, you'll discover a roaring waterfall and gorge, suspension bridges, Via Ferrata (a mix of hiking and rock climbing) and even zip lines. Ride the exciting zip lines or trek the hiking trails in nature. Discover more itineraries for day trips from Quebec City.
24. Funiculaire Ride
The Funiculaire Ride is the best way to travel from the Upper Town to the Lower Town via an escalator-style cable car. This is a lovely way to view Petit Champlain, the Old Port and the Saint Lawrence River. Buy tickets online beforehand or at the boarding points. One is behind the Fairmont Hotel along the edge of the Dufferin Terrace and the other is in the Louis Jolliet House if you're coming from Basse Ville. Although there is usually a queue during Christmas time, the wait is worth it.
25. Toboggan Slide on Terrasse Dufferin
The toboggan slide is one of the most exciting and oldest activities in Old Quebec, dating back to 1884. You can zoom down the ice tube track solo, with a buddy or fit up to four on your wooden sled. After your race to the bottom, you can buy another ticket to ride again. But get ready to trek back up the hill with your toboggan. The effort is worth the fantastic adrenaline rush!
26. Wendake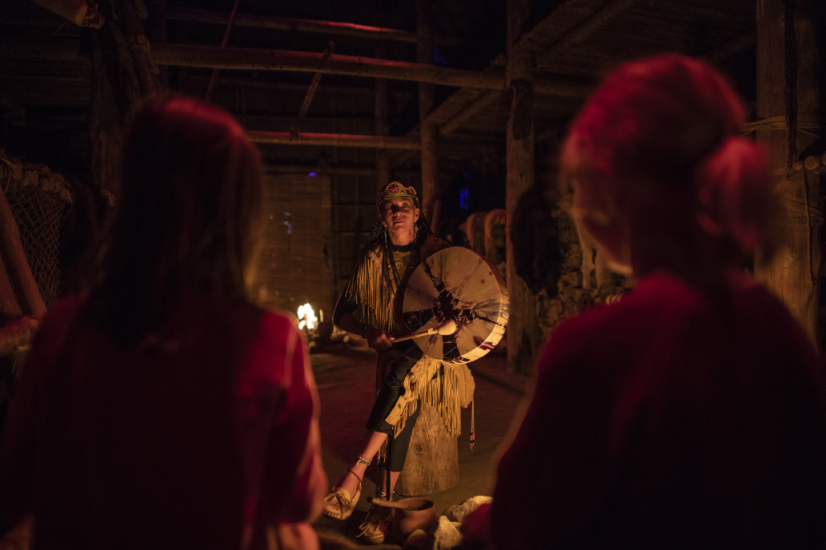 Wendake is known for its authentic Huron village recreations and is home to an array of local artisans. Fortunately, it's located just outside of Quebec City. Visit the Onhoüa Cheteke Traditional Huron Site to learn about the local people of the Huron-Wendat Nation through exhibitions and demonstrations. Then stop by Musee Huron-Wendat to see artifacts and artwork. A trip to Wendake will show you a very interesting and important side of Québec culture.
27. Restaurant Sagamité
Discover more about Huron-Wendat heritage through gastronomy at Sagamité restaurant. Named after a classic and hearty soup, Sagamité offers a menu of traditional recipes with a modern spin. The dishes represent the values of the Nation such as the house special, Yatista, which shows the importance of fire. Get a taste of indigenous cuisine at either of the Sagamité locations in Wendake or Quebec City.
28. German Christmas Markets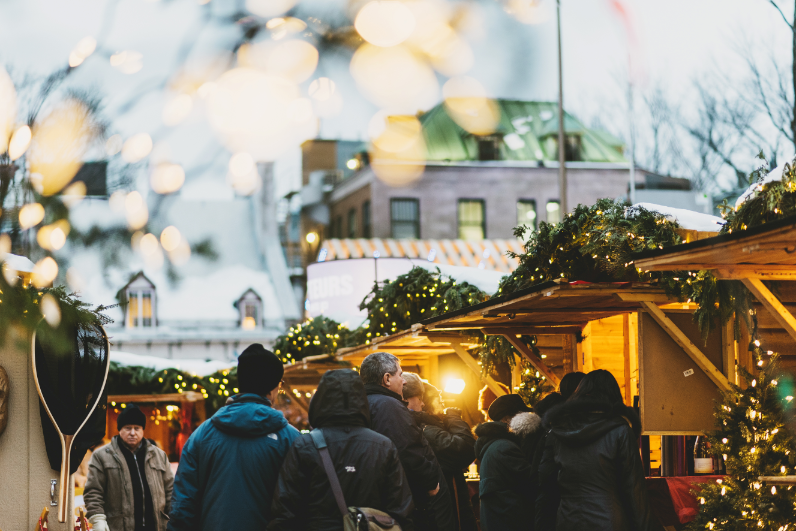 Winter (November 23 to December 23)
Get in the holiday spirit at the German Christmas Markets in Old Quebec, as Quebec City comes to life, decked out in Christmas lights and decorations. The European-style festival can be found at the Dufferin Terrace, Place d'Armes, Place d'Youville and along Rue Saint Anne. The month-long celebration hosts performances, Christmas choirs and carolers, festive activities, shopping and German holiday delicacies like bratwurst, cookies and mulled wine.
Learn more about the delights you'll find at the German Christmas Markets.
29. Winter Carnival (Carnaval de Québec)
Winter Carnival dates back to 1894 as a way to beat the cold, long winter. Today, the tradition lives on with 10 days of winter celebrations. This is one of the best things to do in Old Quebec in winter. Witness ice sculptures, an ice palace, lights and parades, and enjoy activities like skating, sleigh rides and canoe racing. Check the official schedule for exact times and dates and always keep your eyes peeled for Bonhomme, the Winter Carnival snowman mascot!
30. Grosse Île
Summer to fall (May to October)
Grosse Île is one of the top historic things to do near Quebec City; offering a window into the past of Canada's Irish immigrants. At the Irish Memorial National Historic Site, undergo a pretend medical inspection as the original immigrants did and then board a trolley to see more of the area. Explore the island by bike or on foot, reaching Saint-Luc-de-la-Grosse-Île Village and the Irish cemetery along the interpretive trail. To get to Grosse Île by car, take the Les Croisières Lachance boat.
After finishing this bumper blog post about my beloved hometown, you won't be wondering: "What to do in Quebec City?". From the top Quebec City tourist attractions to the best free things to do and family-friendly activities, I believe I've covered all bases from winter to summer and the seasons in between. I hope you enjoy your Quebec City vacation!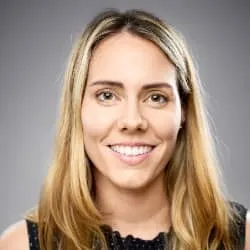 About the Author
Anne was born and raised in Quebec City. She is our resident expert for the city of Quebec and other popular regional destinations such as Charlevoix and Gaspésie. Having travelled to every corner of the province with her children, she is also our expert for family related topics on Quebec Wonders.