20+ Things To Do in Montreal in Winter (Indoors & Outdoors)
Discover the best things to do in Montreal in winter, featuring exciting indoor and outdoor activities perfect for December through March.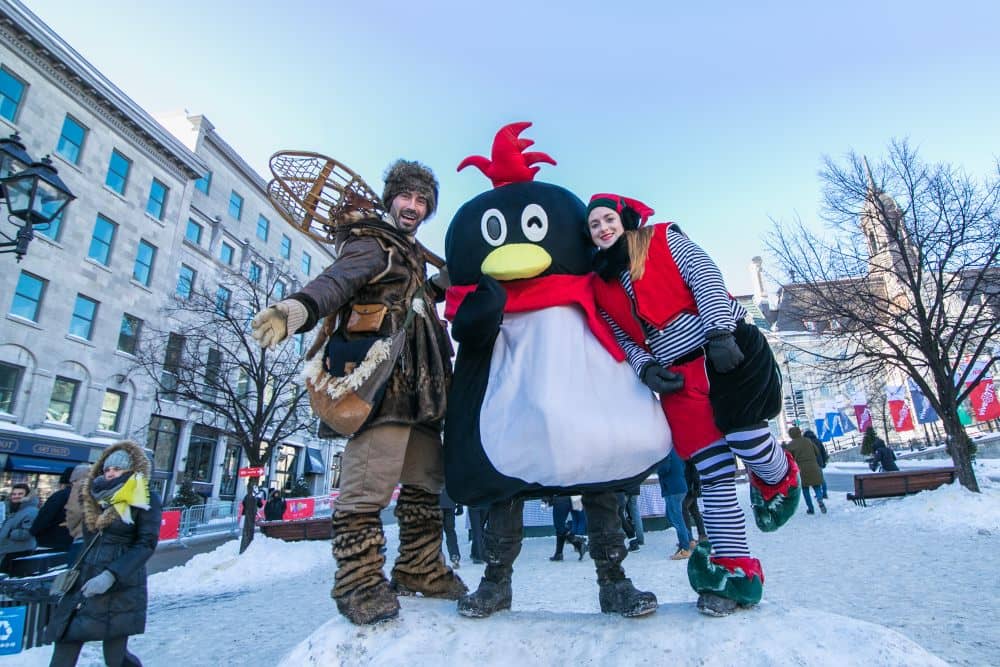 Disclosure: Some posts on this site contain affiliate links. Read our full disclosure.
I have a lot of fond childhood memories of visiting Montreal during winter with my family and doing all sorts of activities on the island. There are so many family-friendly things to do in Montreal in winter and once the snow blankets the mountain and the streets, it really does become a winter wonderland. Now that I'm settled here, I almost can't wait to see the magic that is Montreal in December and January.
If there's one thing I know, it's that in order to stay happy during the winter season (because it does get very cold), I need to stay active. Lucky for me, and for you, there are a ton of things to do and places to visit in Montreal in winter. Keep reading to check out the best Montreal winter activities.
Outdoor Things To Do in Montreal in Winter
1. Outdoor Ice Skating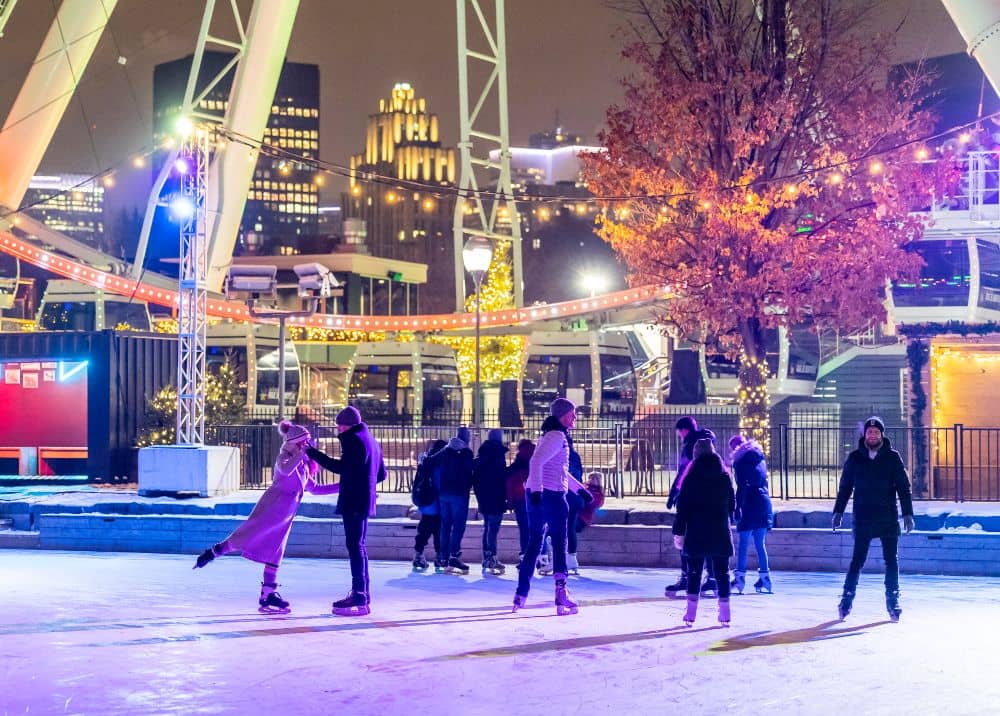 What I like best about ice skating during the winter in Montreal is the sheer amount of options available. I love to lace up my skates and head over to one of Montreal's outdoor ice skating rinks for a relaxing (and sometimes romantic) skate admiring the views, the people and the falling snowflakes. Here are my top picks:
Don't have a pair of your own? That's fine because all of these locations offer rentals. Just head over to the websites to find out their opening hours and rental costs.
Ice skating is one of the best winter activities in Montreal, so make sure you try it at least once. Outdoor ice skating in Montreal is weather-dependent, but the season normally spans from mid-December until the end of March.
2. Do a Small-Group Guided Walking Tour
If you don't mind braving the cold, this guided walking tour of Montreal is well worth it. It's hosted by MTL Detours, the city's top-rated walking tour specialists. The experienced guide takes you and just nine other people on a two-hour tour through Old Montreal. Along the way, you'll learn about the area's history, see significant landmarks and receive insider tips. Let me just say, the insider tips are worth the ticket price. The must-try restaurant, cafe and activity recommendations will make your trip to Montreal much more fulfilling.
3. Enjoy Winter Sports at Mount Royal Park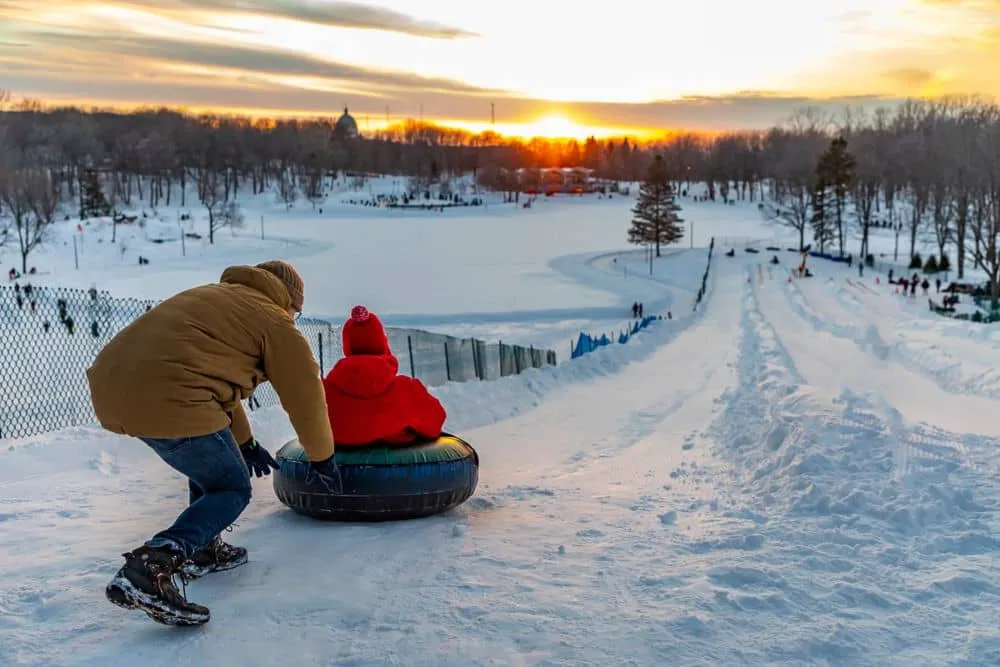 Mount Royal Park is one of my favourite places to explore during the winter in Montreal. Here are just some of the fun things to do at Mount Royal Park in winter:
Enjoy a relaxing walk up to the iconic outlook overlooking the Downtown area and warm up with a hot chocolate in the Chalet before heading back down.
Rent skates, snowshoes and cross-country skis at the Beaver Lake Pavilion and take advantage of the beautiful and well-kept trails that crisscross the mountain.
Enjoy the rush of adrenaline that comes with sliding down steep hills in a snow tube. As a bonus, you'll be able to admire a stunning view of Saint-Joseph's Oratory and, if you plan your visit just right, you will witness one of the most beautiful views of the winter sunset.
I simply love this spot for Montreal winter activities and keep going back to it year after year.
4. Visit Christmas Markets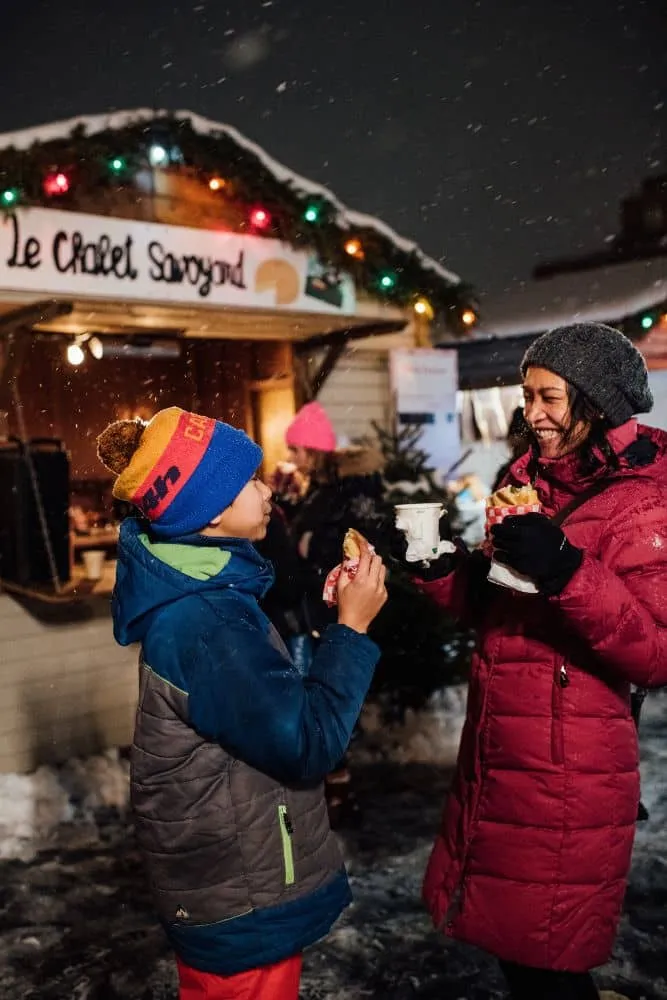 Are you travelling to Montreal in December? If you're like me and simply love to shop for festive items during this time of year, you certainly won't want to miss out on the many Christmas markets that sprout up around the city during this magical time.
Here are some of my favourites:
The Great Montreal Christmas Market (Quartier Des Spectacles, end of November to end of December).
Montreal Christmas Village (Atwater Market, mid-November to end of December).
Jean-Talon Christmas Market (Little Italy, end of November to end of December).
Each of these is unique and, from having visited them all, I can assure you none of them lack vendors, snowflake wonder and tasty winter treats. Visiting a Christmas market is a must-do Montreal winter activity. Here are even more Christmas activities in Montreal when you're in the spirit.
5. Cross-Country Skiing
One of my fondest winter memories is of cross-country skiing on a silent night underneath the still Montreal sky. This Montreal winter activity is stunning, relaxing and depending on the trail, quite thrilling.
Here are some of the best cross-country skiing places in Montreal. All of these places have rental options on-site during opening hours.
Mount Royal Park
Maisonneuve Park
Jean-Drapeau Park
If you're staying in Montreal and are lucky enough to witness a heavy snowfall, you might even catch the locals commuting to work or enjoying their afternoon cross-country skiing in the multiple bike lanes that are strewn around the city. It always puts a smile on my face to see this and reminds me that cross-country skiing is one of the best Montreal winter activities.
6. Build a Snowman at Lafontaine Park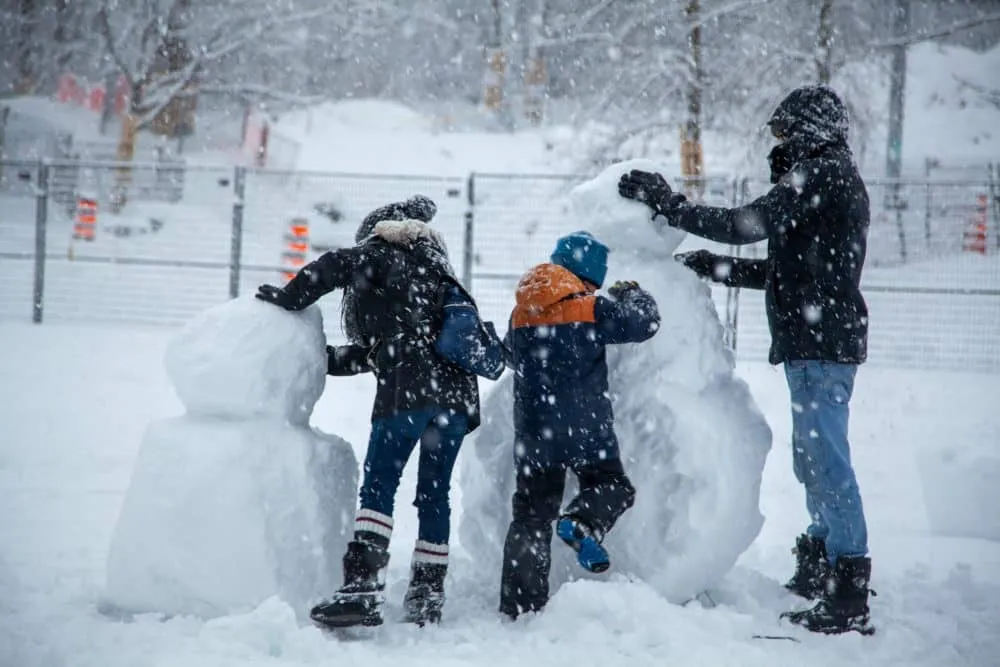 Ever since I was a child, I always take the time to build a snowman during winter. If you're a foreigner, you might not know this but you can only build a snowman when the snow is right (i.e. the sticky type, not the fluffy type). This is one of those Montreal activities during winter that can result in fun, warm and happy memories that will last the kids (and the kids at heart) a lifetime.
My favourite spot to build a snowman is without a doubt Lafontaine Park, as it's often the site of impromptu competitions and displays of superior snowman-building skills. By putting Lafontaine Park on your Montreal winter itinerary you will surely create a beautiful memory for you and your family.
7. Go Winter Bird Watching at Cap-Saint-Jacques Nature Park
Bird watching at Cap-Saint-Jacques Nature Park during winter in Montreal will provide you with a unique and rewarding experience if you are, like me, a nature enthusiast and bird lover. While winter may not be the peak birding season, the park still offers a diverse range of avian species that have adapted to the cold climate. This includes waterfowl, winter songbirds, raptors, and more.
8. Watch an Ice Canoeing Race on the St. Lawrence River
Teams of ice canoeing enthusiasts engage in exhilarating races over several kilometres on the icy waters of the Saint-Lawrence River. This extreme sport is almost exclusively found in the province of Quebec, making it a one-of-a-kind experience and unique among Montreal winter activities.
The race commences at the iconic Clock Tower and embarks on a thrilling route, encircling the western expanse of the Alexandra Basin before proceeding to Cité-du-Havre Park and advancing to Parc Jean-Drapeau on Île Sainte-Hélène. Nestled within the heart of the harbour, the Montreal ice race track captivates spectators with its awe-inspiring nature, owed to the racers' close proximity to the shores throughout the entire journey.
Despite the race having been cancelled in 2023 due to warmer-than-usual weather, I find this activity to be one you're definitely going to want to experience. The race is called the Montreal Ice Canoe Challenge and you're going to want to keep track of their website to learn when the 2024 race is.
9. Snowkiting
Are you an avid snowboarder or downhill skier? Although there are no ski hills on the island, why not try out snowkiting? I love how you can harness the forces of the wind with snowkiting. It's the winter equivalent of kitesurfing, but the board is replaced by a snowboard or skis. The Kiteforce Snowkite School offers lessons in Pointe-Claire and Pierrefonds when the ice is sufficiently solid. You can find more information about reservations, rentals and opening hours on their website.
10. Snowtubing
My favourite things to do in Montreal in winter are adrenaline-pumping activities where I can feel the cold air on my face (but it doesn't actually make me cold because I'm dressed warmly, of course).
Every winter when I was a kid I would go snow tubing with my grandmother, so I always get excited when I do this activity. Ignace-Bourget Park is similar to Beaver Lake in that it offers tube rentals, but what sets it apart is that the hill is divided into two sections: one for beginners and one for people already familiar with this classic Montreal activity. I specifically suggest putting Ignace-Bourget Park on your Montreal winter itinerary if you are travelling with young children.
Indoor Things To Do in Montreal in Winter
11. Watch a Hockey Game
Here in Montreal, we're all big fans of the Montreal Canadiens. I remember going to see them when I was six years old with my uncle. I wasn't living in the city at the time and even though this happened over 25 years ago, I still remember the magical feelings of all the lights, exciting noises and cheering Bell Center crowd.
The Bell Center is located right in the middle of the city's downtown area, next to many wonderful restaurants and hotels. So a visit to the arena during your stay here is a must if you're visiting Montreal in January or February. If you're a fan of hockey, you'll be thrilled. If you're not, you might just become one.
12. See The Nutcracker
One of the best things to do in Montreal in December is catch a performance of The Nutcracker by Les Grands Ballets Canadiens. Created in 1892 by Pyotr Tchaikovsky, this timeless classic has captivated several generations of audiences with its skillful blend of fantasy, magic and humour.
One of the most magical Montreal winter activities I can suggest, with dazzling sets, lavish costumes and a dreamlike vision of childhood, this ballet brings together around a hundred dancers on stage. I suggest buying tickets on their website as soon as possible because this show always sells out.
13. La Grande Roue in Old Port
Did you know that this beautiful (and fairly recent) Montreal landmark is also open during winter? Yes, the ferris wheel is technically outdoor, but I have listed it alongside other indoor activities in Montreal because the cabins are heated!
La Grande Roue is one of the best places to visit in Montreal in winter, whether you're travelling with your family or on a romantic holiday escape.
This Ferris wheel is the largest of its kind in Canada. It allows you to view a 360-degree panorama of the city from 60 metres high up in the sky. What I find makes it even better is that it's open 365 days a year and the cabins are heated. There's no reason why a visit to La Grande Roue de Montreal shouldn't be on your list of Montreal winter activities.
14. Indoor Ice Skating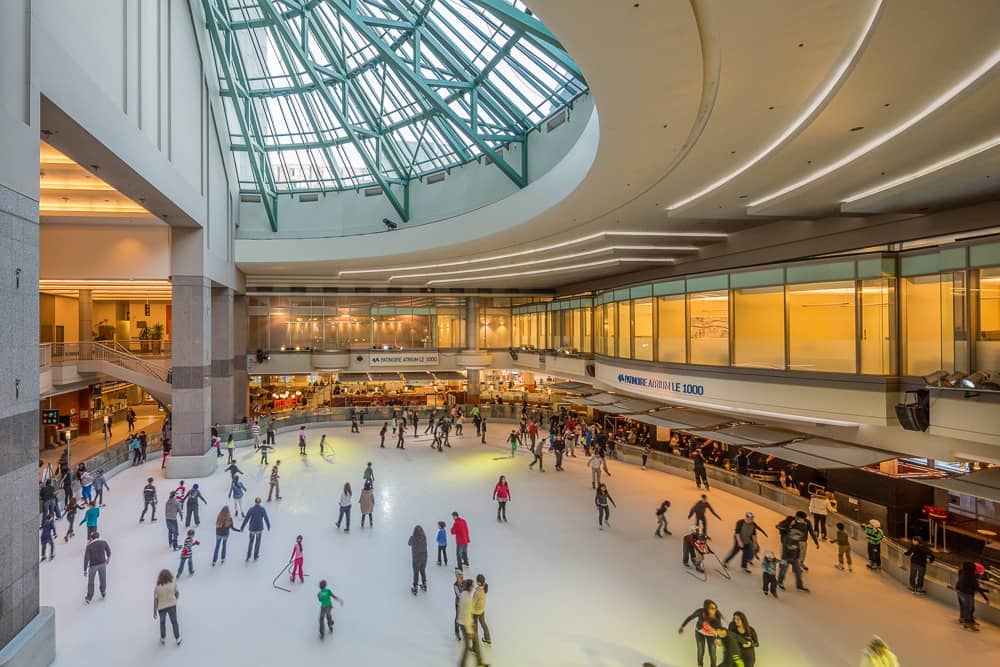 Do you need more proof that Montrealers absolutely love skating? If during your time here you happen to come across a rainy day (they sometimes happen in Montreal winters but it's usually quite rare), then don't be afraid because the indoor ice rink at Le Atrium 1000 (1000 Rue De la Gauchetiere O) will be where you want to go.
Having gone last season, I highly recommend it. The staff was super welcoming and they had everything available for rent (skates, helmets, support racks…) in case you don't have your own equipment. I found the rink itself to be a good size and they regularly clean the ice which makes for smooth skating. There are restaurants steps away so you can also eat something before or after your skate. Le Atrium 1000 is definitely one of the top places to visit in Montreal in winter.
15. Eat a Smoked Meat Sandwich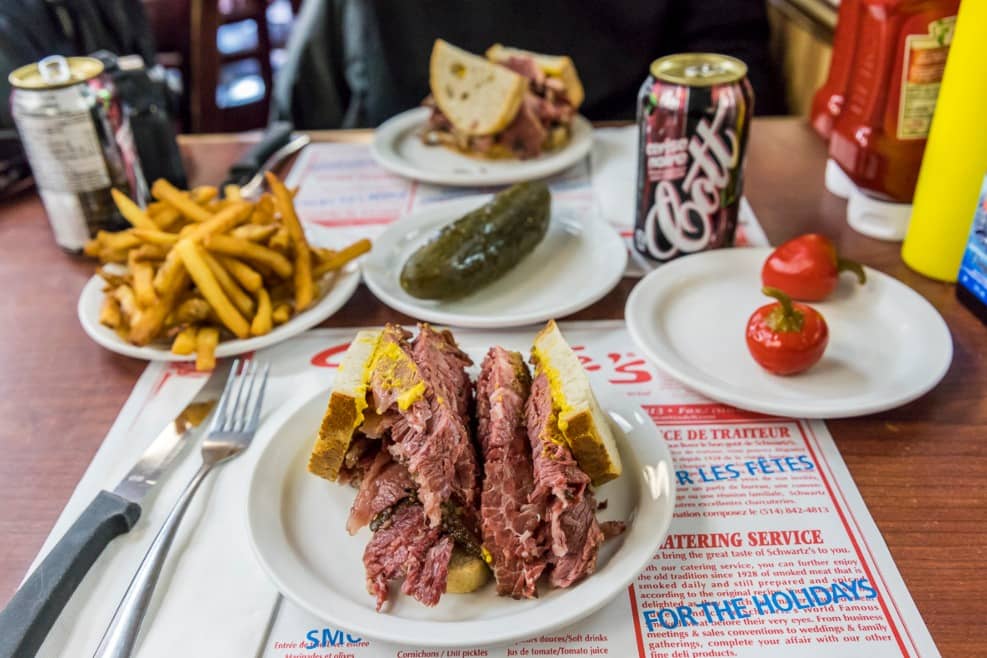 Whenever I'm hungry and want a taste of home, I head over to a famous Montreal eatery called Schwartz's Deli (3895 Boul. Saint-Laurent). The menu here is simple and its star is the Montreal-style smoked meat sandwich. Based on the perpetual line-up in front of the store, this 90-year-old diner knows what they're doing.
The tradition of Montreal-style smoked meat was brought to the city in the late 1800s or early 1900s by immigrants from Eastern Europe and has been a local favourite ever since. Make sure you put enjoying a smoked meat sandwich (with a side of pickle) on your list of Montreal winter activities!
16. Join The Old Montreal Food Tour
Do you want to explore Old Montreal through the tastes of the city? If you're like me and just love food you will absolutely want to participate in the Old Montreal Food Tour. I like that the walking tour offers you the chance to immerse yourself in the gastronomic tapestry cherished by locals. With the help of the guide, you'll gain insights into the interconnected web of historical sites that envelop the area.
The friendly guide will unveil some of Montreal's most intriguing historical anecdotes, visual delights and delectable morsels. Their approach adheres to the principles of sustainable tourism, aiming to minimize disruption to the community's daily life. This tour includes 5+ food stops, including three sit-down restaurants and one brewpub.
17. Visit Landmarks of Montreal in Winter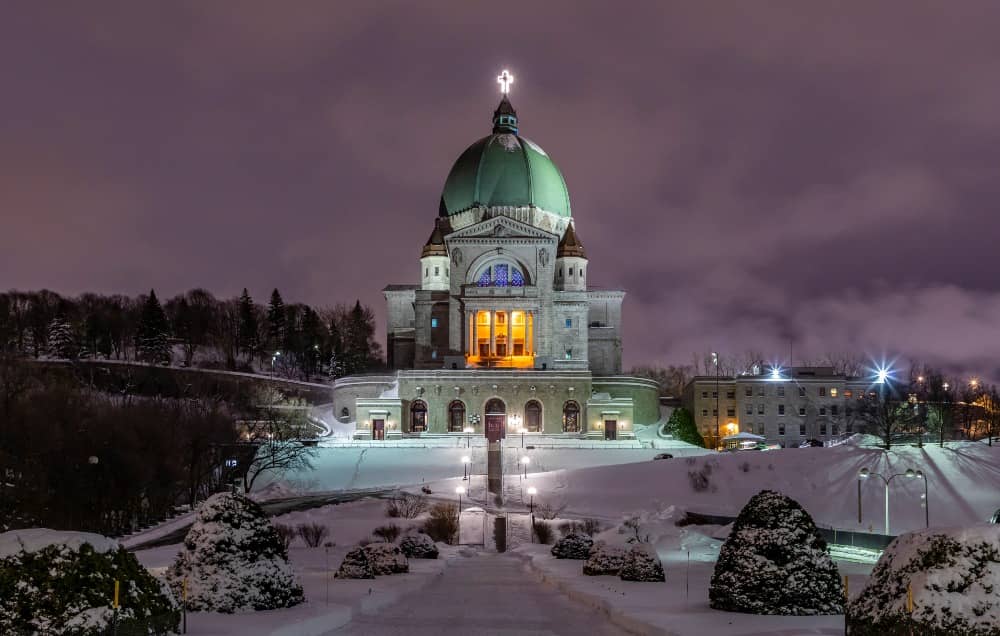 Whether this is your first journey to Montreal or you're a well-seasoned traveller returning to a familiar destination, you're definitely going to want to include a visit to this city's most famous landmarks on your list of Montreal winter activities. I mean, there are so many and they are all unique and beautiful, what's not to love?
For starters, I suggest you head over to the Notre Dame Basilica, Saint Joseph's Oratory and Jean-Talon Market. Why not check out our article on top things to do in Montreal year-round for more ideas?
18. Espace Pour La Vie
A visit to Montreal's Espace Pour La Vie offers a captivating exploration of nature, science and the interconnectedness of life. I'm really happy about the newly renovated Biodome, where you'll journey through replicas of various ecosystems, observing diverse plant and animal species.
At the Botanical Garden, you'll encounter meticulously curated landscapes, showcasing the beauty and diversity of plant life. My favourite part about the Botanical Garden is its greenhouse, which is always a pleasure to visit and nice and toasty in the winter.
The Insectarium will introduce you to the world of insects, unveiling their essential role in our ecosystem and the Planetarium invites you to explore the cosmos through captivating shows and exhibitions. Here is a perfect family-friendly activity that you're not going to want to miss when you are planning your Montreal winter itinerary.
19. Montreal Science Center and IMAX
I remember visiting the Science Center and IMAX theatre in the Old Port for an activity during summer camp. It was completely magical. To this day I remember fondly learning about the wonders of science and enjoying the larger-than-life cinematic experience.
From the intricate details of the interactive exhibits to the awe-inspiring visuals of the IMAX screenings, the Montreal Science Center and IMAX create an environment where learning and entertainment seamlessly merge. Add this to the list of family-friendly things to do in Montreal in the winter.
20. Have a Spa Day in Montreal
In my opinion, having a spa day is one of the best things to do in Montreal in January, when all the outdoor spas and heated pools are surrounded by white snow. Montreal is known for its extensive list of spas, where you can relax and put a little more warmth back in your body after having played outside for so long.
Now, we've already published a post on the best spas in Montreal and many of the best hotels in Montreal have lush spa facilities. But here are my top recommendations:
Scandinave Spa Old Montreal (Old Montreal indoor spa, standalone/not part of a hotel).
Bota Bota Spa-Sur-L'eau (Old Montreal indoor and outdoor spa, standalone/not part of a hotel).
Avie Spa (Old Montreal indoor spa at Mariott Springhill Hotel).
Strom Spa Nordique (Ile Des Soeurs indoor and outdoor spa, standalone/not part of a hotel).
Winter Events in Montreal
21. Montreal en Lumieres (Montreal in February to March)
I have always thought Montreal en Lumieres was one of the coolest Montreal winter activities. Since its inception in 2000, the festival has been delighting Montreal residents and visitors each winter with a multitude of delightful activities. This includes food stalls, performances from local artists, an ice skating trail and light displays.
Throughout the festival, the Quartier des Spectacles and its vibrant Place des Festivals transform into an essential winter hub. The event also culminates in Nuit Blanche, which I mention below.
22. Igloofest (Montreal in January)
Do you like to dance the night away? Are you a massive fan of electronic music? If you answered yes, I highly recommend you attend one of Igloofest's epic wintertime concerts. Igloofest is an electronic music festival that has taken place annually in January since 2007. The distinctive feature of this urban electronic music festival is that it offers an outdoor winter program.
As a bonus, everyone is decked out in their most colourful snowsuits. Igloofest is certainly one of the grooviest winter activities in Montreal in January.
23. Nuit Blanche of Montreal (Montreal in March)
Last but not least, on the final night of Montreal en Lumieres, the entire city stays up all night and explores the city's hundreds of artistic nooks and crannies.
La Nuit Blanche in Montreal is a vibrant all-night arts and culture extravaganza. Thousands explore the city amid the cold to enjoy a wild array of cultural activities, exhibitions and performances across various venues.
I find La Nuit Blanche to be exhilarating and, with the metro staying open all night, there's no reason for you to stay in. It's definitely one of the best things to do in Montreal in winter!
How to Pack for Montreal in Winter
Montreal gets very, very cold in the winter. The best way to avoid feeling it though is to dress smartly. Here are some tips to help you pack for your winter trip to Montreal.
You're going to want to layer up. That's the secret. So bring a lot of different layers (long johns, undershirts and sweaters).
Bring neckwarmers, gloves, snow pants, a warm jacket and a toque (beanie).
Bring several pairs of socks, especially if your accommodation doesn't have a dryer. You will want to quickly change into a new pair if there is even a hint of humidity in them.
It's easy, really, you just need to be extra careful when dressing up. You can't ever be too dressed up for winter in Montreal.
How to Get Around Montreal in Winter
The best way to travel around Montreal during winter is the metro. As we receive large amounts of snow every year and snow removal operations can sometimes block a whole side of a street for hours, you're probably not going to want to rely on a car that much (unless you have access to an indoor parking lot).
The bus, too, is a good option. But make sure to carefully follow the schedule of the bus route on the STM website. No one wants to stand in the cold waiting 30 minutes for a bus. But, again, the metro is the best option as it's typically very warm which, to be honest, is more often than not a welcome relief from the cold.
Frequently Asked Questions
Montreal in winter: Is it worth visiting?
Montreal is for sure worth visiting in the winter. There's so much to do and it's such a unique place that you're going to want to experience it. Although all winter months are enjoyable, I suggest you make it to Montreal in December or January as that's when most of the festive activities are happening.
How do you spend a day in Montreal during winter?
The key to spending a day in Montreal in the winter is to stay active and dress warmly. There's no shortage of things to do in Montreal in winter, so that shouldn't be too difficult. Plan a lot of time for sunshine, enjoying the great outdoors (or indoors) and having the time of your life as you enjoy the many Montreal winter activities.
I hope this blog post sufficiently helps if you're wondering what to do in Montreal in winter. As you can see, there are plenty of indoor and outdoor things to do in Montreal in winter. But don't miss those winter Montreal events either, as they'll have you so mesmerized you'll forget how cold it is!
Related: Wondering where to stay in Montreal in winter? Here are our recommendations for the best hotels in Montreal.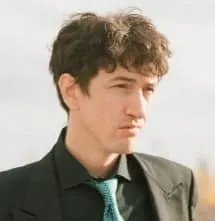 About the Author
Joshua is our Montreal expert. He has been living in Montreal for over 15 years. He is passionate about sharing his love for Montreal and some local tips with our readers.