The 16 Best Things To Do in Montreal in Summer
Our curated list of the best things to do in Montreal in summer (including free activities and festivals)!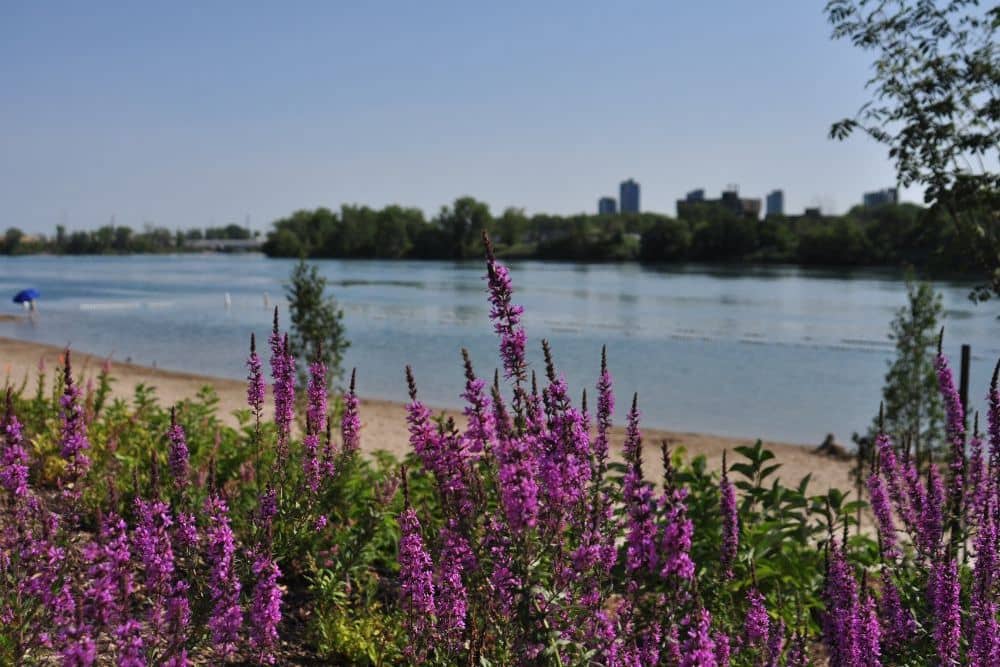 Disclosure: Some posts on this site contain affiliate links. Read our full disclosure.
You're in for a treat today with this local guide to the best things to do in Montreal in summer. When the sun is shining, the locals come out to play! With some of the most fun Montreal summer activities being beautiful beaches, food festivals and free events, who can blame them?
So do as the locals do and enjoy all of these wonderful experiences during your visit to Montreal in the summer. You're guaranteed to have a memorable trip.
Things To Do in Montreal in Summer
Check out my favourite things to do in Montreal in summer.
Clock Tower Beach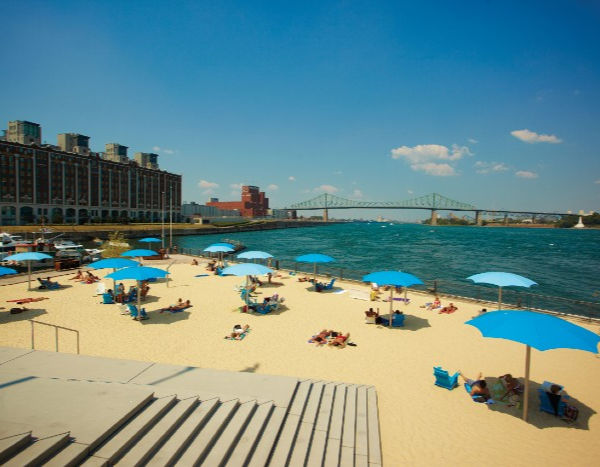 If you're travelling to Montreal in the summer you'll have a lot of fun spending time in the sun at this unique urban beach. Clock Tower Beach is in Montreal's Old Port, just a short distance from downtown.
This urban beach boasts comfy blue chairs, parasols, soft sand and misting stations to beat the summer heat. While swimming isn't permitted, it's a perfect spot to relax and enjoy the stunning view of many of Montreal's most famous landmarks, including the St Lawrence River, Jacques-Cartier Bridge, Île Sainte-Hélène and Old Montreal.
Walking Tour
One of the things I love to do the most in my city is walk around and enjoy all of the amazing sights Montreal has to offer. If you're thinking of what to do in Montreal in summer, I really suggest you try out one of the city's many walking tours. In my opinion, there's no more enjoyable way to discover Montreal than with a knowledgeable certified guide.
These tours are led by expert guides who take you on captivating journeys through the city's neighbourhoods, revealing their unique culture, art, history or cuisine. You can do the tours on foot, by bike or even by scooter. Montreal on Wheels, 16/42 Tours, Dyad and Guidatours all offer different packages and should definitely be checked out if you're looking to discover Montreal in the summer.
Saint-Jean and Canada Day
The beginning of summer in Montreal marks the season of large outdoor gatherings and festivals. It's always such a pleasure when this time of year comes around. The very first events that you should check out are our two national holiday celebrations: La Saint-Jean Baptiste (June 24th) and Canada Day (July 1st).
I like these events because they both include parades, outdoor concerts and fireworks. Every neighbourhood generally has its own celebration, but La Saint-Jean Baptiste's largest event happens in Maisonneuve Park and Canada Day's largest party is held in the Old Port.
L'International des Feux Loto-Quebec
If you love fireworks you will absolutely adore Montreal's annual international fireworks competition: L'International des Feux Loto-Quebec. One of the best things to do this summer in Montreal, this festival offers 30 minutes of dazzling pyrotechnic entertainment over several weeks. Launched from inside La Ronde, the Six Flags amusement park on Ile Sainte-Helene, the fireworks burst over the St Lawrence River near the majestic Jacques-Cartier Bridge.
The grandstands in La Ronde provide the best viewing spot (tickets available). But if you want to watch this amazing display for free then you can join others on the Jacques-Cartier Bridge or by the Clock Tower.
Catch an Outdoor Musical Festival
Summer in Montreal is without a doubt the best time to visit if you're a fan of live music. There are so many great music festivals happening all summer. With all of them showcasing a different music genre, I could easily make a different point on this list for each one of them.
In the interest of suggesting other amazing Montreal summer activities though, I will briefly give you a list of my favourite music festivals. That way you can pick and choose which ones you want to check out.
Here are a few of the must-see outdoor music festivals during summer in Montreal: Osheaga, Jazz Fest, MUTEK, Ile Soniq, Heavy MTL, Francofolies and Lasso Montreal.
Piknik Electronik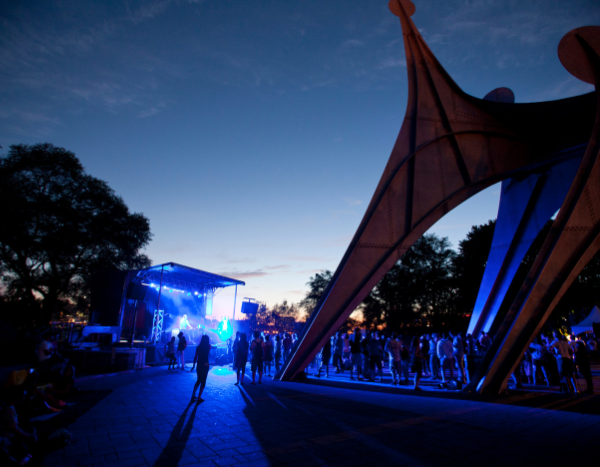 I'm giving Piknik Electronik its own section on this list because of its unique attribute of happening every Sunday from late spring to early fall. If you're into electronic music and all of the styles that derive from it, I suggest you attend this awesome event at least once while spending your summer in Montreal.
The event happens at Parc Jean Drapeau (on the STM's yellow line). It really is beautiful to watch the sunset over the city skyline while dancing to my favourite DJs.
Have a Beach Day
What I love about living in Montreal is that it just so happens to be on an island. What that means is that the city has some very nice beaches that I can visit to cool off when the weather is too warm. If you're looking for a way to refresh while you're spending a part of your summer in Montreal, I suggest you check out Verdun Beach, Cap Saint-Jacques and Jean-Dore Beach.
Play in the Water
Apart from Montreal's refreshing beaches, there are also a lot of options concerning activities on the Saint-Lawrence River and in the Lachine Canal. As I mentioned earlier, the fact that I live on an island is something I never fail to mention to people who are visiting Montreal in the summer. My favourite activities to do on our waterways are Saute-Moutons, H2O Adventures (small boat rentals) and AML Cruises.
Montreal Botanical Garden
The Montreal Botanical Garden is open year-round (check out our guides to fall activities and spring activities in Montreal for more info on seasonal activities at this garden). But summer is when you'll find the Botanical Garden in its full splendour. I find it so magical to roam this 75-hectare urban paradise and explore its various thematic gardens.
The Montreal Botanical Garden has more than 22,000 species of plants, 10 exhibition greenhouses and some 20 thematic gardens. It's part of the Espace Pour La Vie (Rio Tinto Planetarium, Insectarium and Biodome) so a day trip to this area might be worth it (Pie-IX metro station).
My favourite thematic gardens at the Botanical Garden are the Japanese, Chinese and Indigenous gardens. However you plan your itinerary, a visit to the Montreal Botanical Garden is a must if you are looking for the best Montreal summer activities.
Go On a Summer Walk
We have a full article on great hikes (and dog-friendly hikes) to do around Montreal that you should check out. This is without a doubt one of my favourite things to do in Montreal in the summer.
Whatever the time of day, it's always a pleasure to pack some snacks and go for a long walk around the city. My go-to spot is usually Mount Royal Park, but when I have a little more time I love taking a day trip and going outside the city to Oka National Park (which also has a very good beach).
Food Festivals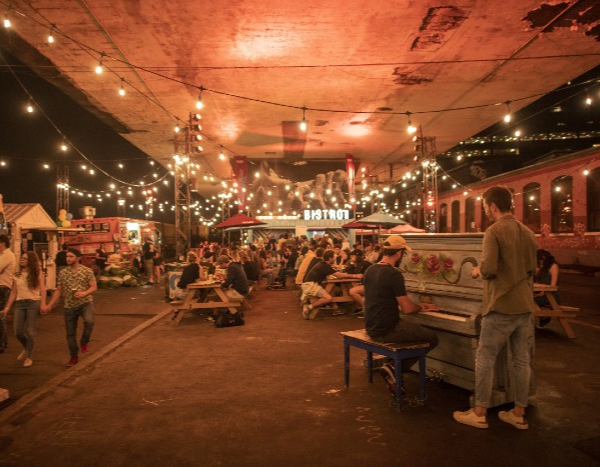 Are you someone who loves to try different dishes from all around the world? Well, alongside its stunning music festivals, Montreal also hosts many food festivals.
Every weekend between June and September you can attend a food festival around the city. I suggest you pick a few of these and let your taste buds relish in all the great flavours of dishes from around the world. My go-to food festivals are Carribean Fest, Street Food Fest, Poutinefest and the Montreal RibFest.
Go See a Circus Performance
There's a lot of circus activities in Montreal and summer is usually the best time to check them out. My favourite time of year to see a circus performance is summer because that is when the Montreal Completement Cirque happens. This is a festival that has regular circus performances (some of them for free) in and around Montreal's Latin Quarter.
Other darling circuses are Cirque du Soleil and La Tohu. Both of these offer year-round circus performances but usually have something a little more special during the summer.
Montreal Pride
Montreal Pride has been one of the world's most popular celebrations of its type ever since it started in 1979. Every year festival goers visit Montreal's Le Village for a two-week-long celebration that includes a parade, music concerts and more.
Jardin Gamelin
Jardin Gamelin is an urban oasis I like to visit to enjoy a free concert and drinks with my friends. It's located at Berri-UQAM subway station, which is conveniently located between Downtown and Old Montreal. Jardin Gamelin is open all summer in Montreal and is one of the more laid-back things to do when you're visiting Montreal at this time.
Formula One
Every summer the city hosts the world-famous Formula One race. This is an event that draws thousands of racing enthusiasts from all around the world. The race happens at Ile-Sainte-Helene (Jean-Drapeau metro station).
What I like about the Formula One event is that the downtown area takes on a festive environment and there are many things to do other than attending the main event. If you like racing events I highly encourage you to check out the Formula One race which happens every summer in Montreal, Quebec.
Visit a Terrace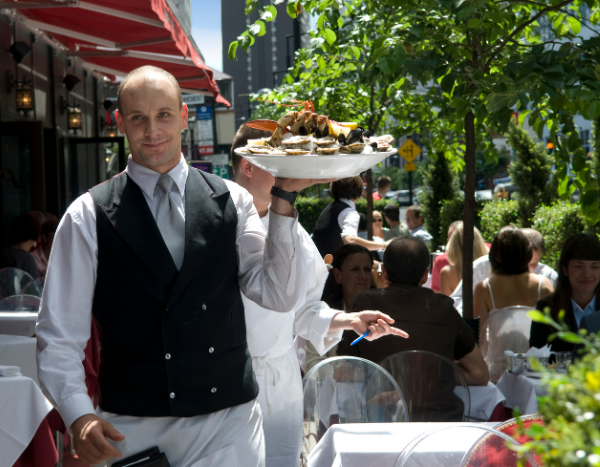 Although I mentioned this in my springtime article, visiting a terrace and enjoying a meal or a drink is definitely a must when you're visiting Montreal in summer. There are literally hundreds of terraces and restaurants to choose from, all of which offer something unique.
With this list of things to do in Montreal in summer, your visit will be jam-packed with fun activities! I hope you have a great time, whether you head to a festival, laze by the beach or enjoy an invigorating hike.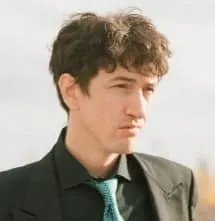 About the Author
Joshua is our Montreal expert. He has been living in Montreal for over 15 years. He is passionate about sharing his love for Montreal and some local tips with our readers.