18 Things to Do in Quebec City with Kids (Indoor and Outdoor)
Discover what to do in Quebec City with kids! Our list of the best indoor, outdoor and seasonal family activities in and near Quebec City.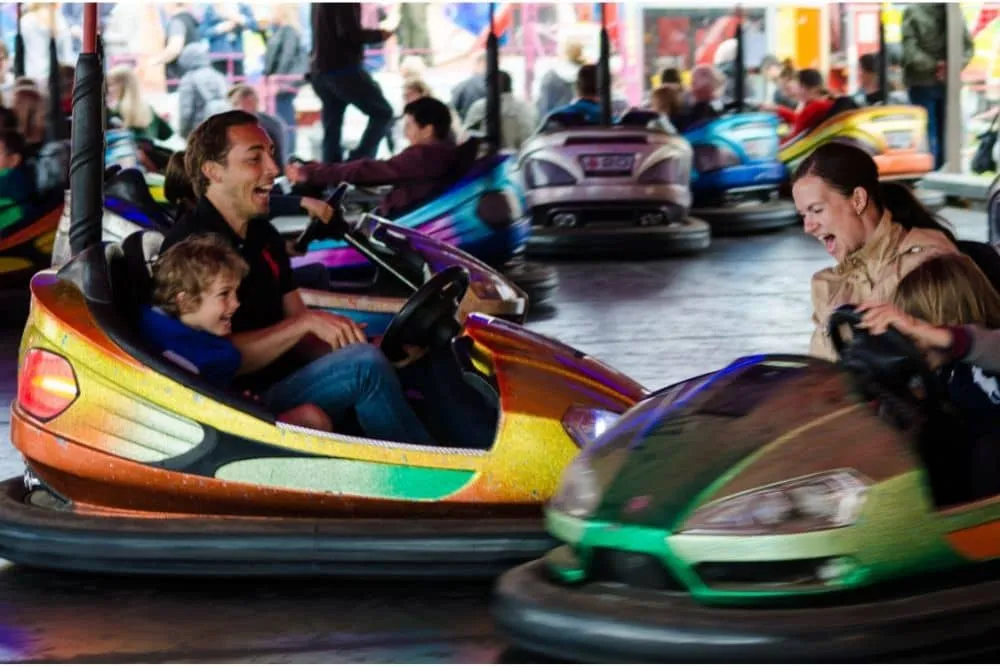 Disclosure: Some posts on this site contain affiliate links. Read our full disclosure.
If you're looking for things to do in Quebec City with kids, you're on the right page! I'll build this guide over the course of 2023 and 2024 into the most exhaustive and useful list of kids-friendly activities in Quebec City. So make sure you mark this page and come back, as this list will get better and better with every season!
I'm a mum and I was born and raised in Quebec. This list includes activities and attractions I've been to with my daughter and others that are still on our to-do list. Hopefully this can help many of you plan the perfect day, weekend, or family trip to Quebec City.
Indoor Activities for Kids in Quebec City
There are so many options to keep children busy and active in this town. Quebec City's kids-friendly indoor activities are perfect for keeping children entertained, rain, snow or shine. The following list includes a mix of fun activities and educational places to visit with children all around Quebec City.
Aquarium du Quebec
Whilst the animals live outdoors (polar bears, seals, etc.) all the fish tanks are inside so I've listed Aquarium du Quebec as a top indoor family activity in Quebec City. Aquarium du Quebec is a fun, educational, and exciting place to visit with your kids. The Aquarium is home to Nordic animals and a large number of fish species from all around the globe. The largest tank features a walk-through tunnel (a big highlight for the kids!), and there are tactical sections where kids can touch starfish, urchins and rays.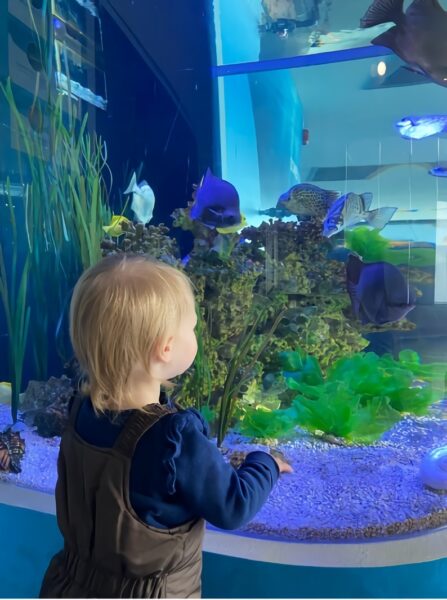 Thematic Role Play at Imaginarius
Imaginarius is one of my favourite indoor activities for kids in Quebec City (and it's definitely a top 3 on my daughter's list too). Imaginarius is an indoor play center designed for children. They get to immerse themselves in a variety of settings that universally appeal to kids, such as a miniature farm, a hospital, a grocery store, a classroom, and even a restaurant, to name a few. It provides an incredibly fun experience for children while being relatively low-maintenance for parents (all the interactive play stations foster independent play, so parents mostly get to sit and watch).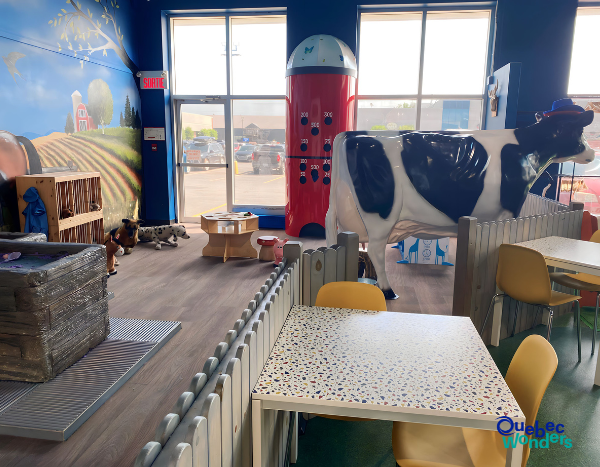 Benjo Toy Store
Benjo is the most impressive toy shop in Quebec City, and it's especially magical in the Christmas period. The visit starts before you're even in the building, as Benjo has a kids-only entrance (a smaller door right next to the normal entrance). Benjo has TONS of toys for kids of all ages, a ride-on train that tours the shop (usually in the weekends only), an in-store cafe, a few robots, and more. It's worth the detour if you have young children (maybe pick up some place car toys for the trip back home).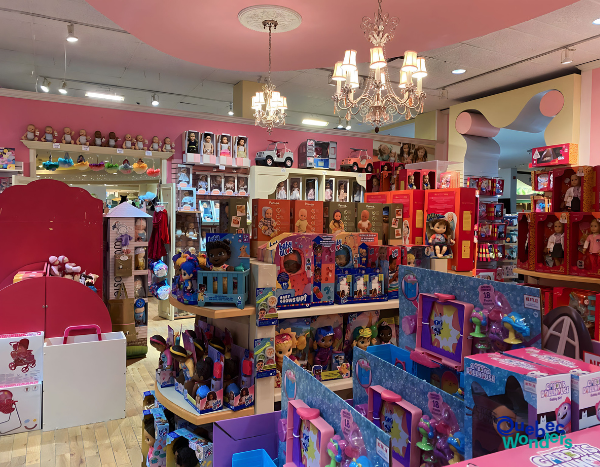 Mega Parc Indoor Amusement Park
Mega Park is the place to go for the ultimate indoor amusement park experience in Quebec City. It's aimed at children – not teenagers or adults. The train ride, plane ride, bump cars and carousel are some of the most popular rides. Mega Parc also as an indoor ice rink with ice skates and helmet rental services.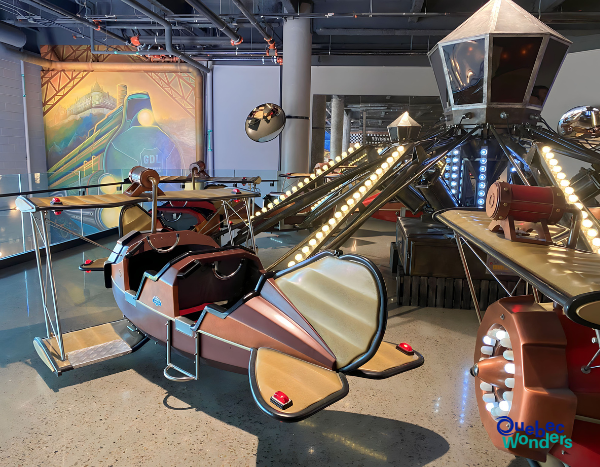 Chocolate Shop And Chocolate Museum Erico
Are you fond of chocolate? Well, who isn't? Kids will be thrilled if you add a short stop at Erico to your Quebec City to-do list. It's essentially a chocolate shop, with a small museum component that teaches you the history of chocolate. There are manyfun places for kids in Quebec City, but your children may prefer Erico the most! It has about 200 chocolate artifacts on display.
Chateau Frontenac Tour
Chateau Frontenac is the most photographed hotel in the world. You can visit the inside of the Chateau with a tour guide costumed with clothes worn in the early settlement years. The tour guides tend to be fully in character, which makes it fun for the kids. The tour has a historical component to it, and as a parent you'll get to enjoy it too. The tour is approximately one hour long, and it is recommended you book in advance online.
Observatoire de la Capitale
The Quebec City observatory (Obsevatoire de la Capitale) is a great indoor educational activity that older children are more likely to appreciate than small kids. It's ocated in the highest building in Quebec City and you'll get to have a 360 view of Quebec City. Online reservation is recommended.
Morrin Center
A good rainy-day activity with children in the Old Quebec is to bring them on a tour of the Morrin Centre. The Center is a heritage site and was previously a penitentiary but is now a fascinating facility with a magnificent Harry Potter-like library. The existing building housed the first prisoners in 1812, and it was intended to serve as Quebec City's public prison. Morrin Centre is a National Historic Landmark.
Escape Room
Escape rooms can be so much fun with (older) kids! In Quebec City, Cabinet Mysteriis has escape rooms suitable for a family activity (recommended with children age 8 and up). The activity is suitable for both English-speakers and French-speakers.
Play a Game of Indoor Mini-Golf
Bar Laitier Mini Golf Fluo S'amuse is a fun indoor mini-golf. There are two thematic mini golf courses, both with fun settings and blacklights. They also sell ice cream and other drinks and snacks on-site. Parking is easy and free.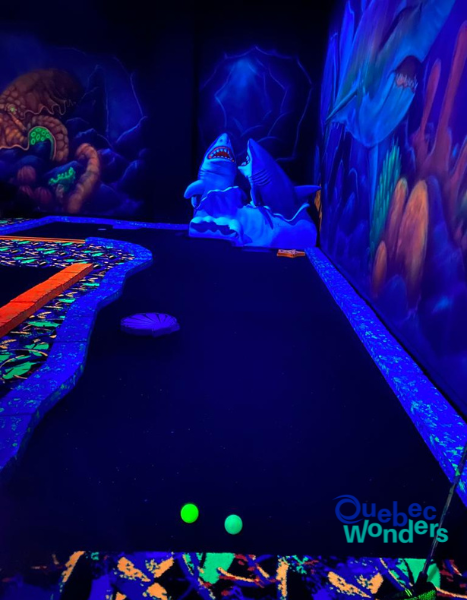 Carrie Factory Arcade
With arcade games, a maze and a 4D movie, Carrie Factory is a popular indoor activity for kids in Quebec City. The main audience is children aged 3 and up (there isn't much there for kids younger than two years old).
Laser Quest
Laser Quest is a fun family activity suitable for children aged 6 and over, parents and even grand-parents. In Quebec City, I recommend Laser Game Evolution in Sainte-Foy.
Outdoor Activities for Kids in Quebec City (all seasons)
Parc des Chutes-de-la-Chaudiere
Parc des Chutes-de-la-Chaudiere is a popular outdoor family activity in Quebec City. The site features kilometers of (dog-friendly) trails, a suspended footbridge and several waterfall viewpoints. There's also a picnic area and a restaurant on site. Tip: Given the number of steps leading to the trail, this is not a stroller friendly activity!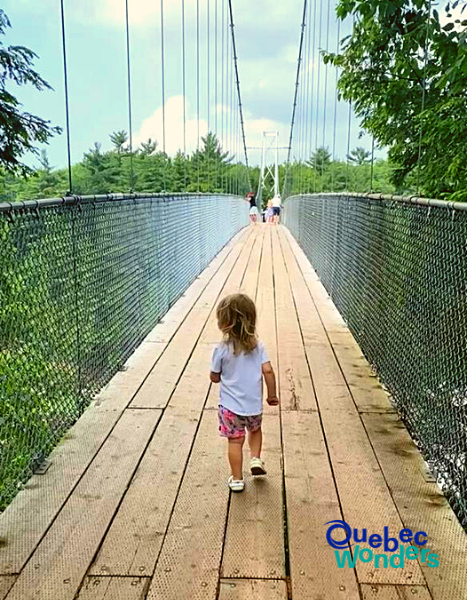 Old Quebec Funicular
Taking the Quebec funicular with kids is a fun and exciting experience. It's quite unique and exciting for children! One of the intangible benefits for you as a parent is that by going up to Terrase Duffering on the Funicular, you'll save yourself the steep uphill walk on Cote de la Montagne. You can also take the funicular to descend towards Petit Champlain.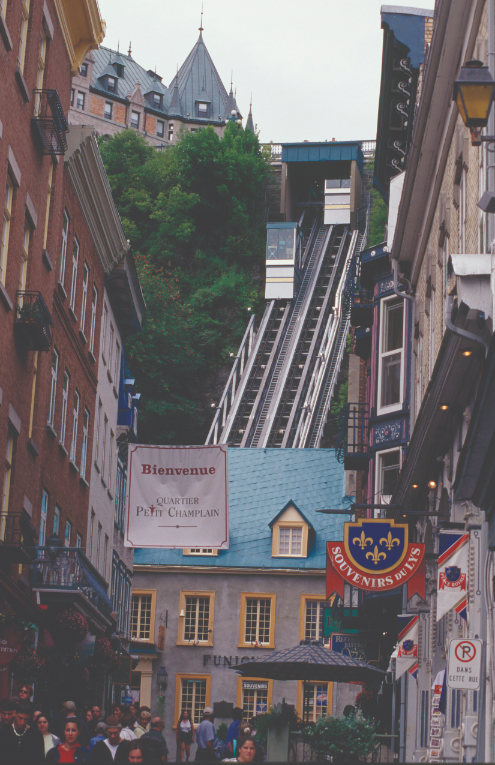 Montmorency Falls
Montmorency Falls are located outside Quebec City (about 12 km away) and they're spectacular all year-round. Before snowfall, consider ziplining or crossing the suspension bridge. In winter, you can walk on the snow trail all the way to the bottom of the falls. The falls are famous tourist attraction. With a height of 83 meters, they are higher than Niagra Falls!
Quebec – Levis Ferry
A ferry ride across the St. Lawrence River is a budget way to see the Old Quebec from the water and is a nice activity to do with kids. The Quebec-Levis crossing is 12 minutes long. You can get on by foot (and book a round-trip ride), by car or by bike (in which case you may prefer to buy a one way trip). Kids under the age of 5 ride for free! During the touristy season, it's best to ferry ticket in advance.
Winter Activities for Kids in Quebec City
Dufferin Terrace Toboggan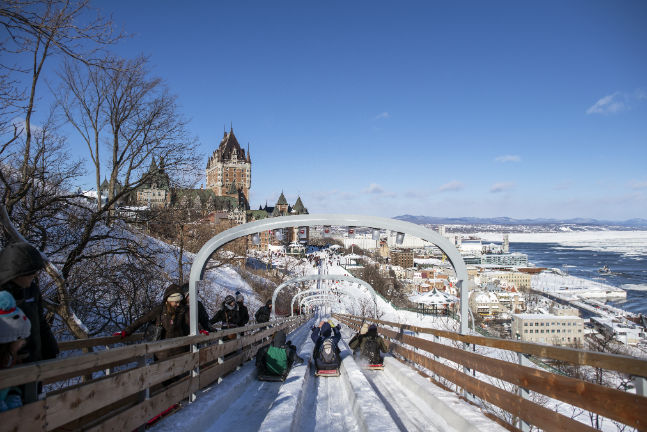 If you're living in or visiting Quebec City with kids, your walk on Dufferin Terrace has to include a ride on the Toboggan. The Dufferin Terrace Toboggan slide has been in operation since 1884 and it never gets old! The view is beautiful: you have the Chateau Frontenac on the left and the St Lawrence river on the right. Depending on your children's age, they may have to slide with an adult. It is opened every day of the week, weather permits.
Related: If you're looking for creative ideas to promote outdoor play during winter, have a look at my article on the best snow toys for kids.
Snow Tubing in Quebec City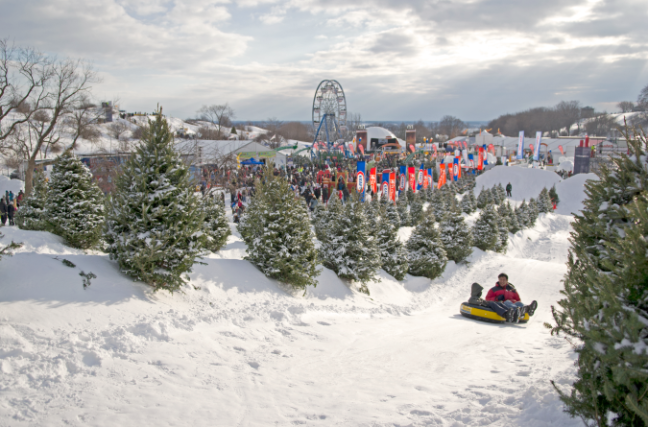 Snow tubing is a very popular activity amongst Quebec families. Thanks to the hilly landscape of our city, there are plenty of sites you can snow tube. In Quebec City, it is possible to snow tube at:
Kids-Friendly Accomodation
I have written a detailed article with my top picks of family hotels in Quebec City. My favourites are recapped here:
Best Near the Airport : Hotel Must
Best near Chateau Frontenac : La Maison Kent
Best near Place d'Youville : Palace Royal
Best in St-Roch Neighborhood : Les Lofts St-Roch
Best near the Aquarium : L'Hotel Quebec
Best with Adjoining Rooms in Old Town : Hilton Quebec
Best Family Ski Resort : Club Med Quebec Charlevoix
Quebec City with Kids
Finding the ideal balance between activities for the children and those that are for us as parents can be challenging. I hope that this list will make it easier for you to plan kids-friendly activities in Quebec City.
A trip to Quebec City offers a unique opportunity to bond with kids and create memories that you and the children will treasure for life. Quebec City welcomes children of all ages with open arms, a European charm, rich history, and engaging attractions.
So, why not pack your bags, and get ready to discover the magic of Quebec City. You'll embark on a family adventure that you will remember forever.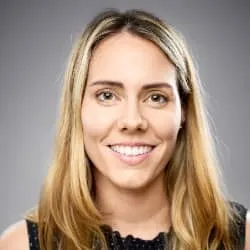 About the Author
Anne was born and raised in Quebec City. She is our resident expert for the city of Quebec and other popular regional destinations such as Charlevoix and Gaspésie. Having travelled to every corner of the province with her children, she is also our expert for family related topics on Quebec Wonders.