14 Reasons to Visit the Quebec City German Christmas Market in 2023
Here's what you can expect from the Quebec City German Christmas Market.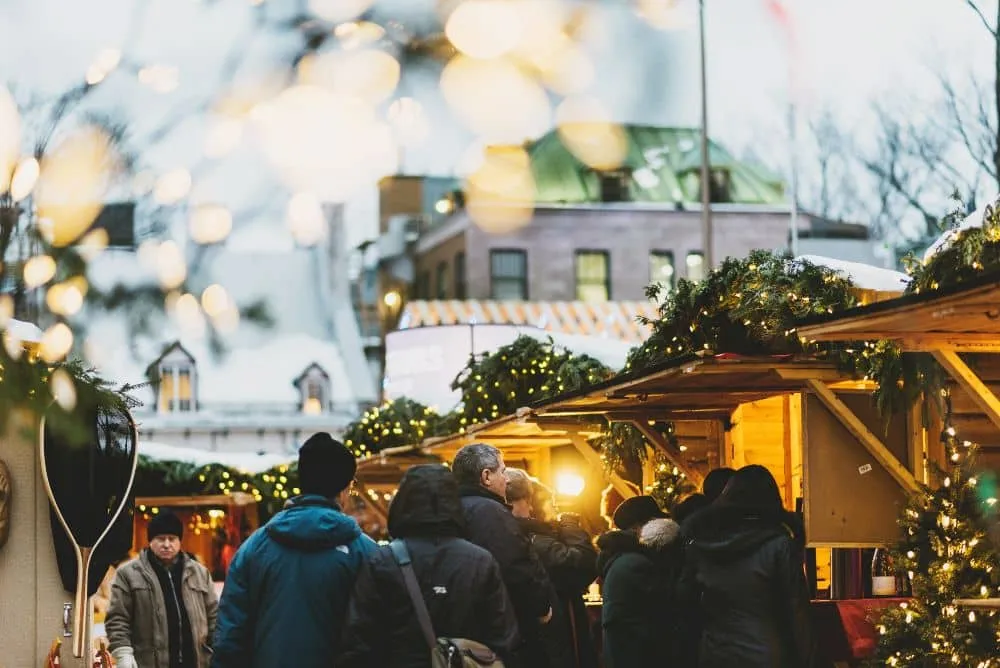 Disclosure: Some posts on this site contain affiliate links. Read our full disclosure.
The Quebec City German Christmas Market is back this year and there is no better place in Quebec City to get you in the Christmas spirit.
The market aims to re-create the atmosphere of European Christmas markets. Thanks to Quebec City's German community, the Christmas Market will transport you to Europe, as you'll walk through traditional wooden stands perfectly decorated for the festive season.
German traditions are at the heart of the market, but there is a lot more to them than pretzels and mulled wine, as you'll find out below.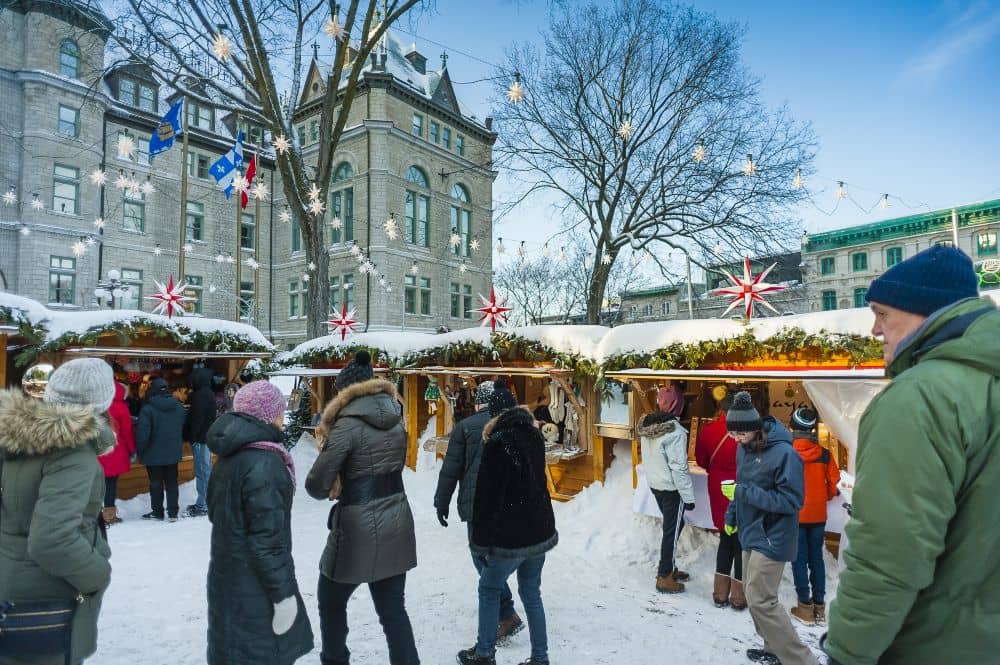 How to Experience the Quebec City German Christmas Market
1. Support local artisans
Quebec artisans are in the spotlight at the German Market. This is your opportunity to buy succulent terroir products and support local artisans. Traditional Quebec products sold by this year's exhibitors include jewelry, cookies, chocolate delights, organic maple syrup products, ready-to-serve cheese fondue, wines and spirits, lavender products and so much more.
2. Stock up on German treats
Nowhere in Quebec City will you find such a variety of German treats. Take your pick from pretzels, mulled wine, traditional German cookies, gingerbread cookies, bratwurst, traditional cakes, German beers and cocktails, and giant European hot dogs. You will also find products imported from Germany that are otherwise impossible to find in stores in Quebec City. You can buy traditional German Christmas decorations too.
3. Soak up the magical scenery
The Christmas Market's organizers have selected the five most charming sites in the heart of Old Quebec to host their event. The market's 90 beautifully decorated stands are wonderful to see. The Christmas magic is truly present at the markets and the scenery is breathtaking. It's beautiful to see all the wooden stands backdropped by European-style heritage houses and buildings.
4. Find the perfect last-minute present
The markets have tons of products on display that make for the perfect last-minute Christmas present. It's also a great spot to buy a souvenir from your trip to Quebec City. Some vendors accept card payments whilst others require cash only, so it's recommended you bring cash or visit a nearby ATM.
5. Enjoy the explosion of Christmas decorations
Quebec City is one of the most charming cities in the world during Christmas. It gets a lot of snow every winter, which gives it a magical atmosphere. Plus, Old Quebec is beautifully preserved and the council goes to town with Christmas decorations. The Quebec Christmas Market adds another touch of magic to it and it would be a shame to not check it out.
6. Take advantage of the romantic atmosphere
The markets are a unique place to grab a drink with your loved one. It can be a bit of a romantic set-up without the crowds. And when it's packed with people on the weekend, the vibe is a bit more bar-like. Winterbar and Alpenbar are the two best places to visit to warm up with a mulled wine or hot chocolate. If you don't need to warm up, it's also a memorable spot to have a beer outdoors in Quebec.
7. Bring the kids!
If you're visiting Quebec City with kids in December, the Christmas Market is an absolute must. There is a wide range of activities for children of all ages. This includes a Christmas parade, indoor arts and crafts workshops, puppet shows, a violin musical awakening workshop, board games, choirs, and a macramé workshop.
You might also like:
8. Indulge at the Alpine Chalet
Don't worry if you visit the German Christmas Market on an empty stomach. The BMW Alpine Chalet will take care of you with gourmet German food reinvented by local Quebecois chefs. There is no service at the tables at the Chalet and it is not possible to pre-book. These measures were put in place to help ensure as many people as possible can visit and eat at the Chalet. The BMW Alpine Chalet is located at the Jardins de l'Hotel de Ville site, on Rue Pierre-Olivier Chauveau.
9. Schedule your visit around the musical performances
If you like music, you're in for some unique performances at the Quebec German Markets. There's a very diversified program in 2023, which features German folklore, kids choirs, pop-up musical performances, DJs and traditional music from the Quebec repertoire.
10. Say hi to Santa
Meet Santa Claus at the German Christmas Market in Quebec! Santa even has his own castle.
11. Celebrate Christmas with a festive DJ event
If we're lucky in 2023, the market will once again feature a festive evening with DJs on its various sites. It was on the program last year on December 15th.
12. Take advantage of the convenient location
This winter, the main market is located where everybody wants to go in Quebec: only a few steps away from Château Frontenac on Dufferin Terrace. Dufferin Terrace is also on our list of the top things to do with children in Quebec City because of its toboggan slide.
13. Did I mention it's free entry?
All five sites of the Quebec Christmas German Market are free to visit. You will only be required to pay if you want to purchase food, drinks or products.
14. Bring the stroller on weekdays
The markets are relatively stroller friendly, which makes it a good activity for families with babies. I visited with a stroller on a busy evening and while I did manage to get around, it was a very slow walk. If you're visiting the German Christmas Markets with a stroller, my recommendation is to go on weekdays or right at the 11am opening if you have to go on the weekend.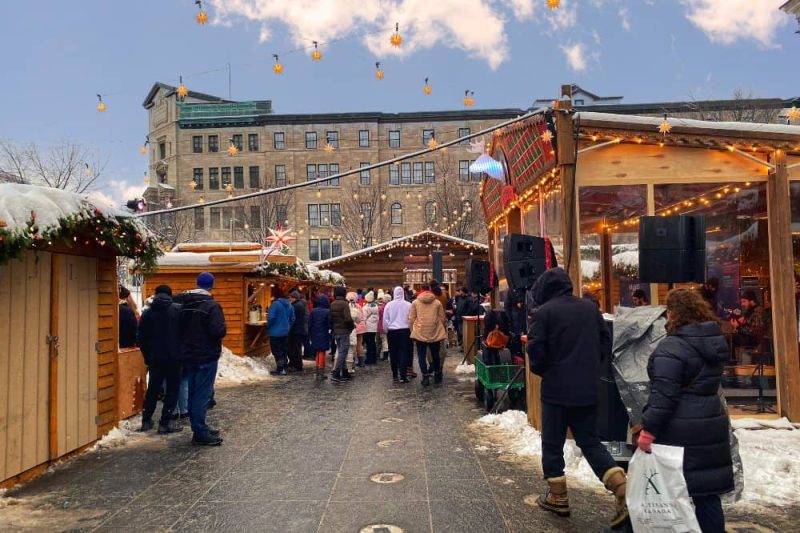 Quebec City Christmas Markets Dates for 2023
This coming winter, the Quebec City German Christmas Markets will be open from November 23 to December 22, 2023.
Opening Hours
– Monday to Wednesday: Closed*
– Thursday to Saturday: 11 am to 6 pm
– Sunday: 11 am to 6 pm
*Exceptionally open on Wednesday 20 December 2023
Official Website
Visiting the Quebec City German Christmas Market is a must-do activity in December. Here are more things to do in Old Quebec this winter after you've soaked up the magical atmosphere at the markets.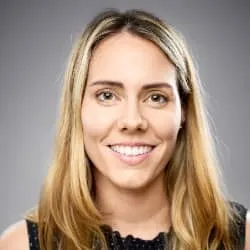 About the Author
Anne was born and raised in Quebec City. She is our resident expert for the city of Quebec and other popular regional destinations such as Charlevoix and Gaspésie. Having travelled to every corner of the province with her children, she is also our expert for family related topics on Quebec Wonders.