Osprey Transporter Review (with Real Photos of my Rolling 120)
My honest review of the Osprey Rolling Transporter 120.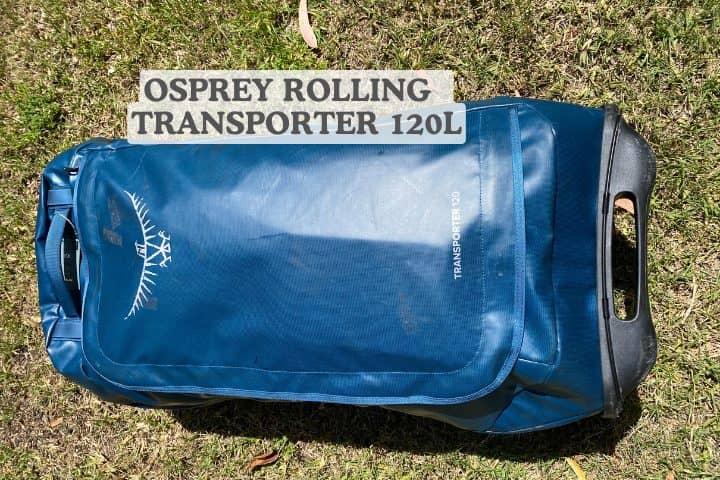 Disclosure: Some posts on this site contain affiliate links. Read our full disclosure.
After almost 5 years of use and numerous international and domestic trips, I'm finally getting to writing my Osprey Transporter review.
I received the Osprey Rolling Transporter 120 as a Christmas gift from my partner. Although I already own a traditional travel suitcase, my travel kit was missing a high-quality rolling duffel bag. I was keen to find a bag that could accommodate both my daughter's and my belongings for solo trips.

Verdict: Osprey Rolling Transporter 120 L
I had reservations about whether the Osprey Transporter 120 would be the right size for my needs. As it turns out, the bag is spot on. Its simple yet spacious interior compartment is a good size for extended trips. It's been ideal for long international trips with my daughter, accommodating both our stuff and even our small travel portacot.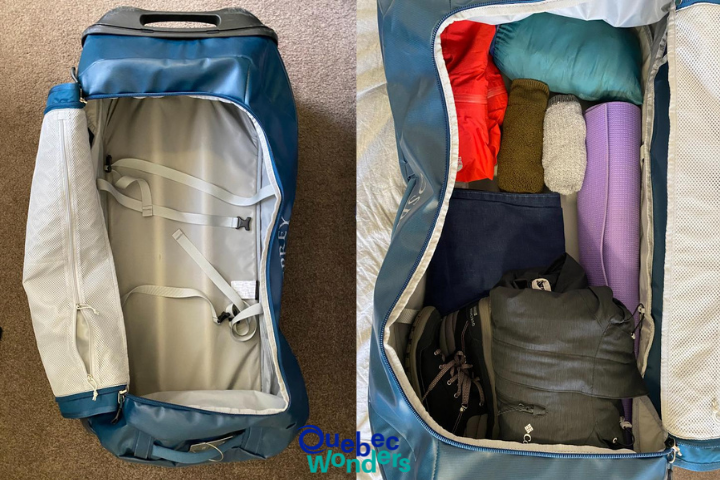 Another major plus of the Osprey Rolling Transporter is the solid plastic frame at the bottom of the bag. The fact that it extends from the back to the front makes a world of difference when the bag is only 60-70% full, allowing it to stand upright without any issues. In comparison, my previous rolling duffel bag would tip forward when not packed full as it was lacking a solid frame at the bottom.
The bag fits comfortably in the trunk of my small Volkswagen Polo, so it's still perfectly suitable for people that intend to rent a small car at their destination or commute in a taxi to and from the airport.
The Osprey Transporter has high-quality and larger than average wheels and rolls smoothly. The zippers work flawlessly, and the multiple handles make it very easy to lift the bag on my own.
Features: Osprey Rolling Transporter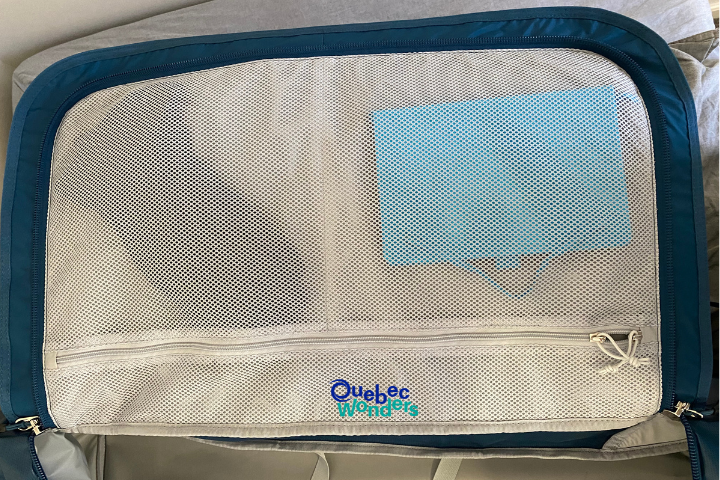 Oversize Wheels
Navigating through airports with the Osprey rolling Transporter bag is a breeze. The oversized wheels make it simple to turn, stop, and start again.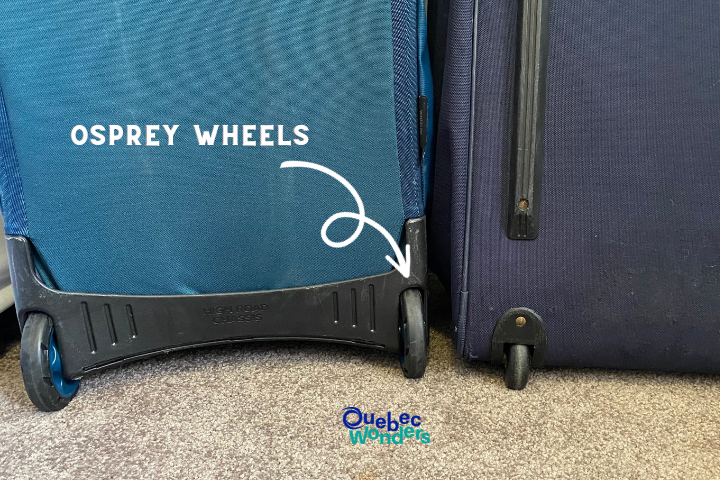 Good Quality Chassis for Upright Position
The 120L Osprey Rolling Transporter bag remains impressively stable when it's full and standing upright, unless, of course, you've packed it poorly.
Speaking of packing poorly, to keep this bag as stable as it's designed to be, you'll want to put your heaviest gear at the bottom. This way, you avoid any tipping issues and make the most out of its easy steering.
I added maple syrup cans to the top of my bag at the last minute on a recent trip and it was too much weight up the upper front part to keep it upright.
Keep lighter items and those you need quick access to near the top.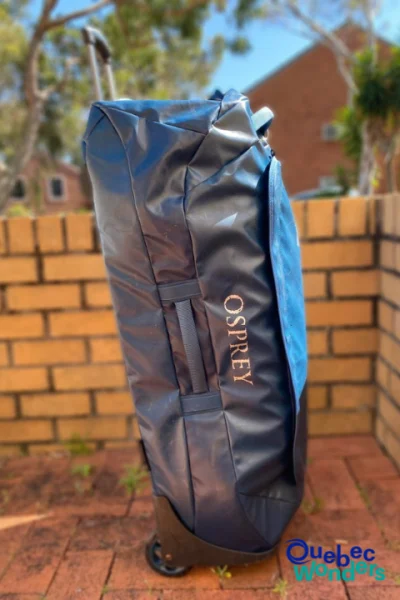 Dimensions of Osprey Transporter 120
The Transporter wheeled duffel bag fits comfortably in the trunk or on the backseat of a small car, like a Volkswagen Polo.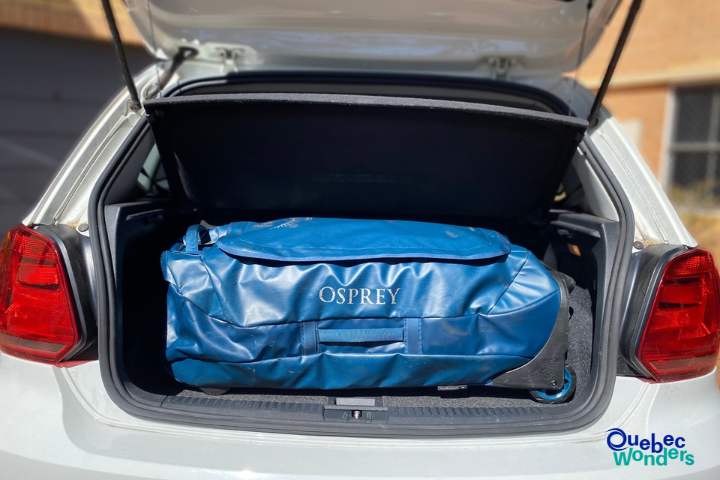 Handles on Osprey Rolling Transporter
The numerous handles on this Osprey Transporter bag are game changers. One is soft and the other is sturdy plastic, and they're positioned in just the right spots. You've got one at the end for hauling it into a trunk, and another on the side for grabbing it off a luggage carousel.
Osprey thought of everything as the multiple handles provide easy loading, lifting and carrying. They make travel as hassle-free as possible.
While the extendable handlebar on the Osprey Rolling Transporter offers only one height option, it does the job well. The handlebar is not long enough to attach a laptop bag, but arguably this isn't a big issue as this bag likely isn't targeted at business travellers.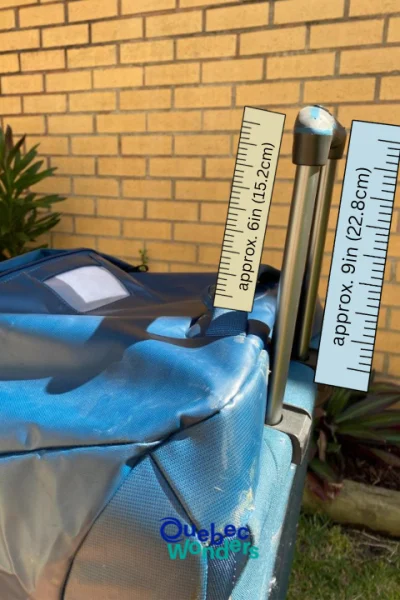 Internal Compartment
The interior of the Osprey Transporter 120 is straightforward but effective. It's basically one large zippered mesh pocket, giving you the freedom to pack however you want. The internal compression straps ensure secure transport, too.
It's perfect if you're not a fan of multiple compartments and prefer a more 'open concept' packing style. The mesh pocket keeps smaller items handy, so they don't get lost in the abyss.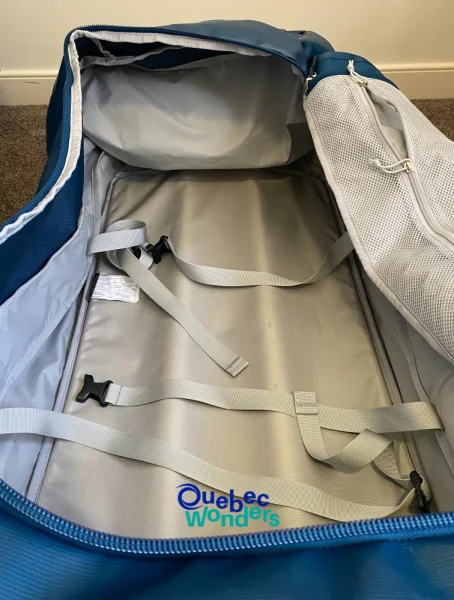 Durability
One thing I want to highlight in this Osprey Transporter review is that the quality of the Osprey Transporter is evident—from the stitching to the zippers and the lightweight aluminum frame.
The TPU-coated recycled polyester exterior provides a solid level of water resistance, while the rain flaps over the zippers add an extra layer of protection. Plus, the oversized wheels ensure you hardly notice uneven surfaces like the cobblestone streets of Quebec City.
Pros and Cons: Osprey Transporter Review
Final Words About this Osprey Transporter Review
The Osprey Rolling Transporter 120L has been a solid choice for my travel needs and I'm very pleased with it.
Its single, large compartment is great for carrying items that may not fit into a more traditional suitcase, like hiking sticks. The bag handles well, with three conveniently placed handles—at both ends and on the side—making lifting and carrying straightforward.
Price: See Osprey Transporter 120L price on Amazon.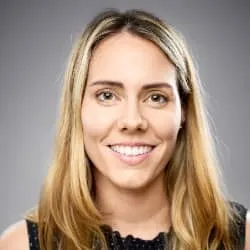 About the Author
Anne was born and raised in Quebec City. She is our resident expert for the city of Quebec and other popular regional destinations such as Charlevoix and Gaspésie. Having travelled to every corner of the province with her children, she is also our expert for family related topics on Quebec Wonders.