One Day in Quebec City – Must-See Attractions for a Short Visit
Discover the best itinerary for one day in Quebec City, including the must-see sites in Old Quebec.
Disclosure: Some posts on this site contain affiliate links. Read our full disclosure.
Quebec City is a popular cruise destination so it is very common for tourists to spend just 24 hours in Quebec City. One day in Quebec City is enough to appreciate the uniqueness and beauty of this French-Canadian city.
Luckily, the touristy part of town (the Old Quebec) is relatively compact, so you will be able to see most of the Quebec City landmarks in one day without needing a car.

Itinerary Tip
I know Quebec City very well (I was born and raised here). The best way to visit the historic part of town is by foot BUT it is hilly! I crafted this Quebec City One Day Itinerary to avoid multiple uphill walks.
The morning block of this One Day in Quebec City Itinerary covers the lower part of town and the afternoon block covers the upper part of town. I start with the lower town because many tourists who are in Quebec City for 24 hours are here on a cruise, so they start their day in the Old Port. If your hotel is in the upper part of town, feel free to interchange the AM and PM blocks!
Must-See Streets and Attractions for one day in Quebec City
First of, you need an overview of the MUST-SEE attractions in Old Quebec so that you know what you can and can't miss.
Quebec City is my hometown and I can't even tell you how many times I've walked the streets of the Old Quebec and the paths along the Plains of Abraham! I know exactly what are the MUST-SEE streets, plaza and attractions for first-time visitors and those who have just one day in Quebec city.
Here are the Old Quebec landmarks you have to see in just 1 day in Quebec City:
Old Port
Petit Champlain Street (Quebecois mural, Place Royale, etc.)
Dufferin Terrace
Chateau Frontenac
Place d'Armes
Rue du Tresor
Place de l'Hôtel de Ville
Porte Saint-Louis
Parliament Building
Place D'Youville
Rue St-Jean
Plains of Abraham
All of those are featured on this itinerary in a strategic order to make sure you don't have to come back on your steps. The attractions and sites on this One Day Quebec City Itinerary are the most beautiful, the most iconic, and the most interesting sites. Nothing else, because your time is limited.

Guided Tour on a Budget
You can sightsee the Old Quebec for free, but if the history of Quebec / Canada is of interest to you, you might like a professional guided tour. I have linked below a very reasonably priced 2 hours guided tour. You can start with that and fill the rest of your day with what's left on my itinerary.
2 hours guided tour of Old Quebec
Suggested Quebec City One Day Itinerary
With over 400 years of history to uncover, there's plenty to do in 1 day in Quebec City. From flourishing gardens and 400 years old European-style buildings to enchanting Christmas scenes, Quebec City is idyllic year-round. And I'll tell you exactly what to do and where to go so you don't miss out on the best attractions in Quebec City. If you have a little bit more time or want more suggestions, I also have an itinerary for 2 days in Quebec City.
Brush up on your French, lace up your walking shoes, grab your camera, and explore the best of Quebec City with our one day itinerary. Use this as a guide to plot out the perfect Quebec City itinerary if you're in Quebec for a very short stay.
Early Morning: Quartier Petit Champlain
Quartier Petit Champlain is one of the most popular places in the Old Quebec. It's a neighborhood with narrow cobblestone streets, beautiful architecture and lots of small boutiques worth exploring. It's one of the places every tourist wants to see and I suggest you start the day here to avoid late morning and afternoon crowds.

Where to stay in Quartier Petit Champlain
If you want accommodation in this part of town and your budget allows it, I recommend L'Auberge St-Antoine which is a well-known and highly-rated hotel located just a 5 minutes walk from Quartier Petit Champlain.
Breakfast at Cochon Dingue Petit Champlain
I suggest you start your day with breakfast in the Petit Champlain neighborhood. Cochon Dingue is my favourite! It's a chain of French-Canadian cuisine restaurants in Quebec City. Locals like me love them for their apple butter, their old fashion hot chocolate beverage and their breakfast poutine!
In addition to great food, Cochon Dingue Petit Champlain has a cozy and nice atmosphere and it's location is almost impossible to beat if you have only one day to spend in Quebec City. You'll finish breakfast and be steps away from the top attractions in the Old Quebec.
Explore the Petit-Champlain District

Must-See Attractions in Quartier Petit Champlain
The main places to see in Quartier Petit Champlain are: Rue Petit Champlain itself, Rue du Cul-de-sac (Quebec City's Umbrella Alley), Rue Sous-le-Fort, Rue Notre-Dame, the Quebec City Mural, Rue de la Place and Place Royale.
Rue Petit Champlain is Quebec City's most iconic pedestrian street, and you'll find quintessential Quebec City scenes around every corner. It is an absolute must if you only have one day in Quebec City.
Pop in and out of shops to find hand-crafted souvenirs to bring home, try maple toffee, sip coffee or simple watch the beauty of that neighborhood. Check out shops like Atelier la Pomme for leather goods, Le Blanc Mouton for classic French styles, or La Fudgerie for those with a sweet tooth.
If you're in the area in winter, you'll discover that the Quartier du Petit-Champlain is transformed into a sparkling, whimsical Christmas village, plucked straight out of a storybook.
Admire French architecture at Place Royale
Mosey through Basse Ville to Place Royale, where the architecture oozes with New French and traces of British style. The village homes with pitch roofs, stone walls, and chimneys are a fairytale dream, and the square is laden with history.
As the spot where New France was first established, you'll find archaeological gems like the outline of Samuel de Champlain's home, and Notre-Dame-des-Victoires Church, built in 1688. Despite having been destroyed by fires in the past, this plaza has been authentically recreated to its 17th-century splendor.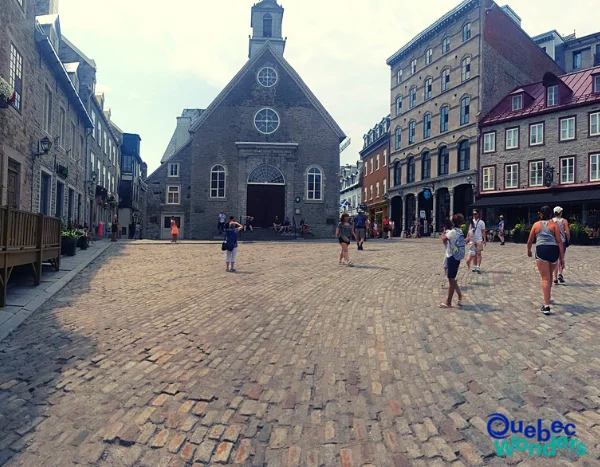 Take in the views from the Old Quebec Funicular
Now that you've seen the prettiest part of the lower town, it's time to go up the cliffs. What better way to get there than by the Old Quebec Funicular?
Step into the windowed car and begin the ascent to your next stop: Dufferin Terrace and Chateau Frontenac. Snap some jaw-dropping shots of the historic neighbourhood below and the Lawrence River winding along it.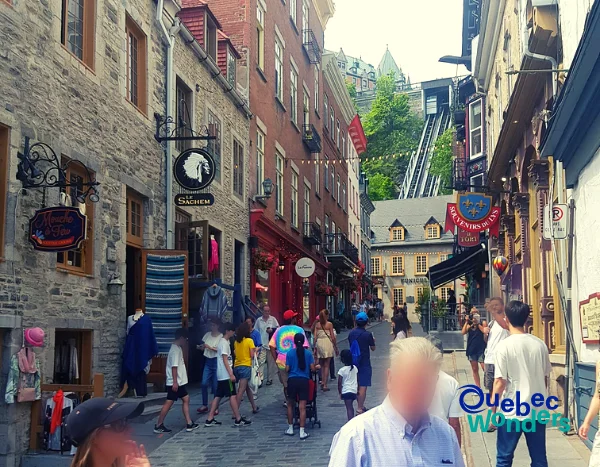 The best part, the funicular operates year-round for a smooth journey from the upper to lower parts of Quebec City and back!
Late Morning: Dufferin Terrace and Chateau Frontenac
When planning to spend one day in Quebec City, plan to check out those three attractions in the same half day, as they are right next to each other: Chateau Frontenac, Dufferin Terrace and Place d'Armes.
Stroll along the Dufferin Terrace
Stretching 425 metres, the Dufferin Terrace is one of the best spots in Quebec City for breathtaking panoramic views. Whether you're after a week-long or a 1 day itinerary for Quebec City, it'll be on the list.
By day, gaze upon the Saint Lawrence River flowing below. By night, the sparkling lights of Basse Ville's buildings create a romantic atmosphere.
Warmer weather brings musicians and performers to the Dufferin Terrace. The lively atmosphere carries through to the winter as laughs and screams of delight echo from the Toboggan Slide.
In winter, pull on your tuque and take a spin down the toboggan run. You'll surely feel like a kid again as you zip along the track on the wooden sled!
Soak in the opulence of Le Château Frontenac
A stop at Le Château Frontenac is non-negotiable to get the most out of your day in Quebec City. Although Le Château Frontenac is dripping with over 400 years of history, today its legacy lives on as the Fairmont hotel.

Free (Partial) Visit of Chateau Frontenac
Everyone can enter Chateau Frontenac and visit the reception and boutiques free of charge. It's a popular thing to do in December, when the ground floor hallway is decorated with dozens of Christmas Trees. Most people however opt for the guided tour, as the history of Chateau Frontenac is what's most fascinating about it.
You can find more information of the Chateau Frontenac guided tour here.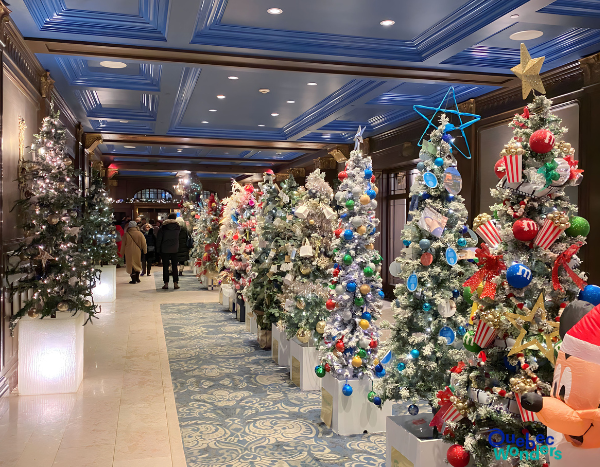 It's easy to see why Le Château Frontenac is allegedly the most photographed hotel in the world! The imposing red brick walls and towers rise into the sky in a classic château style. Inside the luxurious castle hotel's lobby, view historic artifacts, then gaze around at the glittering chandeliers and ornate architecture.

Pierre-Dugua-de Mons Terrace
If you're happy to walk to climb a few stairs (by that I mean many stairs), it is worth walking up to Pierre-Dugua De Mons terrace. It is a bit of a detour, but it is one of the most scenic places in the Old Quebec.
Discover the heart of Old Quebec City at Place d'Armes
Take in the old-world atmosphere of Place d'Armes in the core of Old Quebec. Walk the shady paths, passing by artists and performers. Revel in the views of iconic sights like Le Château Frontenac, or visit the statue of Samuel de Champlain, the "Father of New France."
Swing by the Cathedral of the Holy Trinity and be mesmerized by stunning stained glass. Or, take in the magnificence of Notre-Dame de Québec Basilica-Cathedral, dating back to 1647. In the summer, venture into the crypt to inspect the burial places of some of New France's governors and bishops.
Lunch: near or On Grande-Allee
For the afternoon, I propose you change things a bit and head to Grande-Allee for lunch.
Lunch on Grande-Allee
Grande-Allee is known for its nightlife and for its wide offer of restaurants. It hosts the only revolving restaurant in the city, Ciel Bistro Bar! Having a meal is particularly interesting if you have just one day in Quebec City, as you'll get to see the city from up high. Otherwise, I would recommend Ophelia for a more high-end meal, l'Atelier for tartares, or Inox Brewery for a beer and casual meal.
Quebec City's Grande-Allee is a good spot for lunch if you visit Quebec City in one day, because it allows you see another corner of the Old town, and brings you closer to some of our recommended afternoon activities.
Afternoon: Citadel, Plains of Abraham, Museum
Depending on how quickly you like to see things, you might need to make a choice this afternoon. I think you can realistically only do two of the below options.
Immerse yourself in military history at La Citadel
History buffs should head straight for La Citadel de Québec, an active military garrison for the Royal 22e Régiment. Take a tour to explore the star-shaped fortress and bear witness to some of the nation's oldest military structures, genuine artifacts, and exhibits. Sitting upon the highest spot in Quebec City, the views below are awe-inspiring.
Make sure to catch the changing of the guards each day at 10 am, with the star of the show being Batisse the Goat!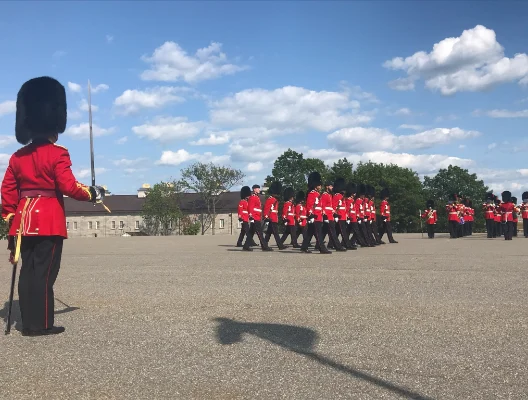 Canadian Forces Free Entrance
Canadian forces members and up to three of their guests can visit La Citadelle for free. This includes veterans and retired members. A CF ID will be requested.
the Plains of Abraham
The Plains of Abraham is an outdoor oasis in Quebec City. Jam to live concerts in the summer, bike along paths while leaf-peeping in the fall, snow-shoe and ice skate in winter, and stroll the blooming Joan of Arc Garden in spring.
Before traversing the 98 hectares of fields and gardens, stop by the Plains of Abraham Museum to learn about the history of the Battle of 1759. Despite its current beauty and tranquillity, this was the site of one of the battles of The Seven Years' War.
Musée National des Beaux-Arts du Québec
While at the Plains of Abraham, make a stop by the Musée National des Beaux-Arts du Québec. Roam the exhibits and discover over 42,000 masterpieces from Quebec artists, making this the world's largest collection of its kind.
Wandering the sprawling property and exhibits is a fantastic way to align yourself with the heritage of Quebec City. Art aficionados will have a ball admiring Inuit art, works by Jean-Paul Riopelle, contemporary art, and historical pieces.
Evening in Quebec City
Quebec City is beautiful at night: the lighting highlights the architectural details and brings out the city's charm in a different way.
Dinner in Quebec City
There are many good spots for dinner in the Old Quebec. You may want to check out the lower Old Quebec (around rue St-Joseph) and hit two birds with one stone: you visit a new corner of town plus some of the new trendy venues and micro-breweries in town.
Alternatively, in the upper Old Town and the Old Port areas, some good picks include Aspsarra (Thai), Chez Boulay (fine French bistro), Chez Rioux & Pettigrew, Café du Monde (also French cuisine), or Rioux Et Pettigrew (another French bistro).
Cruise the St. Lawrence River on the Quebec City Ferry
After a day of exploring this lovely city, take the Quebec City Ferry across the Saint Lawrence River to Levis. In the warmer seasons, enjoy the light breeze as you float along. In winter, watching the ice break as the ferry pushes through is spectacular.
On the banks of Levis, take in the sweeping views of Old Quebec from across the Saint Lawrence River. From here, you can appreciate the Lower and Upper sections of Old Quebec, dotted with historic buildings and crowned with the glowing Chateau Frontenac. Take some time to explore the small shops and eateries in Lévis before heading back.
Where to Stay if You Have One day in Quebec City
If you have only one day in Quebec City, I recommend you find accommodation in the Old Quebec. This will place you right next to all the things you will need to see in your limited time here.
For more options, including some outside the more expensive city center, refer to my article about the best hotels in Quebec City.
Spending one day in Quebec City
Even with only one day in Quebec City, you'll have time to visit the best places and feel the charm of the city. Carve a day into your travel plans to discover what to see & do in 24 hours in Quebec City.
Stop by the Interactive museums, ancient buildings that tell the story of Quebec's roots, and glorious sightseeing down European-style streets. Explore outside of Old Quebec's walls, making your way to Haute Ville, and then to Basse Ville at the bottom of the famous cliff.
One day in Quebec City is like none other. After you visit Quebec, you will surely leave having fallen in love with this magical place.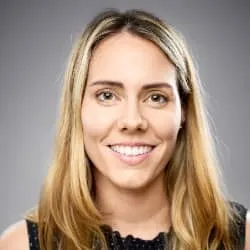 About the Author
Anne was born and raised in Quebec City. She is our resident expert for the city of Quebec and other popular regional destinations such as Charlevoix and Gaspésie. Having travelled to every corner of the province with her children, she is also our expert for family related topics on Quebec Wonders.