2 Days in Montreal Itinerary: What to See and Do
With a carefully planned itinerary, two days in Montreal is enough to explore different neighborhoods and visit the must-see sites of Montreal.
Disclosure: Some posts on this site contain affiliate links. Read our full disclosure.
Two days in Montreal is enough time to dig into Montreal's Quebecois culture and history. Our 2 days in Montreal itinerary covers world-famous restaurants, historic neighborhoods, an urban twist in Mile End and Plateau Mont-Royal, exposes you to NHL hockey, and gives you opportunity to soak in local traditions at seasonal festivals.
This guide will help you plan your perfect two days in Montreal.
Related: Are you here for two days but only truly free to explore for about a day. Our 1 day itinerary will tell your exactly what to see if your have just one day in Montreal. Here for longer? We also have some great suggestions for 3 days in Montreal.
Two Days Montreal Itinerary
With two days in Montreal, you'll have time to dive deeper into the city's history, quirky neighbourhoods, and local festivals. Use this 2-day Montreal guide to soak up the city's charm, cultural tidbits, and culinary delights. This guide can suit any type of visitor with options for families, friends, couples, or solo travellers.
Day 1: Morning
Vieux-Port de Montreal (Old Town)
The best way to begin your two days of travel in Montreal is with brunch in Vieux-Port, Old Port. Olive & Gourmando is known for having some of the best brunch around. It specializes in paninis and creative French toast variations guaranteed to leave you hungry for more!
Swing by Notre Dame Secours, keeping your eyes open for the hanging model ships. Make your way up the tower to get a bird's eye view of Old Port. Then, carry onward towards the Notre Dame Basilica, the oldest church in the city.
Admire the imposing Neo-Gothic architecture of Notre Dame Basilica, and venture inside to examine the opulent décor, the grand, 7000 pipe organ and the stained glass windows, each telling a story of Montreal's history. Take a 20-minute tour, or opt for the hour-long one for a visit to the crypt.
If you have time before lunch, check out other activities in Old Port. Ice skate at the Old Port Skating Rink from December to March, or ride La Grande Roue de Montreal Ferris Wheel 60 meters into the air. From March to December, thrill-seekers can soar above the island on the Tyrolienne MTL Zipline.
Day 1: Afternoon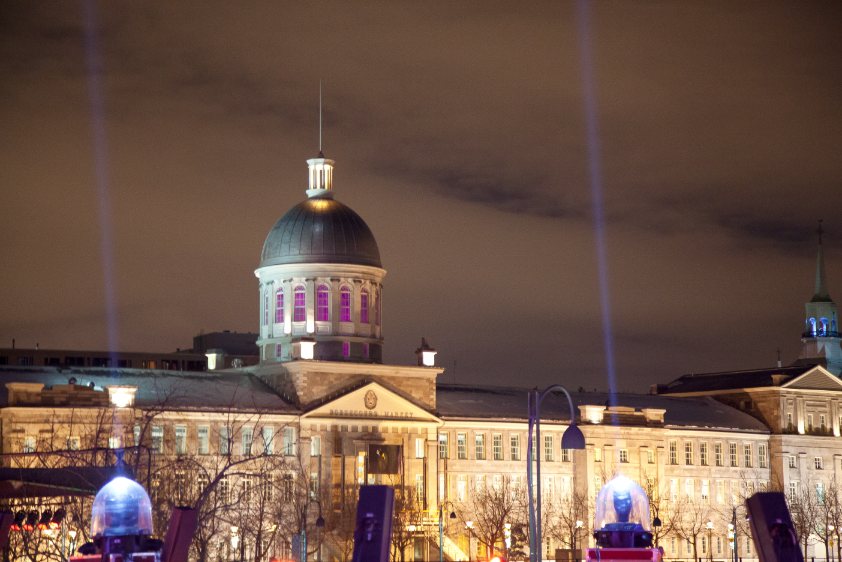 Head to Rue Saint Paul for lunch at Mangiafoco for Neopolitan pizza, or try out traditional Polish food at Stash Café. Fuel up for the rest of the afternoon, which will be spent having a blast at your preferred activity in Old Port.
Option 1: Centre des Sciences
Families will be excited to take their little scientists to Centre des Sciences de Montreal, also equipped with an IMAX theatre. History buffs, check out the original 17th-century drainage systems and streets of Montreal at Pointe-À-Callière history museum. Because these two attractions are nearby each other, you could plan to stop by both.
Option 2: Botanical Gardens
If you love nature, then head to The Montreal Botanical Gardens in the Rosemont neighbourhood. Explore over 30 magical and flourishing gardens with unique themes. Feel at peace in the Zen Japanese and Chinese gardens. Wander the medicinal, toxic plants, tropical gardens, and rose gardens, or pop into the insectarium.
Option 3: Biodome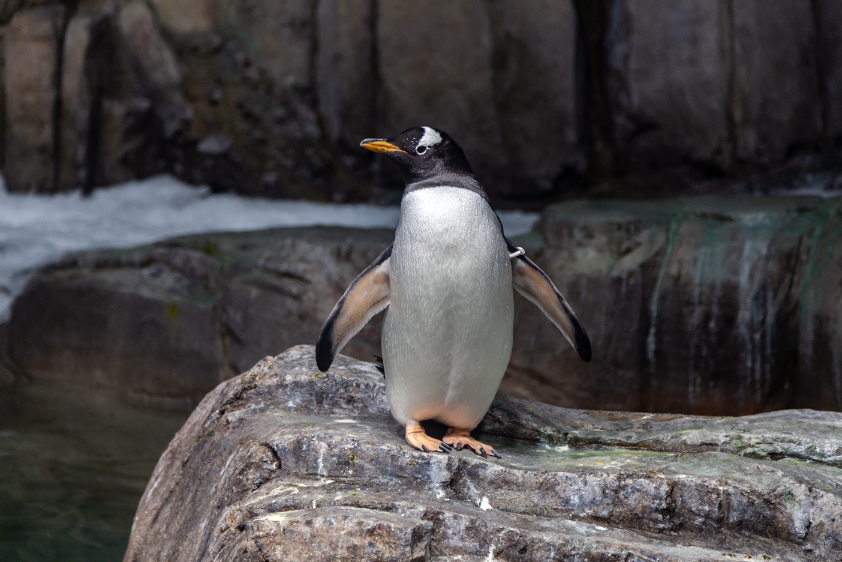 While here, plan to spend a few hours at the Biodome de Montreal. Meet animals of the Americas, like penguins, lynxes, beavers, monkeys, marine creatures, tropical birds, and more.
Day 1: Evening
Option 1: Must-Try Restaurant
Make reservations for dinner at the famous Joe Beef to celebrate your first day in Montreal. This is a must-try while in Montreal, serving up juicy steaks, plump oysters, and other French bistro staples.
Option 2: NHL Hockey Game
Customize this evening to suit your interests. If you love sports, attend a hockey game at The Bell Center and cheer for The Canadiens NHL team.
Option 3: Bota Bota Spa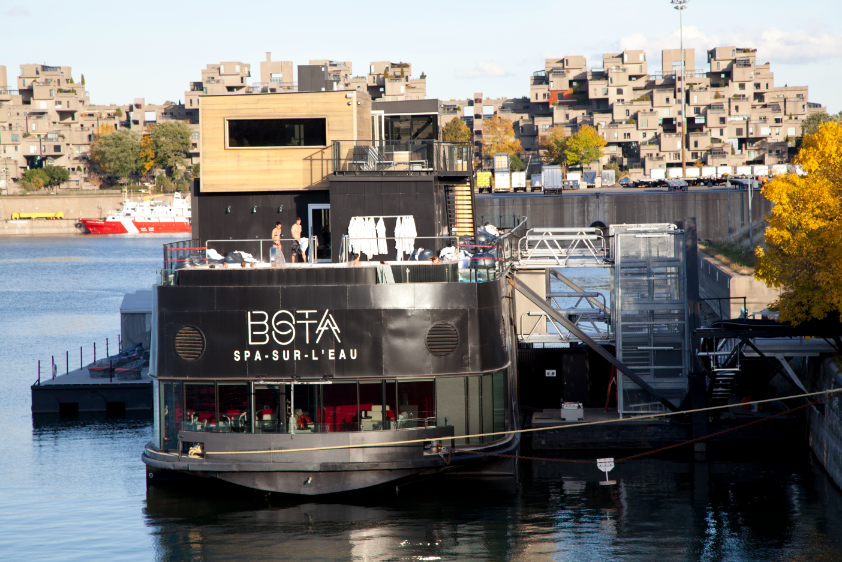 Alternatively, if you're looking for some spa therapy, check out Bota Bota spa, an urban outdoor spa with beautiful views of the Old Port (yes, we recommend it in winter too!).
Day 2: Morning
Mile End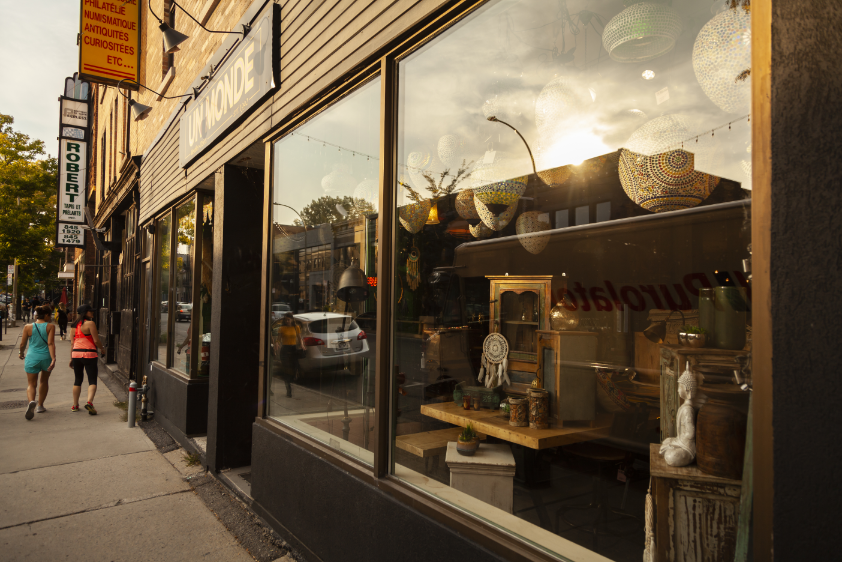 Embrace Montreal's hipster scenes and gourmand bliss in the Mile End district. Bite into Montreal's signature bagels at St-Viateur Bagel for brunch, and sip gourmet coffee at Café Olimpico.
You'll find a number of festivals taking place in this district throughout the year. The Mont-Royal Street Festival in summer is a foodie oasis. Two other popular festivals are MAPP MTL art festival in September and Pop Montreal International Music Festival from September to October. If any of these appeal to you, you might consider planning your Montreal two-day trip around them!
Day 2: Afternoon
Option 1: Plateau Mont-Royal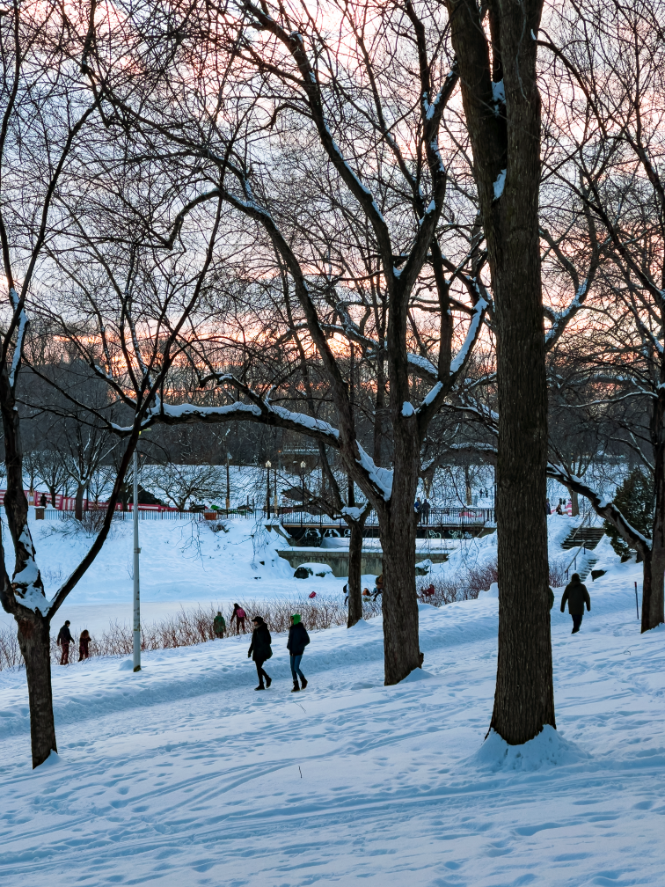 Mosey through the beautiful, blooming Mount Royal Park. Enjoy a picnic under a shady tree or by Beaver Lake. Then, take the trail to the Mount Royal Summit, also known as the Lookout. It doesn't get better than the awe-inspiring views of Montreal, the Saint Lawrence River, and even the Adirondack Mountains on crystal-clear days.
Peruse the cafes and boutiques along Rue Saint Dennis. This charming street is known for quirky shops, stunning, colorfully painted 19th-century architecture, and delectable eateries. Nosh on classic French Candian poutine at La Banquise, or at Schwart's Deli if you'd like to try their specialty sandwiches.
Option 2: La Ronde
Meanwhile, if you're travelling with children, you may want to opt for La Ronde, a Six Flags amusement park. If you have youngsters with you, then Pommes d'Api or Air Papillon will be perfect. But, if you're ready for an adrenaline rush, strap into Manitou or the Monstre roller coaster.
Day 2: Evening
Downtown
End your two-day trip to Montreal in the vibrant heart of Montreal, downtown. Stroll down Rue Saint Catherine, home to a mix of metropolitan buildings, elite shopping, and art-centric plazas. Enjoy meticulously prepared sushi at Park Restaurant, or dig into Greek fare at Petros. After dinner, treat yourself to some of Montreal's best ice cream at Le Bilboquet.
Quartier des Spectacles
Those interested in performing arts will want to top off their trip at The Quartier des Spectacles. You'll be dazzled by glowing outdoor artwork, sculptures, and fountains at Place de Arts.
Carve time into your evening to see the Opera de Montreal in the Salle Wilfred Pelletier Theater. Or, enjoy the melodies of the Montreal Symphony Orchestra at the Montreal Symphony Orchestra House. You could also choose to see Le Grand Ballets Canadiens in the Wilder Building.
In the summer, attend a seasonal festival like Festival International de Jazz de Montreal or Just for Laughs comedy festival.
2 Days in Montreal: How to Commute within Montreal
48 Hours Public Transport Pass
If you plan on using public transport during your 48 hours in Montreal, you will be better off buying an Unlimited Weekend ticket at the cost of $14.75. You can't buy an Unlimited Weekend ticket on board, therefore you will need to purchase it at a vending machine.
Uber
Uber, a tried-and-true option, offers convenient transportation at affordable rates throughout Montreal. With Uber, you can easily secure a ride nearly anywhere and at any time, which can be especially appealing during the colder winter months.
How to Get to Montreal
Montreal Airport Shuttle & Public Transport
The Montreal Airport Shuttle Bus #747 runs from Montréal–Pierre Elliott Trudeau International Airport to Downtown and back, day and night. A one-way ticket costs $11. It can be paid on board (the exact amount in cash is required) or you can purchase a ticket at a vending machine at the YUL airport.
Getting to Montreal By Train
A train might not be your best bet if you're coming from the US. While The Adirondack Train is a picturesque way to get from New York to Montreal, the 10 hours journey wouldn't be worth it only to spend two days in Montreal.
Coming from another city in Canada? You can find early rides from Toronto to Montreal Central Station that take about 5 hours, while you'll arrive in under 3 hours with Quebec City as your origin.
Driving to Montreal
Driving would be the best option for those coming from within Quebec, with Quebec City being a quick day trip away. Note however that having a car in Montreal during can be a nuisance. The best way around that is to make sure you book a hotel /Airbnb with parking.
Getting to Montreal By Plane
Taking a plane isn't the most cost-effective mode of transportation, but it may save time en route.
Air Canada flights from Boston Logan International Airport to Montréal–Pierre Elliott Trudeau International Airport take about an hour and a half. Coming from New York City offers more airline options at around the same time frame. Toronto to Montreal by plane takes about 75 minutes. Here's how to get from Montreal airport to downtown.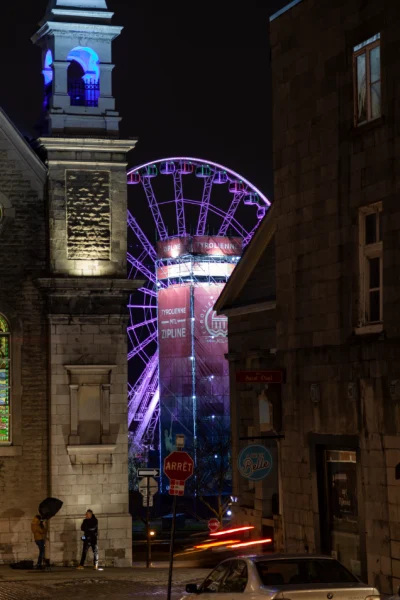 Need More to Prepare for Your Weekend in Montreal?
Montreal offers an incredible range of experiences, making it an ideal destination for a two-day itinerary. If you need more inspiration to prepare your Montreal bucket list, check out our recommendations for Montreal activities.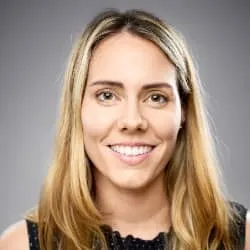 About the Author
Anne was born and raised in Quebec City. She is our resident expert for the city of Quebec and other popular regional destinations such as Charlevoix and Gaspésie. Having travelled to every corner of the province with her children, she is also our expert for family related topics on Quebec Wonders.