9 Hotels in Charlevoix Quebec Worth Visiting
Charlevoix is a popular regional holiday destination for Quebecers which means there's a vast selection of excellent hotels in Charlevoix to choose from. Here are our favourites.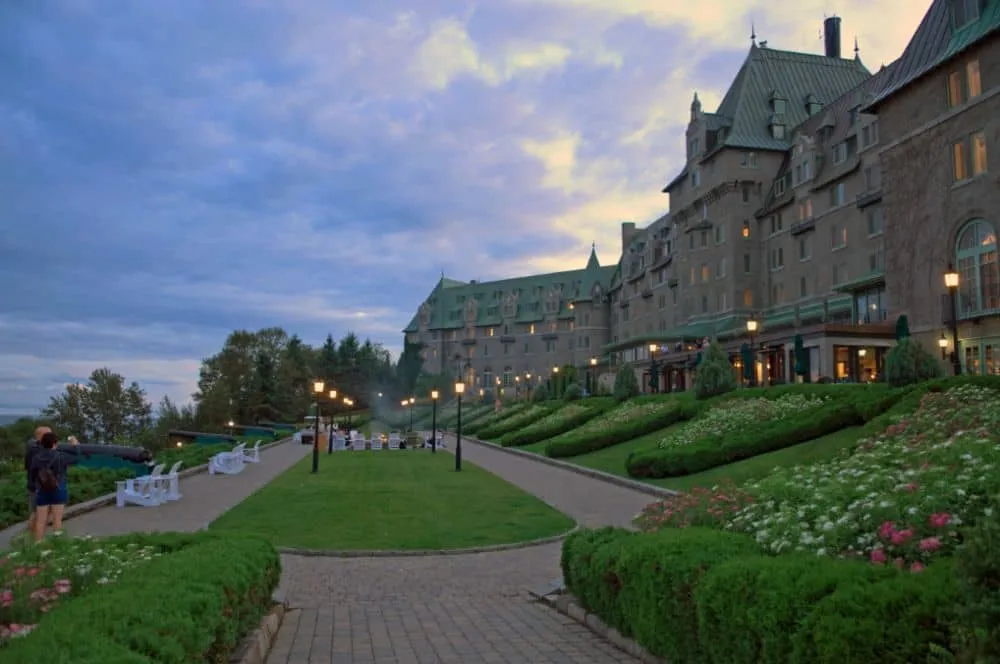 Disclosure: Some posts on this site contain affiliate links. Read our full disclosure.
Charlevoix is home to awe-inspiring fjords, postcard-perfect landscapes and villages that look like they sprung from storybook pages. There's also a ton of good hotels in Charlevoix, making it difficult to choose where to stay. The heartwarming welcome of La Malbaie or the artistic haven of Baie-Saint-Paul? Every inch of Charlevoix unveils a unique tapestry of experiences, and some Charlevoix hotels are also unique and very much a part of the experience.
Whilst some people visit Charlevoix on a day trip from Quebec City, many decide to stay overnight. It's a big day otherwise and a smart choice to spend the night in Charlevoix.
You obviously landed here because you're wondering exactly where to stay in Charlevoix. So let me introduce you to the best hotels in Charlevoix, Quebec. I've come up with quite a diverse list, from quaint B&Bs, luxury hotels and beautiful Charlevoix resorts that are destinations within themselves. 
How to Get to Charlevoix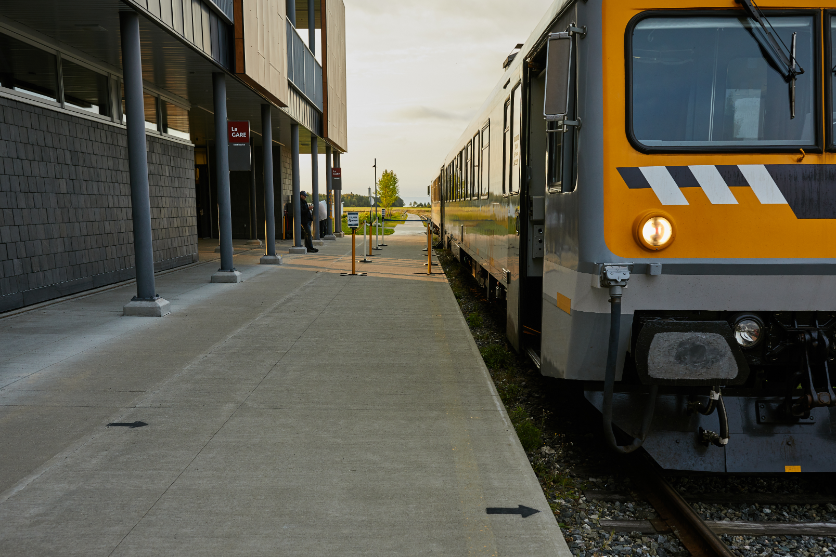 What I love most about the Charlevoix region is that it offers an escape from the hustle and bustle of the city. Less than two hours from Quebec City, this dreamy region has an enchanting allure. Driving from Montreal takes between four and five hours and the journey offers beautiful Saint-Lawrence River views.
Flying to Charlevoix from anywhere else is easy as all you need to do is book a flight to Quebec City's Jean Lesage International Airport (YQB). From there, you can take the bus, rent a car, hire private transportation or ride the majestic Charlevoix Train.
Best Charlevoix Quebec Hotels: From B&Bs to Luxury Hotels
Let's get to it. Here are my picks for the best hotels in Charlevoix, Quebec. I've come up with a range of options to help you decide where to stay in Baie-St-Paul, where to stay in Isle-aux-Coudres and where to stay in Charlevoix in general. There's no camping site options in this article, just hotels, B&Bs, luxury hotels and locally renowned Charlevoix resorts.
Budget Hotels in Charlevoix
1. Hotel-Motel Les Voitures d'Eau
Location: L'Isle-aux-Coudres (more details here)
Nestled on L'Isle-aux-Coudres, Hotel Motel Les Voitures d'Eau offers a tranquil escape with Saint-Lawrence River views. Embracing maritime history, the hotel's name translates to "Water Carriages," reflecting the island's heritage. Wake up to sun-kissed shores and choose from cozy rooms to suites; each designed for comfort.
This cozy Charlevoix, Quebec accommodation option is unique in that it requires you to take a ferry to and from La Malbaie and Baie-Saint-Paul. If you don't mind the extra planning, you'll be rewarded with one of the best places to stay in Charlevoix, Quebec. This hotel offers free Wi-Fi, five rooms with a complete kitchen (and 24 with a fridge), complimentary breakfast, a heated outdoor pool (seasonal) and, of course, absolutely stunning river views.
2. Hotel Baie Saint-Paul
Location: Baie-Saint-Paul (more details here)
In the heart of Baie-Saint-Paul, this is the ultimate comfort stopover. Hotel Baie-Saint-Paul's unique art gallery showcases local artists, extending culture beyond museums. I love to indulge in the regional flavours at the on-site restaurant (Le Gourmet). You can also relax in the spa's sauna, hot tub and steam bath inspired by Charlevoix's beauty.
With its proximity to Le Massif, this is one of the best Charlevoix, Quebec hotels to stay in during winter. Each of the 62 rooms at Hotel Baie-St-Paul Charlevoix is equipped with a mini fridge, a coffee maker, Wi-Fi and a television. The hotel also offers complimentary breakfast.
3. Petit Hotel Amara
Location: La Malbaie (more details here)
Nestled along Route 362, this unassuming Thai hotel-restaurant is a gem nestled amidst a street adorned with charming cottages and eateries. You'll find it a mere 1.8 kilometres from the Charlevoix Casino and less than three kilometres from La Malbaie's vibrant town centre.
Petit Hotel Amara's casually styled rooms offer complimentary Wi-Fi, a TV, a coffee maker and a mini fridge. An added allure of the hotel is a separate studio, complete with a kitchenette for added convenience.
Bed and Breakfasts in Charlevoix
4. Auberge Carpe Diem
Location: Baie-Saint-Paul (more details here)
Upon your arrival at Auberge Carpe Diem, you'll immediately sense a tranquil haven awaiting your discovery. I like how each room is thoughtfully designed to envelop you in a cocoon of relaxation, ensuring a night of undisturbed rest.
This bed and breakfast is built into a presbytery that's over a hundred years old. Each of its five rooms is charming and rustic in its own sense and can easily accommodate up to four people. There's even a cottage adjacent to the main building if you need more room.
Auberge Carpe Diem distinguishes itself not only through its ambiance but also through the graciousness of its hosts. Their warm hospitality will immediately make you feel like an esteemed guest, attending to your needs and ensuring that every aspect of your stay is impeccable. The inn also has a spa and, of course, offers an incredible breakfast. Please note that you must call them directly to make a reservation.
5. A La Chouette Maison
Location: Baie-Saint-Paul
This bed and breakfast is undoubtedly one of the best places to stay in Charlevoix, Quebec. It's located in the picturesque village of Baie-Saint-Paul, which makes it super convenient whether you want to ski, hike or enjoy one of the many other fun things to do in Charlevoix.
What's special about this hotel is its coziness. Its five rooms go fast (especially in the high seasons of winter and summer), so be sure to reserve well in advance. A La Chouette Maison also allows you to rent the entire beautifully restored century-old house. It has three floors and can accommodate up to 20 people.
All of the rooms have private bathrooms and every guest is welcome to enjoy the luxurious common areas, including the living room, kitchen, lounge and terrace area. The house is located between the city, river and countryside. The breakfast is also Certified Terroir et Saveurs, which means that everything is locally produced. A La Chouette Maison has been nominated seven times for the quality of its reception.
Luxury Hotels in Charlevoix
6. Fairmont Le Manoir Richelieu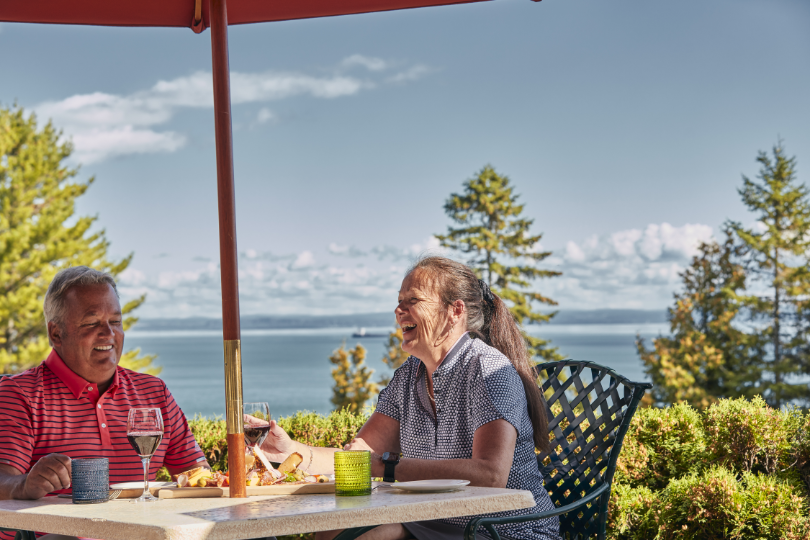 Location: La Malbaie (more details here)
Fairmont Manoir Richelieu is one of the most luxurious hotels in Charlevoix, Quebec. Perched atop the Pointe-au-Pic cliff, it overlooks the Saint-Lawrence River and is adjacent to the Charlevoix Casino. Boasting 405 rooms, they're all designed with luxurious comfort in mind.
First of all, the original building dates back to 1898. In 1929, the hotel was opened and has been delighting guests ever since. This 19th-century manor will provide you with everything you need to create unforgettable memories you'll cherish for years to come.
The Fairmont Charlevoix boasts a private world-class 27-hole course designed by Canadian golf architect, Daniel Haxham. Their clubhouse, Le Cardinal, is the perfect spot to unwind with drinks and carefully chosen locally inspired dishes. Moment Spa is where you'll want to go to relax and admire beautiful views of snow-capped Quebec mountains.
With a wide variety of luxurious restaurants and cafes (Le Saint-Laurent, Bellerive, Le Cardinal and in-room dining), a plethora of on-site activities, babysitting options, bell staff and so much more, Fairmont Le Manoir Richelieu is clearly one of the best places to stay in Charlevoix, Quebec.
7. Hotel & Spa Le Germain Charlevoix
Location: Baie-Saint-Paul (more details here)
At this luxury hotel, you'll find yourself amidst an incredible playground, where the expanse of the Saint-Lawrence River meets the majesty of the Charlevoix mountains. What I like best about this luxury hotel is that it's just a short stroll away from the charming town of Baie-Saint-Paul; celebrated for its culinary delights and numerous art galleries.
The hotel is also close to many hiking trails where you can experience the stunning beauty of the region's forests and mountains. The beds in any of the rooms are also extremely comfortable. From the dormitory to the private loft with a spacious work/living area, you will find yourself treated like royalty at one of the best Charlevoix, Quebec hotels.
The spa at Le Germain is world-renowned as a prime destination on the Nordic Circuit. This unique destination offers a range of massage techniques, refreshing thermal experiences, beauty treatments, a Finnish sauna (with a large window overlooking a field of grazing sheep), a eucalyptus steam bath, hot and cold outdoor pools and even a snow fountain. The hotel's Excellence Spa Certification represents an assurance of quality, ensuring professionalism, water purity, cleanliness, treatment and service quality.
Family-Friendly Hotels in Charlevoix
8. Club Med Quebec-Charlevoix
Location: Petite-Rivière-Saint-François
Nestled at the foothills of Le Massif – where skiing and snowboarding dreams come true – the only Club Med in Canada presents awe-inspiring riverfront vistas, enabling you to embrace an exceptional lifestyle throughout the seasons. This family-friendly hotel is one of my favourite Le Massif de Charlevoix hotels and allows for stress-free family travel.
The first thing you need to know is that children under four stay at the Charlevoix Club Med for free. The superior family room, with two separate bedrooms, is perfectly suited to families with two children. If you're planning a trip with more than two children or more than two adults, the interconnecting superior rooms offer accommodations for up to six people. All rooms are charmingly styled with the colours of the Canadian winter in mind.
What I appreciate most about the family-friendly Club Med Charlevoix Quebec is the number of convenient services it offers me and my family. I can't get over how accommodating they are, which makes me feel right at home. Notable family-friendly services include a baby welcome pack, a baby bed (upon request), a wide range of activities catered specifically to children, childcare facilities and packages that include delicious and diverse meals.
9. Hotel-Motel Castel de la Mer
Location: La Malbaie (more details here)
I came across this charming hotel on my travels and decided right away that I needed to share it with you. The Hotel-Motel Castel de la Mer is another one of the best family-friendly hotels in Charlevoix, Quebec. The staff was very welcoming and my family was made to feel at ease from the minute we arrived.
The hotel is situated in the heart of La Malbaie and is less than a kilometre away from most services, including a gas station, grocery store, pharmacy and shopping centre. In fact, some of the village's best restaurants and attractions are a mere stone's throw away.
The rooms feature two large queen-size beds or one king-size bed and are equipped with a full bathroom, a small refrigerator, a microwave, a coffee maker, high-speed fibre-optic internet access and a TV with major sports channels.
With stunning views, helpful staff, spacious rooms and a welcoming outdoor area complete with self-serve BBQs, picnic tables and a kids' play area, I wouldn't hesitate to recommend this hotel to other families visiting Charlevoix.
Frequently Asked Questions
When should I visit Charlevoix?
The best time to visit Charlevoix is now! Honestly, whether you're a fan of skiing, snowshoeing, snowboarding, snowmobiling, camping, hiking, whale watching or music and art festivals, there's something for everyone in Charlevoix year-round.
How far is Charlevoix from Quebec City?
Charlevoix is less than a two-hour drive from Quebec City and just over an hour by train.
What is the geography of Charlevoix?
Charlevoix is bordered by the Saint-Lawrence River to the east, Mont Apica in the northwest and Le Lac-Des-Sommets in the northeast. Its characterized by mountainous natural parks, majestic forests and sweeping farmland fields.
Why visit Charlevoix?
I think there are many reasons to visit Charlevoix. Firstly, the region is a UNESCO Biosphere Reserve and one of the most beautiful places to visit in Quebec. Secondly, whether you want to relax at a spa, go hiking or take to the slopes in winter, you can do it all in Charlevoix.
The best hotels in Charlevoix, Quebec stretch from budget accommodation to cute B&Bs and luxurious resorts. There's an accommodation option for everyone, whether you want to stretch your budget or treat the family to an unforgettable experience at Club Med Charlevoix.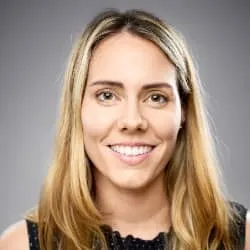 About the Author
Anne was born and raised in Quebec City. She is our resident expert for the city of Quebec and other popular regional destinations such as Charlevoix and Gaspésie. Having travelled to every corner of the province with her children, she is also our expert for family related topics on Quebec Wonders.