Best Family Passport Holder for 4 to 8 passports (Under $30)
Practical and affordable family passport holders and multi passport wallets that will make you feel more organized on international travels.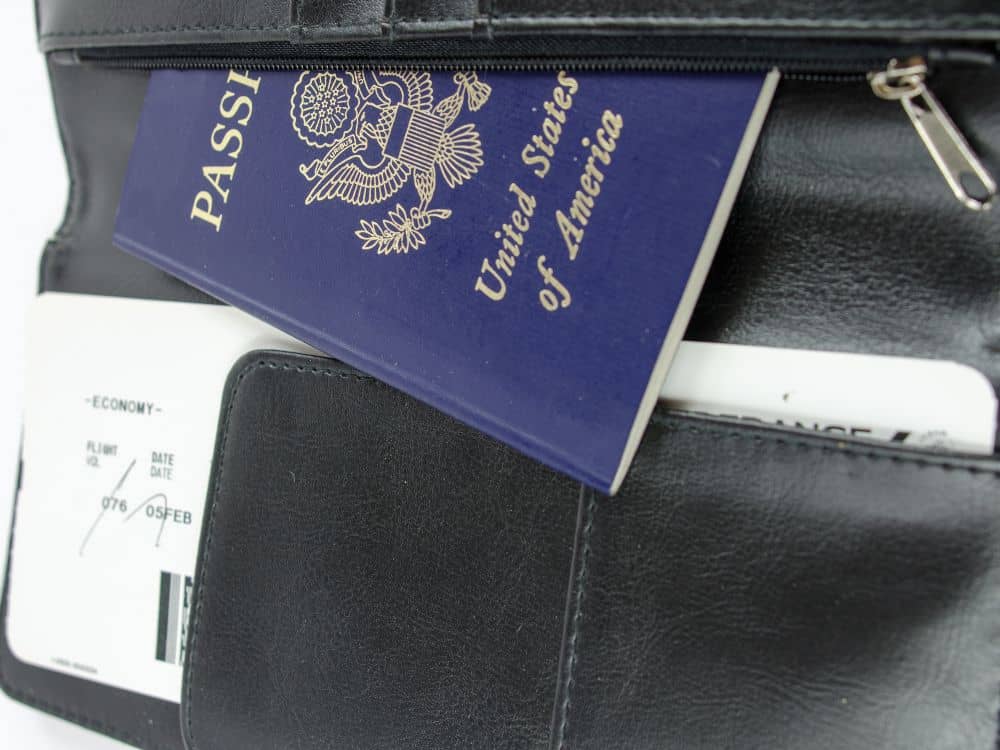 Disclosure: Some posts on this site contain affiliate links. Read our full disclosure.
A family passport holder can make your life easier as a traveling parent.
Travelling with a family is a handful, literally. Whether you're carrying a sleepy child in one arm or pulling multiple suitcases, the last thing you want is to sift through a messy bag for passports. Even worse is when you need just one family member's passport but have to flip through them all because they look the same.
Keeping many passports safe and organized is an annoyance that I know all too well. My children and I have dual-citizenship (Canada + Australia) so we bring two passports each on most of our trips. A family passport holder was a game-changer!
A multi-passport holder is your centralized hub for important documents. It cuts out most of the stress and clutter. With a dedicated place for each family member's passport and sometimes room for other key paperwork like boarding passes, you can focus more on the journey and less on the logistics.
Keep reading for family passport holder recommendations tailored to your family size.
Buyer's Guide for Parents Looking for the Best Family Passport Holder
How Many Slots Do You Need?
The number of slots on a family passport organizer should fit your family size and potentially offer room for growth. Make sure there's enough space for each passport to be visible without needing to hide any behind another passport.
Can it Carry Boarding Passes?
Personally, I like a family passport holder that can accommodate boarding passes. For domestic trips, I use electronic boarding passes but for international trips with multiple connections, I always get a paper copy of my boarding passes as I don't want to be dependent on my phone for a connection. Fortunately most multi passport holders are also designed to hold boarding passes.
Where Will you Keep it When Not in Your Hands?
You're going to be carrying this holder a lot, and more often than not, it won't be in your hands. So have a think about where it will be kept when you're walking in the terminal.
Will it go in a fanny pack or a handbag? If so, your family passport holder needs to be relatively compact to fit comfortably. Would you rather hang it around your neck? Then look for a multi passport holder with a neck cord. If you're planning to keep it in a laptop bag or backpack then most styles of passport holders will be suitable.
Can it Hold The Cards You're Most Likely to Use?
Think about other important cards you'll carry, like credit cards or driver's licenses. Do you want those in a separate wallet or do you want them with your passports? Some family passport holders have slots sized to fit cards along with passports.
Family Passport Holder for 4
Interestingly, it is harder to find a specialized passport holder for 4 than for families of 5 or 6. I assume this is because a passport holder designed for five can easily meet the needs of a four-member family as well.
Waterproof Family Passport Organizer for 4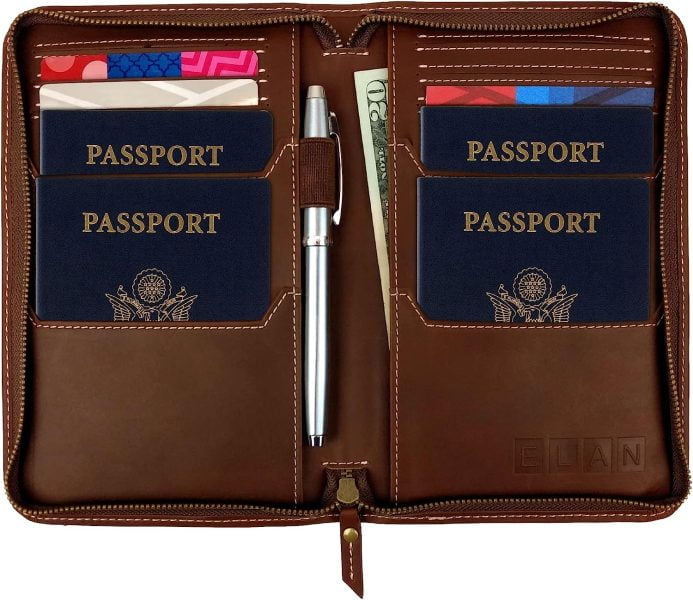 Leather Family Passport Holder for 4
Family Passport Holder for 5
The multi passport holders in this section are for family of five and small families with one or two dual-citizen members who need to travel with two passports! There are affordable family passport holders for 5 designed just for you—and some come in under $30.
Here's my selection of good family passport holders with 5 slots for families who want to keep everything in its place without stretching the budget.
BKNOOU Family Passport Wallet for 5
Sunsir family passport holder for 5
Family Passport Holder for 6
Got a family of six and think you'll have to splurge on a passport holder? Think again. There are excellent options available that won't cost you more than $30. These family passport holders are designed to meet the organizational needs of bigger families while still being easy on the wallet. Let's explore some top picks that offer great functionality without sacrificing quality.
Fintie Family Passport Holder Wallet for 6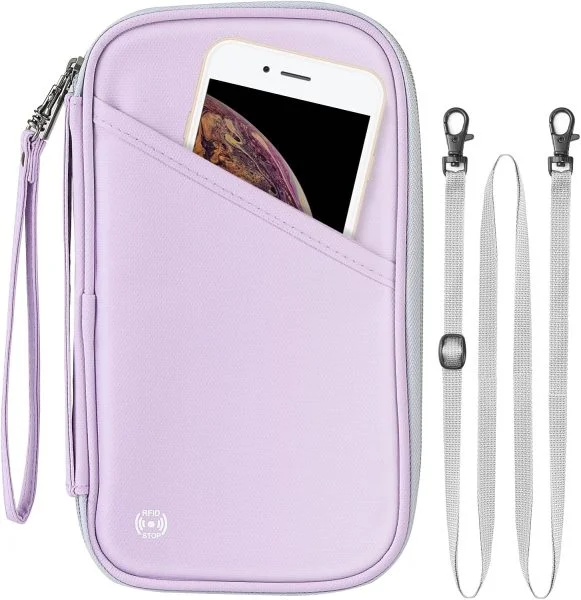 Travel Passport Holder for Family for 6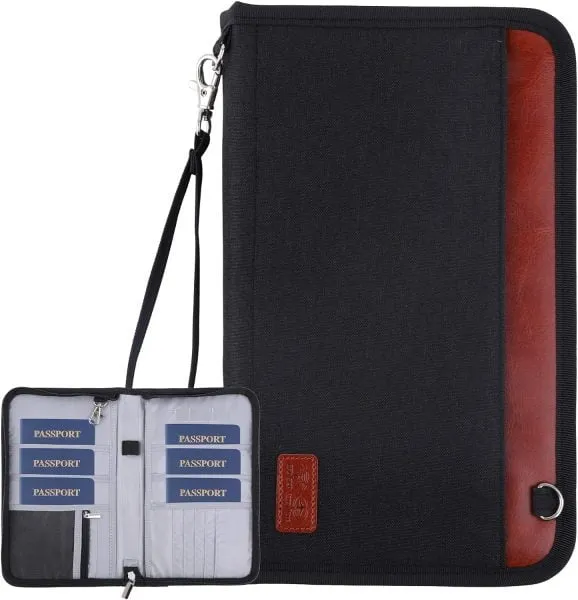 GOAUS Passport Wallet for 6
Family Passport Holder for 8
Managing travel documents for a family of eight can seem daunting. But worry not, even for larger families there are budget-friendly solutions that don't skimp on quality or features. For less than $30, you can buy a family passport holder that accommodates everyone's passports. I even have an option for a 10 passports holder later in this article.
VanFn Family Passport Holder for 8
Family Passport Holder for 10
When it comes to finding family passport organizers for 10 passports or more, the options become significantly more limited, but here's a good family passport holder for 10 is that's what you're looking for: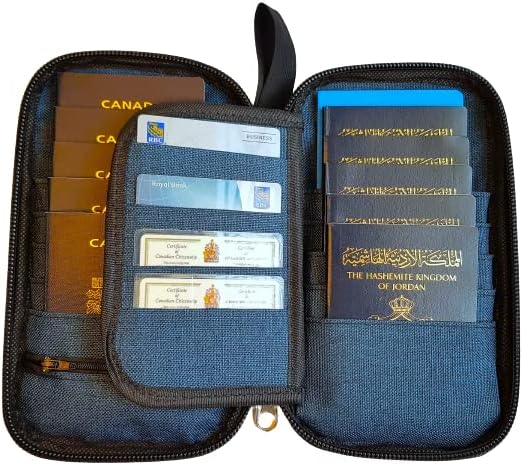 ALFARRA Family Passport Holder for 10
Whilst this option is not under $30, we still wanted to include them as an option given family passport holders for 10 passports aren't that easy to find.
Why a Family Passport Holder is Essential
Keeps Passports Safe
The first and most obvious reason for a family passport holder is safety. It's a top priority when it comes to passports are some countries won't replace them easily, especially if you have already lost one in the past. Many family passport holders are secured with a zipper to ensure that your passports don't accidentally fall out.
It Makes It Easier to Find What we Need
A well-designed family passport holder arranges all your documents in a logical, accessible manner. You will know exactly where to find the document you need when you need it. In a travel context, this eliminates the need to dig around your bag or worry that you've left a passport behind at the last checkpoint.
Conclusion
Investing in a family passport holder is not just a short-term solution; it's a lasting fix for your travel woes. Especially when quality options are available for under $30, it's an affordable investment that will serve you on countless family trips. Safe travels!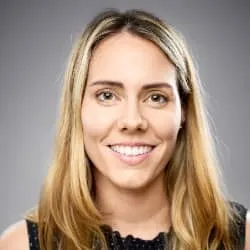 About the Author
Anne was born and raised in Quebec City. She is our resident expert for the city of Quebec and other popular regional destinations such as Charlevoix and Gaspésie. Having travelled to every corner of the province with her children, she is also our expert for family related topics on Quebec Wonders.