The Best GENUINELY Dog-Friendly Hotels in Montreal
Discover our selective list of dog-friendly hotels in Montreal.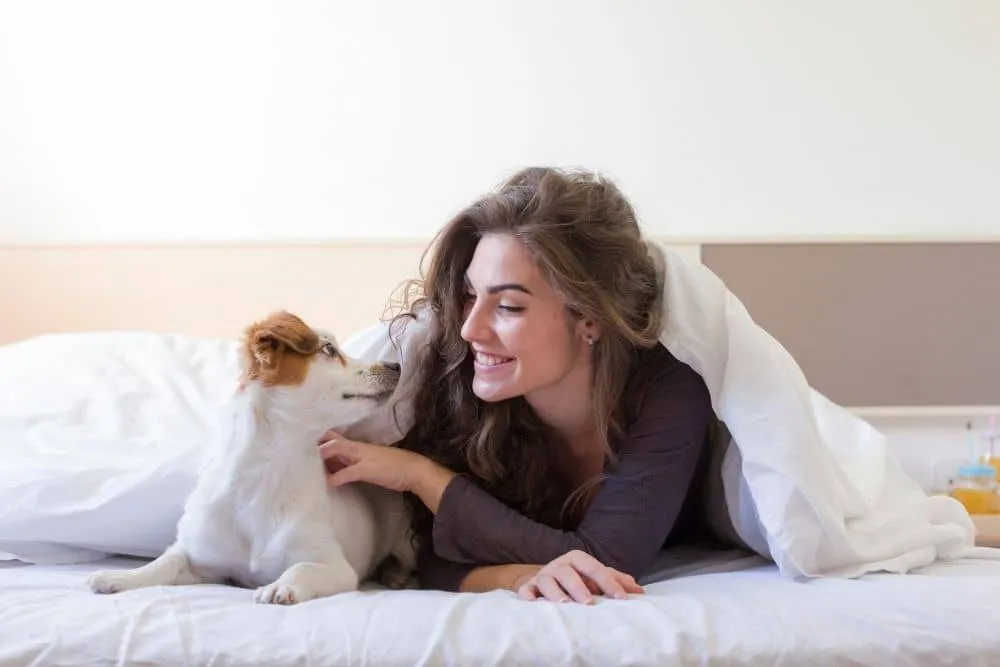 Disclosure: Some posts on this site contain affiliate links. Read our full disclosure.
A significant amount of research and thoughtful consideration went into creating this ultimate guide to finding truly dog-friendly hotels in Montreal! In collaboration with experts from Know My Dog, we've meticulously curated a list of hotels that promise a welcoming experience for both you and your dog, in the best areas of Montreal.
It was quite an interesting process to call all those supposedly dog-friendly hotels in Montreal to inquire about important details like leaving your dog alone in the room during a hockey game or the possibility of bringing our dog along for breakfast…
We're really pleased that this article will save many of you the inconvenience of sifting through "pretend" dog-friendly hotels!
We're sure you'll find on our list of dog-friendly hotel that is just perfect for you and your four-legged friend! We'd love to hear from you if you have had either a negative or outstanding experience at one of those hotels. We'll update this list from time to time to make sure it consistently features the best dog-welcoming hotels in Montreal.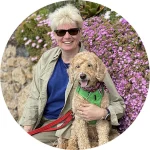 Stephanie stresses the importance and the benefits of travelling with your dog, especially as they age and are less able to be left with others.

Stephanie from Know My Dog
What Make a Hotel TRULY Dog-Friendly in Montreal
Can Your Dog Be Left Unattended?
The most important thing that we like to find out first is if our dog is allowed to be left alone in our room, and if this is the only place in the hotel he is actually allowed. This is crucial if you are planning on attending a concert, going to a hockey game, or a restaurant that doesn't allow dogs. You definitely want a hotel that will at the very minimum allow you to leave your companion alone in your room. Bonus points for hotels that allow your dog to accompany you in the lobby, restaurant, and bar.
The Importance of Green Spaces and Room Placement
We want to mention that it's also important for the hotel to be close to green spaces, and for it to be in a safe neighborhood. And green spaces is not just for exercise: some dogs won't toilet on anything but grass.
Room Placement
Another thing to consider is where your room is actually placed in the hotel. Some dog-friendly hotels in Montreal have full floors reserved for dog owners which is very nice because your room neighbours will most probably be dog lovers too and more lenient in regards to noise.
If you can pick your floor though, we suggest picking a room that is either on the ground floor or a low floor (especially if you are staying with a senior dog). This way you can accommodate your companion while at the same time making it easier to go in and out of the hotel. If you have a senior dog, and are placed on a higher floor, an elevator is a required element.
Breed, Weight and Number of Dogs Restrictions
Some hotels have number, breed, and even weight restrictions, so read on to know about which dog-friendly hotels in Montreal have what restrictions.
Free Stuff and Extra Charges
The final things we considered when making this list are if the hotels provide a dog bed and dog bowls (the more luxury hotels do this), if they offer any kinds of treats, and what the surcharge is – if any – for staying with your companion.
Dog-Friendly Hotels in Montreal
The best area to stay in Montreal if you're a tourist are Old Montreal, Downtown Montreal and Plateau Mont-Royal / Mile End. All of the dog-friendly hotels recommended on this list are located in one of those three areas.
So here's our list of the top dog-friendly hotels in Montreal, Canada. All of them were carefully selected based on the considerations described earlier such as the proximity of green space, the surcharge amount, the ability to bring your dog along for breakfast, etc.
Dog-Friendly Hotels on Plateau Mont-Royal
Here are two good hotels that allow dogs on Plateau Mont-Royal. Both a near green areas but only one of them allows dogs in the room unattended.
Hotel Chateau de l'Argot
Hotel Chateau de l'Argoat welcomes one pet of any size at no extra charge. Guests are kindly asked not to leave their pets unattended in the room, except during breakfast as dogs are not allowed in the breakfast room.
While the hotel lacks a designated pet relief area, there is a nearby park for pet owners' convenience. The reason I think this hotel belongs on this list is that it is close to one of the city's most beautiful parks, the very dog-friendly Parc Lafontaine. It's also worth noting that parking is free at Chateau de l'Argot.
Parc Suites Hotel
Located on one of the loveliest streets in Montreal, Parc Suites Hotel permits two pets of any size for a supplemental charge per pet per night. Although the hotel does not provide a specified pet relief area, Parc Leo-Pariseau is located just two blocks away from the property. I like the friendliness of the staff here and it's a huge plus that they allow dogs to stay unattended in the hotel room.
Despite the hotel being at the top of a flight of stairs – which might not be ideal for senior dogs – Parc Suites Hotel still belongs on our list of best dog-friendly hotels in Montreal, Canada as it is so close to the magnificent Parc Jeanne-Mance.
Dog-Friendly Hotels in Downtown Montreal
Delta Hotel
The rooms at Delta Hotel Montreal can accommodate up to two pets, each weighing up to 88 lbs (23kg). The extra charge is only CDN 50 per stay (not CDN 50 per stay per dog!), however if the stay is longer than five nights then an extra fee per night will apply.
Although dogs are not allowed to be left unattended in the room, I appreciate that this hotel has a designated pet-friendly floor meaning that you will be sharing the floor with other pet lovers.
The whole hotel is dog-friendly and dog(s) are welcome to join you for breakfast.
This hotel's budget-friendly price, its proximity to many green spaces including the famous Mont-Royal Park (a giant green space), and the complimentary treats offered to pets warrant Delta Hotel's position on our list of great hotels in Montreal that allow dogs.
Le Square Phillips Hotel and Suites
Le Square Phillips Hotel And Suites permits three pets of any size for a small extra fee per stay. I like how the fee here is per stay as opposed to per night, meaning no hidden fees!
The staff will warmly welcome your dog, and well-behaved and quiet pets can be left in the room unattended which is perfect because this hotel is very close to the Bell Centre.
While there is no designated pet relief area on the property, there are green spaces nearby. I think this hotel is worth a spot on our list of dog-friendly hotels in Montreal, Quebec due to its location in the vibrant downtown area and enthused staff.
Ritz-Carlton
My favourite hotel in Montreal, The Ritz-Carlton Montreal welcomes pets of all sizes in specially designated rooms, with a fixed extra charge per stay. If pets are well-behaved, they can be left unattended in guest rooms for short intervals. If you can go ahead and mention when you book that you are bringing your dog(s); the staff will warmly prepare the room to accommodate your pet.
This beautiful old world hotel also offers pet beds and bowls for their furry guests, and there is a nearby park for added convenience. The Ritz-Carlton certainly deserves its spot on our list of best places to stay for dog owners in Montreal, Canada. It's proximity to both Mont-Royal Park and all the exciting shopping on Sainte-Catherine Street makes it my top choice for dog-friendly luxury hotels in Montreal.
Dog-Friendly Hotels in Old Montreal
InterContinental Montreal
I think you'll definitely want to choose InterContinental Montreal, which offers pet-friendly accommodations in designated rooms for pets up to 50 lbs, with an extra charge per night.
I love that they allow dogs to stay in the room unattended, so long as there is no housekeeping planned. Even then, it's okay for my companion to stay in the room but they have to be cratered. The area is beautiful as it is walking distance to the Canal Lachine and the Old Port areas.
What's so great about this hotel is how pet-friendly the staff is. Dog lovers are enthusiastic about this hotel, saying they and their pets felt right at home as soon as they arrived. Dogs even receive a pet gift bag from the hotel.
Saint-Sulpice Hotel Montreal
I like this hotel because it accommodates two pets weighing up to 40 lbs each and the pet fee is an extra fixed amount for the entire duration of your stay. Dogs are not allowed on the third and fifth floors which isn't much of an issue as we prefer to book ground floor rooms instead.
Well-behaved pets in crates can be safely left in the guest rooms, which might not be ideal for bigger, senior dogs but should be okay for younger, smaller dogs. The Saint-Sulpice offers complimentary dog treats and there's a designated grassy area on the property where your pet can take a break.
This hotel is a luxury boutique hotel in the Old Montreal district. Its staff is reportedly very pet-friendly, making it a good choice if you're looking for a hotel in Montreal that allows dogs.
What to Pack
Before you leave, make sure to pack your pet essentials (bed, bowl, food, and poop bags). You should also bring a towel to dry your dog's feet, especially in the winter, to avoid unwelcome cleaning fees. Make sure you also check for dog-friendly activities in the area of your hotel, and plan a lot of bathroom breaks for your dog.
Whenever we travel with our dog, we make sure to be considerate of our companion's barking and of the fact that some of the guests at the hotel may be afraid of dogs. It really goes a long way to be cognizant about these facts.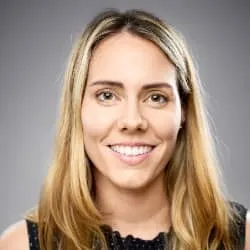 About the Author
Anne was born and raised in Quebec City. She is our resident expert for the city of Quebec and other popular regional destinations such as Charlevoix and Gaspésie. Having travelled to every corner of the province with her children, she is also our expert for family related topics on Quebec Wonders.