The 15 Most Fun Dog-Friendly Activities in Montreal
In need of inspiration for things to do in Montreal with dogs? Here are some of the most popular dog-friendly activities on the island.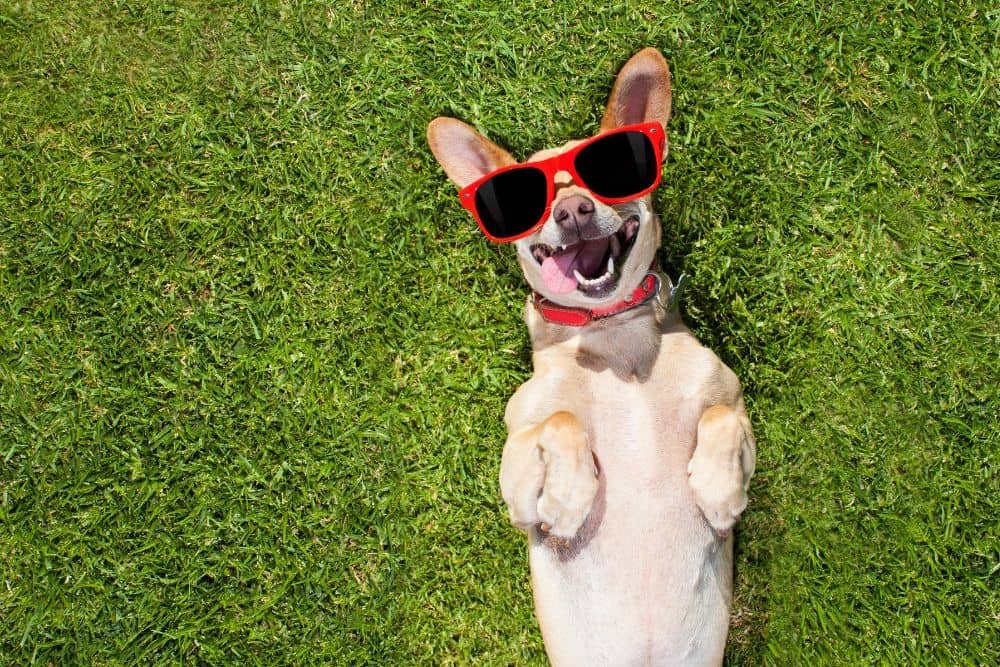 Disclosure: Some posts on this site contain affiliate links. Read our full disclosure.
If you want to pamper your sidekick while visiting or living in Montreal, this is the blog post for you. Today I'm sharing 15 fun dog-friendly activities in Montreal.
I've covered both outdoor dog-friendly activities in Montreal and indoor dog-friendly activities in Montreal. So no matter the weather or your pooch's preference, there's an activity for them.
Dog-Friendly Activities in Montreal
Keep reading for the best indoor and outdoor dog-friendly things to do in Montreal.
Outdoor Dog-Friendly Activities Montreal
1. Mount Royal Park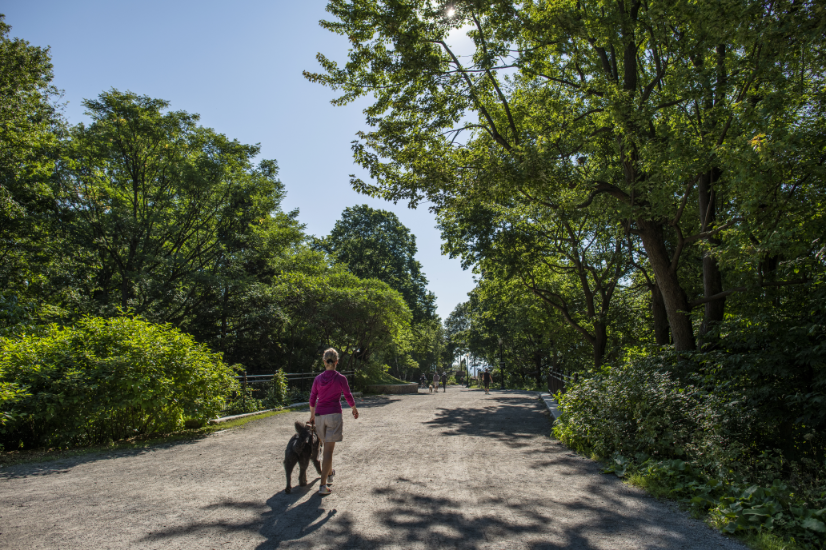 I absolutely love this park. Located right in the middle of the city, it's 100% dog-friendly – what more could you ask for? I especially like the winding woody trails that lead up to the outlook, with a view I find especially rewarding after having broken a sweat climbing up the stairs. If I'm in the mood I like to bypass the stairs and stick to the long route up and around through Beaver Lake instead, a stunning haven in the middle of the park.
2. Lachine Canal
The Lachine Canal is another Montreal landmark perfect for Montreal dogs. They'll enjoy the many kilometres of paths along the pretty canal and its numerous waterside spots. Another plus is that part of the Canal goes through Atwater Market, if you want to get some farm-fresh produce while you're out enjoying the city with Rover.
3. Picnics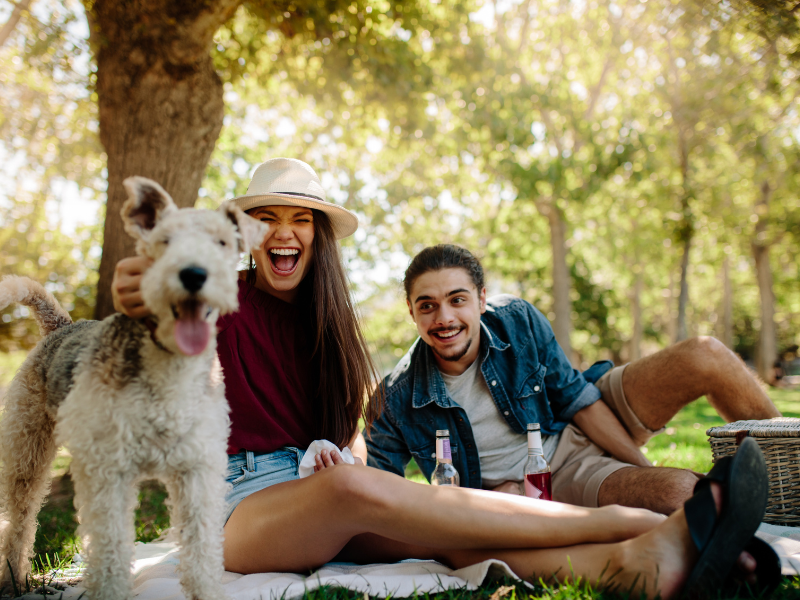 On days when the weather permits, I like to prepare a picnic and visit one of Montreal's dog-welcoming public parks. Before you go, I suggest you verify park regulations and keep your dog leashed when necessary.
4. Dog Parks
Montreal has over 50 dog parks that are worth visiting. My favourites are Parc Lafontaine, Jeanne-Mance Park, and Laurier Park. Whenever I go I always find buddies for my pet and they are very happy to be able to run free.
5. Outdoor Markets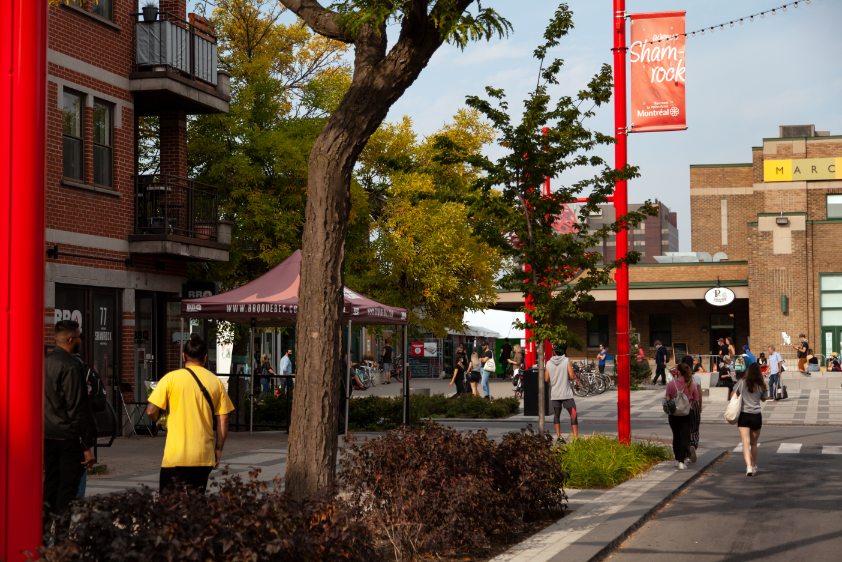 Did you know outdoor markets such as Atwater Market and Jean-Talon Market are also pet-friendly places in Montreal? Yep, dogs are typically welcome on leashes. Get them ready for lots of head pats (and maybe some sneaky treats).
6. Explore Old Montreal
I love wandering the historic streets of Old Montreal with my dog; keeping him securely leashed as we explore the charming architecture and vibrant atmosphere of this beautiful part of the city. What's magical about this walk is that we can also go down to the river and enjoy a beautiful view of the Saint Lawrence.
7. Parc Lafontaine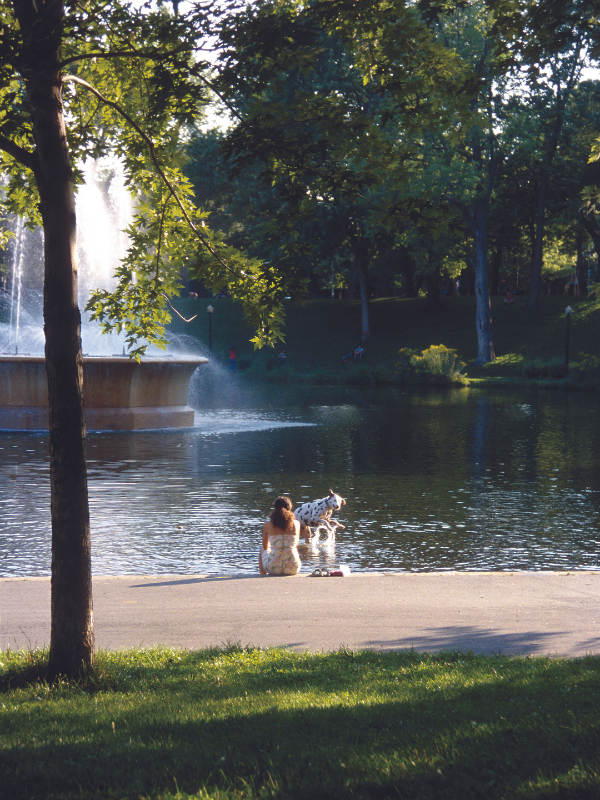 I have so many delightful memories of Parc Lafontaine, but what I like best is how festive it is. I really appreciate walking my dog here as it's always full of people having fun and enjoying life. It really puts a smile on my face.
8. Hiking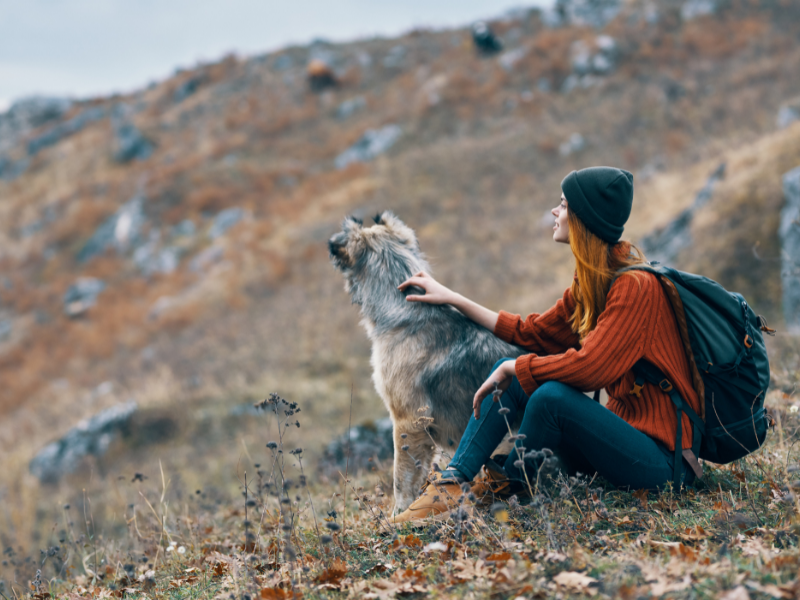 When the weather warms up, I enjoy exploring the hiking trails nearby, which are known for being incredibly dog-friendly. I actually wrote a list of the top dog-friendly hikes near Montreal. It's always a blast when we take the time to plan a hike on a beautiful day.
9. Botanical Gardens
I love that my dog is allowed to explore Montreal Botanical Gardens with me (although he needs to be on a leash). Whenever I feel like escaping the city while staying in the city, this is one of the spots I go to. It's always so fun to walk around and discover (and rediscover) the impressive array of flora. It's one of the top things to do in Montreal with or without a dog for a reason.
10. Le Champs des Possibles
This is a secret spot locals love to visit to let their dogs run free. If you have the chance I highly recommend visiting. The best way I can describe it is that it's a park that's been allowed to grow wild. It's incredibly lush and complete with picnic tables and other cozy spots, where you can sit down and watch the sunset over the train tracks.
Indoor Dog-Friendly Activities Montreal
11. Visit a Dog Spa in Montreal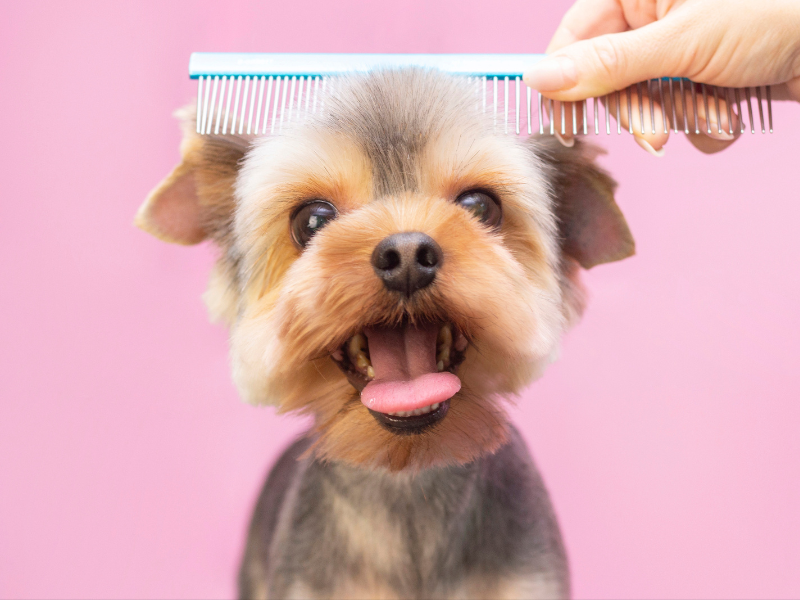 We've covered the Montreal spas already (that list was for the best human spas!). But you can also treat your pet to a spa day at one of Montreal's many pet spas. I think this is a really fun activity to do with dogs in Montreal. My personal favourites are Le Pet Spa, Spa Le Petlandais and Maison Fluff.
12. Shopping
I find that shopping for treats and toys with my pet can be a lot of chaotic fun! Some good choices for dog-friendly stores in Montreal are Brandy's Centre Holistique & Toilettage Canin and Pableen Pet Boutique.
13. Grab a Bite at a Dog-Friendly Restaurant
There are a few very pleasant dog-friendly restaurants in Montreal that you must check out. When people ask for my personal recommendations on pet-friendly restaurants in Montreal, I always suggest Ruby Cafe for a wonderful brunch or Burgundy Lion for traditional English pub fare.
14. Get Coffee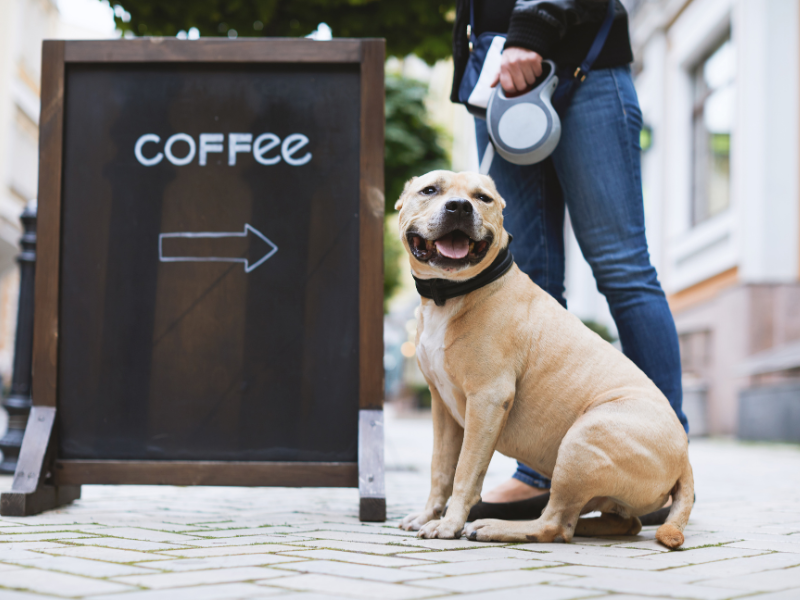 It's always more enjoyable when I can grab a coffee without tying up my dog outside. It makes him feel safer and happier when he's allowed to come with me. Lilli & Oli, Cafe Vito and Clarke Cafe are all dog-friendly cafes in Montreal.
15. Get a Drink
Check out Terrasse Saint-Ambroise if you are looking for a dog-friendly place to grab a drink in Montreal.
Dog-Friendly Hotels in Montreal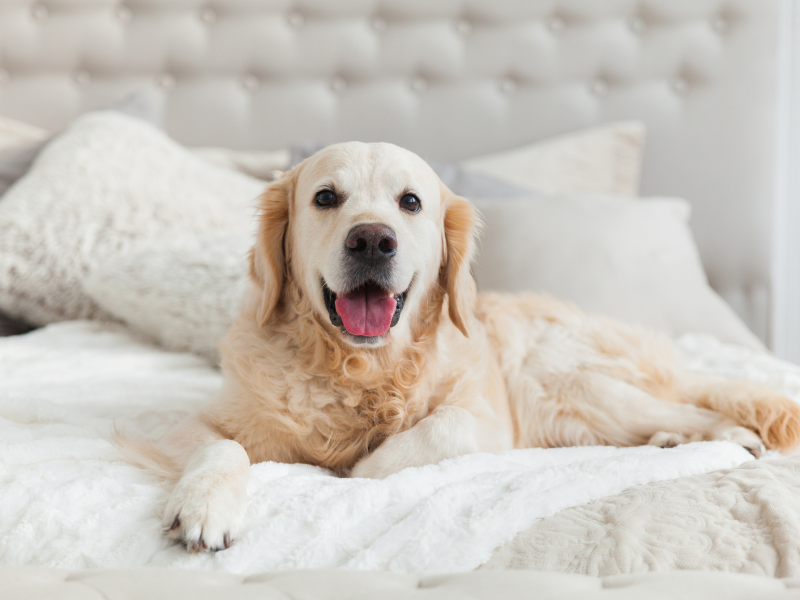 If you're travelling with a pet, here are our top three picks for dog-friendly hotels in Montreal:
Hotel Chateau de l'Argoat is a good choice as it's affordable, big pets are allowed and there's no pet fee. However, you can only bring one pet with you.
I like Parc Suites Hotel because not only can you bring more than two pets, but it's very close to Jeanne-Mance Park and Mount Royal.
Hotel Saint-Paul is conveniently located in the historical Old Montreal district and prides itself on offering amenities for your pets, like bowls and waste bags.
Your dog will have the time of their lives thanks to all of these dog-friendly activities in Montreal. They can roam around outside or get pampered inside, depending on the season and weather.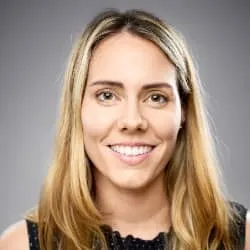 About the Author
Anne was born and raised in Quebec City. She is our resident expert for the city of Quebec and other popular regional destinations such as Charlevoix and Gaspésie. Having travelled to every corner of the province with her children, she is also our expert for family related topics on Quebec Wonders.