The 10 Best Things To Do This Christmas in Montreal
The best things to do this festive season to experience the true magic of Christmas in Montreal.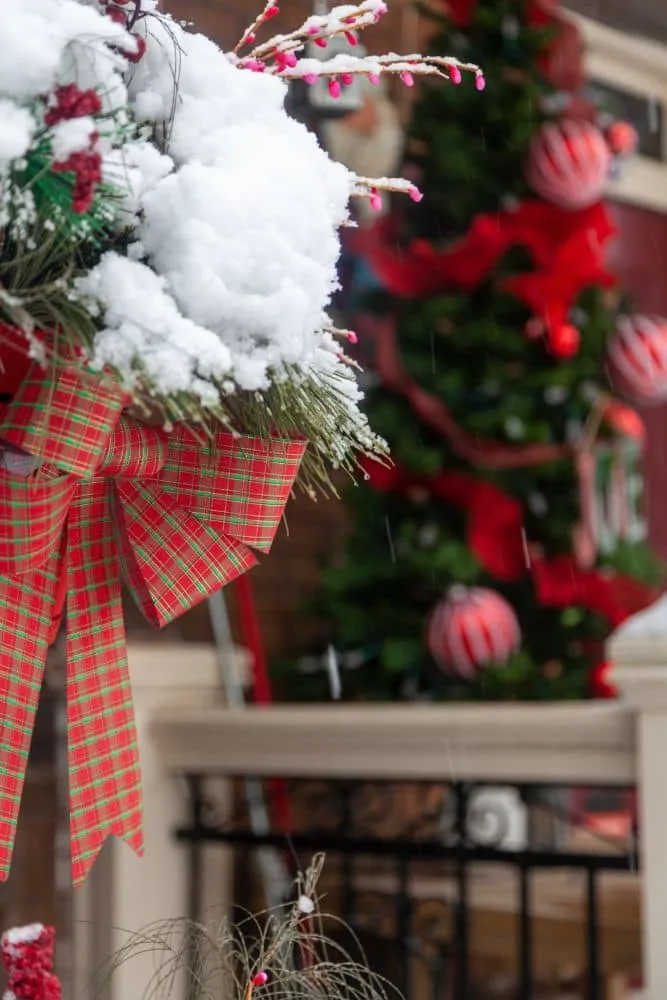 Disclosure: Some posts on this site contain affiliate links. Read our full disclosure.
I've always thought spending Christmas in Montreal was a magical experience. The city comes alive with festive lights and stunning decorations and a joyful atmosphere prevails over tourists and locals alike.
Things To Do in Montreal for Christmas
I love how I can go from ice skating in iconic places like Old Port to exploring Christmas markets. Afterwards, me and my family also really enjoy warming up in cozy cafes and indulging in seasonal treats like maple taffy and hot chocolate. As you will soon see, Christmas in Montreal is a delightful blend of tradition and winter wonder.
Keep reading for my top suggestions of things to do in Montreal for Christmas.
Outdoor Christmas Activities in Montreal
1. Annual Santa Claus Parade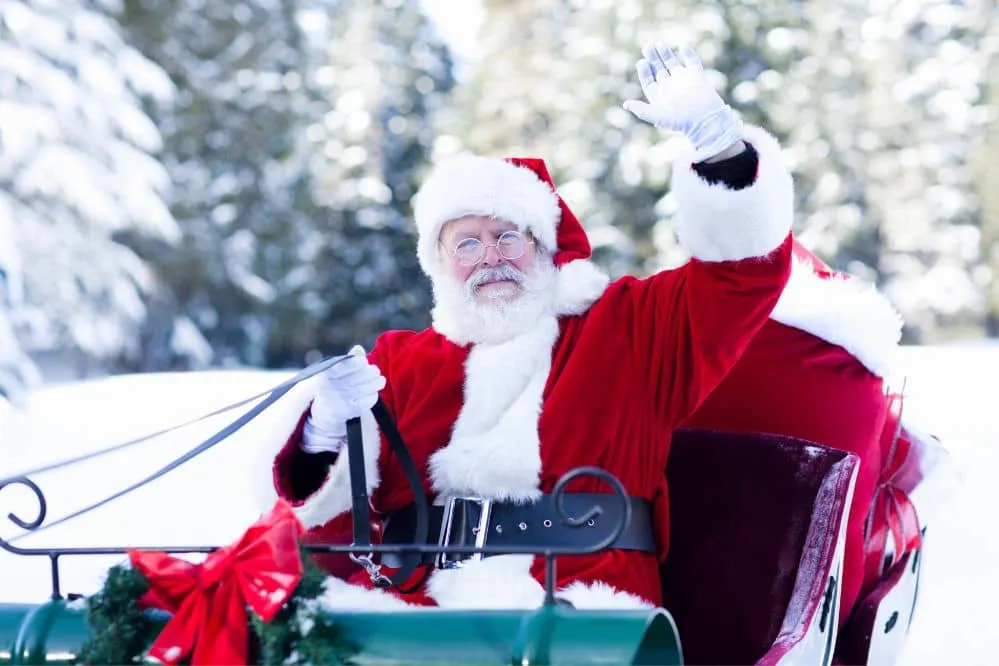 For those who live in Montreal, the Christmas festivities start in November with the annual Santa Claus Parade. The parade is a cherished holiday tradition in Montreal. Whenever we're in the city for the holidays we love to be a part of the crowd gathered along Sainte-Catherine Street as colourful floats adorned with enchanting decorations make their way through the city.
I always enjoy the spectacularly costumed performers, the festive music and the lively dance routines of this parade. My child's eyes light up whenever he catches glimpses of Santa himself, waving from his sleigh. This heartwarming parade marks the official arrival of the holiday season and always creates magical memories for our family.
I strongly suggest you witness this beautiful parade with you and yours during your Christmas in Montreal.
2. Old Port Skating Rink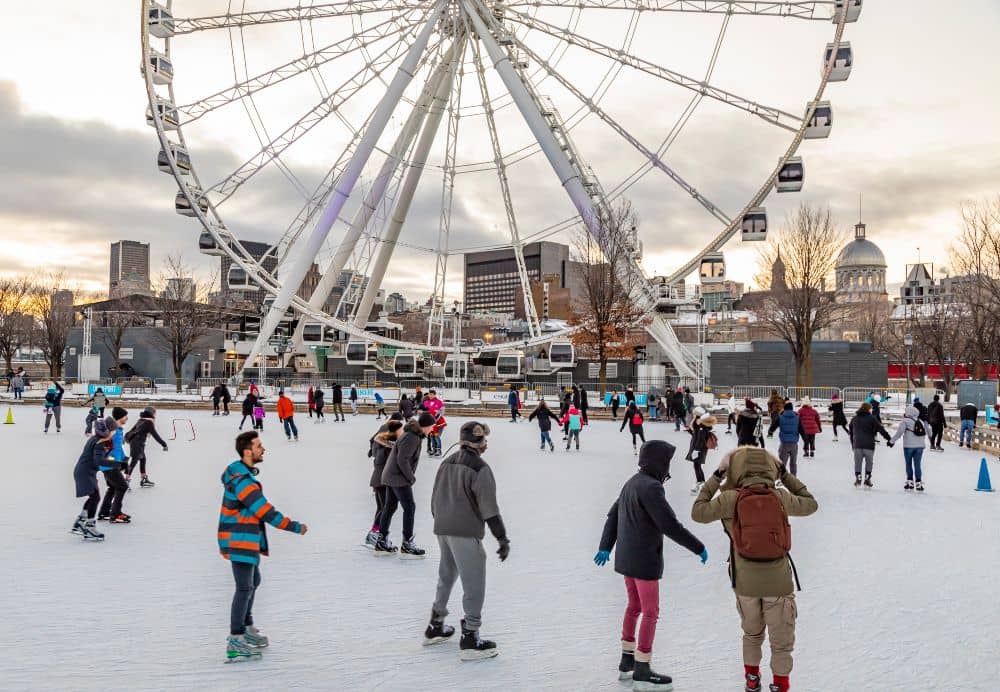 In my personal experience of having spent many winters in Montreal, there's no better feeling than lacing up my skates and gliding on a pristinely smoothed ice rink under a perfect city sky. One of my favourite places to do this is at the Old Port Skating Rink.
Although there are many ice rinks in Montreal (we've included them all in our things to do in Montreal in winter post) this one holds a particularly fond spot in my heart because it's located in my favourite neighbourhood and I get to skate with an amazing view of the Montreal Ferris wheel. 
The rink is refrigerated, so the ice is always perfect and it's right next to a wonderfully furnished pavilion, complete with bathrooms, benches and a little cafe (which makes excellent post-skate hot chocolate). If you are looking to do something special this winter in Montreal, I strongly suggest you try ice skating at the Old Port during your Christmas visit.
3. Admire The Christmas Lights in Old Montreal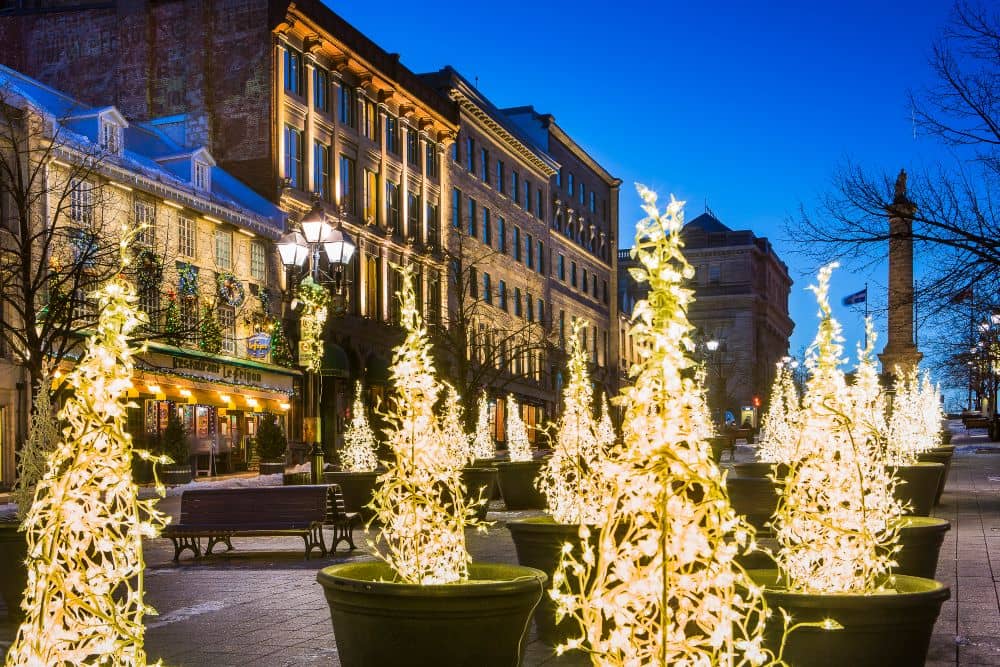 Tour of Old Montreal in Winter
The best place in Montreal to experience the magic of the holiday season is the Old Montreal. If you want to capture the magic of Christmas in Montreal but you're short on time, you need this Old Montreal Christmas Walking Tour.
In 1.5 hours, your guide will lead you through Old Montreal's snow-covered streets, telling you about the city's long-standing Christmas customs and traditions along the way. You'll also learn about Old Montreal's history and beautiful architecture.
You start at Victoria Square, which is surrounded by holiday lights. Then you'll wander past Christmas-themed window displays before arriving at the World Trade Centre and its famous Santa Claus exhibit. The final stop is the beloved Bonsecours Market. Just try not to shop up a storm.
4. Montreal Christmas Markets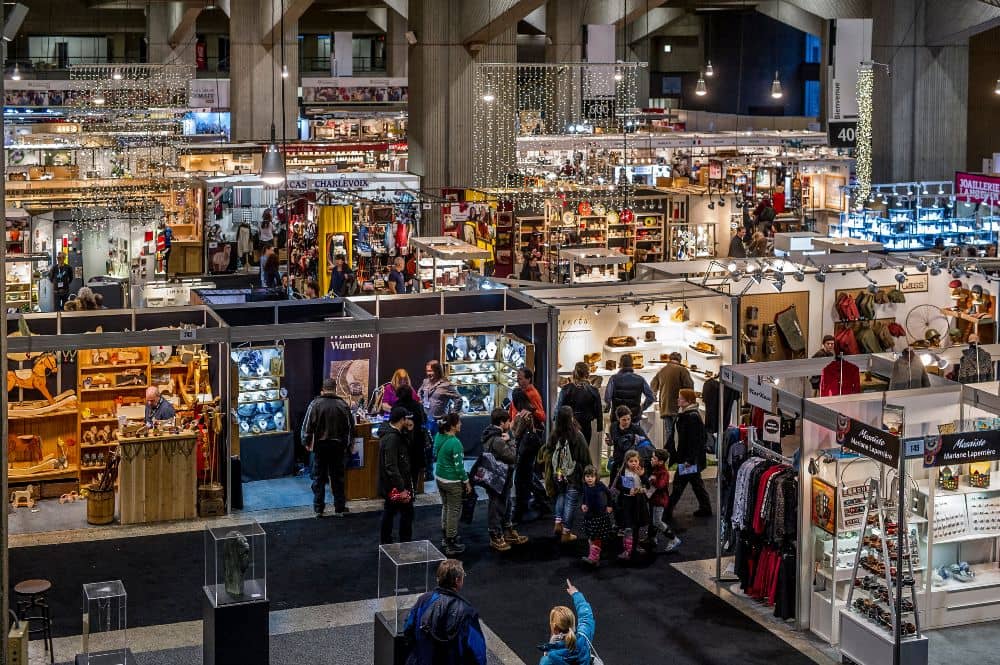 No Christmas events in Montreal can compete with the city's magical Christmas markets. If you share my fondness for festive shopping during this time of year, you certainly won't want to overlook the numerous Christmas markets that grace the city during this enchanting period.
Allow me to highlight a few personal favourites:
The Grand Montreal Christmas Market (Quartier Des Spectacles)
Montreal Christmas Village (located at Atwater Market)
Jean-Talon Christmas Market
Old Montreal Christmas Market (Jacques Cartier Square)
While each market boasts its own unique attributes, having personally explored them all, I can guarantee that none fall short in terms of vendors, snowflake enchantment and delectable winter delights. Paying a visit to a Christmas market is an essential activity to experience when visiting Montreal in December.
5. Have a Snowy Good Time at a Local Park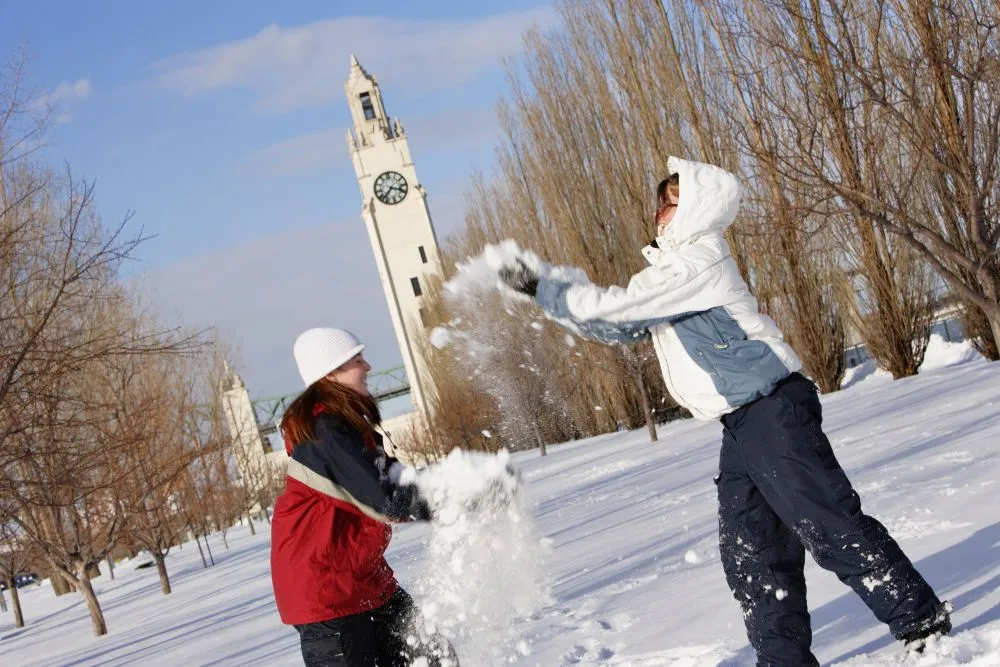 Sometimes the simplest option is the most memorable. That's why I always like to take time out of my busy holiday schedule to go play in the park during Christmas.
There are so many beautiful parks in this city that you'll easily find one close to you. Park Jeanne-Mance and Parc Lafontaine are both perfect for outdoor Christmas activities because they are fairly large.
Get ready for an epic snowball fight, to build a snowman or make snow angels. You can easily get to either of these by metro and bus. If you're looking for free things to do in Montreal at Christmas, playing in the snow is a good activity to add on your list.
Indoor Christmas Activities
6. Les Grands Ballets Canadiens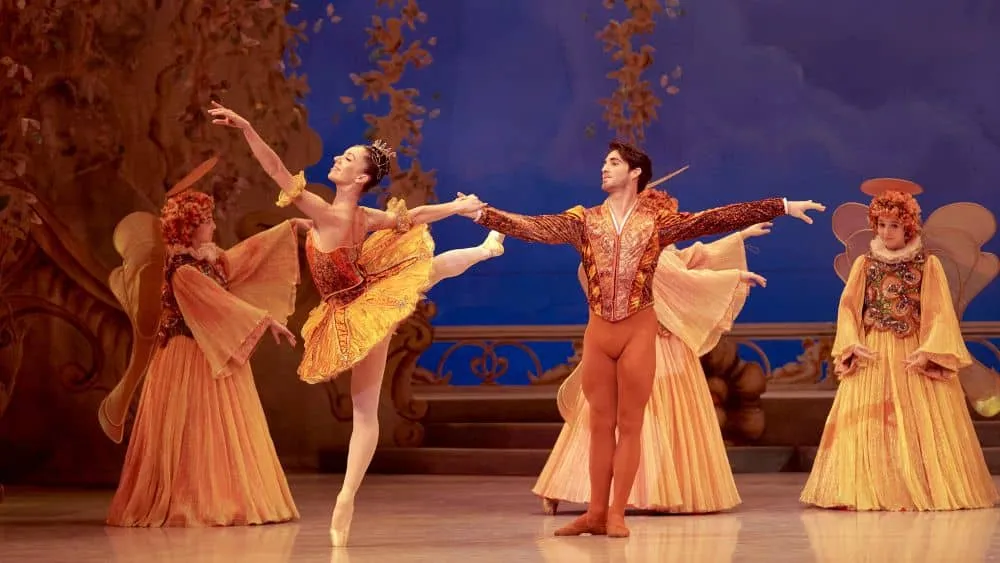 I'd like to suggest a wonderful indoor Christmas activity in Montreal – attending a performance of The Nutcracker by Les Grands Ballets Canadiens. This timeless classic has captivated generations with its masterful blend of fantasy, magic and humour. It certainly has for me and my family because we've seen it more than once! 
For a truly magical Christmas experience, consider immersing yourself in this ballet's world of dazzling sets, luxurious costumes and a dreamy depiction of childhood. With around a hundred dancers gracing the stage, it's a sight to behold.
If you're visiting Montreal in December, the show runs the entire month. But I recommend reserving tickets in advance as the dates closer to Christmas sell out fast. You won't regret it.
7. The AURA Experience at the Notre-Dame Basilica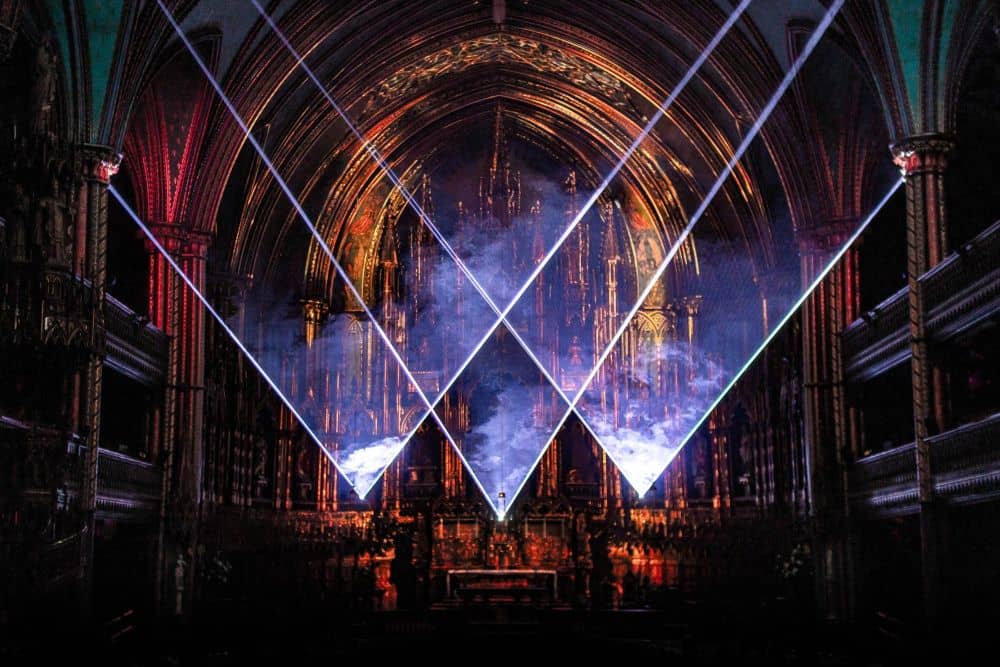 This incredible light show is a must-see if you are spending Christmas in Montreal. I went once with my family a few years ago and now I make a point of going back whenever I can. I strongly suggest you check out this one-of-a-kind light show.
I love that The AURA Experience immerses you in a captivating visual and musical universe, presented upon one of the most sublime canvases imaginable: the French-inspired Gothic Revival architectural interior of Notre-Dame Basilica of Montréal.
The experience offers a four-act multimedia display of dynamic light, orchestral music and expressive architecture. The show is on every night in December so you are sure to find the right time for you to experience this stunning concert. Christmas in Montreal would not be complete without a visit!
8. See a Choir Performance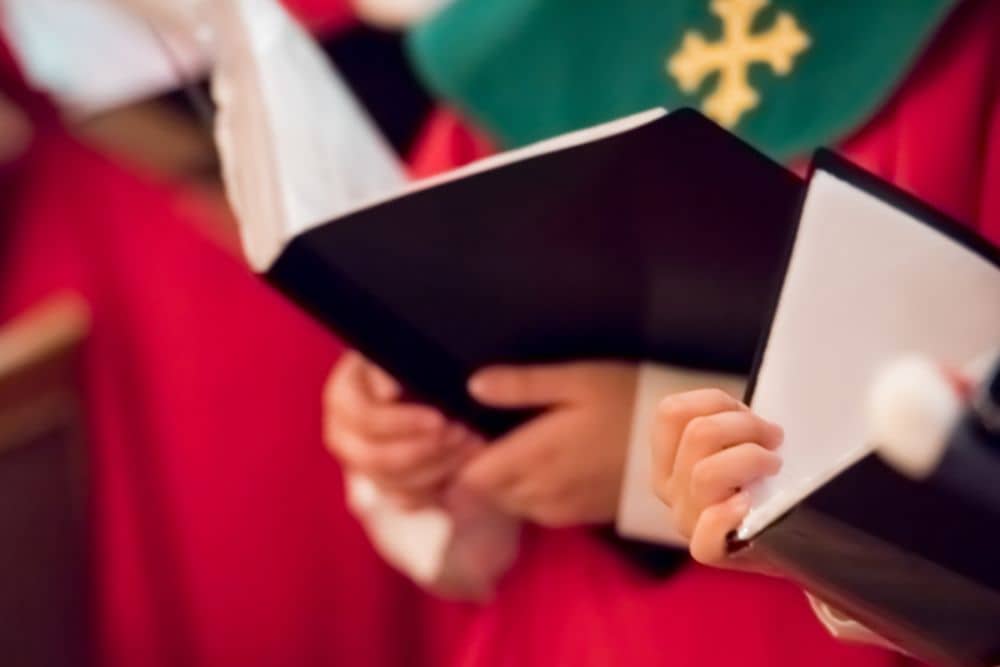 Montreal is named the city of a hundred steeples for a reason. With the number of churches that are found on this island, you won't be surprised to learn that on Christmas morning, and in general throughout the holiday season, public choir performances happen throughout the city.
If you, like me, are a fan of traditional hymns and harmonizations for mixed voices, don't miss a chance to catch a choir performing Christmas classics. There are many Christmas carols choir performances to choose from. One of the popular ones is Les Choralies, held in the Notre-Dame-de-Bon-Secours Chapel. It is free to attend!
9. Eat Out in Chinatown
Have no plans for Christmas in Montreal? When I find myself not wanting to cook on Christmas Day, my favourite thing to do is visit Chinatown and enjoy a nice non-traditional meal. It's very convenient that most of the restaurants in Chinatown remain open during Christmas (and on New Year's Day too). It's a tradition I love to do whenever I can and eating in a restaurant on one of our biggest holidays is something that I suggest everyone try at least once.
10. Go Shopping
Stores might be closed on Christmas Day, but they certainly aren't closed before or after. Hit up the wonderful boutiques of Old Montreal or the majestic stores of Downtown Montreal to find just the right gift for that special person.
One store that I highly recommend visiting is Noel Eternel (60A Rue Notre-Dame O, Montreal). This store's concept is unique: it sells Christmas stuff all year long. It's very well known here in the city as a novelty shop and it's a very fun place to visit in Montreal for Christmas, even if you don't plan on buying anything. The store's selection of festive objects is so good though that I rarely resist the urge to buy something for myself or a loved one.
Where to Stay in Montreal for Christmas
There are no shortages of great hotels in Montreal. Whether you're travelling as a family, a couple or alone, there are many options for places to stay during the holiday season. I suggest you look at our article on the best hotels in Montreal for suggestions of where we think you should be staying as you enjoy Christmas in Montreal.
In my opinion, you're going to want to stay in the nicest place in Montreal at this time of year: Old Montreal. It's simply beautiful in winter (even better than during summer).
Here are a few hotels you'll definitely like:
Hotel Nelligan in the Old Port
Hotel Le Saint-James in the Old Port
Hôtel Saint-Laurent Montréal in Downtown Montreal
These are but a few of the exciting Old Montreal hotels that are close to most Christmas activities in Montreal. If you're visiting with little ones, we also have a list of family hotels in Montreal.
What to Pack for Christmas in Montreal
The most important thing you can do when you're packing to spend Christmas in Montreal is to think about layers. Warm undershirts, long johns, dry socks, neck warmers, scarves, toques (beanies), gloves or mittens, boots and jackets are all things that are considered mandatory if you want to have a good time while you're here. And I really want you to have a good time while you're here so remember: layers!
Another thing that I couldn't stress more is the importance of packing empty bags (or leaving a considerable "empty" space in your luggage). With the amount of shopping you might do and gifts you might receive, it's always a good idea to plan some extra space in your luggage!
Is Montreal worth visiting during Christmas?
Montreal is worth visiting during Christmas because it becomes a literal winter wonderland. This city is magical all year long, but there's something extra special about Montreal in December and January.
There are many places to visit on Christmas in Montreal. Whether you like spending this magical part of the year indoors or outdoors, you're sure to find somewhere you'll enjoy. You can go to the ice rinks, the parks, the Santa Claus Parade, the Christmas Markets, Chinatown restaurants and more.
Which is better at Christmas: Montreal or Quebec City?
If you're torn and wonder if you should spend Christmas in Quebec City or Montreal, let me tell you that you're not alone. Because Montreal is a bigger city and therefore has a wider range of activities to choose from, Montreal is, in my opinion, the better city to visit during Christmas.
What is Montreal like in December?
Once the snow has fallen, Montreal in December is like the inside of a snow globe. The city becomes blanketed in beautiful snowflakes and the magic of Christmas is in the air. Come see for yourself.
Final Words
Every Christmas Montreal turns into a magical place that needs to be seen to be believed. I hope you enjoy strolling the streets this Christmas in Old Montreal, seeing The Nutcracker and soaking up the season at the Christmas Markets. If you only have one day or two days in Montreal, you'll clearly find plenty of things to do, no matter when you visit.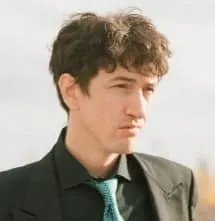 About the Author
Joshua is our Montreal expert. He has been living in Montreal for over 15 years. He is passionate about sharing his love for Montreal and some local tips with our readers.