Best Winter Gloves for Playing in the Snow (2023)
Here's what you need to know about water-resistant vs waterproof gloves, and our list of the best waterproof winter gloves.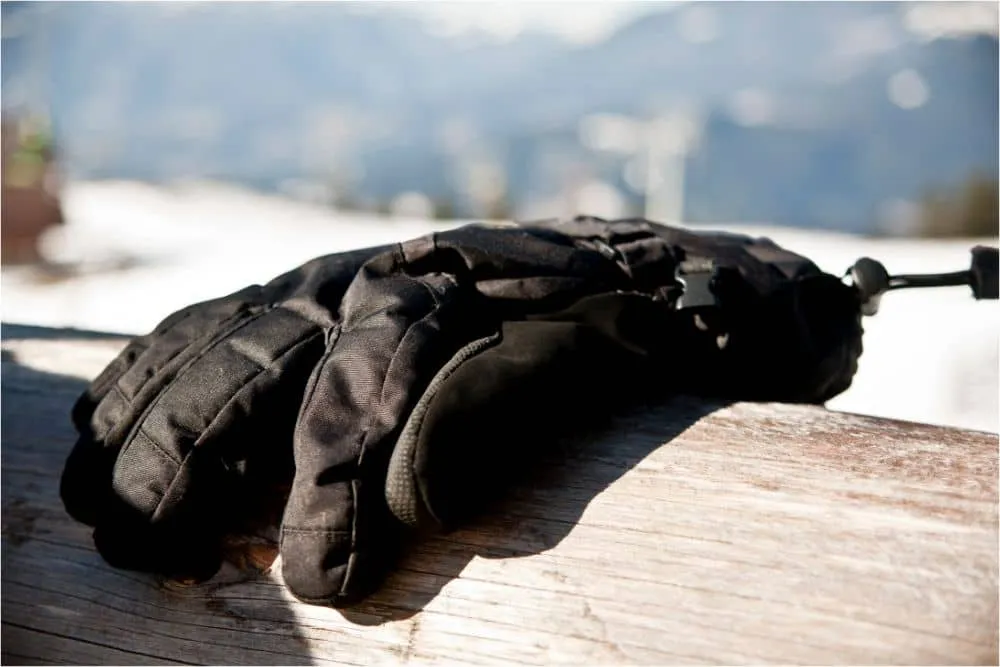 Disclosure: Some posts on this site contain affiliate links. Read our full disclosure.
Straight from the wintry landscapes of Quebec, my firsthand experience has taught me a thing or two about tackling the cold. Going on a hunt for the best winter gloves for Canada is a smart move when it comes to preparing for a frosty trip or season.
Everybody wants the warmest winter gloves to make sure their hands stay snug and dry during winter adventures. But let's face it – there's a heap of options out there when it comes to winter gloves and they all promise the warmest gloves. I get that finding the perfect pair, one that mixes warmth, waterproofing and practicality can be a bit of a puzzle.
In this thorough guide, I'll help you find the best winter gloves for Canada in 2023. The winter gloves I've reviewed on this page come from someone – me – that's very experienced living and commuting in cold weather and grew up building snowmen and snowboarding. Let's get to it.
Related: If you're still debating whether you should get gloves or mittens, you might also be interested in my article about winter mittens.
What to Consider when Buying Winter Gloves
Before you venture into the world of winter gloves, let's unravel the key aspects that guarantee snug and content hands even in the heart of Canadian cold.
If you're on the hunt for the best winter gloves in Canada for 2023, here's what you need to consider before buying:
WATER-RESISTANT vs. WATERPROOF Winter Gloves
Waterproof gloves are better than water-resistant gloves to keep your hands dry and warm. That's because "WATERPROOF" means they're totally sealed off from water, keeping water out completely. "WATER-RESISTANT", on the other hand, is used to describe gloves that can handle some water but will inevitably let it in.
As I'm sure you're aware, snow has a tendency to be rather wet. Unfortunately, water-resistant gloves can quickly become drenched under these circumstances.
In wet and chilly environments like Canada, the significance of WATERPROOF gloves cannot be overstated – they are vital for avoiding discomfort, preventing frostbite, and preserving warmth. Trust me, you won't enjoy doing winter activities with wet gloves on.
Adjustable Wrist Strap and Elastic Pull Straps
I'm sure you've spotted gloves with either Velcro, buckles or an elastic band at the wrist. Those are VERY useful. In fact, for skiing, snowboarding and playing in the snow, it's best to have both an adjustable wrist strap AND a pull strap at the opening of the gloves.
The main purpose of the wrist closures is to keep snow, wind and the cold out. Ask any local skier or snowboarder in Canada, and they'll tell you it's a must.
Another perk of the wrist closure is that they help make sure your gloves stay put and don't slid out (not that they would slid out completely, but even a 1 inch drop may be annoying and expose a part of your arm to cold air).
Thin vs Thick Winter Gloves
Thin gloves offer superior dexterity compared to thick gloves. That can come in handy to tighten up boots and grab something in a bag when you're outside.
High-quality gloves will offer good insulation (warmth) yet be relatively thin. Gloves built from poor-quality materials may need to be rather thick to offer good insulation. So keep in mind that thicker gloves don't necessarily mean warmer gloves.
Handwarmer Pocket
In the realm of gloves, you might have noticed a handy addition – the "handwarmer pocket." This clever compartment is tailored to snugly house a heat pack handwarmer, a little pouch that springs to life with warmth upon activation (definitely worth stocking up on for your adventure).
Once you slip a heat pack into this pocket, you've got yourself a bonus wellspring of warmth for your hands. This feature comes in clutch, particularly during frosty conditions or extended outdoor ventures that stretch over a few hours.
Best Winter Gloves: Waterproof, Dual Wrist Straps, Handwarmer Pocket
Looking for winter gloves can get incredibly overwhelming, especially if you've never looked for them in the past. Which is exactly why I've curated this list of ten winter glove recommendations for you to choose from!
Unisex Waterproof Winter Gloves with Insulation and Pocket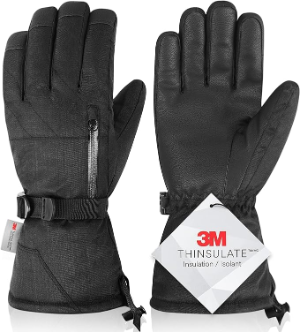 Featuring 3M Thinsulate insulation, these gloves provide six layers of materials to ensure sufficient waterproofing, making them some of the best pairs on the market for any activity involving snow. Whether you're conquering the slopes or braving the rain, these gloves will keep your hands dry and protected.
With a neutral color palette of black, gray, and white, these gloves offer a touch of style to your winter outfits. The adjustable wrist ensures a snug fit, while the handwarmer pocket lets you add an extra layer of warmth on those chilly days. Remember to stock up on spare handwarmers just in case!
Jogoo Waterproof Winter Gloves with Long Adjustable Wrist Cuffs
Combining Faux Leather & Polyester, these gloves are equipped to withstand challenging weather conditions while providing optimum comfort. Sporting a camo print, these gloves offer a stylish and rugged appeal to go with their 3M Thinsulate insulation. The adjustable wrist allows for a customizable fit, while you can use the handwarmer pocket on those extra chilly days.
These are available in various sizes, are compatible with touch screens, and have an anti-slip material for the palms, but the camo print is not optional.
Cevapro Warm Winter Gloves
Made with polyester, durable Faux Leather and TPU, these gloves offer exceptional waterproof protection to keep your hands dry and comfortable in any weather condition. They also feature 3M Thinsulate insulation as well as a handwarmer pocket just in case.
The simple and versatile black design ensures a timeless style that pairs well with any outfit. Featuring an adjustable wrist, these gloves can be customized to fit your hand securely. Available in multiple sizes, these are some of the most useful pairs on the market if you're going to be handling snow.
Other Warm Winter Gloves
Tough Outdoors' Patrol Ski Winter Gloves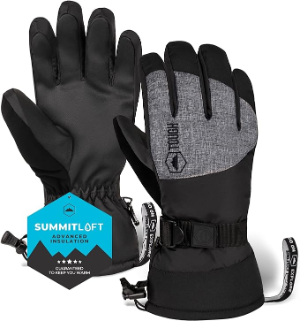 Get ready to conquer the outdoors with Tough Outdoors' Patrol Ski Gloves. These are engineered with a combination of faux leather and nylon, these gloves deliver exceptional waterproof performance while maintaining durability. The black design will surely add a touch of sophistication to your outdoor gear.
These feature adjustable wrists to ensures a comfortable and secure fit, preventing any cold air from sneaking in. While lacking a pocket, these gloves prioritize functionality and dexterity despite looking bulky. With a range of sizes and other variants available, Tough Outdoors offers excellent outdoor equipment tailored to your needs.
Carhartt Waterproof Insulated Winter Gloves
Crafted from 100% polyester, these gloves offer excellent water protection, keeping your hands dry and comfortable in challenging weather conditions. Available in combinations of black, grey, and brown, you won't have trouble finding a pair that goes with your outfit.
These gloves also have an adjustable wrist, ensuring a secure and customized fit. It does lack a pocket but makes up for it in durability and reliability. You won't have any trouble finding a pair in your size, but if you're looking for touch-screen compatibility, these aren't the ones for you.
ALISXM Insulated Winter Gloves
These waterproof gloves boast a combination of premium materials, combining Nylon with an insulating layer of TPU, and finishing it off with a cozy cotton interior, ensuring both durability and comfort. Designed with a focus on functionality, these gloves excel in keeping you dry and comfortable.
With an adjustable wrist, you can tighten or loosen these gloves according to your comfort. They're available in various sizes, and are a decent pair of gloves so long as you do not need any pockets.
Best Cheap Winter Gloves for Winter 2023
American Trends Women's Winter Gloves
Those winter gloves for women feature on our list of the best winter gloves because of their price point. They perform fine in cold weather (not in extreme cold though) and they are very cheap. Crafted with durable and waterproof polyester material, these gloves offer excellent protection for your hands in any weather conditions. Available in black, grey, pink, and purple, you can choose colors that match your personal style.
At this price price, I wouldn't have expected to see a velcro strap so that's a nice bonus feature. While these gloves don't have handwarmer pockets, their focus on simplicity and practicality makes them a versatile choice for various outdoor activities. With a one size fits all design, you'll have to look elsewhere if your hand's not near the center of the bell curve.
Best Thin Winter Gloves
ihuan Thin Winter Gloves for Driving and Daily Activities
Made with a combination of waterproof polyester with a cozy fleece interior, these gloves will provide you with warmth and protection against the extreme winters of Canada. Most of the gloves on this list have touch-screen compatibility, and these are no different. You'll be able to conveniently use your mobile without having to take them off.
The black and grey design adds a modern touch to your outfits, while the adjustable wrist ensures a customized and secure fit. Available in various sizes, these gloves are a functional companion for any outdoor enthusiast. They're also not as bulky as most winter gloves, making them a solid choice for activities such as biking and driving.
SIMARI Thin Winter Gloves for Running and Daily Activities
These gloves offer reliable waterproofing without compromising dexterity. Available in multiple vibrant colors, these gloves add a pop of style to your outdoor adventures. While featuring a non-adjustable wrist design, they still provide a snug and secure fit with the band.
Although these gloves do not include a pocket, their thin profile allows for far more freedom of movement than some of the other options on this list, making them ideal for tasks requiring precision. With a range of sizes available, SIMARI Waterproof Thin Gloves offer a versatile and functional solution for your outdoor needs.
HOLDINA Thin Women Winter Gloves for Dressy Outfit
These are stylish and practical, so long as you don't need waterproofing. Made with polyester, these gloves offer water-resistance but not waterproofing. They will keep your hands dry and protected in light rain or snowfall, but do not expect to have dry hands after a long day of handling snow.
What they lack in protection against water, they make up for in style. Available in an array of attractive colors such as pink, black, khaki, and red, you can find the perfect shade to match your style, without having to compromise on size options!
Are Winter Gloves Better than Mittens?
Ah, the ongoing debate between gloves and mittens. I'm unabashedly a mittens enthusiast. The reason? It's all about that warmth factor.
Mittens are inherently warmer than gloves. How so? Well, it's all about finger camaraderie. When you tuck your fingers together inside mittens, they keep each warm against the cold.
Sure, some people might argue for the finger individuality that winter gloves offer. But let's be honest, those separate compartments in gloves, while allowing for some freedom, don't exactly deliver a full-on mobility extravaganza. I'm not willing to trade in that cozy collective heat for a touch more finger wiggle room.
Winter isn't a fashion show; it's about embracing the cold with a sense of warmth – and for me mittens definitely get the job done better. If you're like me, you might want to check out those winter mittens for 2023.
Final Words
Having the right hand protection can make all the difference in your cold-weather escapades. I hope you found this guide on the best winter gloves Canada 2023 helpful.
If you're visiting Quebec or another Canadian province in winter you might like my guide on winter mittens. I also have lot more useful tips and gear reviews here.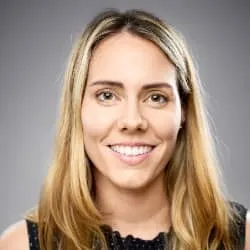 About the Author
Anne was born and raised in Quebec City. She is our resident expert for the city of Quebec and other popular regional destinations such as Charlevoix and Gaspésie. Having travelled to every corner of the province with her children, she is also our expert for family related topics on Quebec Wonders.