The 9 Best Spas in Quebec City (and Old Quebec Spas)
The best spas in Quebec City including popular choices in the Old Quebec and a few unmissable Nordic spas further away.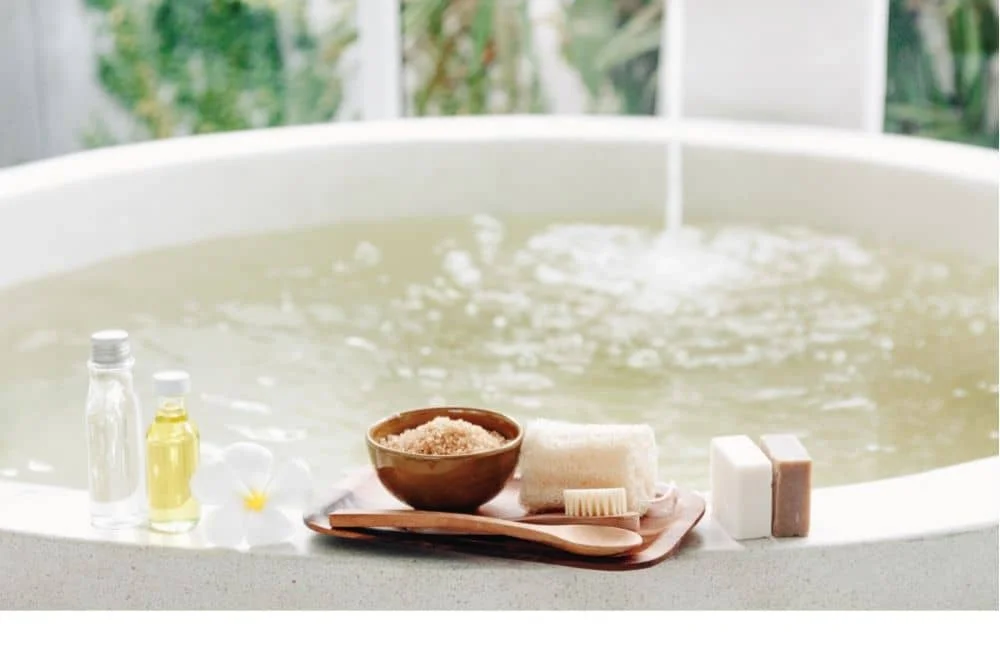 Disclosure: Some posts on this site contain affiliate links. Read our full disclosure.
There are fewer things as relaxing as treating yourself to a day of self-care at the spa. While Quebec City is renowned for its old European-like charm, it's also home to some of the most luxurious spas in Quebec. I've picked the nine best spas in Quebec City to put on your travel bucket list.
It's been a real hardship trialing them for you over the years! I chilled under the cascading waterfall at a Nordic spa, got pampered inside the world's most photographed hotel and sipped a cocktail in the sky before a spa session. These are just some of the experiences waiting for you at Quebec City's best spas.
So if you're looking to boost your wellness routine and relax your mind, get clicking and get booking. From relaxing aromatherapy to mud wrap body treatments, you'll leave feeling refreshed and reinvigorated. Because after ticking off all these things to do in Quebec City, I know you'll need the relaxation!
Best Spas in Old Quebec City
Old Quebec is the historic district of Quebec City, where most tourists stay when visiting. It has awe-inspiring architecture and an undeniable European feel. When you're visiting the old city, take a break from sightseeing and exploring on foot and enjoy a wellness experience at one of these infamous spas tucked away off the city's bustling streets. If you follow my Quebec in two days itinerary, let me just say that nothing beats a pampering session at one of Quebec's many spas after a long day walking around town.
Here are the best spas in Old Quebec:
1. Strom Spa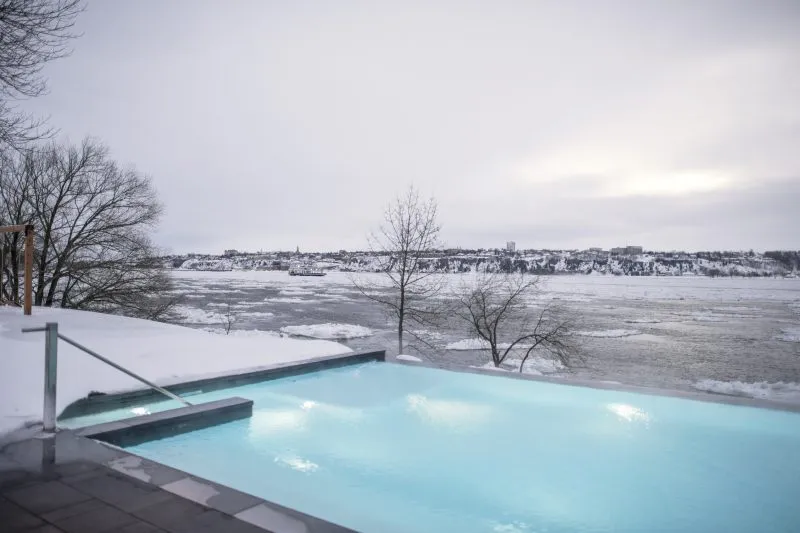 In my opinion, Strom Spa is the best Nordic spa in Quebec City. There's something romantic about it, especially in wintertime. The views are splendid and it manages to make you feel like you're in nature even though you're still so close to the city.
Strom Spa is a relatively long walk from most hotels in theOld Quebec, but it shouldn't take more than five to 10 minutes to get to in an Uber. Trust me, it's well worth the commute.
Strom Spa provides guests with calming thermal services that blend hot and cold temperatures for the ultimate wellness experience. The many amenities of the spa are all focused on relaxation. It features Nordic baths, Finnish saunas, waterfalls and refreshing eucalyptus steams. Some of the baths are outside and are open all year-round, so you can soak in a hot pool while the snow is falling around you in winter.
2. Moment Spa Fairmont Le Chateau Frontenac
The Fairmont Chateau Frontenac is the most famous hotel in Quebec, featuring the historic architecture of the Old Fortified City. Being a luxury hotel, it's unsurprisingly home to one of the best spas in Quebec City.
Moment Spa is an indoor spa (not a Nordic spa) located in the heart of Old Quebec on the sixth floor of the iconic Fairmont Le Chateau Frontenac. It features an array of services including massage therapy, as well as aesthetic and body treatments. From hydrating facial treatments to body wraps and exfoliation, there is no shortage of pampering experiences.
3. Le Monastere des Augustines
Nestled in the Augustinian Monastery, this non-profit organisation is a unique and unusual place. It offers stays for those in search of a solitary retreat and features a museum, restaurant, wellness workshops and a wellness centre.
The historic building, which was originally one of the first hospitals built in North America, is located in the heart of Old Quebec and is an oasis that aims to boost your wellbeing and mental health. In addition to offering a variety of wellness treatments, they also offer yoga classes, meditation sessions, reflexology and massages delivered by experts in the field.
The best way to experience the monastery is with one of their accommodation packages.
Best Spas in Wider Quebec City
There are a few spas that are just outside of Old Quebec that are worth the visit. These spas are all a 30-minute or less drive away from the old town and are easily accessible by car, making them the perfect spot to unwind after a long day.
4. SKYSPA
SKYSPA is located on the 17th floor of a high-sky rooftop building. It is more of a festive spa compared to the other options on our list. For instance, it sometimes features a DJ on Friday evenings and it regularly has promotions to attract the younger crowd.
I personally like going to SKYSPA with my girlfriends or husband. You don't have to constantly whisper and they sell cocktails! But if I'm in the mood for relaxation I turn to one of the other options.
SKYSPA is probably the best spa in Quebec City for those staying at one of the many hotels on Boulevard Laurier. But it's also easy to get to from the Old Quebec. If you go by car, there is underground parking in the building. If you go by public transport, the bus will drop you off only a few minutes walk away.
Another good thing about SKYSPA is the views. Because it's on a rooftop, you get panoramic views of the city, the St Lawrence river and the south shore of Quebec.
At SKYSPA, you can book a signature treatment including a hot stone or aromatherapy massage or beauty treatments like the collagen lifting facial. You can unwind (or in my case, have a nap) on one of the cozy beanbag chairs on the rooftop or get your eucalyptus sauna fix.
5. Siberia Spa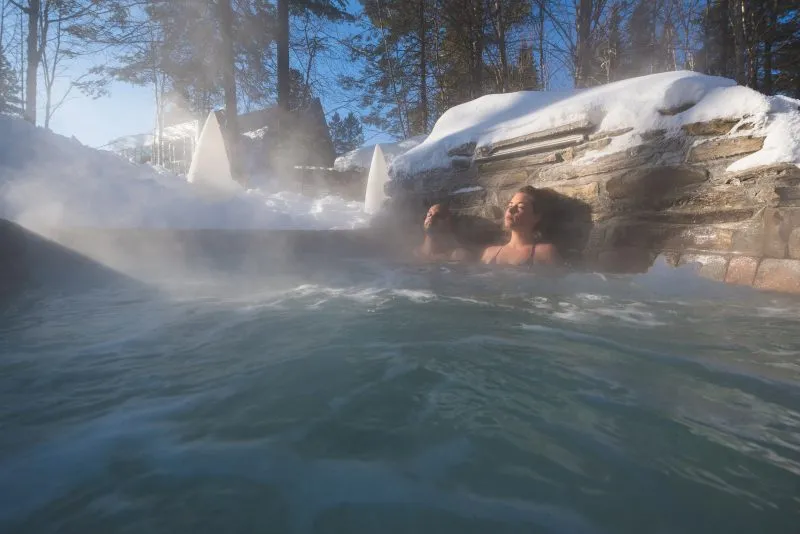 Located just a 20-minute drive from Old Quebec, the Siberia Spa is an outdoor facility nestled in the woods on the edge of the Jaune River. Immerse yourself in peaceful nature while treating yourself to a luxurious spa experience outdoors.
Here you'll find a mix of both hot and cold pools, a eucalyptus-infused steam room, infrared and Finnish saunas, and serene fountains that create a zen atmosphere. Unwind on one of the many cozy hammocks, relax in a Siberian yurt or get cosy and read a book by the outdoor fireplace.
6. Infinima Spa
Infinima Spa is a beautiful spa that boasts some of the beauty industry's best massage therapists in Quebec City. It's been my go-to spa for mother-and-daughter dates for the last 10 years.
Unlike other spas that attract the crowds, this place always feels quiet and you generally won't share the "wet area" (baths and saunas) with more than one or two other people.
A 25-minute drive to Old Quebec, book yourself in for one of the many lavish and unique services the spa has to offer. This includes a hot pebble massage, a shell massage and a seaweed exfoliation and wrap treatment that will leave your skin feeling smooth and dewy.
The spa features indoor Nordic baths, a eucalyptus steam bath, a warm Finnish sauna, a relaxing rain shower, a hot therapeutic bath and a relaxation room where you can find peace and quiet.
Best Spas Outside Quebec City
If you're visiting Quebec and are able to travel outside of the inner city by car, there are a few spas in Quebec province that are worth driving to for the experience.
7. Nordic Spa Stoneham
The Nordic Spa Stoneham is located on the banks of the Jacques-Cartier River and is surrounded by serene nature and wildlife.
Visit the spa for the ultimate Scandinavian-style relaxation thanks to the beautiful balance between hot and cold therapy treatments. Here you'll find a Turkish steam bath, a Nordic bath, an outdoor hot tub and massage therapy to soothe your senses. If you prefer to unwind in nature, book yourself an outdoor Swedish massage in the wilderness.
The Spa also offers a variety of lodging options (including tiny houses) that offer the ultimate comfort for a weekend getaway. My favourite part is that the hot/cold treatment can include a dip in the cool river before rejuvenating in the outdoor hot tub. Nordic Spa Stoneham is the definition of natural tranquility and well worth the visit.
8. Spa des Neiges
Spa des Neiges is a 33-minute drive from Quebec City, making it a close option for a serene and lush getaway. The spa is located on the shores of the St. Lawrence River, not far from Mont Sainte-Anne. It features a Finnish bath, a luscious outdoor spa area, Nordic baths, an exfoliation room and a semi-private area for groups of 8-15. The perfect place for a relaxing bachelorette party, you can enjoy the quiet serenity of the spa with loved ones and friends.
My top recommendation is the new Moroccan-inspired Black Soap Exfoliation experience. It feels weird at the time having someone scrub you down, but you will feel like a new person afterward. After a relaxing session at the spa, grab a bite to eat at the bistro lounge, where you can sit and soak up the serene and picturesque riverfront views.
9. Nordic Spa Mont Sainte-Anne
A 40-minute drive from Old Quebec, Nordic Spa Mont Sainte-Anne provides you with a wellness-infused experience. The spa features five thermal baths, two saunas (one dry and one steam), two yurts, rest areas, a terrace, a bistro and even a beach to enjoy paddle boarding and pedal boating in the summer.
If you're in need of a little TLC, book yourself into one of the many massage therapies the spa offers, including a hot stone massage, a pregnancy massage or couple massages.
My personal favourite combination is having a hot stone massage and then chilling in the rest areas. Equipped with lounge chairs, they're so relaxing that you shouldn't be surprised if you fall asleep!
When you're looking for a quiet retreat to enjoy time away from your bustling day-to-day routine, the spa is the go-to place to treat yourself. This list of the best spas in Quebec City shows that there's an experience for everyone, whether you want a pamper session in the inner-city or in nature beside a flowing river.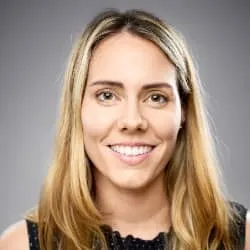 About the Author
Anne was born and raised in Quebec City. She is our resident expert for the city of Quebec and other popular regional destinations such as Charlevoix and Gaspésie. Having travelled to every corner of the province with her children, she is also our expert for family related topics on Quebec Wonders.