Best Snow Toys to Make Your Kids Choose Outdoors Over Screens
The best snow toys to have fun this winter, including sleds, snow ball launchers, snow diggers, snow molds and more!
Disclosure: Some posts on this site contain affiliate links. Read our full disclosure.
I remember when sleds were the go-to snow toys. Times have changed! The market is flooded with options, from snowball launchers to toddler-friendly snow molds, making it a golden age for outdoor winter toys.
From the little ones to the not-so-little ones, there are snow toys to capture every child's imagination and keep them active in the snowy months.
In this article, we'll deep dive into an assortment of snow toys that'll make your little ones pick snow play over screen time, any day.
Finding Good Snow Toys Based on Your Child's Age
It's not just about having a wide array of snow toys; it's also about having toys suitable for every age group. Here are a few things you need to keep in mind about buying snow toys:
Reduced Dexterity and Coordination Due to Winter Wear
Keep in mind that a 2-year-old's dexterity and coordination differs significantly from that of an 8-year-old. This distinction is heightened when kids are bundled up in mittens. A two-year-old might easily grab any kind of ball indoors, but they will likely struggle to grip a snowball maker or a sled handle while wearing mittens. Snow toys that require fine motor skills are not the best fit for toddlers but will be perfect for older kids.
Mobility
Younger children might not have the strength or coordination to use certain snow toys. For example, a 3-year-old might not be able to walk on all types of snow with snowshoes on without help (you may need to hold their hands the way you did when they were learning to walk).
Interests and Imagination
Toddlers are often content with simple activities like digging or colouring the snow. As kids grow, so do their imaginations. School-aged children might enjoy building elaborate snow forts, engaging in epic snowball fights, or even trying out beginner snowboarding.
Classic Snow Toys: Sleds and Toboggans
Baby and Toddler Sleds
When it comes to the youngest snow enthusiasts, sleds often serve as winter strollers. Parents typically pull the sled with the baby bundled up inside, offering a similar experience to a stroller ride. Alternatively, you might see parents taking their little ones down small slopes while sitting securely in their laps. It's essential to understand that at this age, kids don't have the coordination or reflexes to sled alone safely. So it's all about very small slopes, and shared experiences to introduce them to the joy of winter play.
Choosing Sleds for Babies and Toddlers
Here's what we like to see on a baby or toddler sled:
High back to help support the child in an upright position
Safety strap to help keep them in position no matter what
Anti-slip seat which will help prevent them from sliding down (winter suits on plastic makes a very slippery combination)
Safety reflectors area good safety feature for those late afternoon walks
Wind / snow shield is not an absolute must but is nice to have on windy days.
Best sleds for Babies and Toddlers
Types of Sleds For Older Kids
If you're buying a sled for an older kid rather than a baby or toddler, you've got lots of options. Wooden sleds bring that classic look and durability, while foam sleds offer a softer, cushioned ride. Inflatables provide a bouncy thrill but may not be the best for little ones who can easily tip over. Don't overlook plastic sleds either (often called "crazy carpets" where I'm from). These are cost-effective, light to carry, fast, but practically impossible to steer.
Sleds can range from $30 for a simple plastic model to well over $100 for specialized types.
Snow Racers
For older kids who crave more excitement, a snow racer is a fantastic choice. Unlike traditional sleds, snow racers have a steering wheel and sometimes even brakes. They bring a new level of control and fun, allowing for more precise navigation down the hill.
Best Sleds for Kids and Teenagers
Back Bay Play Snow Sled
Suitable for ages 3 and up, the sled racer can accommodate 2 small children or can be used as a snow sled for adults. Features four built-in handles.
Flybar Toboggan Snow Sled
This flybar sled is effectively a cushioned foam with two large and sturdy handles. It glides well and fast on snow.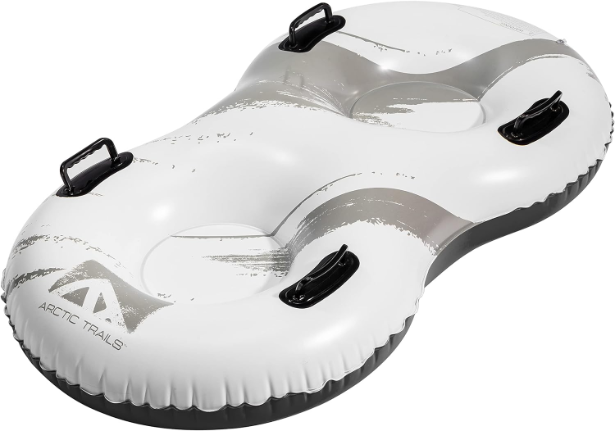 Double Snow Tube Sleds
Inflatable double snow tube suitable for kids and adults ( up to 250 lbs). Both seats have their own handles.
Frost Rush Snow Sled
This sled features a steering wheel and dual foot brakes for safety. It has a pull cord for easy pull back up the hill.
GoFloats Inflatable Sled
Suitable for kids aged 6+ and adults. Features an easy glide bottom for maximum support and comfort and built-in grip handles.
Giant Inflatable Snow Sled
Great for kids and adults. Features 2 side handles and a pulling rope.
Saucer Disc Snow Sled
Fast snow saucer with handles for great grip when sliding down hills. Suitable for kids and adults.
Fun Snow Toys For a Battle: Snowball Makers and Launchers
Snowball fights are a classic winter activity. Truth be told: nobody NEEDS a snowball maker to make snowballs. But kids find snowmakers fun to use and like the fact that they produce perfectly round and uniform snowballs. For kids, it's generally not just about the fight; it's also about stocking their snow fortresses with well-made "ammunition."
Teach your kids never to aim for faces or cars. Snow can contain ice shards that may cause injury, and throwing at cars could potentially cause an accident.
Recommended Products:
Snowball Maker
Make snowballs quicker using this tool for snowball fights or for just a fun day in the snow. Suitable for all ages.
Snowball Launcher
Great for snowball fights as it is a snowball maker, tosser and a horn in one.
Double snowball Maker
Make snow activities more fun by making 2 snowballs at the same time.
Snow Molds, Snow Art and Snow Toys for Building Things
Many of these toys are compact enough to fit in a suitcase, making them great for family trips. They're also very versatile. No need for a snow-covered hill; your front yard, backyard, or the neighbourhood park will be enough.
Think of snow molds as the winter equivalent of your beach sand toys. They provide a tactile and straightforward way to have fun, just as buckets and shovels do in the summertime. For optimal results with snow molds, you'll need the right kind of snow (the wet type). Again, this is much like sand where completely dry and light sand won't mol into anything.
Snow markers add vibrant colour to the snow and unlike snow molds, can be used on any type of snow.
Recommended Products:
Penguin Snow Mold
Make snowballs more creative and turn them into penguin-shaped ones.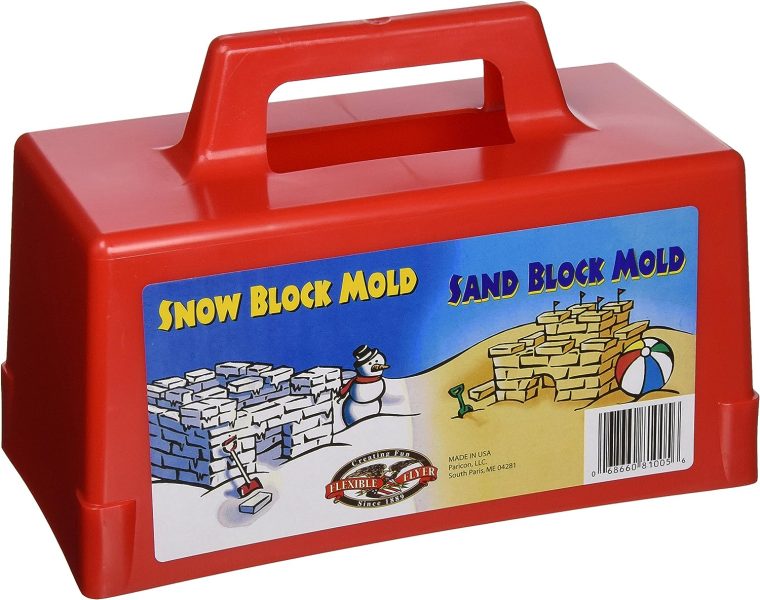 Snow and Sand Block Mold
Build castles, walls, forts and more easier during winter and summer using the snow and sand molder.
Snow Painting Kit
Great for making snow art decorations more colorful. Features an easy to use bottle and non-toxic ingredients making it safe to use.
Snow Toy Equipment: Plastic Skis, Snowboards, and Snowshoes
These snow toys will introduce a little more action into your winter play, so they are for slightly older kids (generally age 5+, but have a look at each product's recommendation).
Plastic skis and snowboard are light and easy for kids to carry without the help of an adult. They often come with simple bindings that fit over winter boots, so you don't need specialized boots or clips.
Snowshoes offer another fun option. The budget types are often made of lightweight plastic, whilst higher quality snowshoes are made with more durable material and more solid attachments.
These snow toys are designed for backyard or park use, so you don't need a ski resort (in fact, they are not allowed there). They're also small enough to pack away in the trunk of your car for a winter weekend getaway.
Recommended Products:
GeoSpace Ski Skooter
Suitable for kids aged 6+ and adults up to 220 lbs. Features a led light, foldable handle for easy storage and can be used on wet grass, hills and sand dunes.
SOLA Ski Set
Great for beginners and has adjustable bindings as a safety feature. Suitable for kids aged 3-4. Many colors and designs available. Snowboard versions also available.
SportsStuff Snowboard
Perfect for beginners and features adjustable hooks and loop bindings. Suitable for riders up to 60 lbs.
Yukon Charlie's Snowshoe and Trekking Pole Kit
Suitable for kids up to 100 lbs. Has easy pull binding that can be used for any type of boots.
Other Winter Toys for Outside: Snow Plow Toy, Kids Snow Shovels, etc.
If sleds, snowball makers, and snow art toys aren't quite your speed, don't worry, there's a plethora of other fun snow toys to explore. How about a cute snow shovel? It's the winter equivalent of a toy lawnmower and every kid I know loves a size-appropriate shovel !
A snow plow toy is essentially a miniature version of a real snow plow, designed for kids to push or pull through the snow. It makes children feel like they're doing important work like clearing snow just like the big trucks.
Play cars are also not just for summer or indoor play. Some cars will properly slide and glide over snow-covered surfaces, turning your backyard into a winter race track.
Recommended Products:
Snowboarding Action Figure
12″ action figure play set with complete accessories.
Sandbox Digger Excavator
Perfect to use on sand, dirt and snow. Features two-handed controls for digging and dumping.
Snow Plow Truck with Dump Box
Suitable for ages 3+. Features lights, sounds, real opening doors, and a steerable front axle and can be used for both indoor and outdoor play.
Ice Skates for Toddlers
Easy adjustable bottom to accommodate your kid's feet as they grow. Suitable for ages 2-5.
Snow Shovels
Heavy duty snow shovels perfect for little kids aged 3+.
Conclusion
Winter offers a playground of opportunities to engage your kids in outdoor play. From the classic appeal of sleds and toboggans to the excitement of snowball makers and launchers, there's something for every age and interest.
If creativity is your child's calling, snow molds and snow art toys beckon. For the young adventurers, plastic skis, snowboards, and snowshoes are hard to beat.
Related: Interested in other useful winter gear and necessities for children. Don't miss our in-depth articles on snow strollers and snow stroller inserts for cozy and convenient winter walks with the little ones.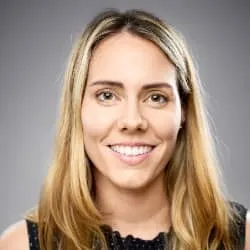 About the Author
Anne was born and raised in Quebec City. She is our resident expert for the city of Quebec and other popular regional destinations such as Charlevoix and Gaspésie. Having travelled to every corner of the province with her children, she is also our expert for family related topics on Quebec Wonders.