10 Best National Parks in Quebec (and How to Get There)
A list of all my favourite national parks in Quebec.
Disclosure: Some posts on this site contain affiliate links. Read our full disclosure.
As an outdoor lover and Quebec native, I've seen the best national parks in Quebec and hiked Quebec's most beautiful mountains.
Quebec is a very outdoorsy province with many great parks to explore. Not only is Quebec filled with intriguing city landmarks, but it is also home to breathtaking natural wonders in the National parks that surround it.
Here are the top ten National parks to visit in Quebec when you're in need of time to spend enjoying the great outdoors. A few of those also make perfect day trips from Quebec City or Montreal.
Best National Parks Near Quebec City
Being a Quebec City native, I'm thrilled to take you on a journey through some of the most spectacular Quebec national parks and provincial parks near Quebec City. Those have been a part of my life since childhood and hold a special place in my heart.
Before you start reading, here's a bit of history for you. The landscape near Quebec City was significantly influenced by the movement of glaciers during the last ice age. These glaciers shaped the land, creating the hills, deep valleys and water bodies that define the surroundings of the region today. It's that glacial history which created the stunning and unique natural beauty of the national parks near Quebec City.
It's important to note that the Quebec national parks on this list are arranged based on their proximity to Quebec City, rather than any particular ranking.
Jacques-Cartier National Park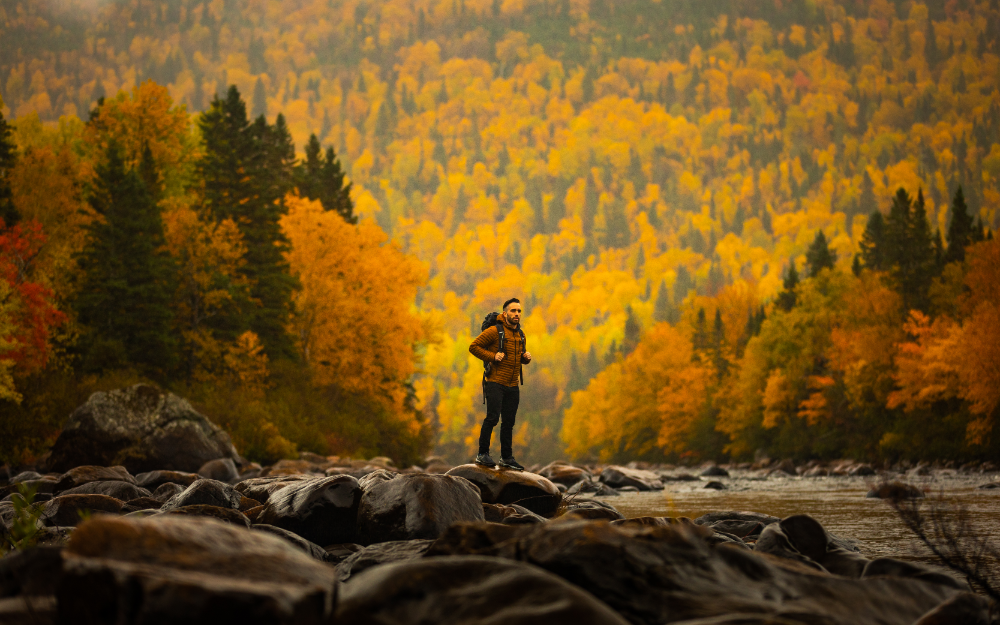 Region: Laurentides
Closest "main" city: Quebec City
Drive time: 45 minutes
Jacques-Cartier National Park is just a 45-minute drive from Quebec City, making it a convenient pick for travellers that don't want to spend too much time on the road.
It is a stunning glacial valley in the heart of the Laurentides outdoors. With 670 square kilometers to explore and over 100 km of hiking trails, there is plenty to see in this National park.
Jacques-Cartier is home to an awe-inspiring glacial valley that is worth seeing. Running through the park is the Jacques Cartier River, which features both calm and rapid waters to view.
You can also explore the water by fishing, kayaking, canoeing, and boating across the river. For land-based activities, try wildlife watching, where you have the chance to spot moose, foxes, deer, and porcupines in their natural habitat.
Grands-Jardins National Park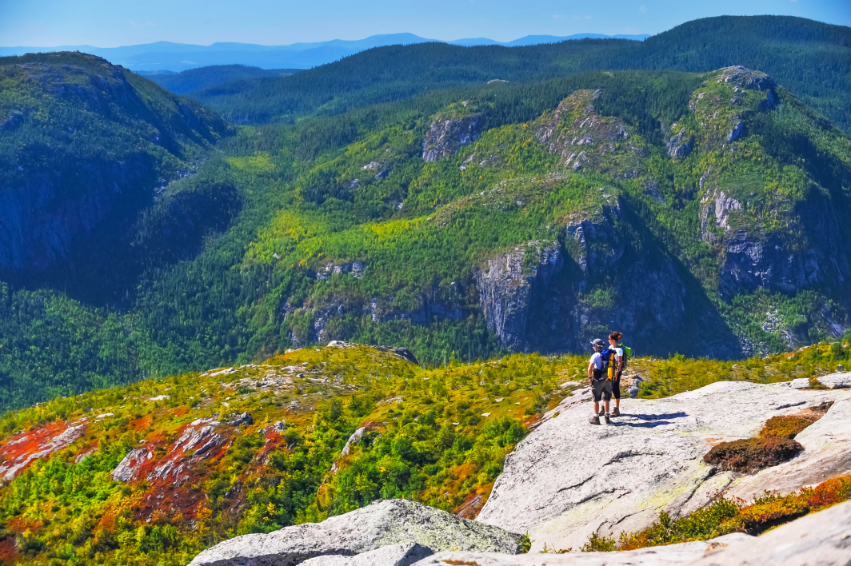 Region: Charlevoix
Closest "main" city: Quebec City
Drive time: 90 minutes
Grands-Jardins National Park also deserves a top spot on my list of best national parks in Quebec. It is undoubtedly one of the best Quebec provincial parks and it is located in the heart of the Charlevoix, just an hour and a half drive from Quebec City.
My favourite trail is an 8.6km trail called "Mont-du-Lac-des-Cygnes". Again, I tend to visit Grands-Jardins as a day trip but there are lots of good reasons to stay in Charlevoix overnight, especially if you prefer the outdoors over the city.
The park features stunning landscapes and peaks where you'll be able to witness serene views and sunsets. The peaks are made up of four main mountains – the highest being Mont Rene-Richard, as well as Mont du Lac des Cygnes – the most well-known peak.
With over 120 bodies of water and gorgeous flora and fauna within the wilderness, there is a versatile landscape to discover whether by water or by land. The park offers a variety of hiking trails to enjoy, including the Mont du Lac-des-Cygnes trail, an 8.6km hike that takes you to the summit of the peak where you can marvel at the astonishing views. You can opt for the shorter trail, the le Boreal trail, a brisk 3.4 km walk through the dense boreal forest.
Hautes-Gorges-de-la-Rivière-Malbaie
Region: Charlevoix
Closest "main" city: Quebec City
Drive time: 2 hours
This Quebec national park contains seven hiking trails to choose from. A famous trail amongst Quebec City hikers (and also my favourite one) is called "l'Acropole des Draveurs". That trail is well-known for giving hikers the best sights there are in the Hautes-Gorges national park. It will take you all the way to the highest summit in the park: Montagne des Erables.
You don't need to stay in the region overnight. In fact, I've always visited Hautes-Gorges-de-la-Riviere-Malbaie as a day trip from Quebec City. But Charlevoix has more Make sure you pack plenty of water and food.
This national park is 224.7 km square of dipping valleys in between sky-scraping, jagged mountains that provide picturesque views when you reach the summit. There are endless hiking trails to choose from that will take you through dense forests to waterfalls and high valley walls, finishing off with breathtaking scenery at the peak.
There is plenty of wildlife to see in its natural habitat including Caribou, mink, and eagles which includes the infamous bald eagle. Hiking, canoeing, kayaking, biking, and fishing are just some of the outdoor activities you can enjoy at the park.
More information on my favourite trail here: Acropole des Draveurs (Important Information)
Saguenay Fjord National Park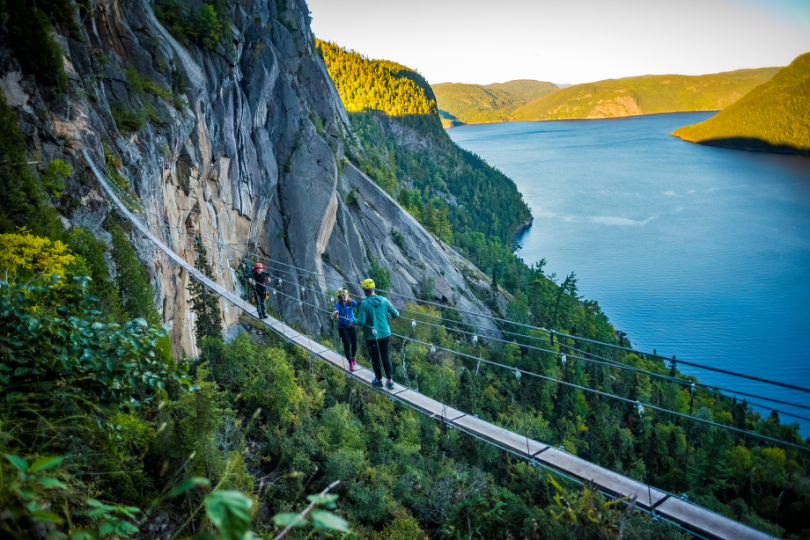 Region: Saguenay-Lac-St-Jean
Closest "main" city: Quebec City
Drive time: 3 hours 15 minutes
Saguenay Fjord National Park is a 3 hour's drive from Quebec City but is absolutely worth the trek. Charlevoix (and my two prior Quebec National Parks recommendations) is on the way, so if you intend to escape Quebec City for a few days, you might as well stay in the region overnight.
While the park isn't as popular or known as other national parks, it's surrounded by picturesque rugged mountains and wooded forests that will undoubtedly take your breath away. This glacier fjord is the ideal spot to pitch a tent and camp for the night or explore the great outdoors by hiking, kayaking, or canoeing.
Saguenay Fjord offers a Via Ferrata route along the cliffs of Baie Éternité that you can climb with the help of a professional guide. You'll be able to take in the stunning views of the bay and surrounding landscape from the climb. There's no doubt this place is one of the best national parks in Quebec.
Le Bic National Park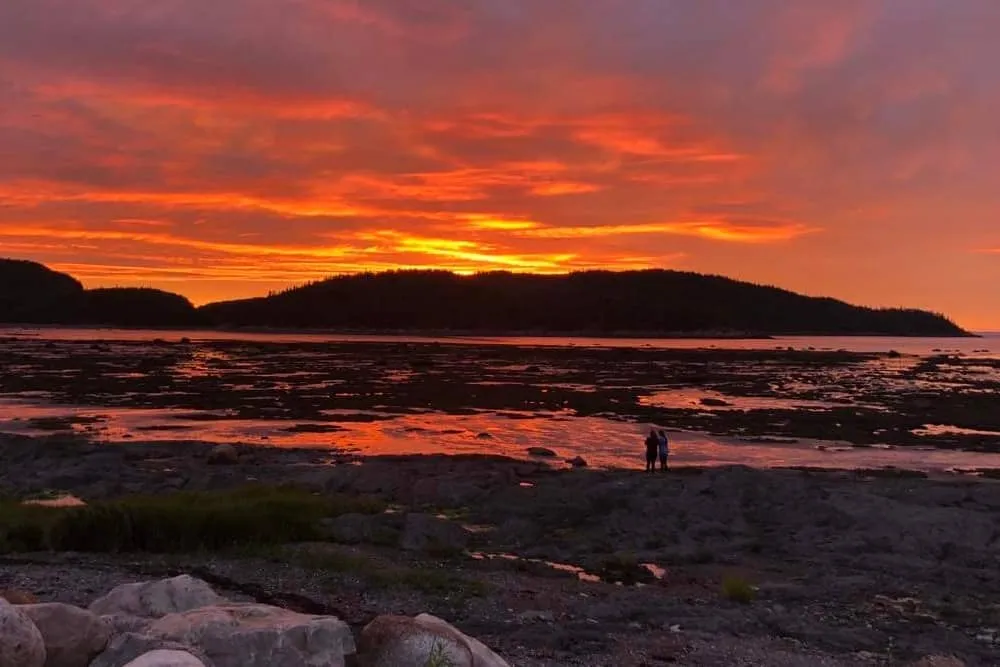 Region: Bas-St-Laurent
Closest "main" city: Quebec City or Rimouski
Drive time: 3 hours from Quebec City or 15 minutes from Rimouski
Le Bic is a serene National Park located on the south shore of the St. Lawrence River, near Rimouski. Le Bic has some of the most breathtaking sunsets in the province, and you can observe them from a kayak or from one of the many lookouts.
Just a 3-hour drive to Quebec City, it's the perfect distance away if you're looking to embark on a day trip out into the outdoors.
The park features 33.2 square kilometers of beautiful bays, capes, coves, jagged mountains, and unbelievable views.
In this vast National Park, you'll find seabirds in their natural habitats, seals, rocky landscapes, and breathtaking views of the St. Lawrence River you won't get anywhere else. There are plenty of activities Le Bic has to offer, including seal watching, kayaking, biking, and more. The park has over 25 km of serene hiking trails to explore, many of which offer picturesque views of the coastline and lookouts like Raoul-Roy and Pic-Champlain.
Best Quebec National Parks Near Montreal
Mont-Tremblant National Park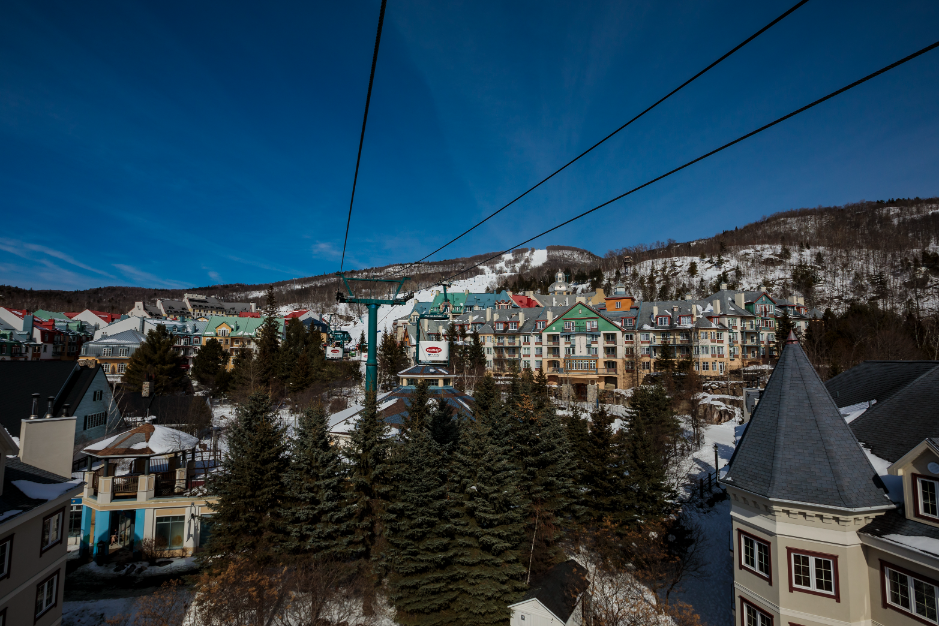 Region: Laurentides
Closest "main" city: Montreal
Drive time: 2 hours
Mont-Tremblant is probably the most well-known Quebec national park, due to its proximity to our largest city, Montreal.
Mont-Tremblant is a popular destination in the wintertime, with people from all over the world visiting to take advantage of the snow and the bustling ski village. It also attracts international tourists during its annual Ironman competition.
Mont-Tremblant stretches over 1,510 square kilometres of waterfalls, dense forests, and mountains. Just a 2-hour drive from Montreal, and it provides a serene refuge in nature's beauty in both the summertime and winter months.
The park is filled with rivers, streams, and lakes, making it the perfect spot for canoers and kayakers to explore. You can also enjoy camping, or indulge in a night of comfort at one of the many inns, B&Bs, Airbnbs, and cabins.
When visiting, you may come across wildlife like moose, foxes, deer, beavers, and birds throughout the vast park. In the winter, the park attracts those who enjoy golfing, cross-country skiing, snowshoeing, and snowmobiling.
Mont Megantic National Park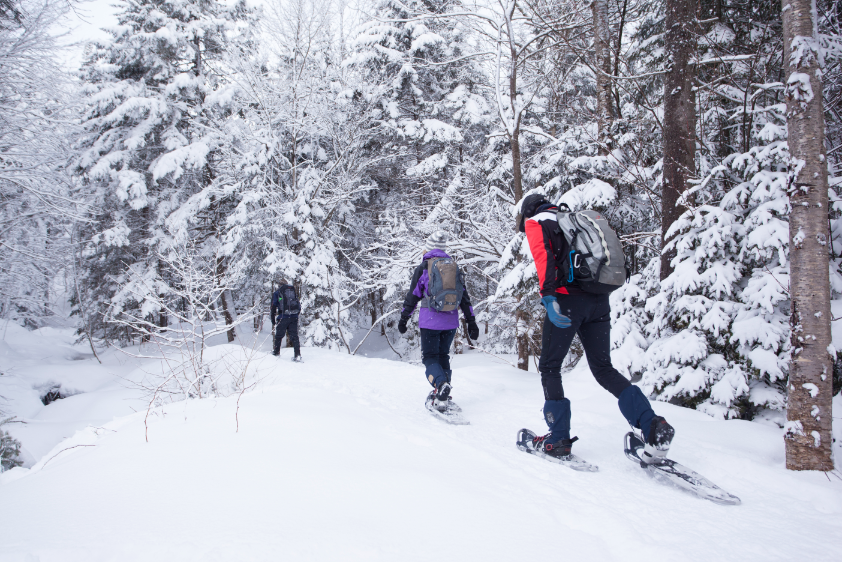 Region: Cantons-de-l'Est
Closest "main" city: Quebec City / Montreal
Drive time: 2 hours 45 minutes from each
Mont Megantic National Park is a 2-hour and 45-minute drive from Quebec City and from Montreal. It is host to one of the largest astronomical observatory in Canada, and it's open to the public during summer months.
During the winter months, you can explore the snow-dusted trails by snowshoeing, cross-country skiing, or backcountry skiing for an off-trail adventure.
You can also enjoy a relaxing night gazing at the stars under a lit-up sky, or a long hike on the winding trails through the dense forests, waterfalls, and diverse wildlife. It is a good park for those who like rock climbing, fishing, sea kayaking, canoeing, and even zip-lining if you're a thrill seeker.
If you prefer camping in comfort, there is plenty of accommodation available in the park including cottages, teepees, yurts, inns, and B&Bs for ultimate comfort.
Best Quebec National Parks in Gaspésie
Parc National de la Gaspesie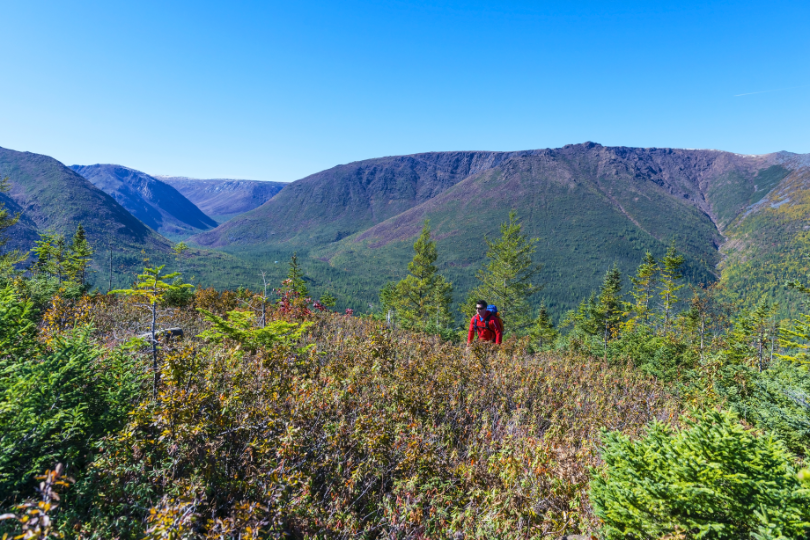 Region: Gaspesie
Closest "main" city: Gaspé / Rimouski
Drive time: 2 hours / 2.5 hours
The Park National de la Gaspésie is located 5 hours and 40 minutes from Quebec City in the Gaspe peninsula, so it is more commonly visited from Rimouski or while on a Gaspésie road-trip. Known for its diverse fauna and flora, the landscape offers high peaks, waterfalls, dense forests, and hiking trails that make it the perfect paradise for hiking enthusiasts.
The serene park is also home to a variety of diverse wildlife unique to Quebec, including mountain caribou. For a more intimate experience in nature, visit the Chic-Choc mountains, a bucket-list-worthy destination for all outdoor lovers. Hop onto one of the hiking trails to explore the awe-inspiring views and wildlife.
While in Gaspesie, you'll want to visit Bonaventure River, which offers some of the clearest, most pristine waters in the world. You can explore the river by a guided tour by canoe or kayak to take in the stunning river and surrounding woods.
Forillon National Park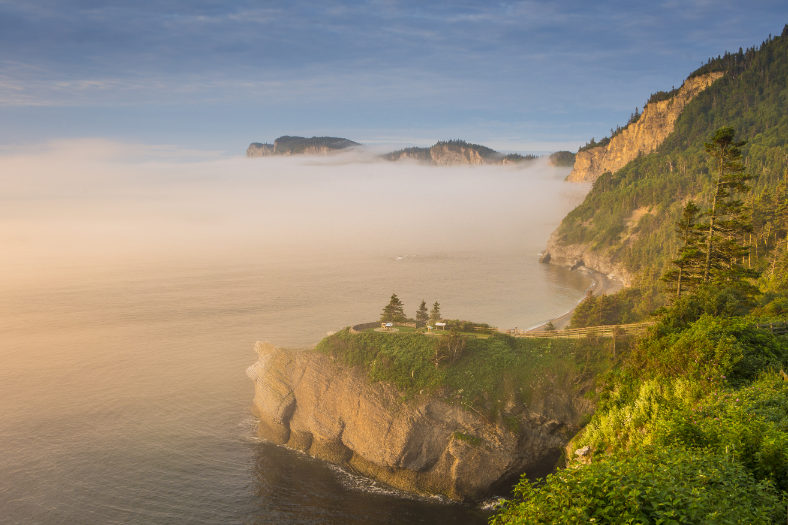 Region: Gaspesie
Closest "main" city: Gaspé
Drive time: 30 minutes
In Forillon National Park, you'll find a diverse array of wildlife including seals, whales, black bears, moose, beavers, and various species of birds.
The park is located an 8-hour drive from Quebec City at the outer tip of the Gaspe Peninsula of Quebec, so you'll only be able to visit if a multi-day Gaspesie road-trip is on your agenda. Gaspé, the nearest city, features on our list of the best cities to visit in Quebec.
The landscape is made up of beautiful seascapes, mountains, and cliffs to explore. Choose from being able to hike the various weaving trails in varying levels, from easy to difficult, depending on your expertise.
In the summertime, enjoy serene views of the wildflowers, or head down to the many serene beaches by the coastline. You can also opt to go sea kayaking, snorkeling, swimming, cycling, and more for an active-filled visit. In the winter, enjoy cross-country skiing trails as well as off-trail ski areas and snow-shoeing.
Les Iles-de-la-Madeleine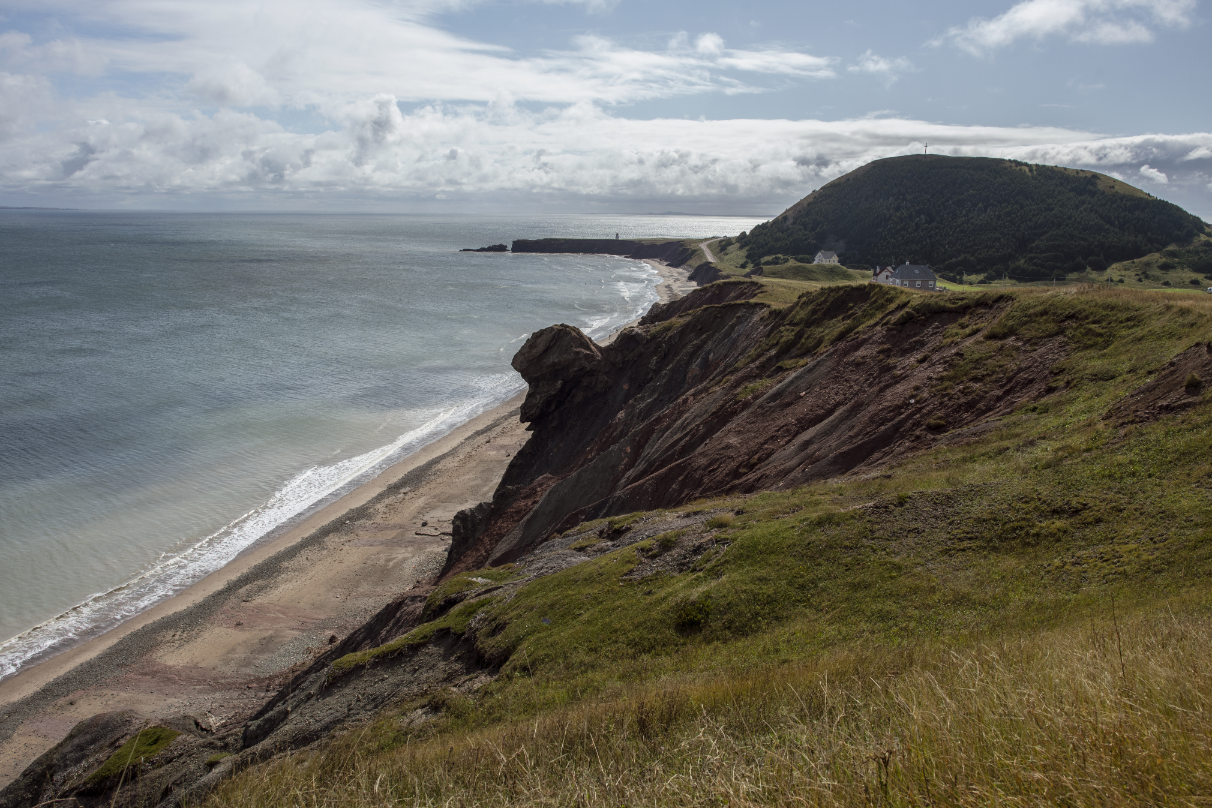 While Les Iles de la Madeleine isn't a National Park, they are a sight worth visiting.
Deemed as one of Canada's most unique and breathtaking destinations, the islands are mesmerizing with their bright red cliffs, quaint cottages, lighthouses, and wildlife. It's unfortunately not easy to get there, and flights are not cheap but everyone I know that went highly recommend it.
The archipelago features plenty of activities to do while exploring the island including sea kayaking, kite surfing, or canoeing. If you prefer a calmer experience, opt to soak up the sun by relaxing on the pearl-white sand beaches or head into town among the Islanders. The Islanders are known for being friendly and welcoming to tourists. Enjoy delicious seafood meals and end your day with a trip to the local art galleries and shops where you're bound to find something unique.
How to get to Quebec National Parks
Nature Shuttle Quebec (Navette Nature)
I've only discovered this company recently but they've been around since 2015. Navette Nature specializes in group transportation from the cities to nature destinations in Quebec. They operate shuttles from Montreal and Quebec City.
Car Rental for one Day
For more flexibility, you can rent a car for a day in Quebec City or in Montreal.
---
Make sure you add the best quebec national parks to your itinerary
There is a wide range of magnificent Quebec National Parks that show off the unforgettable landscapes of this province. My best National Parks in Quebec list is the perfect place to start planning your outdoorsy trip.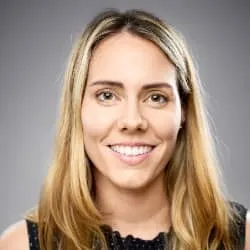 About the Author
Anne was born and raised in Quebec City. She is our resident expert for the city of Quebec and other popular regional destinations such as Charlevoix and Gaspésie. Having travelled to every corner of the province with her children, she is also our expert for family related topics on Quebec Wonders.