The Best Winter Mittens | Best Cold Weather Mittens (2023)
Our comprehensive guide to help you find the best mittens for winter.
Disclosure: Some posts on this site contain affiliate links. Read our full disclosure.
Having grown up in chilly Quebec, I've become quite the expert in navigating those frosty months. Finding the best winter mittens for your hands can make the difference between enjoying and despising the winter's cold weather. Quality winter mittens provide insulation and protection against frostbite and will keep you warm and dry.
With the sheer avalanche of mittens for winter available, I completely understand the challenge of picking the most suitable, warmest and best mittens for cold weather. The market is flooded with options, and sorting through this frosty sea of winter mittens can be quite the task.
I've got some tips to share that will keep everyone warm, dry, and looking sharp. In this ultimate guide on the best winter mittens in Canada 2023, I help you navigate the abundance of mittens for Canada's cold weather.
So if you're not sure which mittens will be waterproof, warm and good enough for the Canadian winter, the below reviews (curated by a seasoned Quebec native) are the perfect place to start.
Related: I'm explaining below why I prefer mittens over gloves, but if you're a gloves person, make sure you check out my top picks for best winter gloves.
Buyer's Guide for People Seeking the Best Winter Mittens
Before you take the plunge into the realm of winter mittens, let's uncover the essential features that will ensure your hands stay warm and comfortable in the Canadian cold.
If you're after the best mittens for winter in Canada 2023, here's what you need to keep in mind. Proper winter mittens will have / will be:
Waterproof Winter Mittens
As I'm sure you know, snow is wet, and it can easily melt when in contact with your winter gear. And when it melts on non-waterproof mittens, they get very wet, very quickly. In cold climates like Canada, waterproof mittens are essential to prevent discomfort, frostbite, and to maintain warmth while enjoying winter activities.
Wrist Straps on Winter Mittens
You might have noticed mittens with wrist-tightening mechanisms – they're not just for show, especially when you're hitting the snow scene.
These handy wrist closures give you a snug fit that locks out snow, chilly air, and any unwanted dampness. They either take the form of a velcro, strap, buckle or elastic band. Talk to any local in Quebec and they'll tell you that mittens which can be tightened at the wrist is all they'll wear for snow activities. If you intend to snowboard, ski, sled, etc. you need mittens that are tighter at the wrist. They'll keep the snow out and they'll also help keep the mittens on your hands!
Handwarmer Pocket
The pocket found on certain mittens has a practical purpose. Referred to as a "handwarmer pocket," it's designed to hold a heat pack – a small pouch that generates warmth when activated (you might want to get a few of those handwarmers for your trip: budget-friendly handwarmers).
By placing a heat pack into your mittens' handwarmer pockets, you can enjoy an extra source of warmth for your hands. That'll be especially helpful for outdoor activities between mid-December and mid-March, the coldest part of our winter.
Best Mittens for Winter Canada Reviews [2023]
Base on my first-hand experience living in the snowy landscapes of Canada, here are my picks for the best mittens for winter. At the bottom of this post, I've also included a comparison table for my ten proposed options.
Tough Outdoors' Waterproof Snow Mittens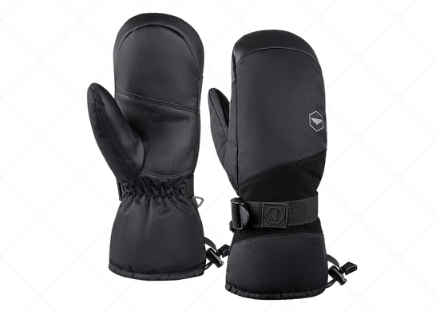 The Tough Outdoors' Waterproof Snow Mittens are only available in black but come in multiple sizes. Designed to keep your hands protected and warm during the extreme winters, these mittens are waterproof to ensure your hands stay dry and comfortable.
The cinch cuff closure allows you to get a tight fit around the wrist, keeping the cold air and snow out. These mittens do not come with handwarmer pockets, so if you use handwarmers you'll need to put them inside the mittens. Keep in mind that these are incredibly well-made and designed to be used by skiers and snowboarders as well as the casual outdoor explorer.
ANDORRA's Waterproof Mittens with Handwarmer Pockets
The Andorra's Waterproof Mittens are built with Thermoplastic Polyurethane, which makes them a reliable choice for winter outdoor activities. They're available in multiple sizes and colors (black, grey, white, and pink).
They made it on my list of the best mittens for winter because they provide excellent waterproof protection and have a handwarmer pocket. They can be tightened at the base of the hand, and once more around the wrist so they're very air and snow tight.
SKYDEER's Deerskin Leather Mittens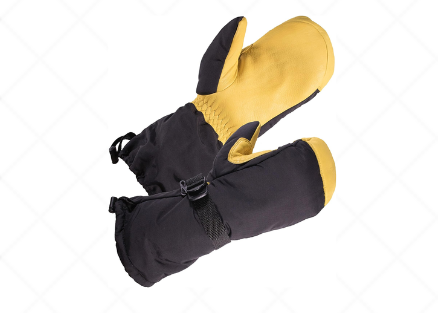 A good combination of style and functionality! These deerskin leather mittens are an excellent choice for those seeking comfort and protection against cold snow and air. Available in gold, black, and grey, these mittens are crafted from high-quality deerskin leather, ensuring durability and a luxurious feel.
Deerskin leather, being exceptionally waterproof, ensures that your hands stay dry even in extreme weathers. Those cold weather mittens are available in various sizes and while they don't include a handwarmer pocket, the adjustable wrist wrap ensures a snug and secure fit.
OZERO Waterproof Nylon / TPU Mittens
Available in both black and yellow, these mittens by OZERO are made of durable nylon combined with TPU, ensuring longevity and reliability. While these mittens are not completely waterproof, they're still water-resistant, so your hands will stay a lot drier and warmer wearing these.
OZERO offers glove & mitten variants to cater to your personal preference, these also come in various sizes, and can be tightened at the wrist to effectively keep the snow out.
OMECHY's Knitted Convertible Mittens
These black knitted mittens by OMECHY come in a one-size-fits-most design, ensuring a comfortable fit for almost everyone. The material choice does mean that they're not waterproof, but these mittens will keep your hands warm throughout the day, so long as there's no snow or water involved.
These convertible mittens allow you to switch from mittens to fingerless gloves, for increased dexterity. And while they don't have handwarmer pockets, they offer a more fashion-forward and practical choice for those looking for day-to-day / city winter mittens
Black Waterproof Silicone Mittens
These Black Waterproof Silicone Mittens combine practicality with performance. Made from durable silicone, these mittens offer excellent protection against water and ensure dry hands even in wet conditions.
They're also convertible, allowing you to easily transition to fingerless gloves if the need ever arises. The ribbed silicone palm provides an anti-slipping grip, and the touch-screen compatibility ensures that you can both hold your phone and use it without taking off your gloves.
With various sizes available, these mittens offer a good and comfortable fit for most people.
Carhartt Waterproof Polyurethane Mittens
Available in multiple sizes and colors, these Mittens by Carhartt cannot be overlooked in your search for mittens to wear this season. They're made from polyester, a material that's been tried and tested for the best winter mittens. With their exceptional waterproofing, your hands will stay dry even in the harshest weather conditions. While they don't feature a handwarmer pocket, the adjustable wrist design ensures a snug and secure fit.
Hestra Moon Winter Mitts
A great choice for those seeking comfort and protection, with a touch of style. The Hestra Moon Mittens would fit in well with a puffer jacket. Available in black, navy, and white, these winter mittens are a good combination of style and functionality. Check out other colors here.
Made with polyester, these mittens provide durability as well as protection against the elements. There is a range of sizes available, and the elastic at the wrist helps keep the mittens on and the cold air out (never as much as mittens that let you adjust the wrist fit though). Some will like the absence of a traditional adjustable strap, because the sort of elastic on those mittens means you can take them off more easily and quickly.
Women's Knitted Wool Winter Mittens
While these shouldn't be your choice for outdoor activities (not waterproof), they certainly do have a place in your winter wardrobe for day to day winter living and commuting. With a wide range of colors to choose from, these can complete a winter outfit fashionably while also keeping you warm and cozy. The fleece inside provides the warmth necessary to keep you comfortable. Check out other colors here.
N'Ice Waterproof Mittens
Versatility and reliability is the name of the game with these waterproof mittens from N'Ice. Available in classic black, armed with a handwarmer pocket, adjustable at the wrists, and using 3M Thinsulate insulation, these mittens will make sure that you're ready to face the elements. Check today's price here.
For those of you who need the extra mobility in your fingers, N'Ice has black and pink glove variants available for you to pick from as well as a wide range of sizes to pick the perfect fit from.
How Many Pairs of Winter Mittens Do You NEED for a Trip?
Depending on the nature of your trip, you will need one or two pairs of warm mittens to enjoy your winter trip to Canada.
When it comes to packing mittens for your Canada trip, the number of pairs you bring can make a significant difference in your comfort and enjoyment, especially if you plan on diving into snow activities like skiing, snowboarding, building snowmen, sledding, or snowshoeing.
For very short trips lasting just a day or for business trips where mittens are primarily for commuting between places rather than engaging in snow activities, a single pair might suffice.
In all other cases, having two pairs of mittens is an absolute must.
One key reason is that if your first pair gets wet, whether from snow, rain, or sweat, it can take several hours to dry properly even if you put them right in front of a heat source. Having a backup pair ensures that you can continue to participate in winter fun without being stuck with damp hands.
Also, losing mittens is surprisingly common, and that's where your second pair comes to the rescue. It's not uncommon to accidentally drop one on the sidewalk or forget them behind at a restaurant or on public transport. Having that extra pair guarantees you won't be left out in the cold if that was to happen.
Winter Mittens vs. Gloves
I'm a mittens person. Mittens are warmer than gloves, since your fingers get to huddle together for warmth. While snow gloves may offer some level of finger individuality, they don't really give you much more mobility and dexterity because of all the padding between each finger. So for me, the priority is warmth and I'm not giving that up for limited finger individuality.
Compare The Top 10 Best Winter Mittens for Canada (2023)
Final Words
So there you have it, your go-to guide on finding the best mittens for winter. Armed with insights into features like waterproofing, wrist-tightening magic, and handwarmer pockets, you're ready to tackle whatever the frosty Canadian season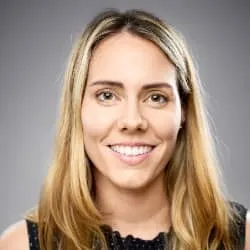 About the Author
Anne was born and raised in Quebec City. She is our resident expert for the city of Quebec and other popular regional destinations such as Charlevoix and Gaspésie. Having travelled to every corner of the province with her children, she is also our expert for family related topics on Quebec Wonders.