Best Places to Stay in Montreal & Montreal Hotels (Infographics)
Where to stay in Montreal and the best hotels in each of those areas.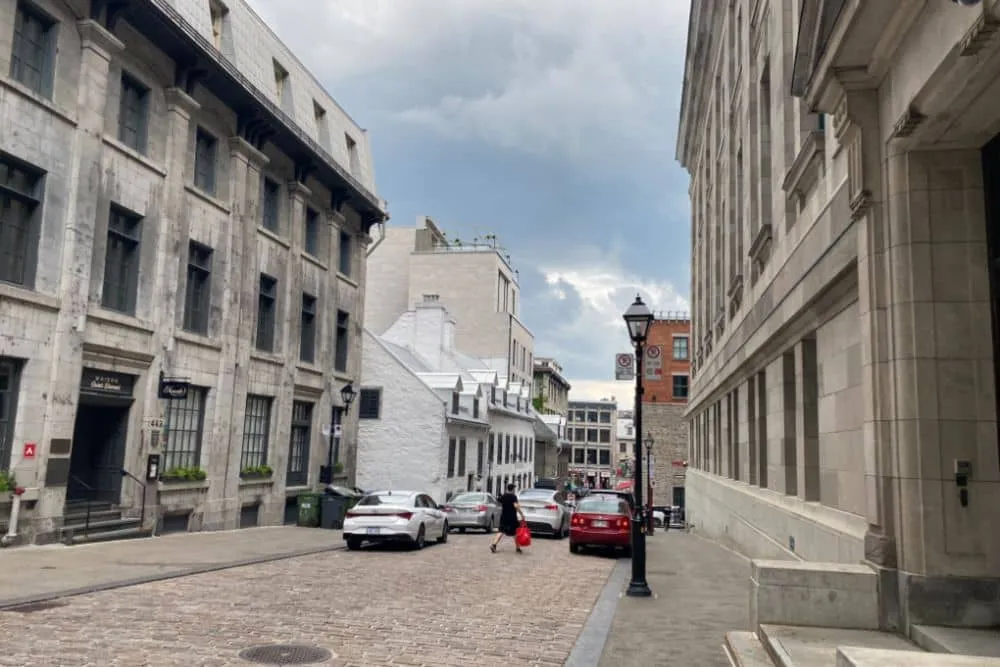 Disclosure: Some posts on this site contain affiliate links. Read our full disclosure.
So, it's time to plan your Montreal vacation. You're first going to want to choose a place to stay in Montreal, as some neighbourhoods are better than others. Then you're going to want to choose a Montreal hotel that suits your style and budget.
Well lucky for you, this blog post is a one-stop-shop. I share my preferred neighbourhoods in Montreal and then talk about the 15 best hotels in Montreal. Whether you're looking for family-friendly hotels, unique places to stay or budget accommodation, I've got a suggestion for you.
Where to Stay in Montreal
Whether you're visiting Montreal with your family, travelling as a couple or coming on your own, Montreal has a wide array of diverse and unique neighbourhoods to explore. Here are some must-visit areas in the city and suggestions for things to do in each one.
Old Montreal
The city's oldest and most picturesque neighbourhood is obviously a must-see, regardless of the type of trip you are on. Old Montréal has some of the city's most beautiful buildings: Notre-Dame Basilica, Notre-Dame-De-Bon Secours Chapel, Marché Bonsecours and City Hall. It also has the prettiest streets, including the entirely cobblestoned Saint-Paul Street, which was paved in 1672.
So a romantic walk followed by an evening of fine dining at one of Vieux Port's many exquisite restaurants is definitely something you want to do while in Montréal. Additionally, with it being home to the Science Center, IMAX, Ferris Wheel and SOS Labyrinthe, there's no shortage of fun activities to offer your children.
Le Plateau-Mont-Royal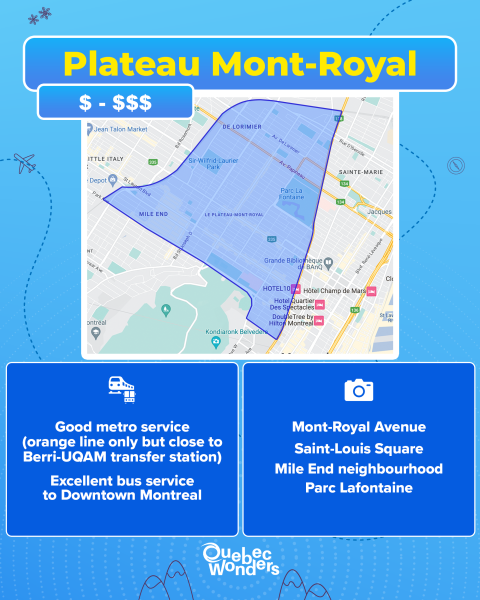 Mile End and Plateau are also two places you're going to want to experience while you're in Montréal. Just a short metro ride away, these neighbourhoods are the cultural epicentres of the vibrant Montréal art scene.
During the summer, Mont-Royal Avenue becomes a pedestrian street. Many of the vendors bring out their products so that the atmosphere resembles a massive open-air market. You're sure to find whatever it is you need on Mont-Royal Avenue. If you are tired of shopping, you can go to Jeanne-Mance Park and hike up Montréal's namesake ''mountain''. Not bad for a park that is right in the middle of an international city.
Mile End is home to many of the city's artists and musicians. It also has the famous Saint-Viateur Bagel Shop. Despite its small size (its two most famous streets Saint-Viateur and Bernard span only a handful of blocks between Park Avenue and Saint-Laurent Street), there is a plethora of record shops, bookstores, cafés, thrift stores and restaurants to keep you busy in Mile End. Celebrity sightings are not rare in the Mile End, so you're going to want to keep your eyes peeled while you're there too.
Downtown Montreal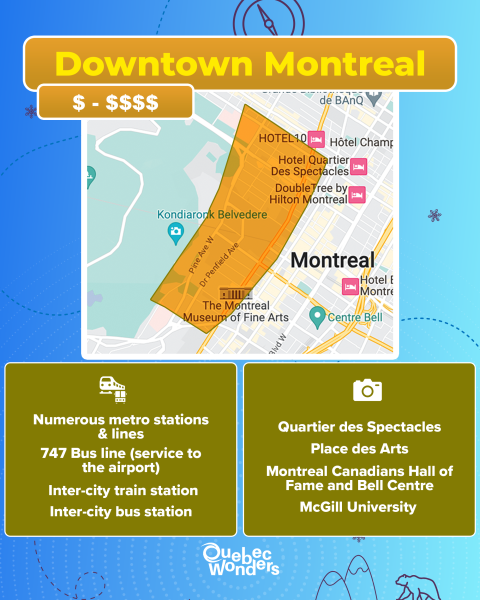 Downtown is where you want to stay if you're interested in visiting nightclubs and doing some high-class shopping. If you're someone who likes to dance and be well-dressed while you are doing it, why not spend the day shopping at the luxurious Holt Renfrew Ogilvy and spend a night trying the clubs out on Crescent Street? If you're in town during hockey season and are staying Downtown, you can also catch your favourite hockey team playing at the Bell Center.
Best Hotels in Montreal: From Budget to Luxury Accommodation
The first thing you want to do when you plan a trip is find a place to stay. Luckily, Montréal has a large number of hotels to choose from with a wide range of prices, styles, services and accommodations. Whether you are planning a budget-friendly trip or you want the most luxurious experience possible, you will find it at one of these top Montreal hotels. Prepare for your trip and read through this detailed list of some of the best places to stay in Montreal.
Budget Hotels in Montreal
M Montréal Hostel
Location: Old Montreal (details and photos here)
If you are looking for a budget hotel, M Montréal is one of the best places to stay in Montréal. As it is located between the Latin Quarter and the Old Port, as well as many different metro stations, you can go virtually anywhere by foot or public transit. If sleeping in a dorm and saving money is your thing, this hotel has bunk beds for as low as $45.
Hotel M Montreal was voted the number one hostel in Canada in 2020 and has a large kitchen and eating area (and the stay includes breakfast). So if you are travelling solo and are interested in meeting fellow backpackers, this is the place for you. M also offers cozy single and double-occupancy rooms for added privacy. Come prepared to experience all that Montréal's nightlife has to offer in this backpacker gem among Montréal hotels.
Hotel Quartier des Spectacles
Location: rue Sainte-Catherine in Downtown Montreal (details and photos here)
Hotel Quartier des Spectacles is another budget-friendly hotel located in the heart of Montreal's entertainment district. This hotel offers comfortable rooms with modern amenities, complimentary Wi-Fi, a fitness center and breakfast.
Located in a historic district that is undergoing rapid change, this hotel has nonetheless conserved its yesteryear charm. It offers 19 budget rooms beautifully adorned with brick walls and high windows. It's a stone's throw away from Montréal's Chinatown and newly constructed festival area, which hosts many free open-air music festivals every summer.
Amenities include free Wi-Fi, complimentary breakfast and each room is furnished with a kitchenette. Keep in mind that Hotel Quartier des Spectacles also offers non-budget rooms and even apartment and studio suites.
Mid-Range Hotels in Montreal
Hotel Bonaventure Montréal
Location: Downtown Montreal (details and photos here)
Coming by train and thinking about where to stay in Montréal? Look no further because Hotel Bonaventure Montréal is in the same building as the train station. Situated on the top two floors of the Bonaventure building, Hotel Bonaventure Montréal provides a tranquil oasis with its 2.5-acre rooftop garden and heated outdoor pool.
This mid-range hotel offers well-appointed rooms, a fitness center, a spa and multiple dining options. Guests can enjoy easy access to popular sites, shopping and entertainment venues. Other amenities include parking, foreign exchange, multilingual staff, laundry services, free Wi-Fi and local transportation for any Montreal day trips you wish to take.
Hotel Bonaventure has won many awards for its high level of quality and service, making it one of the best Montreal hotels. This hotel is at the center of the city's principal attractions and its hospitality will ensure you feel at home in the metropolis.
Hotel Nelligan
Location: Rue Saint-Paul in Old Montreal (details and photos here)
Hotel Nelligan Montreal offers elegant rooms and suites with exposed brick walls and luxurious furnishings that will be perfect for you and your travelling party. During your stay at this Old Montreal hotel, you will enjoy classic amenities such as a rooftop terrace, a fitness center, a spa and an on-site restaurant and bar.
Its location on the beautifully cobblestoned Rue Saint-Paul makes Hotel Nelligan one of the best Old Montreal hotels. The hotel is steps away from art galleries, restaurants and boutiques. You'll also be able to walk down to the river and take a relaxing stroll in less than five minutes.
Named after one of Quebec's most famous poets, Émile Nelligan, Hotel Nelligan will certainly provide you with everything you need for a memorable trip. This hotel offers several customizable packages, such as valet, breakfast and bike tour packages.
Hotel Nelligan is also one of the top hotels in Montreal for business and wedding trips as it is equipped with no less than five reunion/banquet rooms for all kinds of different events.
Hotel William Gray
Location: Rue Saint-Vincent in Old Montréal (details and photos here)
Hôtel William Gray is situated in Montréal's prime historic district, Old Montréal. Opened in 2016, Hotel William Gray combines contemporary design with timeless old-world charm. The hotel features stylish rooms and suites, a rooftop terrace with panoramic views, a state-of-the-art fitness center, a spa, valet parking and multiple dining options. It has everything it needs to make it one of the best Old Montreal hotels.
Furthermore, it's within walking distance of landmarks, shops and restaurants. The Montréal Ferris Wheel, Science Center and archaeology museum are just a select few of the many attractions close to this new contender among Montreal hotels.
Relax and mingle in the Living Room, the cultural and creative hub of Hotel William Gray Montreal. This beautiful common area is situated in a three-story glass solarium and features a stunning fireplace, a pool table and much more.
Luxury Hotels in Montreal
Ritz Carlton Montréal
Location: Downtown Montréal (details and photos here)
Welcome to the epitome of luxury at the Ritz-Carlton Montréal a.k.a what is widely known as the best hotel in Montreal. Founded in 1912, the iconic hotel offers exquisite rooms and suites adorned with elegant decor, plush furnishings and modern amenities. Indulge in the hotel's renowned spa and enjoy personalized service that caters to your every need.
With its prestigious address in downtown Montréal, the Ritz-Carlton provides an unmatched experience of opulence and sophistication. This luxurious 5-star hotel has been one of the top best places to stay in Montréal for over 100 years. The Royale suite has three separate rooms, each with a king-sized bed. The Ritz-Carlton Montréal is also the only hotel in Quebec to have received a Five Diamond rating from the AAA.
The inside of this hotel is stunning and everything has been fine-tuned and put in place to offer you the best possible stay. The gorgeous and historic decor is only the beginning of your adventure at the Ritz-Carlton Montréal. The European-influenced atmosphere of this hotel will charm you at every turn, whether you are enjoying the French-inspired menu of its award-winning restaurant, Maison Boulud, sipping on an afternoon tea in the beautiful Palm Court or taking a swim in its saltwater pool.
W Montréal
Location: Downtown Montréal (details and photos here)
W Hotel Montreal is a premier hotel in the vibrant heart of Montréal. Discover the contemporary design and chic ambiance where every detail is meticulously crafted to captivate the senses. Immerse yourself in the upscale rooms and suites boasting modern amenities and stylish décor.
Indulge in delectable cuisine at their trendy restaurant, unwind at the sophisticated lounge and rejuvenate at their state-of-the-art fitness center. W Montréal will offer you an unforgettable stay with its extraordinary blend of luxury and excitement in the city.
Four Seasons Montréal
Location: Downtown Montreal (photos and details here)
If pure luxury is your go-to option when you are travelling, Four Seasons is the best hotel in Montreal for you. This chic and modern hotel is the vibrant new centrepiece of Montréal's golden square mile. What sets it apart is its extreme proximity to the elegant Holt Renfrew Ogilvy shopping mall. But wait, that's just the beginning.
Every room at the Four Seasons Hotel Montreal is, by nature, modern in design. You will be amazed by the breathtaking views offered by the city as you stay in this fabulous hotel. The Four Seasons Montréal will have you as their priority as you enjoy Montréal's vibrant nightlife.
This hotel couldn't be closer to many of the city's nightlife hotspots. It is also very close to the Bell Centre so if you are in town to cheer on your favourite team, and want your stay to be the classiest Montréal has to offer, then look no further than the Four Seasons Montréal.
Family-Friendly Hotels in Montreal
Montréal also has some excellent family-friendly hotels that you're surely going to want to visit if you are here with your kids. Travelling with children can be tricky and nothing beats checking into your hotel (which is, after all, a temporary home away from home) after a long day of adventuring to find all the comfort and amenities you need to assure your children have all their needs met.
Here's a brief recap of my three favourite family-friendly hotels taken from my very own post on family friendly hotels in Montreal.
Hôtel Saint-Laurent Montréal
Location: Downtown Montreal (details and photos here)
This is one of the best hotels Montreal has to offer if you're planning an extended stay. Best of all, up to two children can stay free! This family-friendly hotel offers a large variety of units. It even has two-bedroom apartment-like suites.
Hotel Saint-Laurent Montréal is located in the downtown area of Montréal, putting you within walking distance to Place des Arts, Montréal Chinatown and two subway lines, making it easy to discover the wider area. If you're anything like me, you love exploring, and proximity to transport services like these is crucial if you are travelling as a family.
Le Mont-Royal METRO
Location: Plateau Mont-Royal (more details and photos here)
My favourite neighbourhood in Montréal is the Plateau because it is the most authentic place to visit, enjoy restaurants and do some shopping. Le Mont-Royal METRO is therefore one of the best family-friendly places to stay in Montréal as it is located right in the middle of all this magic.
This hotel is very much like an Airbnb, making it a great choice if you are travelling as a large family or two. The three-bedroom apartment sleeps up to six adults in three double beds (while two extra mattresses for children can be provided). It also features a full kitchen, washing machine, patio and plenty of space.
Le Mont-Royal Metro is truly located in one of the best areas to stay in Montréal. There are a massive 10 parks within an easy 10-minute walk and it's also close to Place des Arts, Grevin Museum Montréal and Montréal Science Centre.
Marriott Fairfield Inn & Suites Montréal Airport
Location: hotel near Montreal airport (more details here)
This hotel's proximity to the airport makes it the perfect option if you are flying into Montréal late or flying out early. Its rooms are spacious enough for the whole family despite not having full kitchens or laundry facilities. The basic kitchen amenities available to you are a mini-fridge, microwave and coffee/tea maker.
The fact that it is so close to the airport is a strong win and it is easily accessible via the Dorval transit system. The heated indoor pool and Napa Lounge (a bistro-style restaurant) are excellent additions to this convenient hotel.
Boutique Hotels in Montreal
Hotel Birks Montréal
Location: Downtown Montreal (more details here)
Hotel Birks Montréal is a boutique gem nestled in the Golden Square Mile. This hotel embodies elegance and sophistication and features beautifully appointed rooms and suites that showcase contemporary design and luxurious amenities.
Immerse yourself in tranquillity at the hotel's rooftop terrace, indulge in culinary delights at its upscale restaurant and enjoy personalized service that caters to your every desire. Hotel Birks offers a refined sanctuary where luxury meets comfort and creates an unforgettable experience.
Hotel Gault
Location: Old Montreal (more details here)
Step into the world of refined elegance at Hotel Gault, a historic boutique hotel in Old Montréal. Each room and suite is exquisitely designed with attention to detail, blending classic charm with contemporary comfort. Enjoy luxurious amenities, including a fitness center and a well-rated restaurant on site. Impeccable service and a prestigious ambiance make Hotel Gault a haven of luxury for your stay in Montréal.
Unique Hotels in Montreal
Hotel Zero 1
Location: Downtown Montreal (more details and photos here)
Experience modern art and innovation at Hotel Zero 1, one of the most unique places to stay in Montreal. This avant-garde hotel combines contemporary design with artistic flair. Each room features unique decor and creative touches. Located in the vibrant Quartier des Spectacles, Hotel Zero 1 offers a truly artistic and immersive stay at an affordable price.
Le Petit Hotel Saint-Paul
Location: Rue Saint-Paul in Old Montréal (more details and photos here)
Le Petit Hotel is charming and intimate. This historic hotel features beautifully designed rooms with a blend of contemporary and vintage elements. Enjoy personalized service, a cozy lounge area and complimentary breakfast. With its prime location near cobblestone streets and historic sites, Le Petit Hotel offers an enchanting and romantic stay in the heart of Old Montréal.
Best Areas to Stay in Montreal (Infographic)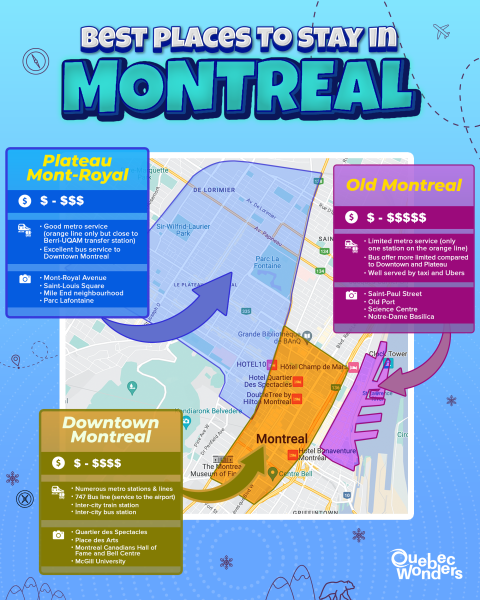 Frequently Asked Questions
Here are some of the most frequently asked questions regarding accommodation and vacationing in Montréal:
Which area in Montreal is best for tourists to stay in?
Thinking about where to stay in Montreal? The most popular areas to stay in Montreal are the historic area of Old Montreal, the vibrant and exciting Downtown district, and the authentic and gorgeous Plateau Mont-Royal. Those are, in our opinion, the best places to stay in Montreal if you're a tourist because that'll place you close to the main Montreal attractions.
Which is better to stay in for tourists: Old Montreal or Downtown Montreal?
Both locations, Old Montreal and Downtown Montreal, are certainly unique places to stay in Montréal. As a tourist, you're going to want to visit both of these locations. If you're interested in shopping and nightlife, choose Downtown. If museums and historic charm are your thing, choose Old Montréal.
What is the most convenient hotel in Montreal for tourists?
Depending on your definition of convenient there are many places to choose from that fit the description of most convenient hotel for tourists. Our top three picks for the most convenient Montreal hotels are Hôtel Saint-Laurent Montréal, Hotel William Gray and Hotel Bonaventure Montréal.
What is the best hotel in downtown Montreal?
The best hotel in downtown Montréal is Four Seasons Montréal. Its combination of elegance, refinement and prime location to all of Montréal's best hotspots makes it one of the best places to stay in Montreal. Here are the best ways to travel from Montreal airport to downtown.
Can we get an affordable hotel in Montreal?
There are many hotels in Montréal that are affordable if you are travelling on a budget. So, the answer is a resounding yes. For instance, you can travel in style and affordability when you book a stay at Hotel Quartier des Spectacles and M Montréal.
It's evident from this post and these FAQs that no matter your style or budget, there's a Montreal hotel that's perfect for you. Pick where to stay in Montreal from our list of top neighbourhoods and then choose between this comprehensive list of the best hotels in Montreal for the optimal start to your Montreal vacation.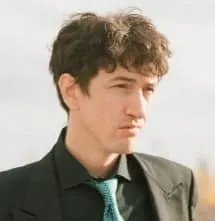 About the Author
Joshua is our Montreal expert. He has been living in Montreal for over 15 years. He is passionate about sharing his love for Montreal and some local tips with our readers.