The Best Family Hotels in Montreal (in Kid-Friendly Areas)
Recommendations from a Montrealer on where to stay in Montreal with kids, and our list of the best family hotels in Montreal.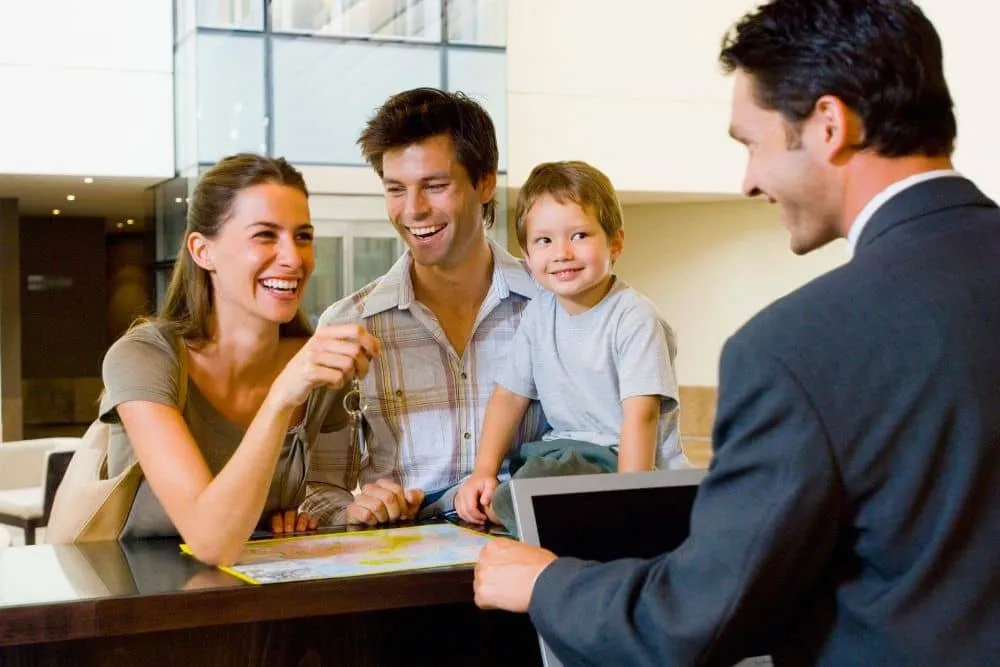 Disclosure: Some posts on this site contain affiliate links. Read our full disclosure.
When it comes to family-friendly accommodation, Montréal boasts an impressive array of options. Here are my top picks for the best family hotels in Montreal in the most kid-friendly neighbourhoods.
Choosing the perfect destination that caters to both the needs of my little ones and my own desires can sometimes feel like a daunting task.
Nestled in the picturesque province of Quebec, Montréal effortlessly blends its rich history, diverse culture, and dynamic atmosphere, offering a remarkable combination of fun-filled activities and enriching experiences for children of all ages.
From captivating museums and interactive exhibits to breathtaking outdoor adventures and mouthwatering culinary delights, this enchanting city truly has it all and there are endless things to do in Montreal with your family.
How We Chose Family Friendly Hotels in Montreal's Kid Friendly Areas
As parents, we understand what it's like to try and find a hotel or apartment where you'll have everything you need available, whether that be amenities for the kids, entertainment or somewhere to comfortably feed your baby in the middle of the night.
There are five key areas we looked at when choosing family accommodation in Montréal.
1. Space
Being crammed into a tiny little hotel room, trying to entertain the kids early in the morning isn't our idea of a great holiday. Hotels where we can book spacious rooms, separate living and bedroom spaces and rooms where children's bedding can be folded up and placed out of the way to create a play area rates highly in our requirements.
2. Family Amenities
While you may have a planned itinerary, having a space where the family can let off some additional energy is important. Pools, playgrounds, games rooms, tennis courts and so on are a great advantage when booking accommodation.
3. Elevator
If there's no elevator, you ideally want a good number of ground floor or easily accessible rooms. No one wants to be climbing flights of stairs with tired children.
4.Additional bedding
Ability to rent a portacot or request an additional fold-out bed. This is important, particularly when travelling with a baby or lots of kiddies.
5. Kitchen essentials
Booking a hotel with a mini-fridge, kettle, toaster and microwave is important when travelling with children.
Now that we have these criteria, let's get started on our best family-friendly hotels in Montréal. Whether you've got two days in Montreal or an entire week, there's an option for you.
Best Family Hotels in Montreal By Neighbourhood
When people visit Montreal, they generally choose the area where they want to stay before they choose a hotel. So I have separated this section into four sections. Each section presents the best hotels in each of the chosen neighborhoods. My three favourite areas to stay in Montreal are pictured on the below image but for those of you that want to stay near the Montreal airport, I have also included my top pick in that area.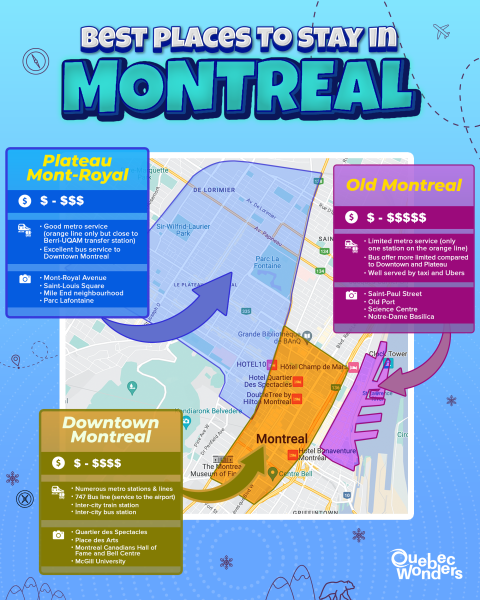 Best Family Hotels in Old Montréal (Old Port)
Hotel William Gray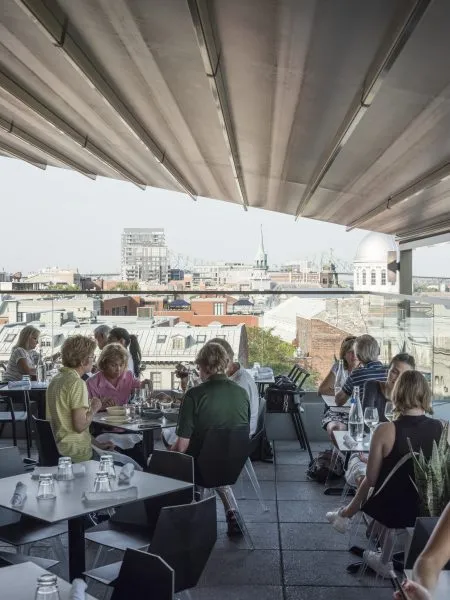 Location: Rue Saint Vincent in Old Montreal (more details here)
The Hotel William Gray has that perfect blend of modern hotel and historic architecture. The hotel sits within a glass tower atop two historic buildings – the Maison Edward-William-Gray and the Maison Cherrier – both of which date back to the 18th century.
Some would say Old Montréal is the best area to stay in Montréal with family and I have to agree. This hotel is an easy walk to the Promenade du-Vieux Port, where you can discover the sights and sounds along the St Lawrence River. Close by, you'll find the Old Port Ferris Wheel, the Science Museum, Bota Bota spa, Bonsecours Market and all the most scenic streets of the Old Montreal. It is also walking distance to Champs-de-Mars subway station.
When it comes to choosing rooms, the Residence is best suited for families looking for a more self-contained option. The room features floor to ceiling windows overlooking Old Montréal with a fully-equipped kitchenette.
The Residence will sleep up to four people. However, if more beds are needed, you can connect the room with a Deluxe room, transforming this room into a two-bedroom suite.
While the hotel itself doesn't offer a lot to families, there is a café on-site with a selection of coffee and pastries and an extensive room service menu.
SpringHill Suites by Marriott Old Montreal
Location: Old Montréal (more details here)
When it comes to the Marriott, it's comforting to know that you will be staying in a quality hotel no matter where you are. The SpringHill Suites are no different. Close to the beautiful rue St-Paul, King Edward Quay, the Notre-Dame Basilica of Montréal and plenty of restaurants, a stay at the SpringHill Suites will have you close to everything.
There are several options for rooms when travelling with family:
A superior family suite offers two double beds and a sofa bed sleeping up to five people in total. It also features a mini fridge and microwave as well as a living room.
The superior suite with terrace offers a king bed and sofa bed, sleeping up to four people in total. Again, a mini fridge and microwave can be found in the room and there's a living room separated from the main bed with a partial wall. There is also an outdoor terrace offering more space.
The hotel itself features a free buffet and hot breakfast daily, free tea and coffee, a restaurant on-site, a convenience store, a pool and room service.
Best Family Hotels in Downtown Montreal
Hôtel Saint-Laurent Montréal
Location: Downtown Montréal (more details here)
If you are visiting Montréal for an extended period, Hotel Saint-Laurent Montréal is a great option. The extended stay apartment hotel gives you all the amenities you need for a family and best of all – up to two children can stay free!
But wait, there's more. This is one of the best family hotels in Montreal as it features studio, one-bedroom and two-bedroom apartment-like suites. They each feature fully-equipped kitchens, spacious living rooms, complimentary laundry facilities and a courtyard.
Hotel Saint-Laurent Montréal is a downtown Montreal hotel, putting you walking distance to Place des Arts, Montréal Chinatown and two subway lines making it easier to discover the wider area.
It is also within walking distance to the Old Port of Montréal, the Contemporary Art Museum and St. Catherine Street Shopping.
This is the perfect family accommodation in Montréal when having a full range of amenities available is needed.
Hotel Faubourg Montréal Centre-Ville Downtown
Location: Downtown Montréal (more details here)
Sitting between Quartier Latin-le-Village and the Port area, Hotel Faubourg is the best place to stay in Montréal when you and your family are looking to be close to everything. The two-bedroom suites are spacious and provide two queen beds in two separate bedrooms, as well as a separate living area and kitchenette.
Hotel Faubourg offers some great amenities including complimentary hot and cold continental buffet breakfast, free Wi-Fi and a guest laundry.
The Quartier Latin is just a 10-minute walk away, and there is much to discover with theatres, cinemas, bars, restaurants, retail outlets and art and culture aplenty. You'll also find yourself close to Chinatown, Le Vieux Montréal and Place des Arts.
There's no doubt that Montréal has plenty to discover and explore for families of all ages and it isn't hard to find family-friendly hotels like this one close to attractions and amenities. When booking your next family holiday to Montréal, take your time to plan your itinerary and then find accommodation suitable for where you need, and want, to be.
Hotel Griffintown
Location: Griffintown near Old Montréal (more details here)
Hotel Griffintown is another great option for those families looking for rooms where all amenities are available. Perfect for families, the Signature rooms are bigger and can sleep four to six people depending on the room. They feature separate living and sleeping areas, private balconies, kitchen and laundry appliances.
The location for this apartment hotel is spot on for those who want to get out and explore. Close by, you'll find the Lachine Canal and you will be close to rue Notre-Dame, which is famous for its restaurants.
There are also often events happening at Les Quais, as well as plenty of restaurants and cafés to try. Beneficially, there is also a Metro and an Adonis supermarket close by to stock up on everything you need.
It is wise to note that Hotel Griffintown is an apartment-style hotel, and there are very few amenities within the hotel itself.
Best Family Hotels in Plateau
Le Mont-Royal METRO
Location: Plateau Mont Royal (more details here)
One of the best ways to discover a city is to stay within some of the most diverse and authentic neighbourhoods. And that's what you get when it comes to staying at Le Mont-Royal Metro by HomeIn Montréal.
When you're looking for Airbnb-like family hotels in Montréal, this is a great choice. Le Mont-Royal Metro is a self-catering accommodation located just 110 metres away from Mont Royal Metro Station and 1.7 kilometres from the Latin Quarter. The three-bedroom apartment sleeps up to six adults in three double beds (while two extra mattresses for children can be provided). It also features a full kitchen, washing machine, patio and plenty of space.
Le Mont-Royal Metro is one of the best areas to stay in Montréal. There are a massive 10 parks within an easy 10-minute walk and it's also close to Place des Arts, Grevin Museum Montréal and Montréal Science Centre (IMAX, Clock Tower Beach, and the Montréal Insectarium amongst many other attractions).
There are also plenty of restaurants, cafés, supermarkets and public transport options close by, so you don't even need a car!
Best Family-Friendly Hotel Near the Montreal Airport
Fairfield Inn & Suites Montréal Airport
Location: near Montréal airport (more details here)
When flying into Montréal late or flying out early, book into the Fairfield Inn & Suites Montréal Airport. It's a great place to start or end your trip as it's only a quick taxi trip to the airport. Travelling into or from Montréal is easily done via the nearby Dorval transit station.
There are a few options for rooms for families at the Fairfield Inn & Suites. While none of them feature a full kitchen or laundry facilities, each room has basic kitchen amenities like a mini fridge, microwave and coffee/tea maker.
The hotel is home to the Napa Lounge, a bistro-style restaurant serving a wide range of local cuisine. There are also a few restaurants and cafés close by. The heated indoor pool is a great way to relax before or after your flight.
As you can see, there are so many great options when it comes to the best family hotels in Montréal. Whether your main criteria is space, affordability, or location, Montréal has got family-friendly accommodation for you in kid-friendly neighbourhoods.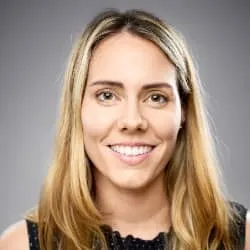 About the Author
Anne was born and raised in Quebec City. She is our resident expert for the city of Quebec and other popular regional destinations such as Charlevoix and Gaspésie. Having travelled to every corner of the province with her children, she is also our expert for family related topics on Quebec Wonders.