19 Best Day Trips From Montreal (Our 2023 Selection)
The best day trips from Montreal ordered from closest to furthest away.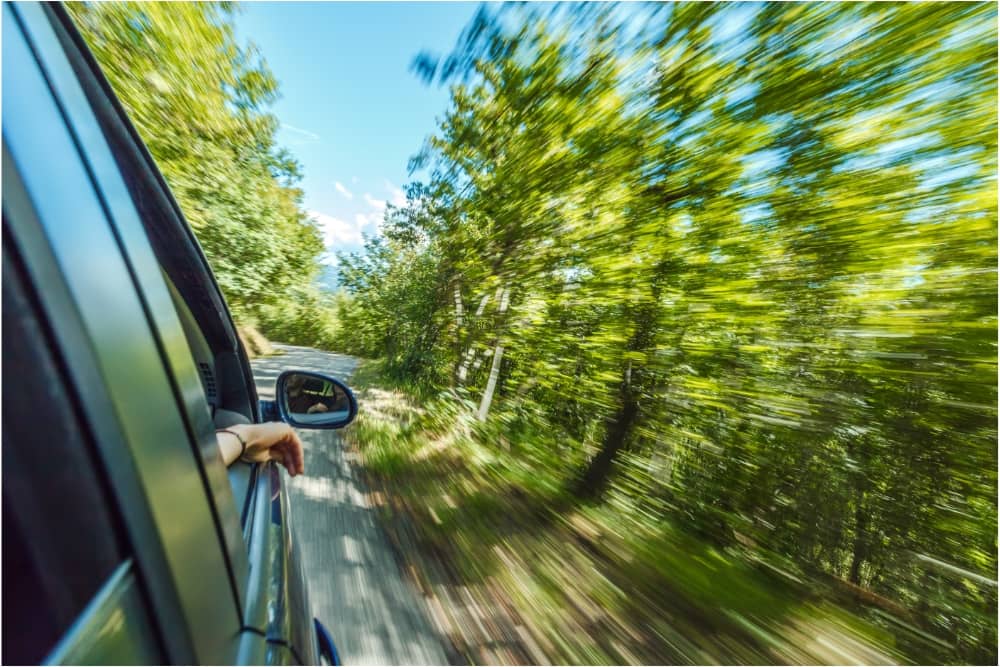 Disclosure: Some posts on this site contain affiliate links. Read our full disclosure.
If you have access to a car and if your Montreal trip is long enough, you have to venture away from the Montreal island! Day trips from Montreal will allow you to see the less urban and more "Québécois" side of the province.
Many of the best places to visit from Montreal are within two hours of the city, making it convenient to explore them on a day trip and come back to Montreal for the night. Around Montreal, you'll find a lot of outdoor activities and family outings opportunities.

In this article, we've picked the best hidden gems outside the city limits (and ordered them by drive time). Use this as your guide to find the best day trips from Montreal.
Ile des Soeurs Strom Spa Nordique
Ile des Soeurs Strom Spa Nordique is my favourite spa near Montreal, and it's the best day trip from Montreal for a respite from the city.
I love that there is a number of relaxation stations to choose from (I always end up napping somewhere) and I like how large the space is. You can relax in outdoor whirlpools, Finnish saunas, thermal baths, on a lounge chair under the sun, lay on a bean bag in a relaxation room. The river views make me feel like I'm in the country rather than in the largest city in Quebec.
Just beyond the Montreal city limits, and easy to get to in a taxi, Strom spa allows you to recharge your mind and body with their holistic approach to rejuvenation.
You may want to indulge in a massage or exfoliating body treatment. Then, dine on a traditional Nordic dish at the onsite restaurant to top off your visit to Strom.
Parc Jean Drapeau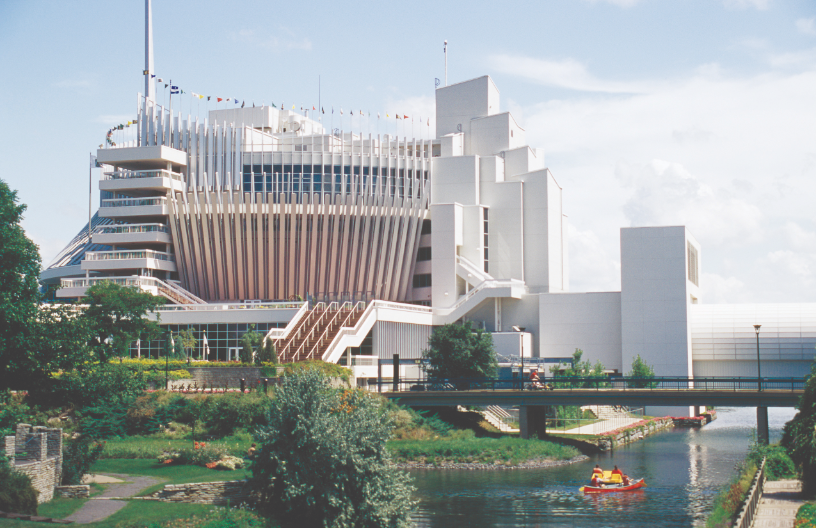 While Parc Jean Drapeau is technically in Montreal and already features as one of the best Montreal attractions, you could easily plan to spend a full day at this urban park so we're including it on this list as well. Here, you can truly find something for everyone, from Jean Dore Beach to Casino de Montreal, Floralies Gardens, and more.
Parc Jean Drapeau boasts lovely hiking trails and rock climbing spots. At La Ronde, your family will enjoy over 40 thrilling rides. Or, cycle around Circuit Gilles-Villeneuve, where the Formula 1 Grand Prix is held.
Depending on when you're in Montreal, you may be in time for the Osheaga art festival in Espace 67, or Piknic Electronic in the summertime. Check the schedule for details about what to expect while you're visiting.
Quartier Dix30
Head to Quartier Dix30 for a day trip from Montreal full of top-notch shopping and trendy eateries. Since this is an outdoor mall, the atmosphere is bright, modern, and fun to roam around.
Shopaholics will be delighted to find over 300 shops at this chic center. From department stores to boutiques, luxury brands to athletic wear, toy stores, and more, you can find it all at Quartier Dix30.
You could spend a full day shopping and dining at the sprawling Quartier Dix30. Depending on the time of year, you may be able to visit while they're having a special event like yoga or crafts for kids.
Iles de Boucherville
One of the most convenient places to visit from Montreal for activities in nature is Iles de Boucherville. Visit this National Park made up of islands and discover everything from water sports to biking, wildlife watching, hiking, and more.
Here at Iles de Boucherville, rent equipment for kayaking, stand-up paddleboarding, pedal boating, and more. With over 21 kilometres of multipurpose trails and 15 kilometres of rustic trails, there is a hike for everyone.
Stay active in the cold months with activities like snowshoeing, winter hiking, and even sledding for the kiddos.
Erabliere Meunier
Take a bite into the best of Montreal's maple delicacies at Erabliere Meunier. This family-run farm specializes in homemade maple-themed treats, hearty dinners, and entertainment for the whole family.
Take a tour of the farm on a sleigh or tractor ride, or simply stroll around the property. You'll meet over 60 animals in the stables, and enjoy local maple products being made in the sugar shack. Try to arrive early for the fresh maple donuts!
Plan your 1-day road trip from Montreal to Erabliere Meunier accordingly. It's only open during the Maple Season from February to April, closed on Mondays, and reservations for dinner are required.
Cosmodome
© Cosmodome

© Cosmodome
Searching for places to visit near Montreal for a day of indoor fun? The Cosmodome is a short drive away from the city center.
The Cosmodome is a favourite among youngsters as they become astronauts during their visit and take part in an interactive virtual mission! You can peruse the exhibits to learn more about space exploration, how astronauts made it to the moon, explore the Solar System to scale and inspect a real moon rock.
In addition, families can try training simulators similar to those of NASA or discover the new activity Cosmo Mission abord the spaceship Astralis. The Cosmodome also offer a 3-day space camp, a parent-child camp and day camp.
Parachute Montreal
Parachute Montreal is the ultimate place to go near Montreal for a next-level adrenaline rush. From first-timers to seasoned jumpers, Parachute Montreal will customize the perfect experience for you.
Choose to jump from 9,000 or 13,500 feet, then gear up for the adventure of a lifetime. After the safety briefing, board the plane and get ready to freefall in tandem with your instructor.
Note that Parachute Montreal has two locations, one near the North Shore in Saint-Esprit, and one near the South Shore in Farnham.
Monteregie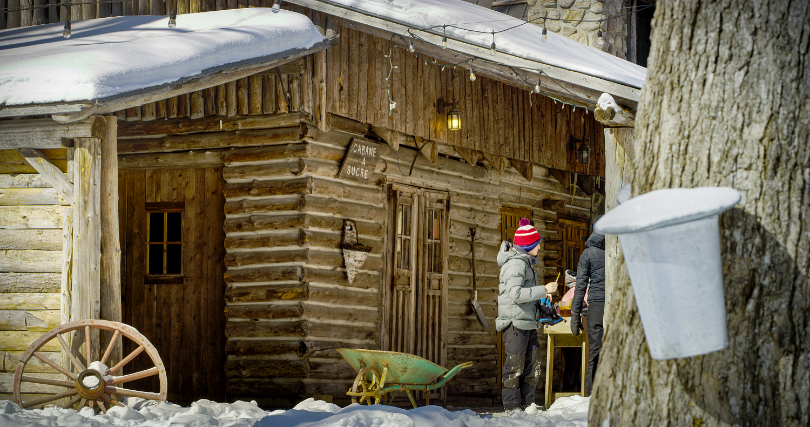 The Monteregie region is one of the best day trips from Montreal for foodies and nature lovers. Check out local eateries, cultural gems, and seasonal outdoor fun.
Get a taste of the local produce and goodies at orchards, farms, and sugar shacks. Just keep in mind, many of the sugar shacks are only open in the springtime and orchards tend to be open in the autumn.
In winter, go skiing at Ski Saint-Bruno or Mont Rigaud. In the summer, visit outdoor adventure courses and lovely biking paths. Hit the water on a cruise at Adventures Lac Champlain or Croisieres d'Iberville. Or, enjoy a day of kayaking around the area's lakes.
Beach Club Pointe Calumet
Beach Club Pointe Calumet is one of the best day trips from Montreal for those looking for a party scene. Only open during events in the summer, be sure to peek at the schedule and secure tickets before your visit.
Here at the Beach Club, you can expect dance floors, trendy cocktail bars, multiple pools and tropical beach areas, and a massive outdoor stage.
While Beach Club Pointe Calumet tends to attract younger crowds, any electronic-style music fans will appreciate the massive venue and impressive lineup of performers.
Park Safari
Hunting for the best places to visit around Montreal with kids? Park Safari is bound to be a roarin' good time for your family. Between nine themed animal habitats and water parks on site, this is a one-of-a-kind day trip for animal lovers.
One of the main attractions at Park Safari is the Safari Adventure. Here, you'll observe elephants, water buffalo, antelope, wildebeest, and more exotic creatures. Throughout the park, you'll meet animals from around the world and learn about local species as well.
Be wary of the dates of operation, as the park isn't open during certain weeks and months. The best time of year to visit is June through August.
Saint-Sauveur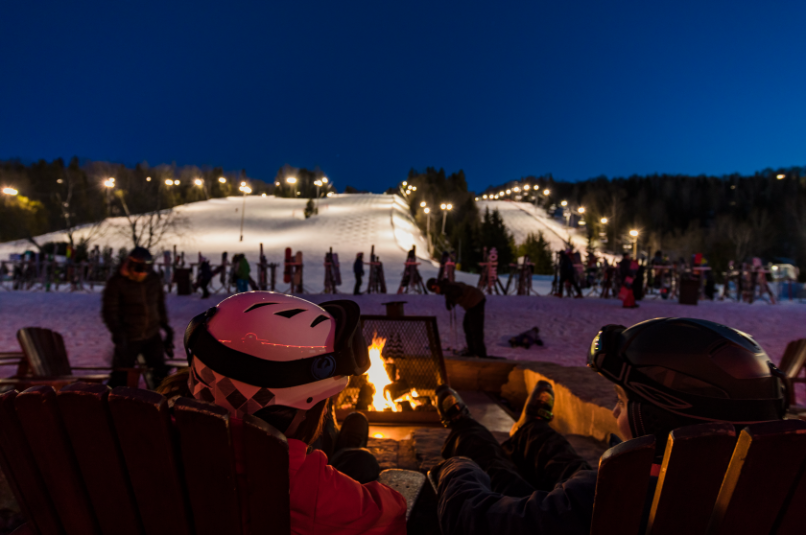 Saint-Sauveur is a wonderful place to visit from Montreal. At this town nestled in the Laurentians, you will discover exciting ways to stay active outside all year long.
If you plan to visit Saint-Sauveur in the winter months, bundle up and prepare for a skiing wonderland at The Ski Hill. Mont Avilia and Summit St. Sauveur offer trails for skiing newbies or those ready for the double-diamond slope. You can also find a section dedicated to snow tubing!
When the snow melts, visitors can go zip-lining, mountain biking, or hiking through the lush forests. When the weather gets really hot, you'll love the Saint Sauveur Water Park.
Bromont
Bromont is a great choice for a 1-day road trip from Montreal. This city features a range of attractions to suit anyone looking to get active outside. You'll find plenty to do in Bromont all year long.
In Old Bromont, peruse the restaurants, shops, and historical buildings. In the summer, head to Mont Soleil for an agility and adventure course and zipline. Or, choose one of the area's best hiking trails or lakes to swim in. Bromont also has multiple golf courses.
Winter in Bromont is great for fat biking, winter hiking, snowboarding, cross-country and alpine skiing, and most other winter sports. Parc des Sommets and Ski Bromont are some top destinations around the city for these activities.
Passion Lavande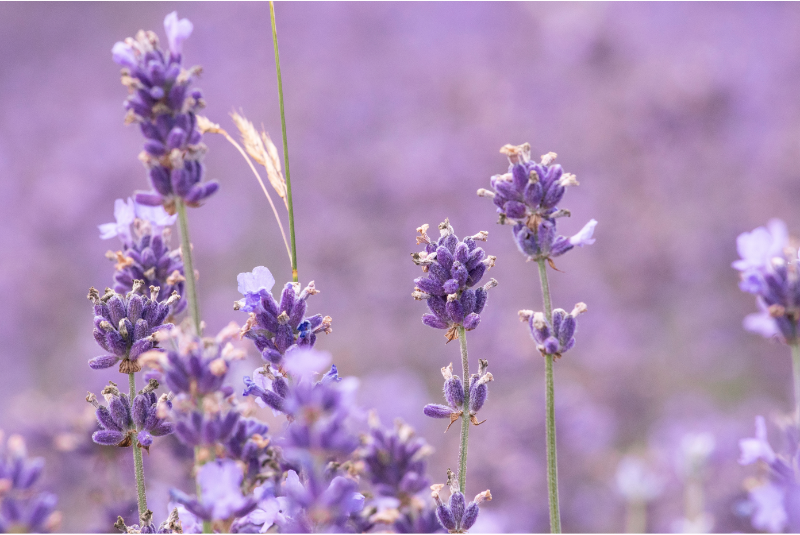 Drive time: 1 hour and 30 minutes
Head to Passion Lavande if you want to check out country side places around Montreal and support a family-owned business. This lavender and sunflower farm features flower-lined trails, blooming flower fields, and artisanal shopping from June to September.
At Passion Lavande, you can walk through the fields and shop for locally made natural products. The Passion Lavande shop on site features a Quebec-made selection of natural cosmetics, hair products, aromatherapy, and food. Everything is inspired by lavender and sunflowers!
Passion Lavende is a good place to stop between Montreal and Quebec City, and between Montreal and Trois-Rivieres.
Mount Sutton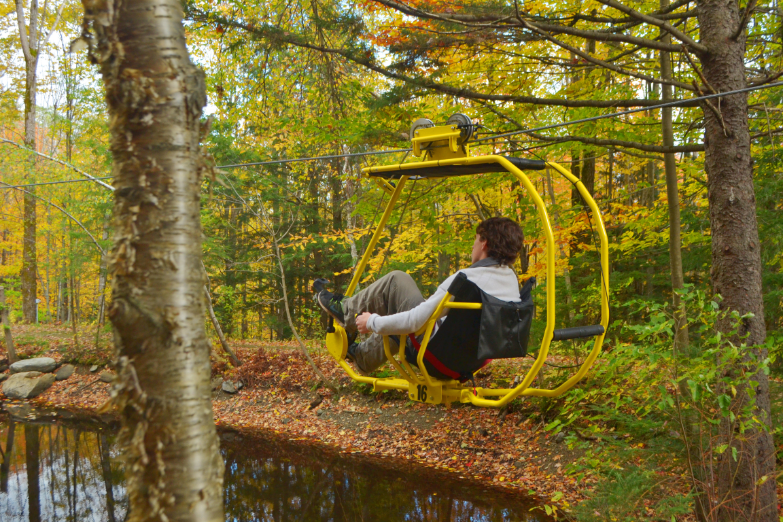 Drive time: 1 hour and 30 minutes
Mount Sutton is one of Quebec's top places to go near Montreal during any season. Whether you're searching for summertime thrills or ideal winter sports conditions, you'll find it here.
Mount Sutton offers an extensive Disc Golf course and intense mountain biking trails. You'll also find the famous Zipline Coaster, looping through the forest at exhilarating speeds, or the Chairlift Ride for those who want to take it slow. These run seasonally in the summer.
At Au Diable Vert, you will find a 1000 meters canopy cycling circuit, which is the only of its kind in Canada.
In the wintertime, visit the Tomahawk Snowpark to try out snowboarding tricks. Sutton is also known for some of the best glade skiing in Canada!
Omega Parc
Drive time: 1 hour and 30 minutes
Face wildlife like never before at Omega Parc. This safari experience from your car is one of the most unique day trips from Montreal. It just may become core Quebec memory for your whole family.
Cruise down the car trail to observe an array of Canadian creatures. It's more than likely the friendly deer will even approach your vehicle, looking to be fed carrots!
At Omega Parc, you'll learn more about the 11 First Nations of Quebec along the First Nations Trail. You can also let your children meet animals at the petting zoo. Although Omega Parc is open year-round, the events may change seasonally.
Parc Omega Transport & Tour
There's no need to rent a car with this private tour of Parc Omega and Montebello Lodge. Let your guide take the wheel so you can enjoy both the park and Montebello Lodge, North America's largest log cabin.
Granby Zoo
Granby Zoo exudes family fun with three parks to discover. Open year-round, the Animal Park is home to over 1800 animals. Then in summer, you can enjoy Amazoo Water Park and the 10 thrilling rides at the Amusement Park (also open in autumn).

But if you want to see the zoo from a different angle, take a bus journey through it with this Full Day Granby Zoo Tour. Minimal effort and maximum impact!
Day Trip from Montreal to Mont Tremblant National Park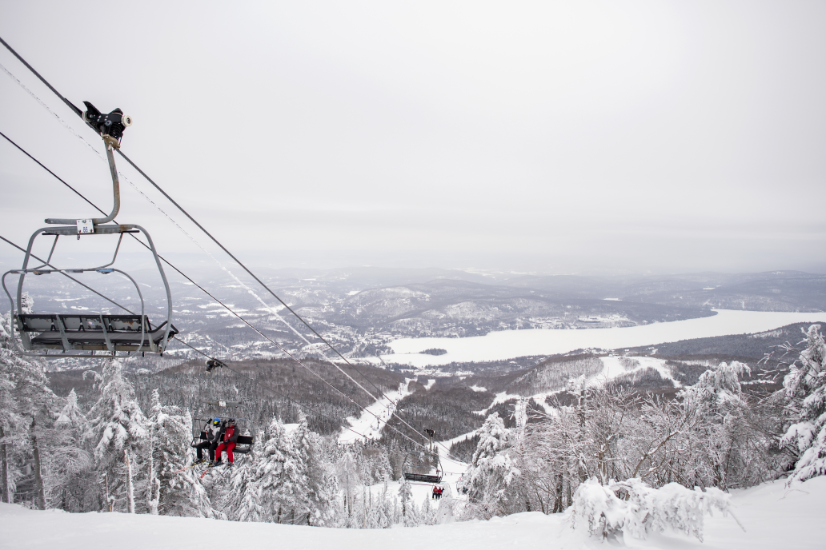 Drive time: 1 hour and 30 minutes
Mont Tremblant National Park is one of the top places to visit outside Montreal for an active day outdoors. It's also featured on our list of the top 10 national parks in Quebec. From picturesque hikes to winter sports galore, Mont Tremblant has plenty of trails perfect for every season.
Visitors can go golfing at an array of courses. Or, head to Via Ferrata for an adrenaline rush, scaling the mountainside from June to October.
In winter, tackle slopes with trails suited to every level of skier and snowboarder. You can also snowshoe through the park to enjoy the scenic snowscapes.
Before heading back, stop by the quaint pedestrian village at Tremblant Resort. Here, dine at over 30 restaurants and browse local products in the boutiques.
Mont Tremblant Transport From Montreal
To see Mont Tremblant without dealing with car rentals and bus transfers, check out this Private Day Tour. The best part is that it can be adapted to suit your taste. The guide also provides commentary during the drive and helpful food and activity recommendations so you get the most out of your day.
Trois Rivieres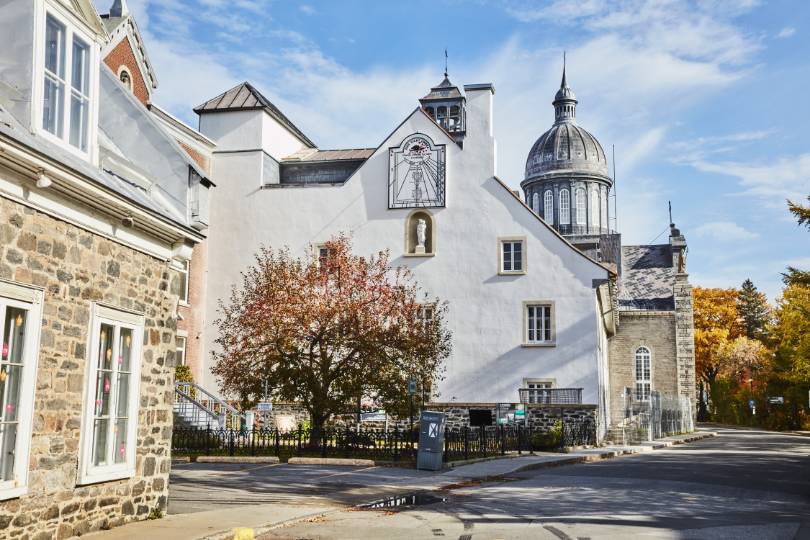 Trois Rivieres is one of the top places to visit outside Montreal for historical village atmospheres. Founded in 1634, this city is a hub of Quebecois culture.
You can spend the day exploring historic neighbourhoods around Rue de Ursulines. Then, learn about the Ursuline Sisters' impact on the area at Musée Des Ursulines. Get familiar with local art at the Québec Museum of Folk Culture, or tour the Old Prison.
If you're in Trois Rivieres in August, you're just in time for the Grand Prix race! You can also enjoy some peak birdwatching at the Lac-Saint-Pierre Biosphere Reserve.
Day Trip from Montreal to Ottawa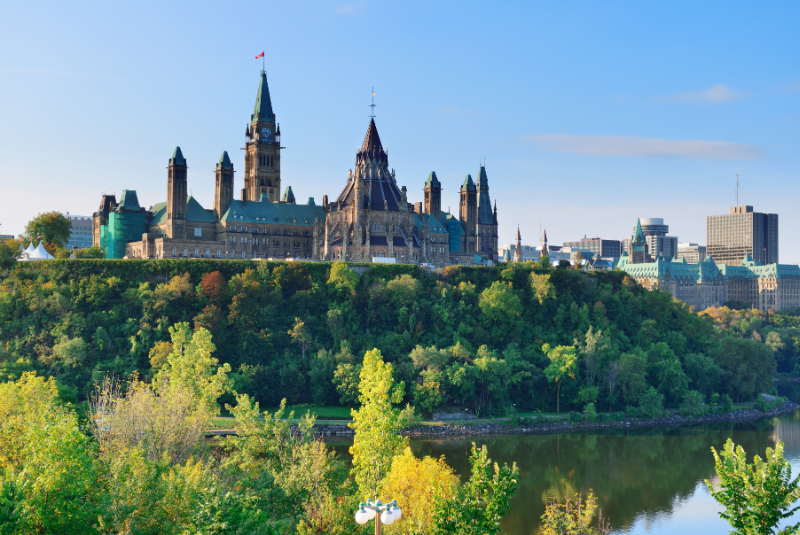 Drive time: 2 hours and 15 minutes
The city of Ottawa is a great choice for a 1-day road trip from Montreal, offering a glimpse into Ontario. In Ottawa, you'll find endless opportunities to learn about Canadian history and culture.
Here, you can plan a day of museum hopping and historical monument sightseeing. You'll have access to places like Parliament Hill, the Canadian War Museum, the Canada Aviation and Space Museum, and the Canadian Museum of Nature.
If you're looking for an urban park with gorgeous views, stroll along the Ottawa Locks. Art fans will want to stop by the National Gallery of Canada. The city of Ottawa will give you a whole new perspective on Canada.
---
Discover unique and exciting Day Trips from Montreal!
No matter the season, there are endless day trips from Montreal for every type of visitor. You'll surely be able to find exactly what you're looking for a short distance from the city. Whether you're craving Quebecois delicacies from local farms, the perfect skiing conditions, family-friendly fun, or outdoor activities in the summer, you can find it all with a day trip from Montreal.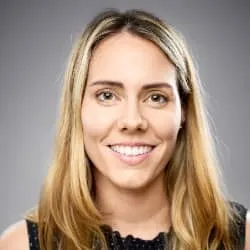 About the Author
Anne was born and raised in Quebec City. She is our resident expert for the city of Quebec and other popular regional destinations such as Charlevoix and Gaspésie. Having travelled to every corner of the province with her children, she is also our expert for family related topics on Quebec Wonders.