Best Cities to Visit in Quebec if You're a Tourist
Planning to visit the province of Quebec but not sure what cities are worth going to? This article will help you compare the best cities to visit in Quebec.
Disclosure: Some posts on this site contain affiliate links. Read our full disclosure.
Quebec is a breathtaking province with many unique attractions to see and explore while visiting. Depending on how long you plan on staying in the area, you can explore a variety of cities that each have unique experiences and charm to offer. Here are four cities to visit in Quebec that you won't want to miss while exploring the province.
What are the Major Cities in Quebec?
The are only two major cities in Quebec. Those are Montreal – the largest city in Quebec – and Quebec City which is the provincial capital and second largest city.
There are no other major cities in the province of Quebec, but there are several small size cities and regional towns for example Rimouski, Sherbrooke, Trois-Rivieres, Gaspé. From a Quebec tourism perspective, Rimouski and Gaspé are two of my favourite destinations when I want to spend time in nature.
Montreal: Best Large City to Visit in Quebec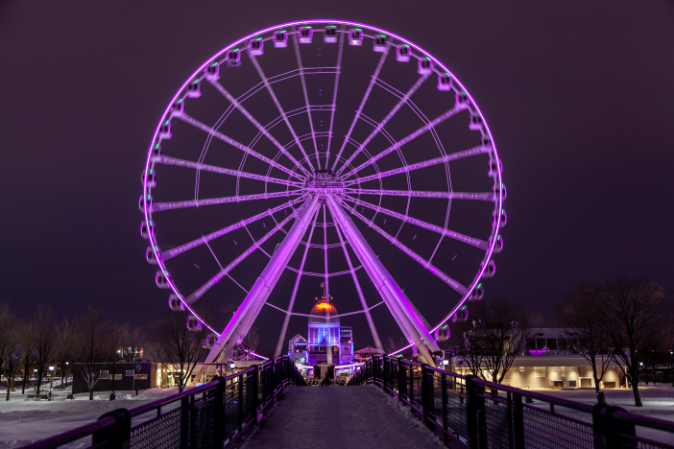 Where is Montreal Located?
Montreal is located in the southeast of Canada, in the province of Quebec. Montreal is Canada's second-largest city and the largest city in Quebec. From Quebec City, Montreal is about a 2hr and 50-minute drive away. If you're traveling from Toronto`s CBD, it's about a 5hr and 30-minute drive to Montreal.
How to get to Montreal?
There are many ways you can get to Montreal, depending on where you are traveling from.
When traveling from Quebec to Montreal, many people choose to take a road trip and drive to Montreal. Alternatively, you can take the 3-hour train journey and enjoy beautiful views along the way.
When traveling from Toronto to Montreal, many choose to take the 1hr 20-minute flight from Toronto's Pearson International Airport to Montreal's Trudeau International Airport for a quicker journey.
When traveling from Ottawa to Montreal, many choose to drive as the 5-hours trip is often a better option over a relatively expensive domestic flight.
Do you Need a car in Montreal?
No, you don't need a car to visit Montreal because the city has good public transport and is well serviced by taxi companies and Uber. In fact, having a car in Montreal can be more annoying and expensive than convenient, due public parking being scarce and not free in many tourist areas.
In winter especially, parking on Montreal's narrow streets and figuring out on which side of the street parking is prohibited on any given day due to snow removal can be a nightmare.
Why Visit the City of Montreal?
There are many reasons that make Montreal one of the best cities to visit in Quebec. Montreal is a lively city filled with vibrant culture, a noteworthy music scene, and a thriving art scene.
Here you'll find museums displaying decades of rich history, art venues, world-famous chefs, boutiques, and nightclubs.
Montreal is also renowned foodie destination with its unique blend of French, Canadian, and international cuisine.
Who Should Visit Montreal
Those visiting Toronto, or the province of Quebec should definitely stop over at Montreal. Montreal is worth it even if you only have 48 hours to check it out. Prioritise the Old Port, Mont-Royal, and pick a few good restaurants to get a taste for what the city has to offer.
Main Attractions in Montreal
Old Montreal
Old Montreal is a charming area in Montreal that's filled with cobblestone streets, boutiques, cafes, and restaurants. From shopping to enjoying a drink at one of the many lively pubs, there are plenty of ways to explore this part of the city. Take a walk down St Paul Street for hip restaurants, cafes, and boutiques and admire the city's European-looking facades.
Botanical Garden
To get away from the bustling city, visit Montreal's Botanical Garden to enjoy the serene nature this 190-acre garden has to offer. There are many serene gardens to enjoy, including the Japanese, Chinese, First Nations, and Alpine Gardens. The garden also offers a unique showing of Moisaicultures, an exhibition tribute with 5 unique parts. You can stroll along and enjoy the Lieutenant Governor's Residence, the Polar and Marine world, the endangered species, the Huron-Wendat Nation, and the farm.
The Old Port
The Old Port was built in 1642 and is a historic area in the city. Take a stroll down the St. Lawrence River and enjoy breathtaking views of the shoreline, boats, and city. You can take a ride on the largest Ferris wheel in Canada for beautiful views of the entire city. If you're after relaxation, an activity to do with your girlfriends or a special date, you can also visit the Bota Bota spa in the Old port.
Notre Dame Basilica of Montreal
It doesn't matter if you're religious or no, you won't want to miss the Notre Dame Basilica of Montreal. Located in Old Montreal, this Basilica was built in the 1800s and is filled with unique wood carvings, stained glass windows, and the religious history of the city.
Just for Laughs Festival
Every summer in July, Montreal holds a comedy festival that has now become the largest international comedy festival in the world, with acts traveling from all across the world to perform. This year, the festival will take place from July 14 to 29 and will have many renowned and famous comedians grace the stage. In the past, notable comedians including Jimmy Fallon, Dave Chapelle, and Kevin Hart have performed at the festival.
Quebec City: Best City in Quebec for History and Culture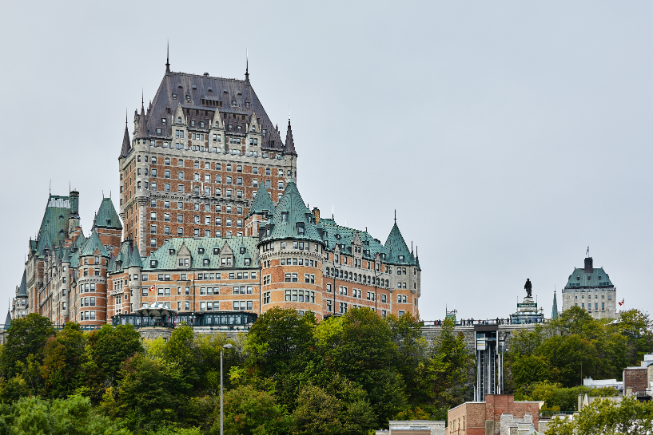 Where is Quebec City Located?
Quebec City is the capital of the province of Quebec and is the second-largest city in the province, after Montreal.
It is located on the north shore of the St. Lawrence River, approximately 250 kilometers northeast of Montreal. Quebec City is located approximately 135 kilometers (84 miles) north of the United States border.
How to get to Quebec City
There are many ways of getting to Quebec City
If you're traveling to Quebec from Montreal, you can take the 3-hour train journey or you can make the car journey to Quebec in roughly the same amount of time. It's just a 2hr 45-minute drive from Montreal, which is close enough for a weekend trip to Quebec City.
Quebec is just a 1.5 hr flight away from Toronto's Pearson International Airport to the Quebec City Jean Lesage International Airport if you're looking for a quick and easy trip.
Why Visit the City Quebec City?
Quebec City is a charming, quaint city that's full of rich history and plenty of intricate architecture. There is no city like Quebec in Ontario or other English-speaking Canadian provinces, making it a must-see travel destination all year long.
Whether you enjoy exploring historic landmarks, nature, unique boutiques, or charming restaurants, there are plenty of ways to spend your time when visiting Quebec City.
Who Should Visit Quebec City
If you're visiting the Quebec area for a few days, you should definitely visit Quebec City to experience the charming city. Quebec City is an iconic city that should be on the top of your list of places to visit in the area. For those traveling from Montreal, you can even spend a quick weekend trip enjoying the city.
Main Attractions in Quebec City
Old Quebec
You can explore the beautiful and quaint cobblestone streets of Old Quebec. Old Quebec is a UNESCO World Heritage Site that will take you back in history where you can explore a fortified, colonial city. Wander through the streets of Old Quebec on your own or book a guided tour if you want to learn more about the rich history of the European settlement.
Chateau Frontenac
If you enjoy exploring beautiful architecture, Chateau Frontenac is definitely worth visiting. It is arguably one of the most iconic landmarks in Quebec and is said to be one of the most photographed hotels in the world. The hotel overlooks the Dufferin Terrace, where you can get beautiful views of the St. Lawrence River.
Rue du Petit Champlain
Rue du Petit Champlain is one of the most popular and iconic streets in Quebec. Take a walk down the cobblestone streets of Rue du Petit Champlain and admire the historic architecture and charming boutiques, shops, restaurants, and cafes. This pedestrian-only street allows you to enjoy a quiet and intimate experience of Quebec city's old charm.
Fortifications of Quebec
The fortifications of Quebec are large stone walls that were built along the Old City of Quebec. Rich with history, this is an iconic world-renowned site that you can walk along and see military canons, towers, and other historic sites that are worth seeing.
Ice Hotel
Open from the months of January to March, Quebec's Ice Hotel is an iconic hotel that will take your breath away. The entire hotel was built with over 2,000 blocks of ice and is the only ice hotel in all of North America. This is the perfect attraction to see or hotel to stay in when visiting Quebec to get the ultimate Canadian winter experience.
Time-limited nature enthusiasts might however favour outdoor destinations closer to the main cities of Montreal and Quebec, for example Mont Tremblant and Charlevoix.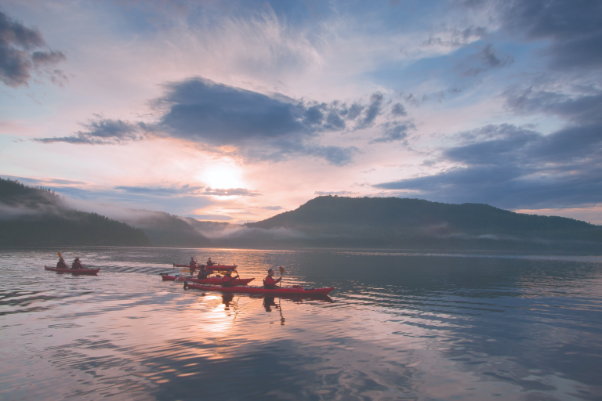 Where is Rimouski Located?
Rimouski is a city in Quebec that's located in the Bas-Saint-Laurent regionon the South Shore of the St Lawrence River. It is surrounded by the natural beauty of the Saint Lawrence River and the Appalachian Mountains, making it a popular destination for outdoor enthusiasts and nature lovers. It's also a university town.
How to get to Rimouski
You can drive to Rimouski from both Quebec and Montreal if you don't mind spending a few hours driving the landscape.
Rimouski is a 3hr and 30-minute drive from Quebec City. Rimouski is a 5hr and 30-minute drive from Montreal.
If you're traveling from Toronto, it's a 11 hr drive. and don't wish to make the long car journey up, you can take a 1hr and 30-minute plane ride from the Toronto Pearson International Airport to Quebec City and drive East for another 3hr and 20-minutes.
Why Visit the City of Rimouski?
There are plenty of reasons to visit this Quebec City small town: warm and welcoming locals, several festivals in the summer, and national parks filled with serene landscapes and wildlife, etc.
You can walk Canyon des Portes de l'Enfer – the highest suspension footbridge in Quebec, and explore the Point-au-Pere area to enjoy the beautiful lighthouse.
Who Should Visit Rimouski?
If you're visiting Quebec for a few days only, you will not have the time to visit Rimouski, nor should it be a priority. When coming to Quebec, you'll want to visit Quebec City and Montreal in priority to truly enjoy what Quebec has to offer. Rimouski is best for those who have at a couple of days to spare after ticking off the two large cities.
If you feel like you've seen everything Quebec City has to offer, we also have other day trip ideas which might interest you more than a road-trip to Rimouski.
Main Attractions in Rimouski
Parc National du Bic
Explore the beautiful nature Rimouski has to offer at this National Park. Filled with many serene hiking trails and historic buildings along the way to explore, Parc National du Bic should be at the top of your list when traveling to Rimouski. You can spend a few nights camping in the wilderness at one of the many campsites this park has to offer, or there are also great B&Bs in the area.
Sunrise and sunset kayak adventures are a must, as Le Bic has some of the most impressive sunsets in the whole province of Quebec.
Point-au-Pere Lighthouse
The Point-au-Pere lighthouse is an iconic landmark in Rimouski that you won't want to miss. Built in 1909, the lighthouse is the second-largest lighthouse in Canada, with beautiful views of the shoreline and a unique design that sets it apart from other lighthouses.
Art Route
The Art Route is a unique route lined with wooden sculptures you can explore. There is also a hostel, restaurant, and art gallery. You can book a night or two at this unique hostel or simply head down to the Art Route to enjoy the shoreline and intricate sculptures.
Onondaga Submarine and Empress of Ireland Museum
Don't miss taking an audio tour of the Onondaga submarine. You can walk through the submarine and learn about the history of the submarine. At the same location, you can also learn more about the 1914 Empress of Ireland disaster, where over 800 ship passengers perished. This is the perfect museum for history buffs to explore the past of Rimouski.
Gaspe: Best City for Outdoor Enthusiasts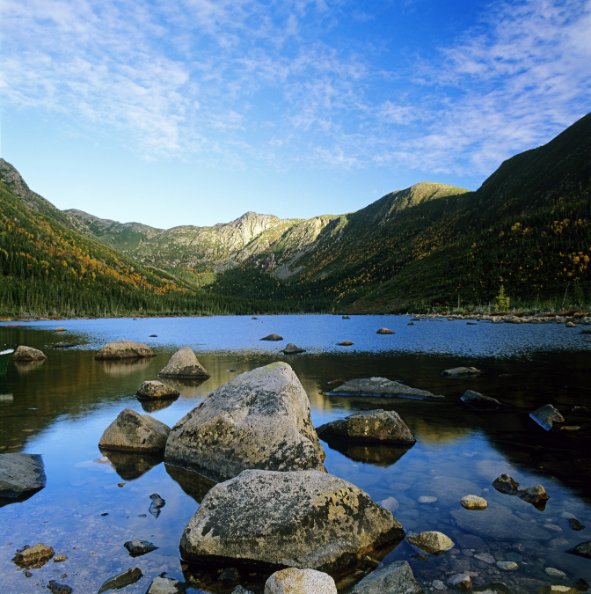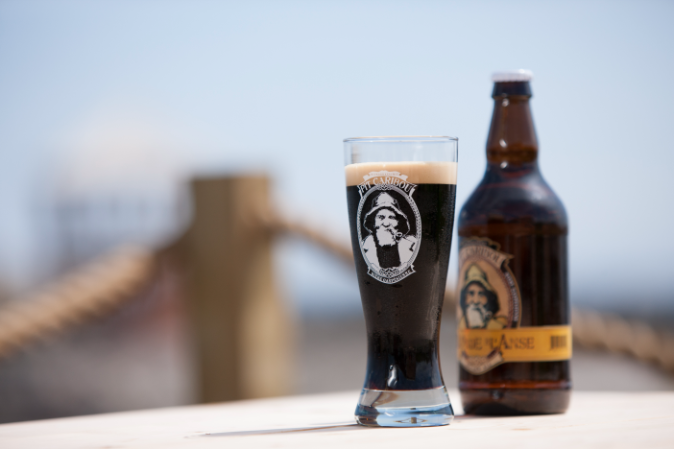 Where is Gaspésie Located?
Gaspe is a city located at the point of the Gaspe Peninsula in Eastern Quebec, Canada. It's located about 650 km northeast of Quebec City and 350 km east of Rimouski. Nearly a 9-hour drive from Montreal, Gaspe is a hidden gem that many tourists don't put on their bucket list when traveling to Quebec.
How to get to Gaspé
To get to the Gaspe Peninsula, you can drive, take the train, or even take a flight.
Gaspe is a 7hr drive from Quebec, and over a 10hr drive from Montreal, so you will need the day to travel to this Peninsula.
If you're traveling from Montreal and don't want to spend this long driving up, you can take the 2hr flight from the Montreal International Airport to the Michel-Pouliot Gaspe Airport, Gaspe's Regional airport.
Why Visit Gaspé
The Gaspe Peninsula was named one of Canada's 50 Places of a Lifetime by National Geographic, making it a noteworthy place to visit. With tens of wildlife reserves and national parks and other infamous landmarks, Gaspe is the perfect stop for those who love nature and the outdoors. It's also a great area to fish, kayak, cycle, hike, whale watch, and bird watch.
Who Should Visit Gaspé
If you have at least a week to spend in the Quebec area, Gaspe could be worth visiting. It's the perfect spot for those who love outdoor activities, natural landscapes, and exploring wildlife.
If you're active or enjoy spending time in nature, Gaspe is worth the visit. You will need at least a day for travel, so Gaspe is best for those who are spending at least 5 days in the Quebec area.
Main Attractions in Gaspé
Forillon National Park
Enjoy the scenic Forillon National Park, just on the Gulf of the St. Lawrence River. There are plenty of picturesque landmarks and views to take in, and you can even spend some time whale-watching off the shoreline.
Bonaventure Island
Bonaventure Island is a bird sanctuary that gets 50,000 gannets each summer who come to the Island to rest. There are many beautiful trails to walk to get serene views of the Island's cliffs, ledges, and birds. Even if you aren't a bird-lover, you can enjoy the stunning nature and views this Island has to offer.
Percé Rock
Perce rock is a massive limestone stack formation jutting out of the sea. It's a breathtaking natural landmark that you can see from a long distance. It's known for being one of the world's most prominent natural arches and is a historically rich natural icon of Quebec that many tourists visit just to see.
Mount Albert
A famous hiking destination in Quebec, Mount Albert offers stunning views of the area. In early summer, part of the top is still covered with snow.
From the historic charm of Quebec City and the cosmopolitan vibe of Montreal to the natural beauty of Rimouski and the rugged wilderness of Gaspésie, Quebec's cities are truly unique and worth exploring.
Check out our plan your trip page for more information and helpful resources.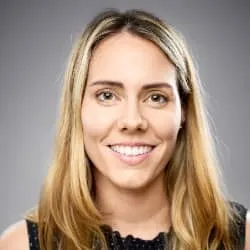 About the Author
Anne was born and raised in Quebec City. She is our resident expert for the city of Quebec and other popular regional destinations such as Charlevoix and Gaspésie. Having travelled to every corner of the province with her children, she is also our expert for family related topics on Quebec Wonders.